Renew in just 5 mins.
No Inspection.
No Paper Work
* Subject To Underwriting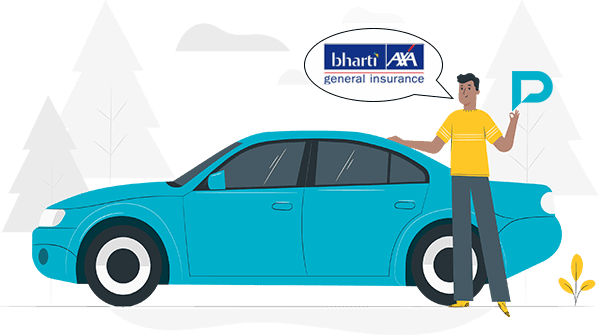 Compare

Car Insurance Plans
Bharti Axa is a joint venture between a Paris-based AXA group and the Indian conglomerate Bharti Enterprises. It was founded in the year 2008 and is known to be one of the most profitable insurance companies in the country. It has received 29 awards in the last 8 years, including the 'Customer Service Excellence Award' at ABP News BFSI Awards as well as the 'General Insurance Company of the Year Award' at ET Now BFSI Awards for the year 2019.
Benefits and Features of Bharti Axa Car Insurance Plans
Recognizing the growing importance of car insurance, Bharti Axa offers several efficient policies as of today. Its benefits and features are as below:
Wide-ranging coverage including compensation for death, damages, and hospitalization expenses.
No Claim Bonus and multiple discounts on policy renewal.
Add-ons in line with customer requirements
Reduced paperwork with the online application
Easy processing with zero hassles
Round-the-clock customer service via telephone or chat
Secure payment processing with complete transparency
Option to switch insurance providers for better deals
Coverage of Car Insurance Plans with Bharti Axa
To ensure comprehensive coverage for your car, Bharti Axa car insurance includes the following:
| | |
| --- | --- |
| Natural reasons | Damage to the car due to acts of nature, including earthquakes, rockslides, landslides, storms, cyclones, hurricanes, fires, etc. |
| Man-made reasons | Damages or loss due to unnatural contingencies and man-made acts such as burglary, hijacking theft, riots, housebreaking, etc. |
| Personal accident cover | Coverage for third-party collisions, accidents, and more. |
| Third Party Liability | Damage or loss caused by accidental acts of a third-party. |
Add-on Coverage of Car Insurance
It's wise to keep your car adequately protected. Opt for 'add-on' protectors with Bharti Axa car insurance as follows:
Documents Required to Apply for Car Insurance with Bharti Axa
Applying for car insurance is now a seamless affair. You can now purchase a plan of your choice online with the help of the following details in hand:
Vehicle details, including the car model name and year
Vehicle registration number and certificate
Driver's License
Tax Receipts
Insurance Details
Payment Details
Identity Proof
Address Proof
Passport Size Photo
How To Apply for Bharti Car Insurance?
Buying car insurance need not be a lengthy or burdensome process. You can now purchase it within minutes by following the steps below:
Through Bharti Axa Official Website
How to Renew Car Insurance with Bharti Axa?
Renewing your policy on time comes with its own benefits. It helps you attain a discounted price and stay protected continually. Do it online by following the steps:
Renewal Via The Probus Website
Step 1
Visit the Bharti Axa website and click on 'Car Insurance Renew.'
Step 2
Select details of the insurer.
Step 3
This will redirect you to the respective website of the insurer selected. Input basic details such as policy number, etc.
Step 4
Tick on No Claim Bonus (NCB) is applicable.
Step 5
Select the value of your car and add-ons, as required.
Step 6
Review details before proceeding further
Step 7
Pay online by selecting your preferred mode of payment
Step 8
Receive your renewed policy document via email within minutes
Renewal via Bharti Axa Official Website
Step 1
Visit the Bharti Axa website and click on 'Car Insurance Renew.'
Step 2
Enter the required details, such as the policy number, car registration number, policy expiration date, etc.
Step 3
Tick on No Claim Bonus (NCB) if applicable.
Step 4
Select the value of your car and add-ons that you need.
Step 5
Review the details entered.
Step 6
Pay online by selecting your preferred mode of payment.
Step 7
Receive the renewed policy document in your inbox within minutes.
Bharti Axa Car Insurance Claim Process
Whether it is a reimbursement or cashless claim, the process is quite simple. A step-by-step guide to the claim process is mentioned below:
Register your insurance claim by calling the notified customer service number.
File the claim by mentioning adequate details of the FIR, policy number, car model and number, etc.
You will receive a confirmation email regarding the details of your claim soon after.
Within 24 hours, a customer representative will get in touch with you to note details of the claim and the reason for it.
A surveyor will then visit the site /garage and assess the damage to the car.
In case of a reimbursement claim, you will be required to furnish details such as bills, receipts, etc. as well.
After due verification and examination, your claim will be settled, and money will be credited to your account.
In case of a cashless claim, the bills or repair, etc., will be directly cleared by the insurance company.
Documents Required to File a Claim Under Bharti Axa Car Insurance Policy
You will need the following documents to kick-start your claim process without delay:
A copy of your car insurance policy
A copy of the claim form duly filled and signed
A copy of the FIR report, if applicable
Registration certificate of your car
Copy of driving license
Registered mobile number/email address
Detailed assessment of the losses/damage
Original copies of receipts in case of repairs and hospitalization
Any other details as required by the insurance company
Exclusions of a Car Insurance Policy with Bharti Axa
Although a car insurance policy protects your car in various tricky situations, it does not cover certain acts such as:
Damages caused due to drinking and driving
Damages caused if the individual behind the wheel does not possess a valid driving license
Damaged caused if the vehicle was used for commercial or barred activities
Losses or expenses not included within the policy cover, such as mechanical or electrical breakdowns, etc.
Steps To Calculate Car Insurance Premium Online
Typically, the premium is calculated based on particular factors like No Claim Bonus, car type, city of registration, coverage type, etc. You can read more on the Probus website. However, using an online car insurance premium calculator will help opt for a plan that's financially viable.
Calculator On Bharti Axa Official Website
Step 1 – Visit the official website and click on motor insurance 
Step 2 – To get an instant quote you have to fill in a few basic details like car registration number, mobile number and email address and click on 'Get Quote'
Step 3 – On this page, you will be asked a few questions like, 'if your policy has expired or not, expiry date, previous claims and your cars IDV. You also have the option to select add-on covers. 
Step 4 – Based on this the calculator will show you a premium immediately
Step 5 – To proceed to purchase the policy you can click on 'Buy Now' 
Step 6 – Once you enter a few more details like your name, previous policy details, address, nominee details, car details, etc. you will proceed to payment. 
Step 7 – Once you make the payment, the policy is yours!
Frequently Asked Questions
Primarily, car insurance is a tool that safeguards you, your family, and your vehicle from any uncertainties. Besides that, Cholamandalam car insurance offers a plethora of USPs that make it a premium choice. With a solid cover, you get a plethora of add-ons, round-the-clock support, efficient costing, and more.
Bharti AXA car insurance offers a number of deals and discounts for buyers. Typically, the insured person can claim two main types of discounts – No Claim Bonus and Voluntarily Deductible component. Apart from this, individuals can also claim additional discount for fitting anti-theft or other protection devices within their cars.