Renew in just 5 mins.
No Inspection.
No Paper Work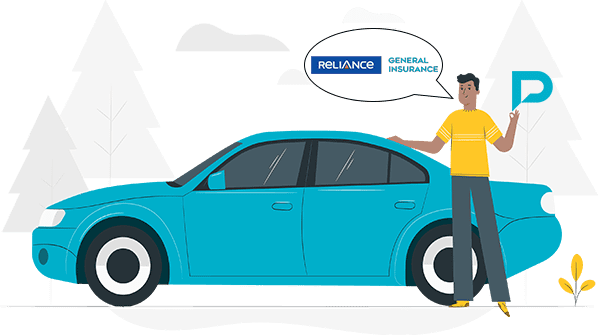 The Reliance General Insurance company was established on 17th August 2000. As one of the most trusted insurance companies, Reliance has more than 139 offices and 28,900 intermediaries pan India. The company caters to varying customer needs with its innovative solutions ranging from car insurance, health, travel and much more.
Reliance Car Insurance provides easy, quick, simple and effective solutions for their customers' car needs. Affordable prices, tailor-made plans and instant renewal services ensure complete customer satisfaction thereby safeguarding policy holder's interests.
Reliance Car Insurance at a Glance
| | |
| --- | --- |
| Primary Features | Reliance Car Insurance Benefits |
| Cashless Repair Service | 5000+ Garages Across India |
| No Claim Bonus | Available, Upto 50% Discount on Offer |
| Claim Settlement Ratio | 98%+ Settlement Ratio |
| Third Party Coverage | Yes, Included |
| Add-On Facilities | Yes, 7 Available |
| Personal Accident Insurance | Yes, Up to 100% of Capital Sum Insured |
| Third Party Damage | Available for third party properties/vehicles and for injuries inflicted in accident |
Benefits and Features of Reliance Car Insurance
Reliance car insurance plans are customised to the needs of its customers in order to protect against any damages caused to the car. These policies offer a huge portion of benefits and features to its customers when their car is damaged. Here are a few crucial pointers:
Reliance provides insurance plans for both private and business vehicles.
24*7 on road assistance along with a towing facility is made available in case of a breakdown or accident.
The repair amount will be taken care of by the Reliance company if the car has been repaired at one of their 3800 network garages. This is also known as a cashless claim.
Reliance car insurance provides third-party coverage in which the policy covers any bodily injury or property damages that arise out of an accident with your insured car.
The company's comprehensive car insurance policy protects you and your vehicle against varying risks combined with third-party liabilities.
In case your car has been completely damaged, you can claim the total loss amount of your car. This is called IDV or Insured Declared Value.
Policyholders can also avail of various discounts going up to 60%.
A key replacement is also covered for both new and existing customers.
Reliance Car Insurance Coverage
Here's the coverage offered by the Reliance Car Insurance plan:
| | |
| --- | --- |
| 1. | Protection against both natural and man-made calamities including floods, hurricane, tsunami, fire, landslides, earthquake, burglary, riots, and terrorism |
| 2. | Safeguards the vehicle for damage done through accidents and covers expenses for extensive repair and replacement of any parts |
| 3. | Additional safety for the owner-driver and registered drivers behind the wheels for injuries incurred while driving the insured car. |
| 4. | Extra protection for co-passengers of the insured vehicle at nominal premiums |
| 5. | Third Party accidental damage cover if people or property damage happens with your car. |
Add-on Coverage of Car Insurance
Here are some of the add-on covers that Reliance car insurance offers:
I. NCB Retention – NCB is a discount which is provided by the insurer to its policyholder when no claims are made during the policy period. These discounts can be accumulated over the years ranging between 20% to 50%. A few things to be noted here are:
The minimum NCB retention should be 25% of the car's value
The policy should be renewed within 3 months of its expiry
Discounts will be given if the insurer completes a claim-free year
The add-on cover can be transferred in same class of vehicle
II. Nil Depreciation – It is the reduction in the value of the vehicle due to its wear and tear. The add-on cover protects and compensates its policyholders against loss of depreciation except for their tyres and tubes. The add-on cover includes:
Coverage of claims for 2 years during policy term.
Coverage is provided to insured vehicles when the damages are repaired at an authorised network garage or workshop or service station.
III. Personal Accident Bundle Cover – This provides automobile insurance against accidents, car damages, permanent disability regardless of the person driving. The benefits provided under this cover are:
100% of capital sum fixed at Rs.10 Lakhs will be provided as compensation in case of policyholders demise, a permanent disability and loss of either or both limbs, loss of either or both eyesight.
50% of capital sum fixed at Rs.10 Lakhs will be compensated in case of loss of one limb or one eyesight.
IV. Consumable Cover – This provides coverage for the expense of consumable parts such as nut-bolts, lubricants, grease, AC gas, oil filter, fuel filter, etc. along with conditions:
This add-on cover is for provided twice during the policy period for private vehicles
In case of partial loss, the settlement will be made if the repairs are done at any one of their authorised network garages.
V. Engine Cover – It covers the expenses incurred at the time or repairing any damages to the engine, differential and gearbox parts done by water ingression and leakage of lubricating oil.
VI. Key Protect Cover – The add-on cover is provided for private car owners to cover the expenses when it comes to:
Repairing or replacing car keys, locks and locksmith fees.
In case of theft or loss/damage to keys, locks due to natural or man-made risks with a maximum 2 years claim in a policy period.
How To Apply for Reliance Car Insurance?
A few simple steps to get your hands on your customised insurance:
Step 1 – Log in to the website and enter your vehicle registration number or location of registration.
Step 2 – Type in basic details like car make, model, variant, year of registration, fuel type, mobile number, email id, etc.
Step 3 – Specify if you had any previous vehicle insurance and its expiry.
Step 4 – Compare a few insurance plans and once you're satisfied choose the best one suited for you.
Step 5 – Make an online payment from the website and receive the policy in your inbox.
Apply On Reliance General Insurance Website
Step 1 – Log in at www.reliancegeneral.co.in
Step 2 – Choose Car Insurance option and enter car registration number, email address and contact number.
Step 3 – Click on Check our price to see various insurance policies
Step 4 – Click on the one that fulfills your requirements and click on continue to payment. 
Step 5 – Once you pay, instantly the policy will be sent to your email address.
Reliance Car Insurance Renewal Process
Renewing insurance policy before it lapses ensures continued protection in case of unforeseen risks.
Renewal Via The ProBus Website
Step 1 – Login to the third-party website and click on renew policy
Step 2 – Enter your Vehicle registration number
Step 3 – Type in an existing policy details such as vehicle type, claims made, etc.
Step 4 – Review the details and make any changes if required
Step 5 – Make online payment through the mode of your choice.
Renewal Via Reliance General Insurance Official Website
Step 1 – Visit the official website or get in touch with the policy insurer.
Step 2 – Enter your existing policy details
Step 3 – Click on the renew car insurance option
Step 4 – Provide a few basic details like your contact information, car policy number, name of the insured, vehicle registration number and car make and model.
Step 5 – Review all the details and make changes if needed
Step 6 – Once you are satisfied, go ahead and make the payment online
Quick and Efficient Claims Process 
You can claim Reliance car insurance in a few easy steps:
Step 1 – Contact the toll free number +91 22 4890 3009 or send an email with the registration details to proceed with the claim
Step 2 – You can also initiate the claim with the Reliance Self-i app to save time. The app also you to have a video call with claim experts to understand better the status of your claim
Step 3 – Provide the essential details via call or email such as:
Policy Number
Details of the insurer and insured
Vehicle number, make, and model of the car
Location and garage details
Step 4 – Meanwhile, you must file an FIR with the nearest police station to expedite legal proceedings. Additionally, try to record a few eyewitnesses, time of the accident, photos, and videos of the damaged vehicle on the spot to accelerate the claims process.
Step 5 – Post an FIR filing and document submission, a claims expert will verify the extent of damage and calculate the expenses to cover the damage. Then, the car must be taken to the network garage in case of cashless claims.
Step 6 – Now, you can avail either a cashless claim or the reimbursement claims facility. It's recommended to go for a cashless claim because the bills will be settled by Reliance Car Insurance directly and you won't have to pay any upfront fee. 
However, a reimbursement claim would require paying an upfront fee; followed by submitting the bills and receipts later for reimbursement.
Exclusions Within Reliance Car Insurance Policy
Reliance Car insurance covers most of the aspects EXCEPT the following:
Normal aging caused due to wear and tear that demands regular servicing
Mechanical and electrical failures
Consequential damage arising from the original glitches
Damage caused because of alcohol, drugs, and sedative abuse
Damaged caused when driving without a valid driver's license
War and Nuclear attack damage
Factors Affecting Premium
| | |
| --- | --- |
| Factor | Description |
| Owner's Age | Maximum premium for age groups 18-25 |
| Location | Higher traffic density areas attract more premiums |
| Insured Declared Value (IDV) | Determined by RTO, brand and is the maximum amount the insured person is entitled for in case of damage |
| Cubic Capacity | Depends on the make and model which affects premium rates |
| Additional Factors | Safety features, vehicle purpose, and more |
Frequently Asked Questions
1. Why should I get my vehicle insured?
Getting your car insured is the safest and smartest bet as it can save you from any unforeseen damages that can put a dent in your pockets. Car insurance provides safety for the vehicle owner and co-passengers as well.
2. Can I retain my car policy benefits if I sell my car?
You can either transfer your existing policy or you can ask the new vehicle owner to arrange one on their own.
3. What risks does Reliance motor insurance policy cover?
The vehicle insurance policy covers any damage or loss to the car due to accident, theft, fire, natural calamities, damages during transit of the vehicle and many more.
4. What are the factors that can affect the premium of my car?
Few factors that can affect the insurance premium are: The present market value of your car model, CC of car, Location of your vehicle registration, Type and age of your car model, Add-on covers, No-claim bonus retention, etc.
5. What is the procedure for claim registration?
You can immediately give us a call on your helpline number at the moment any damage or loss has been incurred to your vehicle. Apart from this, you can also register you claim by logging in on our official website.