Renew in just 5 mins.
No Inspection.
No Paper Work
* Subject To Underwriting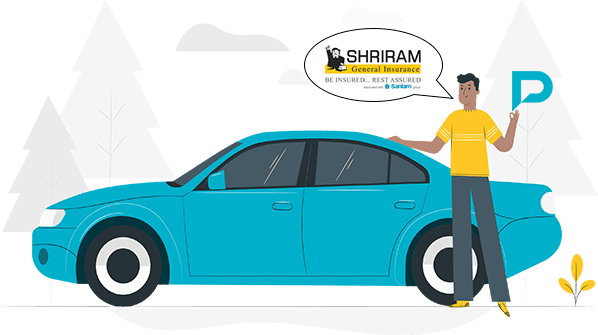 Compare

Car Insurance Plans
India's one of the biggest business houses, Shriram Group is a trusted Insurance company. Shriram Car Insurance was established on 5th April 1974 as a joint venture between Shriram Capital Ltd. And Sanlam Limited. Its headquarters are situated in the city of Chennai, India. Today, they have more than 3000 offices in India with nearly 12 million customers and more than 60,000 employees.
These figures are enough to the state where Shriram Car Insurance stands. The company provides many insurances like motor insurance, travel insurance, home insurance, etc. Shriram Car Insurance protects your vehicle against many losses like theft, riots, accidents, and provides financial protection, and offers many add-ons covers.
A Snippet Of Shriram Car Insurance
| | |
| --- | --- |
| Features | Coverage and Benefits |
| Third-Party Coverage | Protection against third party liability in case of an accident |
| Personal Accident Insurance | Provides coverage of up to Rs. 15 lakhs |
| No Claim Bonus | Yes |
| Incurred Claim Ratio | Claim ratio of about 103.18% |
| Network Garages | 2071 garages across India |
Things To Know About Shriram Car Insurance
Shriram Car Insurance is unique and offers many benefits to its customers. Some features and things to know are listed below:
Customer Support: The company provides 24X7 customer service. If you have any doubts or queries during emergencies, the company provides immediate assistance and help.
Free Garages: Shriram Car Insurance offers cashless services to its customers. They have many garages spread across the country and customers don't have to pay anything in the hour of need to avail service here.
Seamless Claim Facility: Shriram company offers a quick and easy claim facility. The online method requires less documentation and a quick claim settlement process.
Personal Accident Cover: Shriram Car Insurance covers a maximum of Rs. 15 lakhs under Personal Accident Policy.
What Shriram Car Insurance Covers?
Shriram Car Insurance provides protection against many conditions to its customers. The coverage of their insurance supports many natural and man-made situations.
Here are some listed below:
1. Personal accident cover for owner driver plan
The insurer covers in the following manner for bodily injury or sudden death of the owner-driver of the insured vehicle while driving. It also covers the co-driver's injuries while travelling, mounting, or dismounting from the vehicle.
| | |
| --- | --- |
| Nature of Injury | Scale of Compensation (%) |
| Death | 100 |
| Loss of two limbs or two eye sights | 100 |
| Loss of single limb or one eyesight | 50 |
| Total disablements from injuries | 100 |
The customer will get any one of the compensations mentioned above. Also, international injury and consumption of alcohol will not be included.
2. Third-Party Liability Plan
If the car damages a third party resulting in death or injuries or property damage, then the insurer will provide coverage. The cost incurred in written consent shall be paid by the insurer.
3. Loss or Damage to the Vehicle
This plan covers the loss or damage to the vehicle or its accessories due to any of the following reasons.
| | |
| --- | --- |
| Type of Damage | Coverage |
| Natural Calamities | Fire, lightning, floods, earthquakes, explosion, storms, hurricanes, cyclones, etc. |
| Third-Party Liability | It is unlimited for third-party accidental injuries or death. |
| Property Liability | The company provides compensation up to Rs. 750000 for third-party property damage. |
| Man-made calamity | It includes theft, burglary, strike, riots, or any damage in transport by road, rail or water. |
Get More With Add-Ons Of Shriram Car Insurance
Shriram Car Insurance provides many additional benefits to its customers with its add-on facilities. Customers can avail of these benefits at an additional cost.
IDV Under Shriram Car Insurance
IDV is Insured Declared Value and it's the maximum claim your insurer will pay for a car that's stolen or damaged beyond repair. Let's say when you bought the policy the value of your car is Rs. 8 lakh, then the maximum the insurer will disburse is 8 lakh. IDV is not the same, it falls with every passing year.
The depreciation for fixing IDV is as below.
| | |
| --- | --- |
| Time | Value |
| Up to 6 months | 5 percent |
| 6 months to 1 year | 15 percent |
| 1 to 2 years | 20 percent |
| 2 to 3 years | 30 percent |
| 3 to 4 years | 40 percent |
| 4 to 5 years | 50 percent |
| Above 5 years | As decided by the insurer and the insured person |
How To Apply/ Renew Shriram Car Insurance Policy?
Renewal via Probus Website
Renewal Via The Official Shriram General Insurance
Want To File A Claim? Follow These Steps
Shriram car insurance has a seamless file claim process. It is highly efficient and advanced when it comes to claiming a file. Their customer service and 24X7 claim notification keep the customer updated.
It has a simple claim procedure as given below:
Call the toll-free number of the company to lodge a complaint.
You'll have to provide your policy number, date and time of the accident, estimated loss, registration certificate, driver's name and phone number, and insured contact details.
The claim intimation sheet can be downloaded and sent to the respective website.
You will be contacted by the claim representative for further reference.
Once the claim is submitted and approved, the surveyor details will be sent to you via a text message.
The surveyor will be appointed to assess the loss of the insured vehicle. If it is approved, the insured will be intimated about the status of the claim.
The surveyor will contact to know the suitable survey time.
You can contact the surveyor when the vehicle is ready for inspection. You may even track the claim status from the official website.
Exclusions From The Shriram Car Insurance
Shriram car insurance plans have some exclusions that the customer must be aware of. If your damage is not covered in the plan, you will not get any benefit or protection.
The exclusions are as below:
Normal wear and tear of the vehicle is not included in the plan. It can be due to the aging of the vehicle.
Any consequential loss will not be covered under the plan.
The plan excludes any mechanical, electrical, breakage or failure.
If the vehicle is used for any reason other than specified in the plan.
A person driving the vehicle without a valid driving license causing any damage.
The plan excludes any loss or damage due to war, radioactivity or nuclear risk.
Damage caused by the driver under the influence of alcohol or any other drug.
Accidental loss or damage due to wilful negligence.
Any loss that occurs outside the area is covered under the plan.
Factors Affecting Premium and Premium Calculation
As an owner of an insured vehicle, you are liable to pay premiums to continue the benefits of your insurance policy. You can calculate the cost of the premium by using a car insurance premium calculator considering the factors that affect the premium.
The premium charges of a car depend on many factors like IDV, vehicle age, cubic capacity, add-ons, etc.
| | | | | |
| --- | --- | --- | --- | --- |
| Car Model | Price | IDV | Nil Depreciation | Estimated Premium |
| Maruti Dzire LXI | Rs. 5,89,000 | Rs. 4,37,877 | Rs. 2408 | Rs. 14,566 |
| Datsun RediGO A | Rs. 3,58,000 | Rs. 2,44,312 | Rs. 1344 | Rs. 7960 |
| Hyundai Creta E Diesel | Rs. 9,99,000 | Rs. 6,54,265 | Rs. 6489 | Rs. 19,541 |
| Honda WRV Edge Edition i-VTEC S | Rs. 8,08,000 | Rs. 7,30,533 | Rs. 4018 | Rs. 19,127 |
Frequently Asked Questions
You can dial their toll-free number and the company associate will provide you with the policy status upon confirmation of details.
You can visit the nearest branch with policy documents and fill the surrender form. After submitting the form, the company will review your documents and cancel the policy. The refund will be directly credited to your bank account.
Yes, they cover bi-fuel systems like CNG and LPG kits on paying an additional premium.