Renew in just 5 mins.
No Inspection.
No Paper Work
* Subject To Underwriting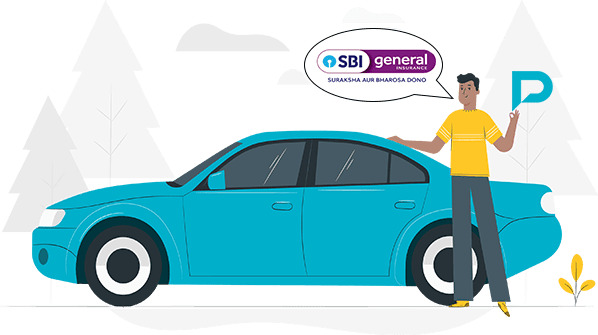 Compare

Car Insurance Plans
Established in 2013, Liberty General Insurance company is a partnership between three strong business firms- Liberty Citystate holdings PTE Ltd (a group company of US Headquartered Liberty Mutual Insurance Group), Enam Securities, (a privately owned and managed firm that makes long-term investments in listed companies) and DP Jindal Group (an industrial conglomerate).
This company deals in a vast range of commercial and retail insurance products ranging from health and personal accident insurance to car and two-wheeler insurance plans. At present, the company operates a strong partner network consisting of around 5000 hospitals and more than 4000 auto service centers.
Out of all the insurance plans offered by Liberty General, the car insurance plans by this company is greatly valued in the market. Here, we will take a closer look at the car insurance plan offered by Liberty General Insurance Group.
Highlights of Liberty Car Insurance
| | |
| --- | --- |
| Incurred claim ratio of Motor Insurance (2019-20) | 70.95 |
| Network Garages | 4300+ |
| Solvency ratio (2019-20) | 2.21 |
| Premium Underwritten for Motor Insurance (2019-20) | Rs. 1,046.88 crore |
Types of Car Insurance Policies Offered by Liberty General Insurance
Broadly speaking, Liberty General offers three types of car insurance policies that protect the insured vehicles against a wide range of damages such as fire, theft, rots, and floods. Given below is a detailed explanation of all these policies. Let's take a look.
1. Third Party Liability Policy
A third party liability policy is a type of car insurance plan that is regarded as a statutory requirement in India. This policy covers all the damage or theft related expenses happening to the insured vehicle by a third party vehicle. The coverage provided for third-party damages includes:
Permanent injury or death caused by the insured vehicle

Damage to any property (excluding the vehicle) due to the insured vehicle.
ii. Stand-Alone Own Damage (SOD) Policy
The stand alone own damage policy (also known as the Own Damage policy) is another type of car insurance cover that protects the vehicle against any damage happening to the own vehicle without the involvement of any third-party. An example of this situation can be- damage happening to the vehicle while it is parked and a tree branch accidentally falls on it.
iii. Comprehensive/Package Policy
The package car insurance policy by Liberty General Insurance provides comprehensive protection to the insured vehicle against all types of car damages. Customers can take this policy with two types of covers- Liability Only Policy and/or Own Damage Cover. The cover extends to the owner's vehicle. The coverage provided within this plan includes:
Accident due to external impact

Damage due to an earthquake, flood, storm, landslide, rockslide

Loss of the vehicle through burglary or housebreaking

Irreparable damage of the vehicle due to a fire, explosion, self-ignition, lightning

Damage due to malicious intent including riots, strikes, or terrorism

Accident to the vehicle while in transit by road, rail, inland waterway or on a lift.
Add on Covers Available in Liberty Car Insurance Plans
Liberty car insurance plans come with a list of add-on covers that can be opted by the customers on the basis of their needs. These add-on covers help in increasing the coverage of the policy.
Reasons To Buy Car Insurance From Liberty General Insurance
The list of car insurance providers in India is really big. Given such a vast number of options available, it is important to buy insurance from a trusted and renowned insurance group. Given below is a list of few factors that highlight the reason why you should buy car insurance from Liberty Insurance company.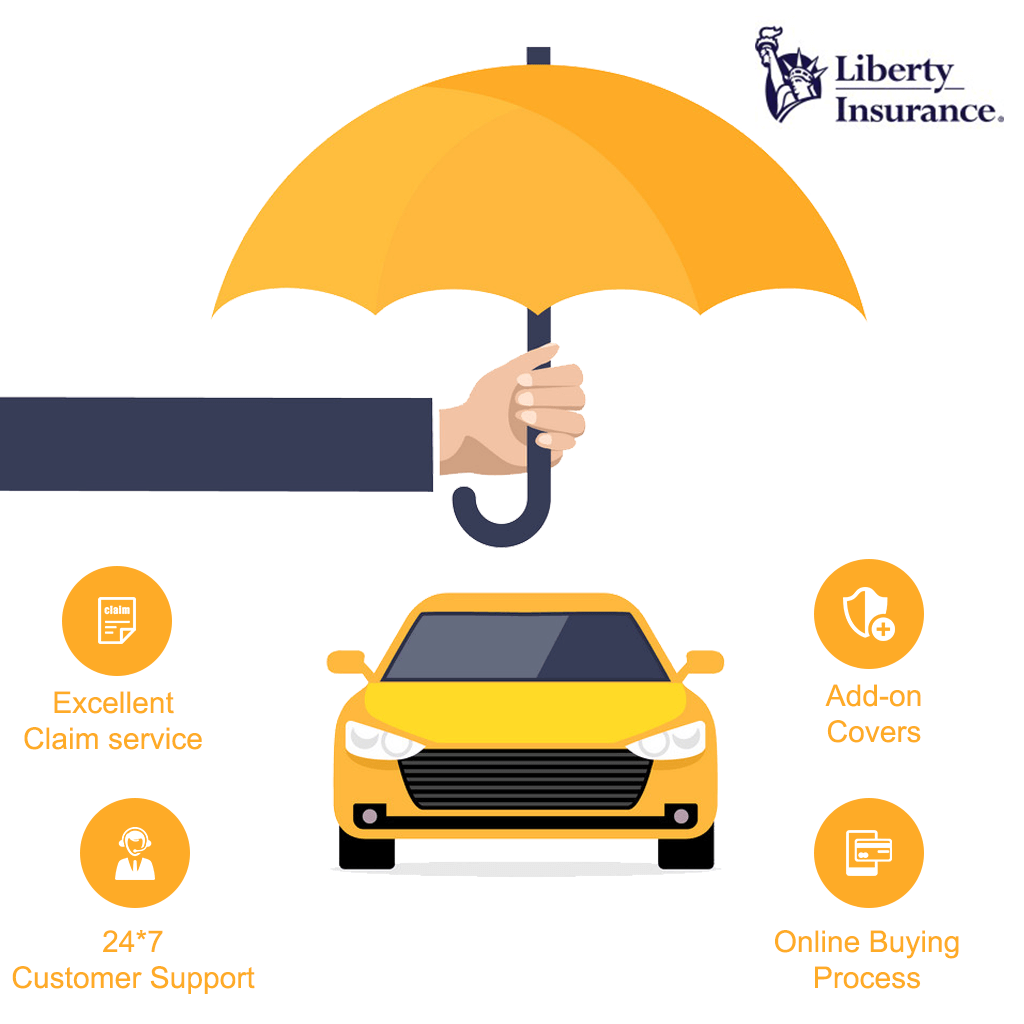 Liberty Insurance company has appointed a dedicated claim support team that ensures providing hassle free claim service to the customers. Policyholders are provided with the access to inspect and claim cashless service at more than 4300 network garages of the company.
Another valuable benefit of buying a car insurance policy from Liberty General Insurance is that this company offers a quick, efficient and round the clock customer support service to solve various queries and ensures putting customers at ease. Customers can contact the company on its toll free number (1800-266-5844) and can also avail effective claims support & assistance from 8:00 AM to 8:00 PM seven days a week.
Liberty General Insurance company adopts an online buying process that is both quick and transparent. Customers can now buy their preferred car insurance plan online by visiting the official website of the company. The policy will be issued instantly with minimal paperwork, and customers can avail other benefits as well.
One of the best parts about Liberty's car insurance policy is that it provides a rich variety of add on covers. Customers can opt for these covers and enhance their policy for additional protection.
4 Important Factors Affecting Car Insurance Premium
Before buying an insurance policy, it is important to get an idea about its premium rate as it helps in ensuring that you buy a policy that is within your budget. There are several parameters that affect the premium rates of a car insurance policy. Given below is a list of all such factors. Take a look at these factors as it will help you in making an informed decision about the kind of cover you should choose.
Geographical Area: The premium rates vary largely on the basis of the area in which the vehicle is bought or registered. For example, the premium of a car registered in a metropolitan city will be more since the chances of accidents in such a city are relatively higher.

Cover selected: Car insurance policies come with different types of covers and benefits. The premium rates are supposed to vary depending on the type of coverage and benefit selected by the policyholder. An insurance policy providing a good range of benefits is likely to have higher premium costs in comparison to a policy offering a limited number of benefits.

Add-on covers: Depending on the add-on benefits opted by the customer, the premium rates of the car insurance plans are bound to differ. If the policyholder includes a large number of add on benefits into their plan, then the premium rate of the plan will be higher.

Age of the vehicle: The age of the vehicle also plays a dominant role in deciding the premium rate of the insurance plan. The premium prices of an old car insurance plan is likely to be lower in comparison to the premium rate for a brand new car. This is because the car's value depreciates over time, and so does its insurance premium as it is directly proportional to the price or IDV of the vehicle.
How to Buy A Liberty Car Insurance Plan?
The buying process of Liberty Car insurance plans is very simple. The company sells its policy through two methods- online and offline buying processes. Customers can opt for any of these methods as per their convenience. Given below is a step by step explanation of both the buying processes.
Customers who wish to buy the car insurance plan offline will have to visit the nearest branch of Liberty Insurance company. The customer support agent at the branch will assist them in buying the policy.
In case you face any problem with buying a Liberty car insurance plan, you can contact the Probus team as well.
As discussed above, one of the best parts about buying a Liberty car insurance policy is that the company offers an excellent claim service to the customers. The company adopts a claim settlement process that is both quick and transparent. Customers can avail hassle free, and cashless claim services at more than 4300 network garages of the company.
Given below are the details of the claim process of Liberty Car Insurance plans-
Register your claim request immediately through either of the below mentioned options:

Registering at the company's official website

Calling the customer support team at 1800 266 5844.

The company's representative will contact you for further details as required.

Next, the company will organise a survey inside city limits within 24 hours and outside city limits within 48 hour to study and process your claim request.

After moving the car to a garage, the policyholder has to submit their required documents at the garage for verification.
Here is a list of documents that are required while processing the car insurance claim.
Duly filled claim form

Copy of Registration Certificate (RC) with the original for verification

Copy of driving license with the original for verification

Police First Information Report

Fire Brigade Report

Photographs of the damaged vehicle

Entire set of vehicle keys

Final Report of No Trace Report for lost vehicle from the police

Subrogation & Power of Attorney in case of total loss and theft

Indemnity Bond

NOC from financer in case of total loss and theft

Discharge voucher
Frequently Asked Questions