Renew in just 5 mins.
No Inspection.
No Paper Work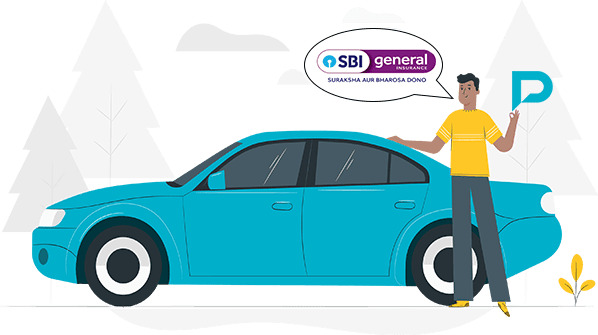 SBI General Insurance has been a leading name in the insurance industry. With a focus on transparency, empathy, agility, motivation, and service, SBI General Insurance offers a multitude of options in the retail and commercial space at attractive prices. With over 21000 IRDA-certified employees and 8000+ agents, SBI ensures that insurance is within reach of those living in even the most remote areas in the country.
SBI General's presence is felt in over 110 cities in India along with another 350+ locations through satellite resources and caters to the retail, corporate and SME segments.
SBI General received the Best BFSI Award in 2016 and 2018 for excellence in general insurance from Economic Times. The company was also recognized for Under-served Market Penetration and Commercial Lines Growth Leadership at the India Assurance Awards in 2016. At the 7th edition of Insurance Awards organized by Fintelekt, SBI has bestowed the Bancassurance Leader award in 2016. 
In addition to these accolades, SBI General Insurance has been ISO certified since March 2014, and won the Technology Maturity Award in 2013 and Marketing Initiative of the Year in 2015 during the Insurance Awards by Fintelekt. In 2014, SBI General was awarded runner-up for Data Quality in Asia-Pacific by IAIDQ, Australia.
Quick Look At SBI Car Insurance
| | |
| --- | --- |
| Features | Benefits/Coverage |
| Network garages | 22,000+ |
| Personal accident insurance | Up to 15 lakh |
| No Claim Bonus | Yes |
| No. of claims | ₹ 11000 crore |
Why Choose SBI Car Insurance?
From round-the-clock assistance to a far-reaching network, SBI General's car insurance offers numerous benefits for its policyholders.
A network of 22000+ branches across 125 locations in the country 
Till date more than 6.8 Crore customers have been served 
Satellite presence in 350+ locations 
Handled over ₹ 11000 crore worth of claims 
Compulsory third-party liability and personal accident cover
Host of add-on covers like loss of belongings, bi-fuel kit, key replacement, no-claim bonus, etc.
What Do You Get When You Purchase SBI Car Insurance?
When you opt for a policy and its add-ons, it includes the following:
Compulsory personal accident cover of INR 15 lakh for owner-driver. Cover of passengers is capped at INR 2 lakh per head.
Compulsory third-party liability cover protects you from liability in the event of damage caused to person, property, or vehicle by your car.
If your car is damaged due to natural disasters like floods, lightning, cyclones or hurricanes, or storms, the insurance covers the cost of its repair.
Along with the standard cover, you can also choose to purchase add-ons that will provide additional protection. Some of these add-ons include:
Legal liability – Protects you from legal liability in the event of an accident if the vehicle was being driven by the driver or a paid employee
Nil depreciation – Protects you from financial loss arising from depreciation value of car parts
Bi-fuel kit – Can be purchased for cars that run on LPG, CNG, and bi-fuel kits
Depreciation reimbursement – Covers reimbursement of spare parts that are purchased during the policy period while undergoing damage repair in event of an accident
NCB bonus – Discounts on your premium during policy renewal if a claim was not filed during the preceding policy term
Return to invoice – Covers the policyholder for the difference in the amount between the invoice value of their vehicle and the insured declared value
Key-replacement – Your policy covers the cost arising from having the key to your insured vehicle replaced in the event of its loss or theft
Loss of personal belongings – Provides protection to the policyholder in the event of loss or theft and is to be filed along with the key replacement add-on. Items of a personal nature such as clothing, laptop, jewelry, cell phone, audio and videotapes, and CDs. However, money, cheques, securities, debit and credit cards, bank drafts, paintings, curios, travel tickets and other such items are not covered.
Inconvenience allowance – Provides the policyholder with a cash benefit for the time taken during repairs to your car in the event of an accident in authorised garages. This benefit is applicable for up to a maximum of ten days. A claim under this add-on can be made for a maximum of two times during the policy tenure
Engine guard – Provides protection from expenses arising from repairing a damaged engine and/or its parts
Roadside assistance – Covers expenses arising from roadside assistance in the event of an accident or breakdown of the vehicle
Consumables covers – Expenses for consumables such as nuts and bolts, fuel filter, grease, lubricants, brake oil, screws and gas for the air conditioner
Learn How To Purchase Or Renew SBI Car Insurance Online
Buying and renewing car insurance policies online has become very easy. You can purchase or renew your car insurance policy through the following ways:
Walk into one of the company's offices
Get in touch with an authorized agent who can guide you. 
Online purchase or renewal of your car insurance policy.
Online Purchase And Renewal
Probus Insurance Website
Step 1 – Open the Probus Insurance portal and log in to your account using your username and password. If this is your first time, you can create your account.
Step 2 – Enter your basic details including the make, model, variant, year of registration, and fuel type of your car along with your contact number (mobile), and email address.
Step 3 – If you have previously had insurance for this vehicle, please specify it along with its date of expiration.
Step 4 – See which policy suits your requirements by comparing them and pick the one that fits you best.
Step 5 – Pay online and your insurance policy will be sent to the inbox of the email address that you provided.
SBI General Official Website
Step 1 – Open the official website in your browser.
Step 2 – Click on GET QUOTE. You can enter your car's registration number or click Continue without Vehicle Number.
Step 3 – Enter your contact details and click CONTINUE. Enter the OTP that you receive on the mobile number provided.
Step 4 – Click CONTINUE to see the various policies on offer.
Step 5 – Choose the policy that best suits your needs. Pick any add-ons that you may want to purchase and continue to pay.
Step 6 – Once your payment is cleared, the policy document is instantly sent to your mailbox.
How Can You File a Claim For SBI Car Insurance?
Filing a claim on your insurance policy is important to avoid burning a hole in your pocket in the event of damage or repairs. To file your claim –
Open the official website.
Click on INTIMATE CLAIM and then choose CLAIM FORM DOWNLOAD.
Scroll through the available forms. You can navigate using the PREVIOUS and NEXT arrow at the bottom of the list. When you find the form for motor insurance, you can either download it or email it to your email address.
Print the form and fill out the details
The other alternative method you can use is: 
You can contact the toll-free number 1800-102-1111 or send an SMS – type CLAIM and send it to 561612. Additionally, you can email your details to customer.care@ sbigeneral.com. A claim number or reference will be sent to you.
You can also intimate your claim by filling the form on the above site.
Once you receive your claim number or reference, SBI General's customer care will provide you with a list of documents that you will need to submit along with your claim form.
Once the claim is registered, a claims manager or executive will reach out to you within 24 hours.
Submit the required documents and claims form so they can be verified against the originals.
SBI General will initiate your claim process. All claims will be settled within 30 days of receiving the final survey report and/or the last relevant document.
What Are The Major Car Insurance Policy Exclusions?
SBI General's car insurance policies exclude some incidents. Major exclusions include:
Loss or damage to vehicle arising from normal wear and tear
Any consequential loss or depreciation of the vehicle
Any damage sustained or loss to the accessories of the car
Repairs due to mechanical and electrical breakdown
If terms and conditions of the policy are breached
Damage, theft, or loss due to foreign enemy acts, invasion, rebellion, mutiny, or war-related incidents are not covered.
The policy does not cover the vehicle if it was being driven by someone without a valid driving licence.
The policy will not kick in if the vehicle was being driven by someone under the influence of alcohol and/or other intoxicants. Please note that driving under the influence is also punishable by law.
For a more exhaustive list of exclusions, please refer to the policy document.
How Can I Get Low Premiums And Calculate My Premium?
No-claim bonuses
One way of lowering your premium amount is a no-claim bonus. If throughout your policy term you have not filed a claim, you may be entitled to a no-claim bonus. This bonus is offered to you as a discount and acts as a reward for safe and responsible driving. The longer you go without a claim, the higher the discount. However, if you do file a claim, the discount then drops to 0%.
Premium Calculator
Premiums for car insurance are calculated based on several factors. The make, model, and year of the car and the city of registration play a vital role in determining the premium amount. The fuel type of the vehicle, your age and your profession also factor into the calculation.
Here's an example of what goes into calculating premiums for a car.
| | | | |
| --- | --- | --- | --- |
| Car Model | Price | Insurance Declared Value | Estimated Premium |
| TATA Hexa-XE 4×2 STR (2179) | INR 12.99 lakh | INR 909,300 | INR 6256 |
| Honda City – 1.3 DX (1343 cc) | INR 9.72 lakh | INR 680,400 | INR 4468 |
| Hyundai Creta-1.4L CRDI 6-speed manual base diesel | INR 11.95 lakh | INR 836,500 | INR 5492 |
| Maruti Vitara Brezza – 1.4L CRDI 6-speed manual base diesel | INR 9.99 lakh | INR 693,000 | INR 4550 |
*These values are for the registration year of 2019 and computed based on the city (Delhi).
If you want an exact value, you can follow the application method of applying for a new policy on the official website. This will give you a clearer picture.
Frequently Asked Questions
1. What modes of payment are available for premium payment?
Ans: You can choose to pay your premium through cash payment at an SBI branch or make an online payment via credit card, debit card or net banking.
2. How can I renew my SBI car insurance policy?
Ans: You can renew your policy on SBI General's website or through the Probus Insurance website.
3. How soon after purchase will I receive my policy document?
Ans: Your car insurance policy document is sent to your email immediately upon payment.
4. Can I file a claim online?
Ans: You can intimate your claim online through SBI General's website.
5. How soon will my claim be settled?
Ans: SBI General will settle all claims within 30 days of receiving the final survey report and/or the last relevant document.