Renew in just 5 mins.
No Inspection.
No Paper Work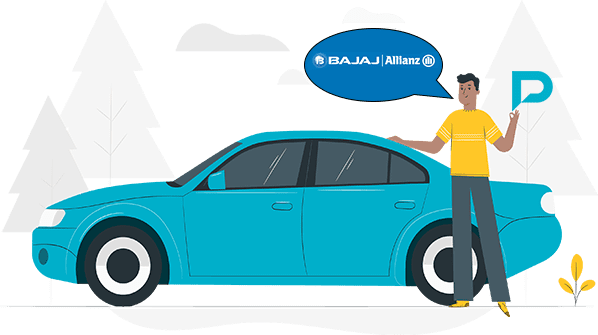 Bajaj Allianz Car Insurance
A joint venture between Allianz and Bajaj Finserv Limited, Bajaj Allianz General Insurance Company Limited commenced operations in 2001. It quickly spread its services all across the country.
Since its inception, there has been tremendous growth and the organization continues to hold a strong position in the market. The association has been recognized with an iAAA rating by ICRA because of the high claim paying ability consecutively for 12 years. With world-class products, digitally enabled processes, proficient after-sales support, and efficient PAN India service, Bajaj Allianz has grown to become the number one choice in the car insurance market.
Benefits and Features Of Car Insurance Plans With Bajaj Allianz
Here are a few reasons Bajaj Allianz car insurance is the right choice for you:
A straightforward way to buy new car insurance or renew your old one with minimal effort
Convenient digitally-enabled processes
Comprehensive coverage for all-round protection against vandalism, accidents, theft, earthquakes, floods, and other man-made and natural calamities
Third-party liability covers up to a maximum of 7.5 lakhs
24X7 customer support and emergency roadside assistance
Network of over 4000 authorized garages for car repairs
Instant cashless claim settlement
Pick and choose from a variety of add-on covers to suit your every need
Claim assistance via email, SMS, and call
All processes available digitally
From the previous policy, you can transfer up to 50 percent of no claim bonus
Dedicated customer support service to keep you informed and updated about your policy and claim
What Bajaj Car Insurance Policy Will Cover?
So, what does your car insurance policy cover?
| | |
| --- | --- |
| Natural reasons | Anything considered a natural catastrophe like rockslide, landslide, lightning, cyclone, hurricane, earthquake, fire, and other such uncontrollable acts of nature. |
| Man-made reasons | Damage or a complete loss due to strikes, terrorism, malicious intended acts, theft, accidents caused because of external causes, burglary, etc. |
| Personal accident cover | The owner/driver gets coverage for protection against accidents or uncertain events. For enhanced protection, optional accident coverage is available. |
| Third-party liability | Coverage for any liabilities that arise due to accidental damage or loss caused to or by any third party (person or vehicle). |
Add-ons give you extensive and airtight protection and well-rounded coverage. You have the liberty to choose and pick the 'add-on' that entices you the most. Here are some add-ons that Bajaj Allianz offers:
Documents Required To Apply For Car Insurance With Bajaj Allianz
To seamlessly complete the process, all you need are a handful of documents.
Vehicle details like model name, model number, registration number, etc.
Vehicle registration certificate
A valid driver's license
Tax receipts
Insurance forms
Bank details
Proof of identity and address (government issued photo ID)
Recent passport size photo
How To Apply For Bajaj Allianz Car Insurance?
With just a few quick clicks and some simple steps, you can get your hands on insurance that's best suited for you.
Apply On Bajaj Allianz Official Website
How To Renew Bajaj Allianz Car Insurance?
It's important you renew your policy in time so it doesn't lapse. It also ensures that you have ongoing protection in case of unforeseen circumstances.
Renewal Via The ProBus Website
Step 1
Login to our website and click on renew the policy
Renewal Via Bajaj Allianz Official Website
Step 1 – Visit the official Bajaj Allianz website and click on 'motor insurance'
Step 2 – Click on 'renew' and then under car insurance 'renew now'
Step 3 – Enter a few basic details like the existing policy number and registration number.
Step 4 – Check the No Claim Bonus you're eligible for
Step 5 – Select the value of your vehicle and any add-ons, if you wish
Step 6 – Review all the details and make changes if needed
Step 7 – Make the online payment
Step 8 – Within no time, you'll have your policy in your inbox
How To Claim Car Insurance With Bajaj Allianz?
You're eligible to make a claim the instant your insurance is live and valid. Bajaj Allianz offers two types of claims – reimbursement claims and cashless claims.
I. Reimbursement Claims Insurance Policy
In this type of policy, you'll have to spend money from your pocket to recover the damages to your vehicle. Later, the insurance company reviews all the details, and based on approval and verification, reimburses the expenses you incur. To do this, you have to:
Visit the insurer's website or call them and register your reimbursement claim.
After successful registration, you will receive a claims registration number
Have your car serviced in any garage, not necessarily a network authorized garage.
Submit the needed documents to the insurance company
After verification, the insurance company will initiate the reimbursement procedure
II. Cashless Car Insurance Claims
In this type of claim, you don't have to pay for the damages. Once you take your car to the network garage, the insurance company will check the vehicle and after approval, they will pay them directly. You're only required to pay for minimal expenses related to depreciation. To do this, you have to:
Visit the insurer's website or call them and register your reimbursement claim.
After successful registration, you will receive a claims registration number
Visit an authorized network garage to initiate repairs where the insurance company personnel will visit
Submit the needed documents to the insurance company
After verification, the insurance company will initiate the payment instantly.
III. Car Insurance OTS Claims
As the name suggests, OTS is On-The-Spot. This is a new offering that allows you to make claims on the spot for up to INR 30,000 which reaches your account in about 20 minutes. For this, you have to:
Download the Bajaj Allianz app and log in with your details
Take pictures of the damages and upload them
Once the images are verified, the amount you claim will reach your account nearly instantly!
Documents You Need To File A Claim
To file a claim, keep these documents handy:
Date of the accident
What time the accident occurred
Chassis and the engine number
Kilometer reading
Location of accident
Description of how the accident occurred
Vehicle inspection address
Copy of FIR if there's a police report, or it's a theft
Exclusions Of Bajaj Allianz Car Insurance Policy
Car insurance comes with many features which are also some which are excluded. It's essential to know the exclusions so you can make an informed decision.
Expenses on damages or losses because of driving without a valid driver's license
Expenses on damages or losses because of oil leakage
Expenses on damages or losses because of drunk-and-driving
Expenses on damages or losses because of depreciation of your vehicle or its spare parts
Expenses on damages or losses beyond the guidelines of your car's manufacturer
Expenses on damages or losses when the policy is not in force
Steps To Calculate Car Insurance Premium Online
Certain factors influence the premium of vehicle insurance like the model and make of the vehicle, the place of registration, the year of purchase, etc. You can read all about the factors that affect the premium on the Probus website. Alternatively, you can calculate car insurance premiums in a defined and simplified manner with a premium calculator.
Calculator On Bajaj Allianz Official Website
Step 1 – Visit the official website and click on 'quick quote'
Step 2 – You have to enter some basic details like your name, contact number, any existing Bajaj Allianz policy, car makes, model, variant, registration number, registration date, etc.
Step 3 – Click on get quote
Step 4 – The calculator will calculate your premium and instantly display it on your screen
Frequently Asked Questions
1. Why should I buy Bajaj Allianz car insurance?
Ans: With the uncertainties in life, insurance will ensure you're always protected. Apart from protection, Bajaj Allianz offers multiple perks like 24*7 assistance, multiple add-ons, easy and quick claim settlement, fast renewal, and cashless cover.
2. What is NCB and is it transferable when I change plans or insurers?
Ans: NCB is No Claim Bonus which is a type of discount you get when you renew your policy. You only get it if you have not claimed anything in that particular year. Whether you switch plans or companies, you can easily transfer your No Claim Bonus.
3. What happens if my Bajaj Allianz car insurance lapses?
Ans: If your policy lapses, your vehicle has to undergo inspection again before you purchase a new policy. If you don't renew your policy within 90 days, then you lose out on the NCB as well.