Renew in just 5 mins.
No Inspection.
No Paper Work
* Subject To Underwriting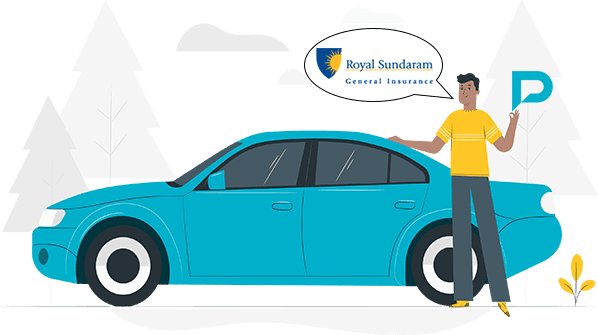 Compare

Car Insurance Plans
Royal Sundaram Car Insurance
Royal Sundaram is a subsidiary of Sundaram Finance Group. It is the first private sector insurance company in India. Licensed by the IRDAI in 2000, it is currently headquartered in Chennai, Tamil Nadu, and is chaired by Mr. S. Viji. The company boasts over 2000 employees and is one of the most reputed insurance providers in the country.
Quick Look at Royal Sundaram Car insurance
Royal Sundaram car insurance provides wide coverage and multiple add-ons. Here's a quick glance at its offerings:
| | |
| --- | --- |
| Features | What's included |
| Third-Party Coverage | Yes |
| Incurred Claim Ratio | 82.15% |
| NCB or No Claim Bonus | Yes |
| Personal Accident Cover | Yes |
| Garages Across India | Over 4600+ |
Inclusions under Royal Sundaram Car Insurance
Royal Sundaram offers comprehensive protection with a range of features. Here's what you get when you choose car insurance with Royal Sundaram:
Complete loss or damage protection: Enjoy protection from loss or damage to your vehicle due to accidental acts or natural calamities.
Unlimited liability: Stay protected in case of claims due to third-party death or injuries.
Indemnity for third party property: Avail indemnity for third-party property damage up to Rs. 75 lakhs.
Personal accident coverage: Opt for personal accident cover for you, your paid driver, and the occupants of your car.
Wide network of garages: Enjoy cashless claims with our 4600+ network of garages across the country.
Emergency roadside assistance: Avail free-of-cost roadside assistance in case of emergencies.
100% invoice cover: Claim 100% invoice price coverage.
Discounts: In addition to the no claim bonus, enjoy a 35% discount on its own damage premium subject to Rs. 2000 for a voluntary deductible of Rs.15,000.
What's Covered and What's Not under Royal Sundaram Car Insurance:
Royal Sundaram provides wide coverage for losses, liability, personal accidents as follows:
Covered

Not Covered

Loss of Damage to the Vehicle (Own Damage)
Losses due to accidental and external damage
Losses due to wear and tear, depreciation, etc.
Losses due to fire and explosion
Losses due to mechanical or electrical breakdowns
Damages due to riot and strike
Damages caused while driving without a valid driving license
Damages due to burglary, housebreaking, theft
Damages caused while driving under the influence of alcohol
Damages due to malicious acts or acts of terrorism
Damages caused while driving the car outside the scope of limitations to use.
Losses due to natural calamities such as earthquake, storm, landslide, flood, cyclone, etc.
Expenses explicitly not covered under the policy
Liability to Third Parties
Legal claims in case of death, injury of third parties, or damage to third party properties
Damages to own property, expenses incurred without prior written consent, expenses outside the scope of the policy
Personal Accident Cover
Expenses due to accident for the vehicle owner, driver, and occupants up to Rs. 15 lakhs
–
In addition to the basic coverage, Royal Sundaram offers a range of add-ons for enhanced protection of your vehicle, as listed below:
Benefits of Online Application & Renewal of Royal Sundaram Car Insurance
Buying insurance is no longer a cumbersome process. You can browse several plans online and make the right pick while enjoying the following additional benefits:
Time Saving: You are no longer required to make visits to the insurance company's office. Purchase or renew car insurance online within minutes.
Minimum Documents: The need to procure hard copies is now done away with. Attach the soft copies of the required documentation online and secure the best car insurance plan.
Flexible Payments: Pay for the chosen car insurance plan online via your preferred mode of payment such as debit/credit cards, e-wallets, and net banking.
Online Assistance: In case of any queries, reach out to 24/7 customer assistance via chat or phone.
Special Discounts: Enjoy special discounts on the purchase or renewal of car insurance online.
How to Apply/Renew Royal Sundaram Car Insurance online?
Apply for car insurance or renew it online without hassles by following the below mentioned steps:
Via Royal Sundaram Website
Claiming insurance need not be a lengthy procedure. Follow the steps below in case your car is in an accident or is damaged:
Reach out to Royal Sundaram via the customer service helpline immediately.
Keep in hand details such as policy number, contact number, etc.
Do not repair or dismantle the vehicle before it is examined by an official surveyor.
After providing details of the incident, a surveyor will be assigned to inspect the vehicle and site of damage.
Provide requisite details to the surveyor.
Fill the claim form with updated Aadhar and PAN card details.
Attach copies of certificate of registration, valid driving license, and FIR.
Attach a copy of the PAN Card along with a recent passport size photograph in case the claim amount exceeds Rs. 1,00,000.
After verifying the documents and the surveyor's report, the cashless claim facility will be initiated.
In case of reimbursement claims, the original bill amount will be settled after receipt of a valid invoice copy.
You can collect the vehicle from the garage after the completion of the above steps and payment of any additional amount.
Documents Required For The Claim Process Include
Copy of driving license,
RC book,
Policy Document,
Copy of FIR,
Original Repair bill or Invoice Receipt,
Photographs of the damaged vehicle,
NOC, Power of Attorney or Subrogation, Discharge Voucher in case of Theft,
Any other documents as required by the surveyor for the settlement of claim.
Quick Glance at Royal Sundaram Car Insurance Premiums and the Premium Calculator
Typically, several factors influence the premium amount under car insurance. These include the model and make of your vehicle, the year of purchase/manufacture, the place of registration, etc.
To calculate the amount of premium, visit the website of the insurance company and browse the section 'Get Quote'. Fill in the required details and get an instant quote online, depending on the type of plan chosen.
Here are some samples of car insurance premium for different car models:
| | | | | |
| --- | --- | --- | --- | --- |
| Car Variant | Price of Vehicle (Rs) | IDV (Rs) | Zero Depreciation (Add-on) (Rs) | Approximate Premium Value (Rs) |
| Hyundai Verna S 1.5 VTVT (1497 cc) | 931000 | 609188 | 2741 | 29926 |
| Maruti Suzuki Brezza LXi (1462 cc) | 734000 | 557840 | 1813 | 20522 |
| Tata Tigor Revotron XE (1199 cc) | 575000 | 409887 | 1640 | 12898 |
Frequently Asked Questions
Break-in insurance is when the policy lapses due to non-renewal. If you have a break in your car insurance, you should –
1) Get your car re-inspected.
2) Approach another car insurance company for renewal (if it is less than 90 days from the expiry of car insurance)
3) Get a new Car insurance policy (if it is more than 90 days from the expiry of car insurance).
It can be issued at the time of purchase, mid-term or during the renewal of the policy. It is a document showing additions and amendments to the existing terms of the policy. If you require to make changes to your existing policy by purchasing more, coverage, add-ons, etc, you should get in touch with your insurance provider for the issuance of an endorsement. Changes in policy such as change of name, change of address, etc can also be brought into effect via an endorsement.