Renew in just 5 mins.
No Inspection.
No Paper Work
* Subject To Underwriting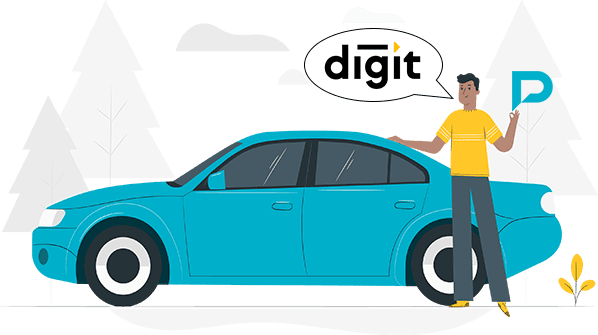 Compare

Car Insurance Plans
Digit Car Insurance is a significant, rapidly expanding insurance provider for cars and other four wheelers, offered by Go Digit General Insurance Ltd. The organization was founded by Mr. Kamesh Goyal. The company is fast gaining popularity as it offers comprehensible insurance solutions for its customers and ensures that the whole process from buying a car insurance policy to making claims against road emergencies, thefts and other crises is seamless and customer friendly.
In the past, other than partnering with big names like Cleartrip, Thomas Cook, Flipkart, Tanishq, Amazon and PayTM, they also secured funding of nearly Rs. 600 crores.
Quick look at Digit Car Insurance
| | |
| --- | --- |
| Features | Digit Benefit |
| Premium | Starting from 2072/- |
| No Claim Bonus | Yes, available up to 50% Discount |
| Customizable Add-Ons | Yes 7 Add-ons available |
| Cashless Repairs | Available at 4600+ Garages offering Pickup & Drop of vehicle |
| Claim Process | Quick Smartphone-enabled claim process within minutes |
| Claim Settlement Ratio | 96% Claims Settled  based on internal assessment for private Cars |
| Own Damage Cover | Available |
| Damages to Third-Party | Yes, available for Personal Damages as well as for Property/Vehicle Damages |
Why Digit Car Insurance Is A Good Option For You
Digit Car Insurance is client-friendly and has customized car insurance offers to depend on customers' requirements. All transactions and purchases can be conveniently conducted online.
Here are the features and benefits of Digit Car Insurance: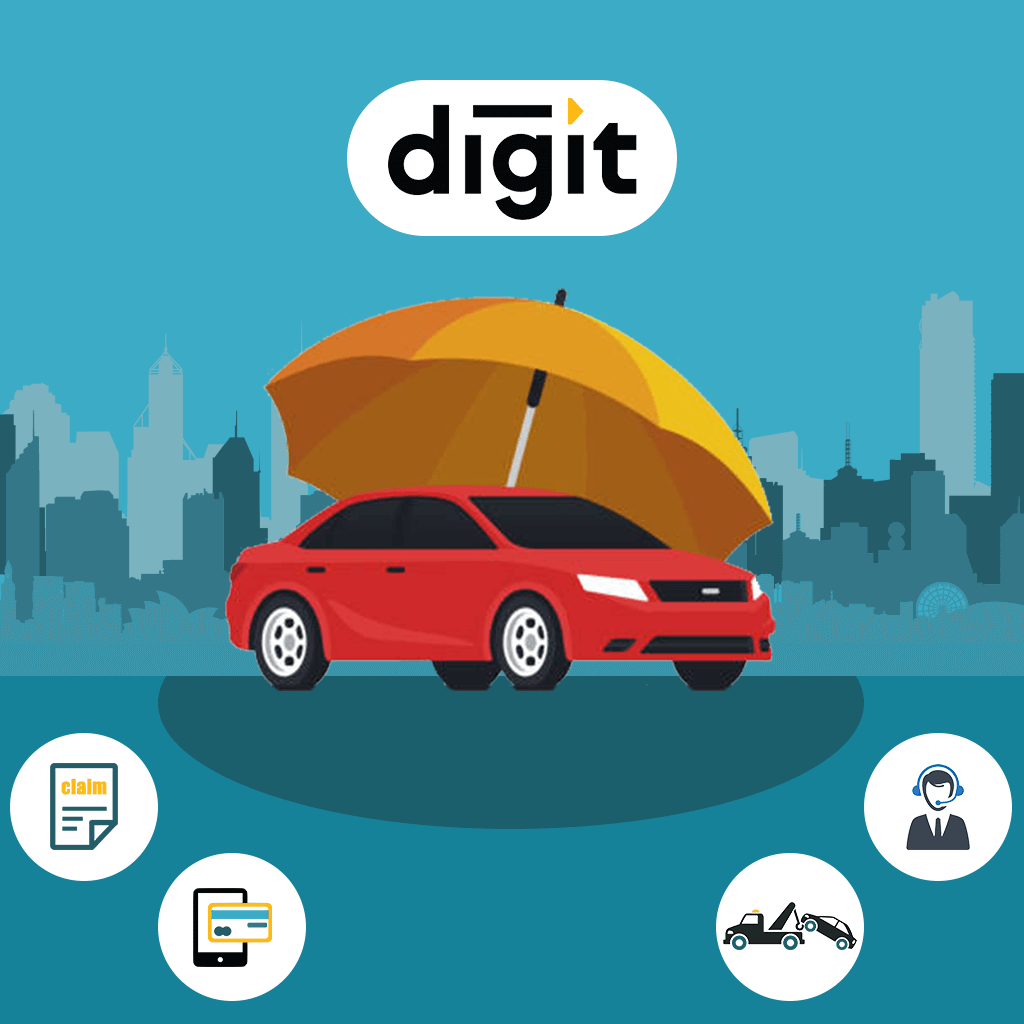 The company has a record of settling 90.4% of claims within 30 days.
Policyholders can get cashless repairs after an accident from a garage of their choice without paying anything out of their own pocket. Digit promptly settles the bills with the garage without any hassle..
The company ensures doorstep pickup, repair and drop of the insured vehicle.
Call and support facility is available round the clock
To file a claim the policyholder may use the quick smartphone-enabled claim process. All you need to do is click pictures of the damage on your smartphone and send to someone from Digit
High IDV per rupee: Policyholders can customize IDV (Insured Declared Value) or the maximum compensation from the motor insurance policy in case of irreparable damage or theft of the vehicle. A high IDV can also keep your mind free from apprehension as it will minimise your financial loss and you need not worry about events beyond your control
Coverage And Exclusions Of Digit Car Insurance
Digit Car Insurance offers two kinds of car insurance plans:
Third party car insurance policy: which deals with damages and losses caused to a third-party person, vehicle or property.
1. Loss or damage to the vehicle
This covers the policyholder's vehicle only in the case of an accident, which includes repair expenses to the vehicle.
| | |
| --- | --- |
| Covered (Inclusions) | Not Covered (Excluded) |
| Accidents: Includes external and internal damages to own car, in the event of accidents and collisions. | Driving under the effect of intoxicants or without a valid driving license. |
| Theft of vehicle, breaking in and burglary | Driver holding a learner's license, without a valid driving license-holder with them in the front passenger seat. |
| Damages due to explosions and fire. | Damages that are not connected to the accident for example oil leak |
| Damage done by any natural disaster such as cyclones, earthquakes etc | Any causal carelessness with regard cover which is not recommended according to the manufacturer's driving instruction booklet (for example damage caused by driving a car in a flooded area) |
| Damages due to acts of vandalism or terrorism | Any service covered in add-ons but not included or mentioned in the insurance policy shall not be covered. |
|   | Any damage or loss caused if driving the car outside beyond the limitations of the permitted use. |
|   | Expenses and add-ons clearly not covered under the policy |
2. Third Party Liability Car Insurance Policy
— Inclusions
Third party losses: This includes harm caused by the policyholder's car to another person's car or other assets. The limit of liability is up to Rs. 7.5 lakhs.
— Exclusions
Damage to own vehicle caused by accidents, fire or natural calamities, injury to owner-driver burglary or complete damage of Vehicle, and add-ons
3. Personal accident and injury cover
— Inclusion
This cover protects the owner or driver and also the passengers in the event of an accident. The medical bills and hospitalization charges are all covered by the insurance, not considering whose fault it was.
Some conditions where your Car Insurance Claim may not be accepted
Damage caused by driving under the effect of alcohol and other intoxicants
Driving without a legitimate driving license
Driving alone with a learner's license unaccompanied by a valid license holder
Damage due to wear and tear because of negligence
Valid proof of accident not presented
The claim should be filed within a week of the accident
Quick Comparison Between Comprehensive And Third Party Insurance Of Go Digit
| | | |
| --- | --- | --- |
| Cover provided for | Third party Insurance | Comprehensive Insurance |
| Accident of policy holder's own car | No | Yes |
| Fire and explosion of own car | No | Yes |
| Natural calamity damages to car | No | Yes |
| Theft | No | Yes |
| Pick-Up and Drop facility | No | Yes |
| Tailored IDV | No | Yes |
| Add-ons | No | Yes |
| Damages to Third-Party Vehicle | Yes | Yes |
| Damages to Third-Party Property | Yes | Yes |
| Personal accident cover | Yes | Yes |
| Death of or harm to a Third-Party Person | Yes | Yes |
Digit Car Insurance Add-Ons
Add-ons are extra covers available only with the comprehensive car insurance policy, which a policyholder can purchase by paying a premium.
Benefits Of Purchasing Digit Car Insurance Online
Insurance agents or brokers are not involved
Easier to weigh the pros and cons and make a learned decision
There is no need to visit the branch office, queue up for hours to meet the concerned officer. The entire process, even payment of premiums can be completed online from your home using internet banking.
This method is cost effective. Since the application is processed virtually, the company saves on the cost of paper and other materials
Minimum paperwork. From the proposal form to scanning the required documents and issue of the soft copy of the insurance document is possible online saving on cumbersome paperwork.
The policy document is issued within minutes of submitting the application form and scanned copies of required documents and payment of the premium online.
The soft copy of the policy document is sent on the policy holder's registered email where it remains safe for future reference. There is no fear of loss or misplacement of a hard copy.
Endorsement of changes is easy and hassle free
Procedure For Online Application/Renewal Of Car Insurance Policy
Customers who wish to apply for a new car insurance policy with Digit Car Insurance or renew an existing policy can log into the website directly or through a broker website such as Probus.
Apply or Renew Via Probus Website
Apply or renew via the official Digit Insurance Website
Need To File A Claim? Here's How
Digit offers two types of claims:
1. Cashless claim – The company will settle the bills with the workshop when the car is released.
2. Reimbursement claim – Bills are paid by the policyholder who can later claim reimbursement from the company.
The whole claims procedure for car insurance is trouble-free and simple. Policyholders just need to pursue the simple steps given below for presenting a claim with Digit Car Insurance.
I. Car Insurance Claim Process
For registering a claim, just call the round the clock helpline 1800-258-5956.
No forms need to be filled.
Download a link for self-inspection on your registered mobile number
You will be guided to take clear photographs of your four wheeler's damages using your smartphone.
The Digit team will then inspect and gauge the damages and draw up an estimate
You may select the form of repair you wish to go for namely Reimbursement or Cashless Settlement through the company's network of garages. Digit has over 1000 cashless garages available across India.
II. Third-party Claim Process
The third-party must lodge an FIR at the local police station.
The third party will require a copy of your car insurance policy to raise a claim under it.
The Motor Accident Claims Tribunal (MACT).
III. Claim Process in Case of Theft
Lodge an FIR for the theft
The police will endeavour to find your car. If the car has not been found even after 6 months, a 'Non-Traceable Report' will be issued and the RC (vehicle registration card) of your stolen car will be transferred to the insurance company. Once all related papers are received by the company, the claim will be settled.
Documents Required for Car Insurance Claim
The following documents are required to make a car insurance claim for accidents or theft.
A copy of your vehicle's Registration Card (RC)
A copy of the claimant's driving license
A copy of the first 2 pages of the policy document
The payment receipt with estimate and bill for cash and cashless settlement
In a car insurance policy, the premium depends on the age of the car. The insurance premium for a new car may be higher than an old car.
With the help of a car insurance premium calculator, you can calculate premiums in a definite and easy method.
Select the car's make, model, variant and fuel type.
Select the car's location and year of purchase and registration
State whether any claim has been made against the car insurance in the preceding policy period.
A click on the 'Calculate' button will show the right IDV and premium amount of your car insurance.
Engine Capacity

Premium To Buy A New Policy

(3-Year Plan)

Premium To Renew Existing Policy

 (1-Year Plan)

Under 1,000 cc
Rs. 5,268
Rs. 2,072
Between 1,000 cc and 1,500 cc
Rs. 9,534
Rs. 3,221
Above 1,500 cc
Rs. 24,305
Rs. 7,890
(Source:IRDAI)
Frequently Asked Questions