Renew in just 5 mins.
No Inspection.
No Paper Work
* Subject To Underwriting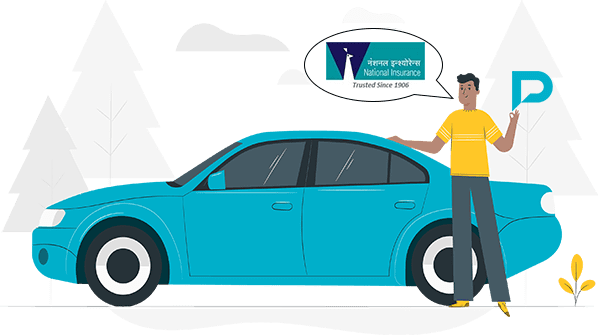 Compare

Car Insurance Plans
National Insurance Company is India's oldest General Insurance Company, which was established on December 5, 1906. In 1972, once the General Insurance Business Nationalization Act was passed, 21 foreign and 11 Indian companies merged to form National Insurance Company Limited.
The company offers around 300 products along with a wide array of insurance services to its customers. The company has over 1730 offices all over India and Nepal with a workforce of more than 13,000 employees and over 50,000 agents spread across the nation.
Benefits and Features Of National Car Insurance
Here're a few reasons to choose National Car Insurance as your top choice:
Protection against accidental damage and vehicle theft
Safeguarding from various natural and man-made events including fire, lightning, burglary, earthquake, floods, and landslides
Comprehensive coverage with one of the highest incurred claim ratios
Towing charges covered in case the car gets severely damaged and reaches a no-run condition
Add on covers at your disposal including nil depreciation, NCB protection, and invoice protection at nominal premiums
Pan India presence with 456+ car garages
Round the clock claim, roadside, and emergency assistance
Quick and hassle-free paperless claim settlement
Digital renewals on your fingertips
A diverse portfolio with comprehensive third-party policies.
A trusted entity with a foundation before independence
Coverage of National Car Insurance
What does the National Insurance Company's car policy cover? There are two types of coverage options that are made available:
| | |
| --- | --- |
| Liability-only cover | This gives you insurance specifically against third-party legal liability arising out of an accident of your car. It covers both risks – Injury or death of a third party and property damage up to Rs.7.5 Lakhs. |
| Package a cover | Otherwise known as comprehensive cover which is inclusive of all liabilities from damages to own vehicle, self, occupants in the car along with statutory provisions for third-party damages. |
Add-on Coverage Of National Car Insurance
Add-on coverage provides extensive and complete coverage for car owners. These coverages are made available on payment of extra premium.
Documents Required To Apply For National Car Insurance
Here's the list of documents you require:
Vehicle's registration certificate
Vehicle's essential details including manufacturer, model, body type, variant, and others
Driving license
Nominee details to be included in the coverage
Identity and address proof (Government-issued photo ID such as Aadhaar card or passport)
Bank details
A recent passport size photograph
Duly signed and attested insurance forms
Tax receipts
Bank details
You can apply for National Car Insurance both online and offline; however, the online process is quicker.
How To Apply For National Car Insurance?
You can get your very own tailored insurance by following a few easy steps.
Apply On National Insurance Official Website
Carry out the procedure by following these steps to take a policy.
How To Renew National Insurance Car Policy?
Renewal is essential before the policy lapse to ensure your vehicle continues to be safeguarded against unpleasant incidents in the future. The process is simple and takes a few minutes to complete.
Renewal Via The Probus Website
Step 1
Log in to the website and head to the "Renew Policy" option.
Step 2
Select the insurer as "National Car Insurance."Clicking on the insurance provider will direct you to their website to complete the process
Step 3
 Enter the details as the fields on the page require including your current policy and registration number.
Step 4
Double-check your amount eligibility for the no claim bonus
Step 5
Select the desired add-ons and the value of your vehicle to proceed
Step 6
Ensure you have inserted the correct details cross-check, if required
Step 7
Proceed for payment and complete with your preferred payment options such as net banking or UPI.
Step 8
It's done! Now, wait for the policy to arrive in your inbox in a few seconds
Renewal Via National Insurance Official Website
Step 1
Visit the official National Insurance Website and click on "Renew Existing Policy".
Step 2
Enter your existing policy number followed by the Captcha
Step 3
Click on Renew Policy and complete the steps that follow
Step 4
Enter your essential details like vehicle registration number and other policy specifics
Step 5
Check the eligibility and amount of your no claim bonus
Step 6
Decide add-ons and select the vehicle value before you proceed
Step 7
Double-check the information entered in the online fields
Step 8
Make the payment with your preferred payment options, including net banking, debit/credit cards, or UPI
Step 9
Complete the payment and wait for the renewed policy to hit your inbox
Here are the required steps and supporting documents needed for making a claim.
File an FIR with the police in case the loss has occurred due to fire, theft, burglary, accident, damage to the third party, etc.
Intimate the policy issuing office after an occurrence of the loss
Collect the relevant preprinted claim form
Read the form thoroughly and correctly fill it
Submit the written form to the policy issuing office either directly or through an authorized agent. Provide documents such as FIR, doctor's prescriptions, test reports, cash memos from chemists, admission, and discharge summary, etc.
The policy issuing officers may appoint a surveyor or loss of assessor or a doctor panel if deemed necessary
A full and final claim amount is then made to the policyholder
Further details can be ascertained from your nearest office
Documents You Need To File A National Car Insurance Claim
You must have the following documents ready for a successful claim:
Car insurance policy details
Essentials of the insured vehicle and the person
Claim intimation form
Copy of registration certificate,
Details about the extent of damage
Location and time of the accident along with lucid descriptions of its occurrence
Driving license of the person driving the vehicle at the time of the accident
Repair estimates
In case of vehicle theft, police FIR, vehicle non-traceable report, and sales invoice might also be required
Every car insurance policy will have features that are excluded. It is always imperative to know these exclusions to make the right decision.
Wear and tear due to aging of the car
Mechanical or electrical breakdown
Consequential loss
Driving without a license
Under influence of alcohol or any other intoxicating substances
Loss due to war or nuclear risks
Contractual liability
Compulsory deductibles
Loss or damage due to depreciation in the value of the car.
Steps To Calculate Car Insurance Premium Online
The car insurance premium calculator will help you calculate premiums in an accurate and simple way. Based on certain factors, the premium amount of a vehicle is calculated. The factors are the model and make of the vehicle, the place of registration, the year of purchase, etc.
Calculator On National Insurance Company Official Website
Step 1 – Visit the official website and click on 'Buy Policy Online'
Step 2 – You will be redirected to another page. Click on 'Continue as a Guest'
Step 3 – Click on 'Motor' followed by the 'Check premium' option on the product of your choice
Step 4 – Fill in the required details and click on 'Quick Quote'
Step 5 – The calculator will take into consideration the details provided and present you with a suitable quote.
Step 6 – If you wish to continue, then you can provide additional information required by the company followed by the payment.
Step 7 – Once the payment is completed, you can go ahead and download the receipt and policy in no time.
Frequently Asked Questions
Yes, you can amend the details; however, you will be liable to pay the differential premium according to the vehicle category.
Your no claim bonus depends on your claim free years and can range from 20% to 50% of the insured value.
Yes, you can if the policy renewal date falls within the 90-day period of expiry from the last policy.