Renew in just 5 mins.
No Inspection.
No Paper Work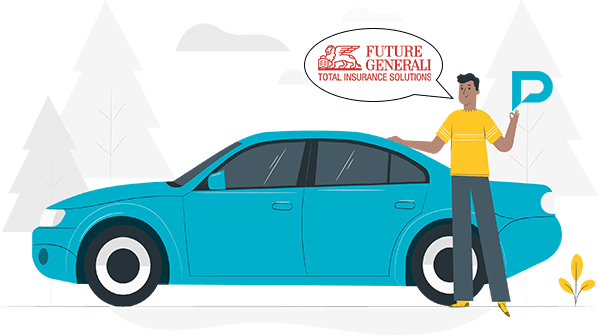 Future Generali Car Insurance
An Italy-based company, Generali Group, and an Indian company, Future Group of industries joined forces to incorporate Future Generali General Insurance Company. The organization became quickly recognized and grew to be a leader in motor insurance along with a range of other offerings like general insurance, travel insurance, etc. A few key offerings like a network of cashless garages spread all over the country, fast and stress-free settlements, and a plethora of add-ons, have made this a popular choice.
Benefits and Features Of Future Generali Car Insurance
Future Generali car insurance offers its clients innumerable features and benefits.
Automated renewal reminder service
Towing assistance (within city limits)
Offers hassle-free and quick claim settlement services within 7 working days
Network of more than 2500 cashless garages across the country
Future Xpress & Future Xpress + claim process ensures a quick, hassle-free, and smooth claim settlement process along with personalized services
Prompt and timely claims survey
Instant policy issuance
Offers an in-house team of professionals providing specialized advice
Coverage Under Future Generali Car Insurance Plans
| | |
| --- | --- |
| Natural Reasons | Natural calamities lightning, self-ignition, earthquake, rockslides, landslides, hailstorms, storms, hurricanes, cyclones, typhoons, floods, etc. |
| Man-made Reasons | Terrorist and malicious activities, riots and strikes, theft of car, and burglary. |
| Personal Accident cover | After an accident or any unforeseen situation, the personal accident cover is a way to replace your income. |
| Third-party Liability | In case of damage to property or vehicle, physical injury, accidental death, etc. coverage is offered for liabilities to a third party. |
Over and above your regular coverage, you can enhance your basic plan with a few add-ons at a minimal cost.
Zero Depreciation Cover – With a comprehensive insurance plan, the depreciation waiver ensures no deduction for depreciation on the replaced parts.
Key Protector Cover – If you misplace or lose your keys or they're stolen, then the insurer bears the costs with this cover.
Daily Cash Benefit – In case of your car breakdowns, Future Generali offers daily cash benefit for hiring another transport during the repair period.
Personal Mobile and Laptop Cover – If either of these belongings is stolen from a locked vehicle, this cover reimburses the value.
Tire Damage Cover – When your tire is damaged, cut, bursts, gets punctured, etc. the costs of replacement are covered with this add-on.
Personal Accident Cover – This cover offers coverage for both the owner and drive of the car during an accident.
Key Protector Cover – If you misplace or lose your keys or they're stolen, then the insurer bears the costs with this cover.
Medical Expenses Cover – During an accident, this cover offers medical expenses for passengers and the driver
Engine Protector Cover – Any damage to the gearbox, engine or other such parts are covered with this add-on.
Protection of NCB – Subject to a few conditions, you can retain the NCB even after you make a claim.
Personal Liability Cover – This add-on offers coverage for the registered owner.
Documents Required To Apply For New Future Generali Car Insurance
Original/copy of the registration certificate
Copy of invoice and proof of payment (for new car purchase)
Original/copy of driving license issued by the government
Proof of address and contact details
Copy of PAN and/or identity proof
How To Apply For Future Generali Car Insurance?
If you're interested in buying a car insurance policy from Future Generali, you can do it online in just a few steps.
Step 1 – Log onto our website and click on car insurance
Step 2 – Enter a few basic details like your city, car make, model, variant, year of registration, previous insurer, and policy expiry.
Step 3 – You will need to fill in a few more details for a precise quote like manufacture month & year, purchase date, customer type, license validity, etc.
Step 4 – Compare and contrast a few plans and choose one that's best suited for you
Step 5 – Make an online payment from several convenient methods
Step 6 – Within no time, you'll have your policy in your inbox
Apply On Future Generali Car Insurance Website
Step 1 – Enter the website and select 'Insure' and then 'Car Insurance'
Step 2 – You will need to give few essential particulars like your name email ID and mobile number and then click 'Get Quote'
Step 3 – Gather some basic information about your car and create your profile like:
Chassis number
Engine number
Registration number
Make, model, and year of manufacture of your car
The expiry date of your policy is on the policy copy in case you're renewing
Applicable no claim bonus
Step 4 – Review your coverage and make changes if required
Step 5 – After you confirm the premium and agree to the terms and conditions, select the preferred payment method
Step 6 – You can download and print your policy schedule. Also, a copy of the policy is sent to the email address
How to Renew Future Generali Car Insurance Policy?
For ongoing protection in case of unforeseen circumstances and to ensure that your policy does not lapse it is imperative to renew it regularly. Renewal of an existing policy can be done in the following ways:
Renewal Via The ProBus Website
Login to the website and select 'Renew Policy' and the insurer i.e., Future Generali
This will take you to the Future Generali website.
Enter a few essential particulars like the existing policy number and registration number.
Review all the details and make changes if needed and make the online payment
Soon, the policy is yours!
Steps to Renew Car Insurance With Future Generali
Keep a track of the renewal date. You will receive an SMS reminder
Log on to the official website and click on 'renew' and 'car insurance'.
Follow the insurer's instructions and fill out the policy details as required.
Modify your plan if you wish
Pay the amount online using a preferred method
Once the payment is received and your details are verified, you will receive an acknowledgement of the car insurance renewal and the process is complete
How To Claim Car Insurance With Future Generali?
At Future Generali, everything is done to make your claim simple and convenient. You're eligible for two types of claims – reimbursement and cashless claims.
I. Reimbursement Claim Process
Intimate Future Generali on the customer care at 1800 220 233 or SMS 'MOTORCLAIM' to 9222211100.
The surveyor will inspect the vehicle
You need to provide the required documents to the surveyor
Make payments to the workshop directly and present bills along with payment receipts to the surveyor or Future Generali branch.
Within a few working days from the submission of the final documents, Future Generali will reimburse the payment.
II. Cashless Claim Process
Intimate Future Generali on the customer care at 1800 220 233 or SMS 'MOTORCLAIM' to 9222211100.
The surveyor will inspect the vehicle
Provide the required documents to the surveyor
The approved claim amount will be communicated to the workshop
Payment will be made directly to the approved workshop
Documentation Required While Making Claims
You must submit the following documents while making motor insurance claims with Future Generali according to the type of claim that is accident, theft or third party.
Certificate of insurance cum policy schedule copy
Registration copy
Claim form
Driving license copy
Repair invoice and final receipt
Cashless payments require satisfaction vouchers
In case of a theft Intimation of theft to the RTO and copy of the FIR
Driving license copy of the driver along with the original for verification in case of third party claim along with court summons and FIR
Exclusions Under Future Generali Car Insurance
A few exclusions include:
The general aging of a car resulting in wear and tear
The claim is not valid if the car is used outside the country
Driving without a valid license is a cognizable offense and a claim cannot be made for an accident under the circumstances.
Future Generali shall not entertain any claim for accidental damage as a result of driving under the influence of alcohol or drugs.
Future Generali only covers damages due to accidents and not those arising from mechanical or electrical breakdown or radioactive contamination.
Steps To Calculate Car Insurance Premium Online
The Probus website clearly enlists all the factors that affect your premium. Alternatively, you can use a car insurance premium calculator. It's an online instrument with which you can find the right premium amount for your car insurance. Follow the simple steps given below to use a car insurance premium calculator.
Calculator On Future Generali Official Website
Step 1 – Access the Premium calculator on the website
Step 2 – Enter the Year of Purchase and Location of Registration of your car.
Step 3 – Mention if any claim is requested by you against your car in the last policy tenure.
Step 4 – Click on 'Calculate'
Step 5 – Enter the OTP you receive
Step 6 – The calculator will calculate the right premium amount for you.
Frequently Asked Questions
1. Can Future Generali Car Insurance be purchased online?
Ans: You can easily buy Future Generali policies online in a matter of minutes. The limited documents and quick processing time make it a favorable option for many.
2. What are the highlights of a car insurance policy with Future Generali?
Ans: A few primary highlights are quick and hassle-free policy issuance process in a matter of minutes, claims process is very quick and straightforward, cashless repairs in a large network of garages, and towing services within city limits during an accident.
3. What to do in case my vehicle meets with an accident?
Ans: A quick way to raise a claim is to call the customer care number. Here, an experienced executive will help you register and raise a claim.