Renew in just 5 mins.
No Inspection.
No Paper Work
* Subject To Underwriting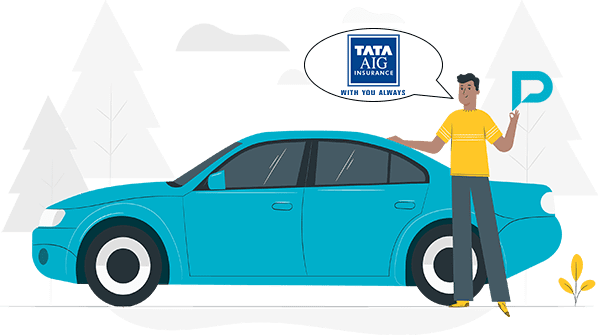 Compare

Car Insurance Plans
A joint venture between American Insurance Group and the Tata Group, Tata AIG General Insurance Ltd has been around for 21 years. The company offers several innovative products tailored to their customers – individuals as well as businesses. The customers can choose from home, health, motor, rural agriculture, and travel insurance.
Quick Summary Of Tata AIG Car insurance
Tata AIG's car insurance benefits cover many scenarios. You can also include add-ons for more comprehensive coverage.
Primary Features

Benefits

Comprehensive cover
Coverage offered for losses incurred in an accident or upon theft of the vehicle.

Easy online purchase

/ Renewal

The policy can be purchased online effortlessly, and an e-copy is

mailed to your email address so you can have access from any device.

Easy claims process
Tata AIG's car insurance claims can be filed easily online as well as in person.
Add-ons
You can choose as many add-ons as possible. The insurance company provides no-claim bonus protection, nil depreciation cover, return to invoice cover, cost of consumables, roadside assistance, cover for loss of personal belongings, engine security cover, key replacement cover, and more.
Third-party liability
Protects against liability towards any third party, person, property, or vehicle, in the event of an accident.
Personal accident cover
Covers loss to owner-driver arising from injury, disability, or death due to accident.
Why Choose Tata AIG Car Insurance?
Car insurance needs vary from person to person. Tata AIG's car insurance offers a host of features and benefits:
Easy transaction – Tata AIG's car insurance is easy to buy online. With just a few clicks of the button, you can purchase car insurance online and have the policy in your inbox in no time.
Tailored to your needs – Every individual's expectations from their car insurance policy is different. With Tata AIG, you can opt for any add-ons that you think you'd benefit from and customize your policy to suit your requirements.
Great settlement ratio – Tata AIG has settled 98% of the claims made from April 2020 to March 2021.
Complete vehicle security – Every car insurance policy covers costs that come from theft of or any sort of damage to your vehicle.
Huge network – With a network of over 7500 authorized garages, you can get easy access to a cashless claim. Also, since the garages are already authorized, you can be rest assured knowing that the repairs done will be of high quality.
Seamless claims procedure – Online claims with Tata AIG ensure a quick and seamless claims settlement. Just a few clicks and your claim process is underway.
What is Covered and Not Covered Under TATA AIG Car Insurance?
Any insurance policy has a set of inclusions and a set of events or conditions that are not a part of it. While purchasing add-ons with a policy that cover a number of scenarios, there are some standard exclusions.
Inclusions of TATA AIG Car Insurance
| | |
| --- | --- |
| Third-party liability | In the event of an accident that includes a third party, be it a person / people, property or a vehicle, the policy protects you from any financial liability that may arise. |
| Damage due to natural disasters | Natural disasters are part and parcel of life. Floods, cyclones, landslides, storms, hailstorms, frost, lightning, and earthquakes could result in damage to your car. Financial loss arising from such situations will be covered by Tata AIG's car insurance policy. |
| Damage due to man-made disasters | Like natural disasters, man-made disasters too are inevitable. Costs arising from damage due to riots, acts of terrorism, fire, self-ignition, and explosion are covered under the policy. |
| Transit coverage | Any damage that occurred during transit of the vehicle via air, road, and rail is covered by the Tata AIG car insurance policy. |
Exclusions of TATA AIG Car Insurance
| | |
| --- | --- |
| Mechanical /electronic breakdown | Any costs arising due to mechanical or electronic failure of the vehicle is not covered under the policy. |
| Consequential losses | Any loss arising a consequence of previous damage is not insured under the policy. |
| Territorial boundaries | If an accident occurs outside India, the costs incurred are not covered by the insurance policy. |
| Deliberate acts | If any damage is deemed deliberate, Tata AIG car insurance does not cover the costs arising from such a situation. |
| Exceeding limitations of the vehicle | If the vehicle is used in a manner where its limitations are exceeded, any costs arising from damage will not be covered. |
| Driving without a valid licence | Any costs incurred while driving without a valid licence are not covered under the policy. Moreover, this is an offence punishable by law. |
| Driving under the influence | If any damage occurs while driving under the influence of alcohol or any other intoxicants, the costs are not covered by the policy. |
| Breach of terms and conditions | If the vehicle is used for commercial purposes or purposes other than that mentioned in the policy document or is used for racing, testing its speed, or in reliability trials, any damage arising will not be covered under the policy. |
| Nuclear peril, war, and war-like operations | Any damage arising as a result of nuclear events, war or activities that are war-like in nature are not covered under the policy. |
A Host Of Add-ons With Tata AIG Car Insurance
You can choose multiple add-ons to your car insurance policy for extra protection.

Tata AIG offers the following 12 add-ons:
Tata AIG car insurance also offers add-on bundles – a set of add-ons that add value to your policy.
| | | | | | |
| --- | --- | --- | --- | --- | --- |
| Add-on | Gold | Pearl | Pearl Plus | Titanium | Platinum |
| Repair of Glass, Fiber, Plastic and Rubber Parts | Yes | Yes | No | Yes | Yes |
| No Claim Bonus Protection | Yes | Yes | No | Yes | Yes |
| Loss of Personal Belongings | Yes | Yes | Yes | Yes | Yes |
| Emergency Transport and Hotel Expenses | Yes | Yes | Yes | Yes | Yes |
| Key Replacement | Yes | Yes | Yes | Yes | Yes |
| Depreciation Reimbursement | No | Yes | Yes | Yes | Yes |
| Daily Allowance | No | No | No | Yes | Yes |
| Return to Invoice | No | No | No | No | Yes |
| Cost of Consumables | No | No | Yes | No | No |
| Engine Security | No | No | Yes | No | No |
| Roadside Assistance | No | No | Yes | No | No |
Procedure To Apply For Or Renewing A Policy Online
While you can always walk into one of the branches of Tata AIG or speak to an agent, online purchases are easy and quick.
You can apply for or renew your policy online through Probus or the insurance company's website.
1. Apply or Renew via Probus:
2. Apply or Renew via the official Tata AIG's Website
I Need To File A Claim, What Do I Do?
Filing a claim with Tata AIG is a quick and easy process.
You make a claim under the following circumstances:
I. Third-party Claim
If a third party – person / people, property, or vehicle, is involved in the accident, first inform the insurance company of the accident.
File an FIR with the police station in the area where the accident occurred.
The motor accidents tribunal then determines where the liability lies.
The insurance company of the liable party then pays the amount.
II. Own Damage Claim
If your car sustains damage and needs to be repaired, inform the insurance provider immediately after the accident.
The company will give you details about the nearest garage in their network. You can take your vehicle there or any other garage in the company's network for a cashless claim. If you choose to take your vehicle to a garage that is not a part of the network, then the claim will be settled via reimbursement.
An insurance surveyor will then inspect and assess the damage and estimate the cost of repairs. The claim report is then prepared and filed with the insurance provider.
The insurance provider assesses the claim and decides whether or not to approve it. If it is approved, then the repairs will be made.
Once the work is done, the insurance company settles the bill with the garage. You will be required to pay the deductible amount as agreed upon in the insurance policy.
III. Theft Claim
In the event of the theft of your vehicle, inform the insurance company immediately.
File an FIR with the nearest police station. This is imperative to process the claim.
The police will then try and find the vehicle. If they are unable to trace it, a non-traceable certificate is then issued for your car.
Submit the non-traceable certificate along with the other documents that are required to the insurance provider.
You will receive the insurance declared value of the vehicle.
How Is The Premium Calculated?
The premium amount is calculated based on a number of factors. It takes into account the make, model, and registration year of the car, its fuel type, variant, and insurance declared value.
| | | | |
| --- | --- | --- | --- |
| Car Model and Variant | Price | Insurance Declared Value | Estimated Premium |
| Tata Tiago 2019-2020 XZ Plus Diesel | INR 7.15 lakh | INR 359,999 | INR 10,495 |
| Hyundai Grand i10 Asta AT CNG | INR 7.42 lakh | INR 378,005 | INR 7314 |
| Toyota Innova 2.0 G (Petrol) 8-Seater BSIV | INR 10.21 lakh | INR 614,714 | INR 20,289 |
| Honda Jazz 1.2 E iVTEC (Petrol) | INR 6.41 lakh | INR 359,408 | INR 8812 |
Frequently Asked Questions
IDV or insurance declared value is the value of the vehicle calculated based on its market value after adjusting for depreciation due to the car's age.
| | |
| --- | --- |
| Car's Age | IDV |
| 0 to 6 months | 95% of market rate |
| 6 months to 1 year | 85% of market rate |
| 1 year to 2 years | 80% of market rate |
| 2 to 3 years | 70% of market rate |
| 3 to 4 years | 60% of market rate |
| 4 to 5 years | 50% of market rate |
I.D.V. or Insured's Declared Value is fixed based on the manufacturer's listed selling price for the brand and model of the car at the time of commencement or renewal of insurance. It is further adjusted to account for depreciation. Similarly, I.D.V. for a vehicle older than five years is determined on the basis of the agreement between the insurer and the insured.
It is possible to get a discount on your premium. Insurance companies offer no-claim bonuses to people who have not filed a claim in the previous policy term / terms. You could also get a discount for installing safety devices in the vehicle or if you belong to a recognised automobile association. You could also opt for a higher deductible to lower your premium. If you live with a disability, visual, physical, or intellectual, insurance companies provide a discount on the premium.