Renew in just 5 mins.
No Inspection.
No Paper Work
* Subject To Underwriting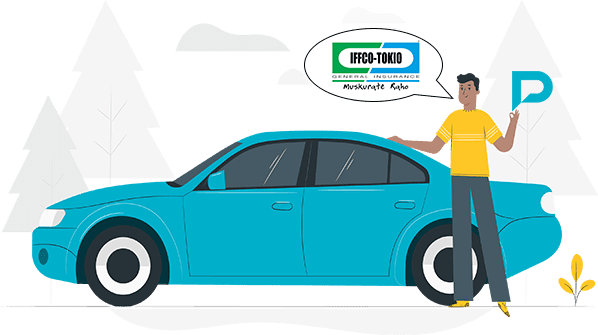 Compare

Car Insurance Plans
IFFCO Tokio Car Insurance
IFFCO-Tokio General Insurance Company Limited was established as a joint venture in the year 2000 between one of the largest insurance groups in Japan, Tokio Marine Group (49%), and Indian Farmers Fertiliser Co-operative Limited (IFFCO) (51%), a lead manufacturer of fertilizer worldwide. After its inception, the organization spread all across the country and even made its presence felt in Tier 2, 3, and 4 towns.
IFFCO Tokio offers a host of retail and corporate products such as liability insurance, travel insurance, health insurance, two-wheeler insurance, motor insurance, and more. Additional offerings are P & I insurance, fine arts insurance, credit insurance, cyber insurance, etc. With an extensive product range, even further reach throughout India, quick response, affordable prices, transparency, and fair business, they're able to cater to different customers with unique solutions.
Benefits and Features Of IFFCO Tokio Car Insurance Plans
As an IFFCO Tokio customer, you have access to several one-of-a-kind features and benefits that ensure your vehicle is always protected.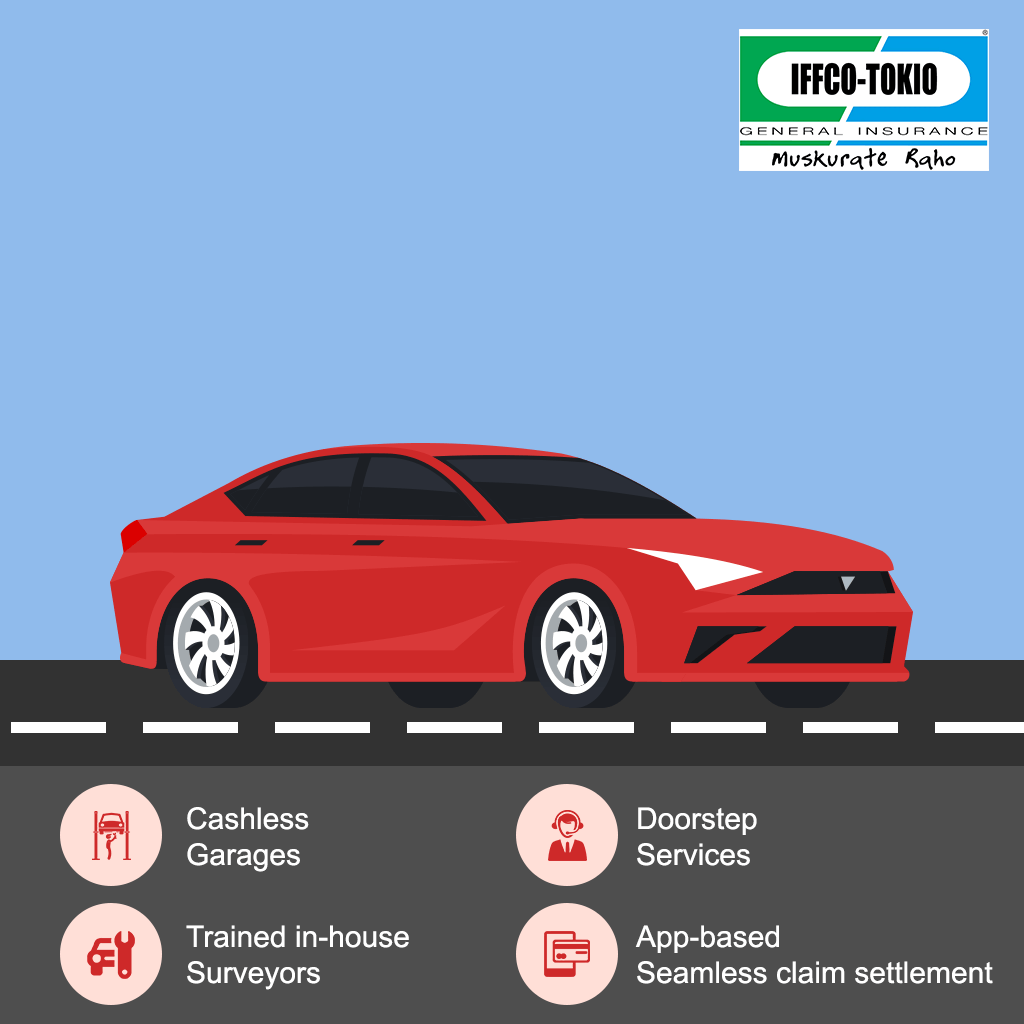 A network of over 4300+ garages with cashless claims
Unique, customizable add-ons.
NCB benefits like a discount of up to 50%.
Swift, digitally enabled processes as well as doorstep services.
App-based seamless claim settlement within 4 hours
Round-the-clock, efficient customer service especially for claims.
Trained in-house Surveyors for immediate attending to claims.
Wide network of branches present in rural areas too, with over 20,00 agents.
Claim settlement ratio of 92.65% in FY2019.
Coverage of Car Insurance Plans With IFFCO Tokio
With adequate coverage by IFFCO Tokio, you know you have a helping hand during the time of need.
| | |
| --- | --- |
| Collisions | You get coverage for any loss or damage because of collisions. |
| Theft | Coverage for losses when your car is stolen. |
| Fire | Coverage for losses or damage because of accidental fires. |
| Natural disaster | You have cover for unpredictable acts of nature such as earthquakes, typhoons, floods, cyclones, landslides, fires, etc. |
| Personal accident | In the event an accident causes disability or death of the owner, the family gets up to Rs. 15 lakhs as compensation. |
| Third party losses | You have coverage for any injuries or damage caused by your car to a third party. |
| Man Made causes | Get coverage against man-made causes such as accidental external damage, theft, burglary, etc. |
Add-on Coverage of Car Insurance
Add-ons are the perfect companion to your basic HDFC ERGO car insurance plan. Select from a range of options like:
Documents Required To Apply For Car Insurance With IFFCO Tokio
Just a handful of basic documents are enough to apply for IFFCO Tokio car insurance.
Identity proof and address proof
Vehicle details like car make, model, place of registration
How To Apply For IFFCO Tokio Car Insurance?
You can apply for IFFCO Tokio Car Insurance from the comfort of your home. Follow the simple steps below to complete the process.
Apply On IFFCO Tokio Official Website
How to Renew Car Insurance With IFFCO Tokio
It's extremely essential to renew your car insurance on time. With a seamless digital process, you can log onto the IFFCO Tokio and complete the procedure in minutes.
Renewal Via The Probus Website
Step 1
Login to our website and click on renew policy
Step 2
Select the insurer & This will take you to the respective website.
Step 3
There you have to enter a few basic details like the existing policy number and registration number.
Step 4
Check the No Claim Bonus you're eligible for
Step 5
Select the value of your vehicle and any add-ons, if you wish
Step 6
Review all the details and make changes if needed
Step 8
Within no time, you'll have your policy in your inbox
Renewal Via IFFCO Tokio Official Website
Step 1
Visit the official website and click on 'Renew Policy.'
Step 2
Enter your vehicle registration number, policy number, mobile number, and email address and hit 'search.'
Step 3
Make the payment, and you're done!
Step 4
Once you make the payment, you'll have the policy in no time!
To make the process as smooth and seamless as possible, you can pick any one of the following methods:
I. Cashless Claim
By simply visiting a network garage, you can effortlessly file for a cashless claim. Here, after your vehicle repair is complete, the surveyor will examine the car and documents. After approval they will instantly make payment to the garage.
II. Reimbursement
You can contact the toll-free number 1800-103-5499 or 0124- 4285499 to quickly register a claim.
Alternatively, you can do so online by clicking on 'claim' and then 'register a claim.' If you follow the said steps, in no time you can file for your claim and get your reimbursement.
Typically, the steps involved:
Filling up a 'Motor Claim Form'
Submit the filled form with other documents of proof like invoices, etc.
After inspection and verification by a surveyor, the insurer will settle the amount.
III. QCS
Quickly register a claim via the Quick Claim Settlement (QCS) mobile application.
You have to upload the photos, videos, etc. on the app, of the damages you wish to claim for
On approval of the claim, the amount will be sent to your bank account
The app allows a maximum claim amount of Rs. 50,000 and claims within Rs. 7000 can be settled almost instantly
Documents You Need To File A Car Insurance Claim With IFFCO Tokio
To file a claim, keep these documents handy:
What time the accident occurred
Chassis and the engine number
Description of how the accident occurred
Vehicle inspection address
Copy of FIR if there's a police report, or it's a theft
While all policies are designed to offer comprehensive coverage, there are certain standard exclusions such as:
Damages as a result of driving without a driver's license or driving without a valid license.
Driving under the influence of alcohol or drugs
There's no coverage for regular wear and tear as per the manufacturer's driving manual
No coverage for any damage that's a direct result of an accident like driving the damaged car incorrectly which causes any issues.
Damages that arise when the policy is not active.
Steps To Calculate Car Insurance Premium Online
Whether you're a first-time buyer or renewing your policy, it's good to know a few major determinants of the cost of premium-like fuel type, geographical location, car make and model, age of the vehicle, etc.
Of course, car insurance premium calculators work efficiently and you only need a handful of details. Based on the outcome you can choose the perfect plan for yourself. The calculator saves time and also gives you a birds eye view of all aspects of the policy. If needed, you can alter your inputs to arrive at a premium that works for you.
Calculator On IFFCO Tokio Official Website
If you follow the steps similar to the application process, you will see different plans with varying premiums. You can compare, contrast and choose a plan that suits your needs.
Frequently Asked Questions
Firstly, the online process is quick, efficient, and straightforward. Next, with a host of features that appeal to every buyer, you'll definitely find comprehensive coverage for your needs. With continuous support and a wide network, you have support anytime, anywhere!
You have to submit a proposal form in the following situations:
When there's an addition or change during the period of the policy or during renewal
When you convert a liability only cover to package policy
In the event of a transfer of interest
Renewal by another company
When you buy a new plan