Renew in just 5 mins.
No Inspection.
No Paper Work
* Subject To Underwriting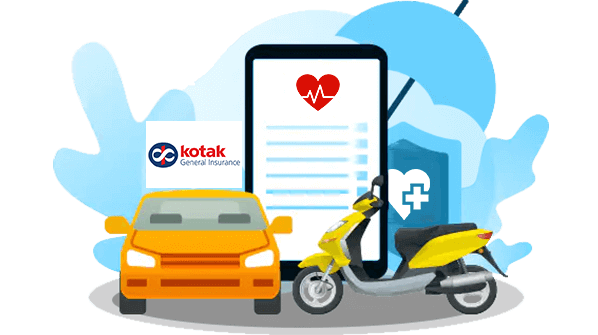 Compare

Car Insurance Plans
Kotak Mahindra Car Insurance
As a car is considered to be one of the most valuable possessions of yours, therefore only buying a car does not put an end to your responsibility; you also need to protect it at cost from the uncertainties and unfortunate events of life. Be it an expensive car or a second-hand car, a single scratch may call in unexpected expenses that might seem a burden for you. To protect your valuable car from different hazards, Kotak Mahindra has come up with car insurance policies that provide you and your car overall protection.
Kotak Mahindra Car Insurance has presented a sack full of benefits, ranging from no claim bonus, accidental death benefit, personal accident cover to multiple discounts facility and many more. For a better understanding of the plans, have a look at them below.
Advantages and features of Kotak Mahindra Car Insurance Plans
Kotak Mahindra Car Insurance has come up with varied and various benefits that can cater to the needs of different individuals. Have a look at below to know more about its features and benefits.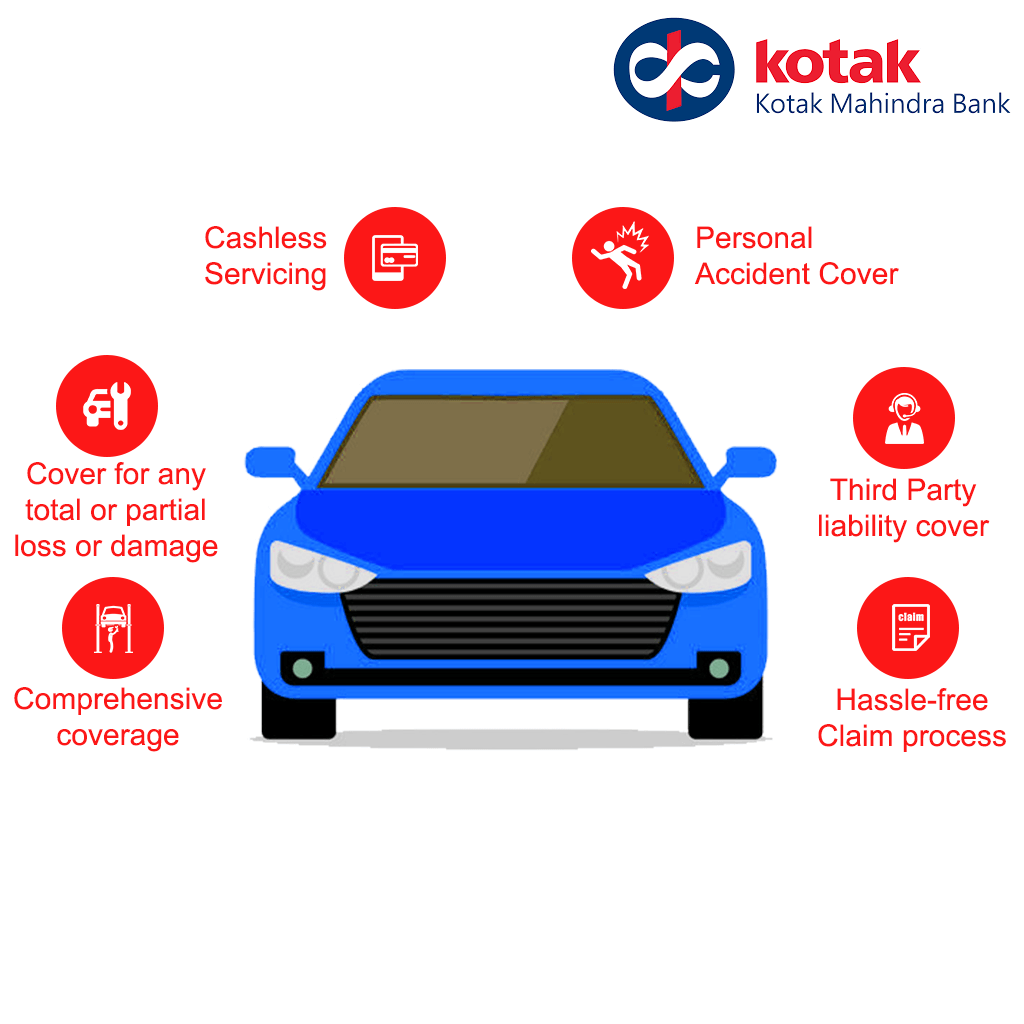 Cashless servicing – If your insured car faces any loss or damage, you can repair your car in one of the network garages of the company and thus you can avail of the cashless and seamless facility with this insurance plan. And moreover, Kotak Mahindra has more than 1000 network garages spread all over the country. So, it is very easy to find the suitable one within your vicinity.
Comprehensive coverage – This policy has presented almost every feature and benefit that caters to an insured person. From third party liabilities to personal accident cover, everything is available under the policy. Apart from that, you can cover the electrical and non-electrical accessories and bi-fuel systems. You can also avail yourself of other India Motor Tariff endorsements by paying a little extra premium.
NCB benefit – If you want to shift your policy from Kotak Mahindra to another insurer, you can avail of the No Claim Bonus (NCB) Benefit as per your expiring policy.
Multiple discounts – This plan also offers you the opportunity to earn an additional discount on your premium if only you have opted for Voluntary Deductible in Addition to Compulsory Deductible that is subject to a tariff of the plan. On top of that, if you are a member of a recognized Automobile Association of India (AAI), you are eligible to get extra discounts.
Cover for any total or partial loss or damage to the vehicle – If your car is damaged or lost due to any natural calamities such as flood, volcanic eruption, explosion, lightning, earthquake, cyclone, tempest, etc. or by any man-made hazards such as riots, strike, malicious activity, terrorist activity, etc. this policy will be there to reimburse your financial loss.
Personal accident cover – As an inbuilt cover, if he/she suffers an injury due to an accident, the plan offers cover for the owner driver while driving the vehicle including mounting into or dismounting from or traveling in the insured vehicle as a co-driver. The plan also allows you to avail of an optional cover for other passengers and drivers that maintains the limit of carrying capacity of the vehicle, excluding the driver.
Third party liability cover – With this plan, you are eligible to avail of the cover for the third party liabilities as this plan offers coverage for the third party property damage arising out of an accident and also covers bodily injury, including death incurred due to an accident.
Hassle-free claim process – Kotak Mahindra Car Insurance offers you a hassle-free claim process. Less paperwork is to be done during the same procedure and the claim can be registered promptly and seamlessly.
What Are The Additional Benefits Available Under Kotak Mahindra Car Insurance?
Apart from the in-built benefits and facilities, Kotak Mahindra Car Insurance has come up with a bundle of additional benefits to choose from according to your needs, to strengthen your car policy, and to offer your more protection. And they are as follows.
Roadside Assistance 

Depreciation Cover 

Consumables Cover 

Engine Protect 

Return to Invoice 

Tyre Cover

Daily Car Allowance

NCB Protect

Loss of personal belonging

Key Replacement
Different Types of Kotak Mahindra Car Insurance Plans
Kotak Mahindra offers two types of car insurance policies for private car-holders. They are – Comprehensive Insurance (Kotak Car Secure) and Third Party Insurance. Here are the brief details of the plans.
i. Comprehensive Insurance (Kotak Car Secure)
As alone Third Party is not sufficient to provide you and your car complete protection from different types of perils and life uncertainties, Kotak Mahindra has presented this Comprehensive Car Insurance Plan to safeguard the vehicle and its owners.
Key highlights of the policy:
This plan offers coverage against natural calamities and man-made hazards.

This plan has come up with in-built third party liability benefits.

Personal accident cover is available with this policy along with the cover for all electrical and non-electrical accessories as well as bi-fuel systems of the car. Apart from that, if you want to enjoy other India Motor tariff endorsements, you can also do that by just paying some extra premium.

Along with the No Claim Bonus, with this policy, you can also avail yourself of multiple discounts.
ii. Third Party Insurance
As per the 1988 Motor Vehicles Act, it is mandatory to have third party liability insurance if you own a vehicle. It is the most basic car insurance plan that is also offered by Kotak Mahindra.
Key highlights of the policy:
If the insured person causes loss or damage to the property of the third party due to an accident, this policy compensates for it to the policy holder.

If the third party suffers any bodily injury including death due to an accident that involves the insured person directly, the plan will reimburse the expense for that also.

But this third party liability insurance does not provide any cover for the insured vehicle or for the insured person.
Why Should You Buy Car Insurance From Kotak Mahindra?
As the insurance market is flooded with lots of general insurance companies, it really becomes difficult for the policy-seeker to find an ideal one that can cater to his/her needs. But while evaluating the companies during the selection process, if you can keep in mind a few parameters, it becomes easier to find an ideal one. To make things easier for you, after evaluating all the potential parameters, it has been found that Kotak Mahindra Car Insurance is a good choice for you. Here are the reasons for that.
Claim Settlement Ratio – You buy a car insurance plan so that it can help you in your most needed times. For that, the claim settlement ratio plays a pivotal role as it reflects the company's credibility. According to the IRDA Annual Report, the incurred claim settlement ratio for Kotak Mahindra in the segment of car insurance is 75.66% in the financial year of 2019-2020, which is certainly good and higher than many other general insurers. So, once you have bought a car insurance plan from this company, you can stay relaxed.
Network Garages – If you want to avail of the cashless facility, you need to find a network garage of the company within your vicinity as you cannot travel far with your damaged car. Additionally, you want a garage that can address your needs. For that, the number of network garages matters a lot. Kotak Mahindra has a wide range of network garages spread all over the country that will not only help you to find one within your reach but also the ideal one.
Strong Background – This insurer is a 100% subsidiary of Kotak Mahindra Bank Ltd. Which is one of the most trustworthy and leading private sector banks of India. The company is also popular among its customers and has bagged numerous awards and recognitions, which really puts it in a good and reliable position.
Distribution Network – As of September 2020, Kotak Mahindra has 19 official branches spread across India and 793 reliable and experienced employees. Apart from that, the company is well connected with its consumers through many individual agents, corporate agents, and electronic service providers. So, whenever you need anything from this company, it will always be present at your doorstep with the promise of keeping you safe and protected.
Enhanced Benefits – Keeping in mind the needs of its customers, the company has come up with a bag full of add-on covers, ranging from NCB protection, roadside assistance to key replacement, and many more. So, you can always avail of the flexibility to add the additional benefits to your basic car plan to make it stronger and to stay well protected.
Customer Service – You can easily contact the company by calling on their contact number or by just sending a mail to it. Apart from that, their official website is built with the 'Customer Support' tab that will help you to get connected with the company whenever you want. So, their experts are always there for you, just a click away.
How is IDV calculated for Kotak Mahindra Car Insurance?
The Insured's Declared Value (IDV) of the vehicle is the maximum Sum Assured fixed by the insurer at the beginning of each policy period for the insured vehicle. If the vehicle suffers total loss, the IDV is the compensation that the insurer will provide to the policyholder.
The IDV of the vehicle is calculated on the basis of the manufacturer's listed selling price of the brand and model of the vehicle proposed for insurance at the commencement of insurance or renewal and is adjusted for depreciation (as per the schedule specified below). The IDV of the sidecar(s) and/or accessories, if any, fitted to the vehicle but not included in the manufacturer's listed selling price of the vehicle is also likely to be fixed.
| | |
| --- | --- |
| Age of the vehicle | Percentage depreciation for fixing IDV |
| Not exceeding 6 months | 5% |
| Exceeding 6 months but not exceeding 1 year | 15% |
| Exceeding 1 year but not exceeding 2 years | 20% |
| Exceeding 2 years but not exceeding 3 years | 30% |
| Exceeding 3 years but not exceeding 4 years | 40% |
| Exceeding 4 years but not exceeding 5 years | 50% |
What Are The Exclusions of Kotak Mahindra Car Insurance?
Kotak Mahindra Car Insurance also has some general exclusions and they are as follows:
If the loss or damage is arising out of normal wear and tear and general aging of the car, the policy will not compensate for that.

Unless and until separately covered by purchasing as an add-on cover, the depreciation or any consequential losses will not be covered by the plan.

If the vehicle is used otherwise than in accordance with limitation as to use, any loss or damage will not be covered.

Any contractual liability or any kind of mechanical and electrical breakdown falls under the category of exclusion.

If the damage or loss happens while the person was driving the car under the influence of any intoxicating substance, the company is not liable to reimburse the expenses.

If the damage happens to or by the person who does not have a proper driving license, the policy will not be responsible to compensate the costs.

If any damage or loss is incurred due to war or nuclear reaction, the plan will not cover that too.
How To Avail of a Car Insurance Policy From Kotak Mahindra?
Kotak Mahindra has kept its door open for both the offline and online buying processes for car insurance plans. You can choose any of the methods according to your convenience.
To vail of a smooth and easy online buying process for a car insurance plan, follow the following steps:
If you prefer offline purchasing of the policy, you can visit the nearest branch of Kotak Mahindra General Insurance and there their experts will guide you through the buying process seamlessly. You can also get in touch with them by mailing or just by calling them. You will be guided thoroughly for purchasing the car plan. Apart from these, you can also contact one of their licensed and registered agents to seek help and they are knowledgeable enough to guide you smoothly.
If you face any problem using the afore-said methods for buying, you can also buy Kotak Mahindra Car Insurance Plan from Probus.
Kotak Mahindra offers both cashless and reimbursement claim processes for the benefit of its customers. Let us have a look at both the claim methods.
Cashless Claim Process:
To avail of a hassle-free claim cashless claim process. Follow the below-mentioned steps.
As soon as the event happens, inform the insurer about your claim by calling them on 18002664545 (8 am – 8 pm) along with the details of your policy.

Once your claim is registered, you will get a unique claim reference number. Save it securely for future reference.

Then you need to submit the duly filled and signed claim form along with the required documents such as your driving license, RC copy, policy FIR copy, and others.

An inspector or surveyor will be appointed on behalf of the company to verify and assess your claim within 24 hours (working day) of the registration of your claim.

If no discrepancy is found, the insurer will confirm your cashless claim. Then you can take your vehicle to the desired network garage to avail of the cashless facility and to repair it.

The company will directly pay the garage the claim amount. However, you need to pay the deductibles as mentioned in the policy wordings along with the depreciation value, salvage, etc. as informed by the surveyor.
Reimbursement Claim Process:
To avail of a smooth reimbursement claim process for Kotak Mahindra Car Insurance, follow the below-mentioned steps.
If you want to register your reimbursement claim, inform the company by calling them on 18002664545 (8 am – 8 pm) along with the details of your policy.

Submit all the required documents along with duly filled and signed claim form to the insurer.

Your documents will be verified and if any further documents are required, the company will intimate you about the same.

If no discrepancy is found, your claim amount will be reimbursed within 7 working days of the completion of the documentation.
Renewal Process of Kotak Mahindra Car Insurance
Kotak Mahindra has designed its web portal in a customer-friendly manner. So, you can easily renew your existing car insurance policy by following the below smooth steps.
Step 1
Go to the official website of Kotak Mahindra and find the 'Renewal' option. Click on that.
Step 2
Select your desired car policy for renewal and click on the 'Submit' option.
Step 3
Put the number of your existing car policy or the unique customer ID and proceed.
Step 4
Then again put in the required details and submit.
Step 5
The renewal amount will be displayed before you.
Step 6
Pay the premium and upon successful payment, you will be notified about the same.
Frequently Asked Questions