Renew in just 5 mins.
No Inspection.
No Paper Work
* Subject To Underwriting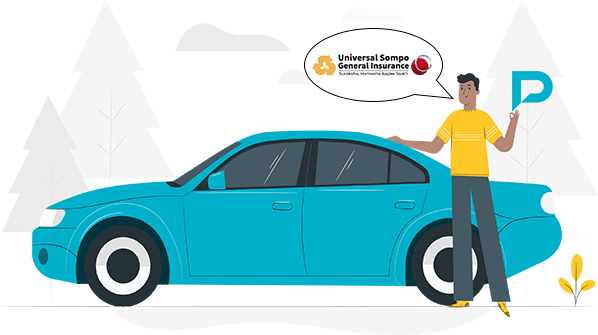 Compare

Car Insurance Plans
Universal Sompo Car Insurance
Universal Sompo General Insurance is the product of a joint venture between Indian bank, Karnataka Bank Ltd, Indian Overseas Bank, Dabur Investment Corporation, and leading Japanese general insurance company Sompo Japan Insurance Inc.
With 158 products approved by the IRDA, Universal Sompo has 17 zonal offices along with 86 branches across India. As the world has stepped into the digital age, Universal Sompo too has embraced the digital platforms to offer purchase and renewal of its products on its online platforms. A wide choice of products coupled with a seamless digital purchase experience makes Sompo a great choice for your insurance needs.
Universal Sompo Car Insurance at a Glance
| | |
| --- | --- |
| Features | Benefits |
| Third-party coverage | The policy covers legal liability that could arise from damage or loss to a third party |
| Claims settled | 78.89% |
| Personal accident cover | Covers policyholder in case of injury or death due to accident with the insured vehicle |
| Network garages | Over 3600 authorized garages with cashless facility |
| No-claim bonus | Yes – Discounts offered at the time of renewal if no claim filed in the previous policy term |
| Licensed agents | Over 10,000 authorized agents |
Merits and Characteristics of Universal Sompo Car Insurance
Insuring your car is mandated by the law, but it is also a prudent thing to do considering the expenses that could arise due to vehicle upkeep. Therefore, it is beneficial to have your vehicle insured.
Some of the benefits of purchasing Universal Sompo's car insurance are:
Whether you are buying car insurance from Universal Sompo for the first time or want to renew your existing policy, the company and its platform offer a hassle-free experience.


The insurance policy covers not just own damage liability but also provides compulsory third-party liability. This means you are protected from liability to a third party in the event of an accident.


You can opt to purchase add-on covers like nil depreciation, daily cash allowance, return to invoice, cost of consumables, key replacement, accidental hospitalisation for family, roadside assistance, engine protector and no-claim bonus protector among others.


The policyholder can also benefit from a no-claim bonus, which offers a discount at the time of renewal if a claim has not been made during the previous tenure. This can lower the premium amount at the time of renewal. If an existing policy that has a no-claim bonus is being transferred, the bonus is retained by Universal Sompo.


Round-the-clock customer service ensures that policyholders are not left scrambling for help in their hour of need. Universal Sompo's customer support attends to all queries at the earliest.


If you opt for a higher voluntary deductible, it brings down your premium amount.


Concessions and discounts are available for vehicles that have been modified for people with visual, physical, and intellectual handicaps.
What Is Covered Under Universal Sompo's Car Insurance Policy?
While purchasing car insurance, make sure to understand what events or expenses are covered under the policy.
Universal Sompo's car insurance policy covers:
| | |
| --- | --- |
| Coverage | Scope |
| Loss/damage from natural disasters | Loss or damage incurred due to floods, lightning, hurricanes, landslides, earthquakes |
| Loss/damage due to man-made disasters | Loss or damage incurred due to fire, riot, terrorism, malicious act, or burglary |
| In-transit coverage | Damage or loss occurring while in transit via road, air, inland waterway, elevator, or rail |
| Third-party liability | Protection against liability arising out of injury or damage to third party – this includes person, vehicle, or property |
| Compulsory personal accident cover for owner-driver | The vehicle owner is covered in the event of injury or death arising from an accident |
What Are The Exclusions Under Universal Sompo's Car Insurance Policy?
As someone looking to purchase a policy, you need to be informed about what conditions are excluded from coverage from an insurance policy.
Some of the major exclusions in Universal Sompo's car insurance policy are:
| | |
| --- | --- |
| Exclusions | Scope |
| Normal wear and tear | Any expenses arising out of regular wear and tear due to ageing is not covered under the policy. |
| Consequential loss | And loss or damage that occurs because of previous damage does not have coverage under the policy. |
| Driving without a valid license | Expenses due to damage while the insured car is being driven without a valid license for the vehicle class is not covered under the policy. Please note that this is an offence punishable by law. |
| Driving under influence | Any damage arising as a result of driving while under the influence of alcohol or other intoxicants is not covered by the policy. Please note that this is an offence punishable by law. |
| Breach of terms | If the terms and conditions of the policy are breached when damage occurs to the insured vehicle, the expenses are not covered under the policy. |
| When used out of geographical limits | The coverage lapses if the insured vehicle is used out of India. |
Additional Protection With Add-Ons With Universal Sompo's Car Insurance
You can tailor the policy to suit your needs by opting for one or more add-ons that Universal Sompo has to offer. This would ensure more comprehensive coverage than the standard insurance policy.
Universal Sompo's car insurance policy provides benefits in addition to regular coverage. If you have an anti-theft device installed in your car, this could help lower your premium amount, as would opting for a higher deductible on your insurance. A deductible is a fixed amount that you pay in the event of a claim. Voluntarily choosing a higher deductible provides you with a discount on your premium.
For vehicles that have been modified for the use of individuals with visual impairment or physical and intellectual disabilities, concessions and discounts are offered. At the time of renewing your policy, Universal Sompo car insurance also offers a no-claim bonus if you have not filed a claim during the policy's term.
How Can You Buy Universal Sompo's Car Insurance Policy?
Buying Universal Sompo car insurance is easy with a range of options available.
You can get a call back from the agents by providing your contact details on a form on the company's website.
You can also call the sales helpline on the website and speak to a sales representative to express your interest in purchasing car insurance.
Additionally, you can opt to walk into one of Universal Sompo's branches and speak to an executive.
If you wish to purchase insurance online, you can do so from the insurance provider's website.
You can also visit Probus's website and purchase or renew your policy.
Alternately, you can visit other insurance policy broker websites and purchase or renew your car insurance policy there.
How Do You Purchase Or Renew Car Insurance Online?
While offline options are available for purchasing and renewing car insurance policies, online purchase and renewal is the easiest and you can do it from the comfort of your home.
To buy car insurance online, you can opt for either of the following:
Purchase or renew via Probus
Purchase or renew via Probus
The reason anyone purchases car insurance is to file a claim when needed. When the time comes to file a claim, Universal Sompo's process is efficiently streamlined and user friendly.
As soon as you notice that your car is damaged or you are facing a loss, call Universal Sompo's nearest office or toll-free number 1800-22-4030 to intimate them of the situation. The claims officer will reach out to you for further procedure.
While intimating a claim, you will need to furnish details including your contact number, policy number, the name of the policyholder, date and time of the accident, the location where it took place, a short description of how it happened, and how much loss is sustained.
If the case has a third party claim, immediately give written notice to the insurance company that an accident involving a third party has taken place. Provide the necessary documentation and information as requested by the claims officer. Once the details are registered, an investigation will be conducted to ascertain reasonable and just compensation. In the meantime, you will need to submit the documents along with the claims form that can be downloaded from the website.
Factors Affecting Premium And Premium Calculation
While calculating the premium for a car insurance policy, numerous factors are taken into account. These include the make and model of the car, the variant and fuel type, the year of manufacture, the city in which it is registered, and the age and profession of the owner.
This is what your premium may look like:
| | | | |
| --- | --- | --- | --- |
| Car Model | Price | Insurance Declared Value | Estimated Premium |
| Volkswagen Polo Comfortline 1.0L TSI | INR 8.61 lakh | INR 731,850 | INR 4805 |
| Maruti Suzuki Baleno Sigma (1197 cc) | INR 6.58 lakh | INR 559,300 | INR 3672 |
| KIA Seltos HTE 1.5 Diesel | INR 12.36 lakh | INR 1,050,600 | INR 6898 |
*Values are calculated based on the city (Delhi) and year of registration (2021)
To compute the exact values, you can follow a similar method to the application and renewal process on the official Universal Sampo website. It will show you different premium amounts for different policies.
Frequently Asked Questions