Renew in just 5 mins.
No Inspection.
No Paper Work
* Subject To Underwriting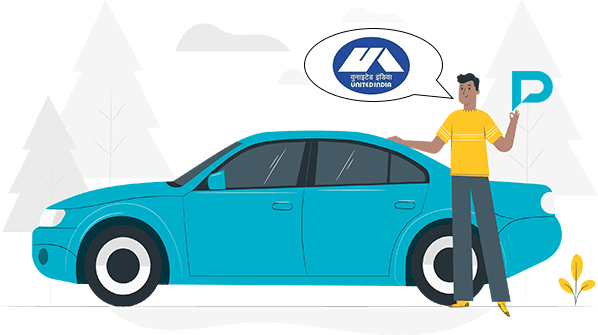 Compare

Car Insurance Plans
United India Car Insurance
In 1938, United India Insurance Company was incorporated as a company. After the Indian insurance business was nationalized in 1972, United India began to grow by leaps and bounds. Soon, the organization had a workforce of more than 12500 in more than 2200 offices. It offered its services to nearly 1.74 crore policyholders. In their portfolio you can find policies that offer far and wide ranging coverage.
Highlights Of United India Car Insurance
| | |
| --- | --- |
| Claim Ratio | 91.72% |
| Third Party Cover | Up to 7 lakhs |
| Own Damage Cover | 50% cost of replacement is covered |
Prominent Advantages and Attributes of United India Car Insurance
United India Car Insurance provides many benefits to its customers. Here are some of the benefits and features you can enjoy.
Cashless Facility – The company has over 456 network garages across the country. The company's policy comes with a cashless repair facility if the repair work is undertaken at one of the network garages.


Anti-Theft Device Discount – Car owners who have installed anti-theft devices in their cars will be granted a premium amount up to a maximum of Rs 200. This discount can be applied to your own damage cover.


24X7 Service – United Car Insurance helps you and supports you through 24X7 assistance. You can clear your doubts and queries.


No claim bonus – Those policyholders who do not make any claims during their policy period can enjoy the benefit of No Claim Bonus. It can be accumulated up to a maximum of 50% discount and the bonus is granted at the time of renewal.


High Incurred Claim Ratio – Among motor companies in India, the United India Insurance company has the highest Incurred Claim Ratio or ICR of 120.79% in the year 2018-19.


Transparent and Secure – The company provides transparency in claim settlements. Also, the online investments and private data are locked and secure for the customers.


Vintage car discount – All the cars that are manufactured before 31 December 1940 and certified by the vintage and classic cars club are eligible to get a 25% discount on premiums.


Coverage Extension – You can extend the coverage of the policy by paying an additional premium amount.


Automobile Association Membership Discount – 5% discount on the own damage cover will be granted if the owner of the car has membership in the Automobile Association of India.
Inclusions And Exclusions Of United India Car Insurance
The incidents that are covered by the United India Car Insurance are:
| | |
| --- | --- |
| Loss or damage to the car | Loss or damage caused due to accidents, fire, explosion, strike, riots, burglary, terrorist acts, natural disasters including earthquake, landslide, floods etc. will be covered under this policy. It may also be referred to as own-damage cover. |
| Personal accident cover for the owner driver | Any bodily accidents or injuries that lead to death caused of the owner-driver of the insured car while driving or getting in or out of the car will be covered under this category by United India Car Insurance. |
| Third party liabilities | Legal liabilities of the owner-driver of the insured car causing bodily injuries, death or property damages to a third party in an accident are also covered. In addition, liabilities of any other person driving the car with policyholder's permission are also covered. |
| | |
| --- | --- |
| Outside geographical area | The policy does not cover any liabilities or damage suffered by the insured car or driver outside the geographical area mentioned in the policy document. |
| Beyond usage limitations | Insurer will not cover any loss or damages if the insured car is used for a purpose other than personal use. |
| Contractual liability | The company will not cover any contractual liabilities |
| War | Any loss or damage caused to the insured car due to war or warlike operations will not be covered. |
| Wear and tear | The regular wear and tears of the car will not be covered under insurance. |
| Drink and drive | If the driver damages the car under the influence of intoxicants such as alcohol or drugs, then this policy will not cover any liabilities or damages caused. |
| Other losses | The insurance will not cover any other consequential loss suffered by the insured car, other than those mentioned under the policy. |
| Nuclear weapons | Loss and damage caused due to nuclear weapons, leakage, or nuclear attacks will not be covered by the insurance company. |
| Value depreciation | No losses will be covered under the policy, if the owner-driver suffers due to vehicles depreciating value. |
| Invalid driving license | United Car Insurance will not cover any liabilities, loss, or damages of the insured car if the driver is found driving without a valid license. |
| Breakdown (mechanical/ electrical) | The insurance company will not pay for any loss suffered due to electrical or mechanical breakdown. |
Enjoy Extra Benefits With United India Car Insurance
United Car Insurance offers many benefits to its customers through add-ons. Add-ons are extra features and offer that add extra value to your insurance policy. The customer will have to pay an additional premium amount to enjoy these add-ons.
Some add-ons offered by United Car Insurance are:
Medical Expenses and return to the invoice are some other add-ons provided by the insurance company.
Different Ways To Purchase/Renew United India Car Insurance
Renewing car insurance is now easier than ever. You can simply renew your United India Car Insurance online. 
Here are the steps to apply or renew car insurance online:
How To Apply for Car Insurance Online?
1. Apply Via Probus Website
2. Apply Via the United India Insurance Official website
How To Renew Car Insurance Online?
1. Renewal Via Official Website
Step 1
Open the website and go to the renewal section at the top of the page.
Step 2
You'll be asked to submit some information like previous policy, policy number, personal details, mobile number, etc.
Step 3
Review the plan and its coverage. Re-check your details.
Step 4
You may add or remove any add-on cover from the plan as per your choice.
Step 5
Check the premium quote for the plan.
Step 6
Pay the required amount for United India Car Insurance online through credit or debit cards.
Step 7
After you make the payment, United India Insurance Co. Ltd. Will renew your policy.
1. Renewal Via Official Website
Step 1
Login to the probus website and click on renew policy
Step 2
Select the insurer & You'll be taken to the respective website.
Step 3
You'll have to enter a few basic details like the existing policy number and registration number.
Step 4
Check the No Claim Bonus if you're eligible for it
Step 5
Select the value of your vehicle and any add-ons and additional costs
Step 6
Recheck all the details and make changes if needed
Step 7
Make the online payment through banking or credit/ debit cards
Step 8
You'll have your policy in your inbox.
The process of getting claims is very easy and hassle-free with United Car Insurance. It offers a seamless claim process with no hidden queries. There are two main ways to file a claim.
Cashless – If you get your vehicle repaired from any of the company's authorized network garages, then you will get a cashless facility. The company directly settles your expenses in such situations.
Reimbursement – You may even get your car repaired from a local garage and keep the invoices safely. You can submit them to United India to get your money reimbursed.
Here are the steps for the same:
Visit the United India Insurance Company website.
Select 'Customer Services' and click on 'Online Motor Claim Intimation.'
Submit your motor policy number and registration number.
Click on 'Next.'
You'll have to submit more details and required documents to process your claim further.
The company will let you know about the approval or rejection of the claim.
Alternatively, you may visit the nearest branch to register your claim offline.
How Is The Premium Calculated?
'Premium' is the amount of money that you need to pay to keep your car insurance plan active. You can use the car insurance premium calculator to calculate the premium amount. Here's an example.
| | | | | |
| --- | --- | --- | --- | --- |
| Model of Car | Price | IDV | Nil Dep Cover | Premium estimate |
| Maruti Suzuki Dezire-LXI | Rs. 5,88,948 | Rs. 438.993 | Rs. 2414 | Rs. 14,437 |
| Mahindra XUV 300 | Rs. 10,60,000 | Rs. 6,75,450 | Rs. 2546 | Rs. 16,000 |
| Ford FIGO 1.6 Sports | Rs. 5,39,000 | Rs. 3,94,228 | Rs. 1258 | Rs. 13,937 |
Frequently Asked Questions
Yes, United car insurance offers many discounts. These include anti-theft discount, no claim bonus, vintage car discount, automobile association membership discount, and many more.
If you want to cancel your policy before it expires, you'll have to visit the nearest branch with the necessary policy documents. You'll be asked to fill up a surrender form. Once you submit the form, within a few days the refund will be credited to your bank account.
There are three modes of premium payment offered by the United India Insurance Company. These are cash payment, online payments, NEFT payments. You can also pay online via credit/ debit card.