Renew in just 5 mins.
No Inspection.
No Paper Work
* Subject To Underwriting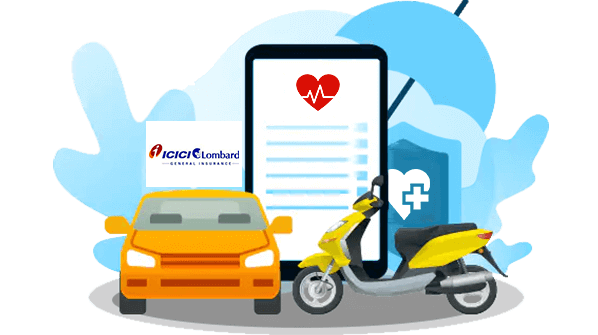 Compare

Car Insurance Plans
ICICI Lombard Car Insurance
ICICI Lombard General Insurance Company is one of India's most well-known private general insurance companies. It is a joint venture between ICICI Bank Limited and Fairfax Financial Holdings Limited, based in Canada. ICICI Lombard General Insurance Company has constantly received awards for its customer-centric approach and innovative products over the years.
| | |
| --- | --- |
| Gross Direct Premium Income Underwritten (Motor Total) | 3,245.81 (September 2021) |
| Incurred Claim Ratio (Motor) | 76.53 (2019-20) |
| Motor OD GDP (FY 2019-20) | 3688.78 |
| Motor Third Party GDP (FY 2019-20) | 3098.85 |
| Total Motor GDP (FY 2019-20) | 6,787.63 |
| Number Of Garages | 9700+ |
What Are The Different Types Of Car Insurance Plans Offered By ICICI Lombard?
When it comes to car insurance, ICICI Lombard offers a variety of options, including third-party, standalone own-damage, and private car package policy. These plans are designed to compensate you in the event that your car is damaged in an accident, fire, theft, natural or man-made disaster, or even if you end up injuring third parties or their property in an accident.
i. ICICI Lombard Private Car Package Policy
It is a comprehensive car insurance policy that provides you with complete coverage. It covers not only the costs of harm to a third party but also the costs of damage to your own vehicle. Car theft, fire, burglary, and natural calamities are all covered under this insurance type.
Key Features
Wider Coverage: Private car package policy covers both third-party liabilities and the insured's car's own damages.

Several Add-Ons: With this plan, you may choose from a variety of add-on covers such as Zero Depreciation Cover, Engine Protection Cover, and Roadside Assistance Cover, among others.

No Claim Bonus: If no claim is submitted during the policy term, you may be eligible for a discount in the form of a No Claim Bonus. Furthermore, the discount accumulates over each year of claim-free service, up to a maximum of five years.

Third-Party Liabilities: The policy covers the policyholder's financial and legal obligations to a third party as a result of an accident involving the insured's vehicle.
ii. Stand-Alone Own Damage Car Insurance Policy
With ICICI Lombard's stand-alone own-damage, you are insured for any unintentional damages to your car. Natural catastrophes such as earthquakes, floods, cyclones, and landslides, as well as man-made calamities such as theft, burglary, riots, and strikes, may be to blame. You must have active third-party insurance coverage on your vehicle in order to get this insurance.
Key Features
Accommodation Benefits: If the Insured's car is immobilized due to an accident or breakdown, the plan would reimburse the occupants of the Insured's vehicle for one day of hotel accommodation up to Rs. 5000.

Various Add-Ons: Many add-on coverages are available with ICICI Lombard standalone own-damage car insurance, such as Zero Depreciation Cover, Roadside Assistance Cover, and so on.

No-Claim Bonus: The insurance customer will earn a NO Claim Bonus for each year without a claim, which is cumulative.

More Versatile: This policy is flexible in that it protects against a wide range of losses, including theft, vandalism, fire, explosions, traffic accidents, and natural and man-made disasters.
iii. ICICI Lombard Third-Party Car Insurance
You are protected against legal responsibilities arising from an accident under this type of insurance policy. If your vehicle causes injury to a third party or damages nearby property, this plan will cover the costs.
Key Features
Type Of Coverage: It solely covers financial and legal obligations owed to a third party.

Availability Of Add-Ons: There are no add-ons available with third-party car insurance.

Cost Of Premium: Third-party liability insurance has a low premium as compared to the other two types of ICICI Lombard's car insurance.

Limits Of Indemnity: Any limitation of the amount of any indemnity imposed by the terms of this policy and/or any endorsement thereon on the aggregate amount of indemnity to all persons indemnified shall apply to the aggregate amount of indemnity to all persons indemnified, and such indemnity shall apply in priority to the insured in the event of an accident involving indemnity to more than one person.
Why Should You Choose ICICI Lombard For Car Insurance?
The ICICI Lombard Car Insurance coverage is chock-full of useful features and smart incentives that will entice even the most discriminating buyer. The following are some of the benefits of purchasing an ICICI Lombard Car Insurance Policy:
9700+ Cashless Garages: Cashless claim settlement is available at 9700+ preferred garages across the country.
Customized Covers: The policyholder can choose the policy as per their usages and needs. Moreover, the premiums can be made affordable through various customizations.
The Company Is Reliable: Whether it was in the aftermath of large calamities like the Odisha cyclone or minor incidents like a broken taillight, the company has always stood by its customers in times of need, as its tagline "Nibhaye Vaade" states.

Coverage Against Theft & Damage: The car insurance coverage from ICICI Lombard covers any damages to your car caused by accidents or natural disasters, as well as the repair costs. Furthermore, if your car is stolen and not recovered, the provider will compensate you for your loss.
Transparent Processes: ICICI Lombard takes every effort to make the scope of coverage for you as simple as possible. As a result, from policy issuance to claims, you can count on the organization to keep things transparent. The company has always endeavored to be transparent, from pre-sales to claims support.
Personal Accident Cover For Owner Driver: ICICI Lombard's car insurance policy covers injuries to the registered owner-driver while traveling in the car or getting in or out of it for a total of Rs. 15 lakhs.
Certified Workshops: The company also has a network of certified workshops that offer digital surveys, pick-up and drop-off, sanitization of high-touch spots on your car, a dedicated customer service manager, and quality assurance on repairs.
Easily Accessible Claim Support: Whether it's a major surgery or a broken car, the company provides you with more than just claim assistance. In the event of an emergency, the company's team of highly qualified professionals and functional specialists will assist you in deciding the best course of action.
Add-On Benefits Offered Under ICICI Lombard Car Insurance
The ICICI Lombard Car Insurance Policy includes a number of add-on covers that increase your protection and lower your potential liabilities. The following are the add-on covers:
What's Covered & Not Covered Under ICICI Lombard Car Insurance?
Here is what's included under ICICI Lombard Car Insurance:
Natural disasters, such as earthquakes, fires, storms, etc.

Personal accident cover for up to Rs. 15 lakhs

Theft, accident, and terrorist activities

Up to 50% No Claim Bonus

Third-party legal liabilities cover
Here is what's not included under ICICI Lombard Car Insurance:
Consequential losses

Wear, tear, and aging of the car

Damages occurred while driving without a license

Damages occurred while driving under the influence of drugs, alcohol, etc.

Loss or damage due to war, mutiny, etc.

Electrical or mechanical breakdown
How Can I Calculate The Cost Of My ICICI Lombard Car Insurance Premium?
ICICI Lombard takes into consideration various factors while calculating the premium for car insurance, such as IDV, model number, year of manufacture, location, etc. If you want to have a precise count of your premium, you need to visit the official website of ICICI Lombard.
Let's take a look at an example of Ramesh who is comparing the types of ICICI Lombard Car Insurance:
| | | | | |
| --- | --- | --- | --- | --- |
| Car Model | Vehicle Purchase Date | Policy Type | IDV | Premium |
| HONDA – ACCORD V6 AT (2997CC) | 14-12-2008 | Comprehensive | Rs. 4,51,556 | Rs. 12,943 |
| HONDA – ACCORD V6 AT (2997CC) | 14-12-2008 | Third-Party | Rs. 4,51,556 | Rs. 15,899 |
| HONDA – ACCORD V6 AT (2997CC) | 14-12-2008 | Own-Damage | Rs. 4,51,556 | Rs. 3634 |
What Is The Process For Buying A Car Insurance Policy From ICICI Lombard?
In order to buy a car insurance policy from ICICI Lombard, you need to follow the below-mentioned steps:
Step 1
Visit the official website of the company.
Step 2
Click on the "Motor Insurance" tab and then click on "Car Insurance".
Step 3
Enter a few essential particulars like the existing policy number and registration number.
Step 4
After this, select your city of registration, vehicle purchased year, vehicle name, and select "Proceed".
Step 5
Premium details will be displayed on the screen. Click on "Buy Now" to make payment online and all of your policy details will be sent to your registered mail address.
If you wish to purchase a car insurance policy from ICICI Lombard, you can also visit the nearest branch and a customer care executive will help you buy a suitable car insurance policy for you. If you are dissatisfied with the services, you can seek more help at Probus.
What Is ICICI Lombard's Approach To Car Insurance Claims?
The process of filing a claim on your ICICI Lombard Car Insurance Policy is as follows:
Notify The Company: You can call or message the company about the loss as soon as possible.

Documentation: Following that, an ICICI Lombard customer care manager will contact you to request the necessary documents, which will be confirmed against the originals. These documents include the registration certificate, policy certificate, and any other documents that the garage requires (in case of a network garage). If the garage is not part of the ICICI Lombard network, these documents must be given to a customer service representative of the company.

Surveying: ICICI Lombard experts will inspect the damaged car and estimate the cost and time it would take to fix it. The brief will also assist you in determining your personal obligation in relation to the coverage available.

Settling The Claim: In the case of cashless claims, the customer is required to pay the garage the difference in payment (deductible) before receiving possession of the car. You clear payments with the garage before presenting the necessary documentation to ICICI Lombard in the case of reimbursement requests. The latter will compensate you for your expenses.
Basic Documents Required
Duly signed claim form

Vehicle's RC copy

Driving license copy

First two pages of the policy copy

Original FIR copy

Original estimate
Frequently Asked Questions