Renew in just 5 mins.
No Inspection.
No Paper Work
* Subject To Underwriting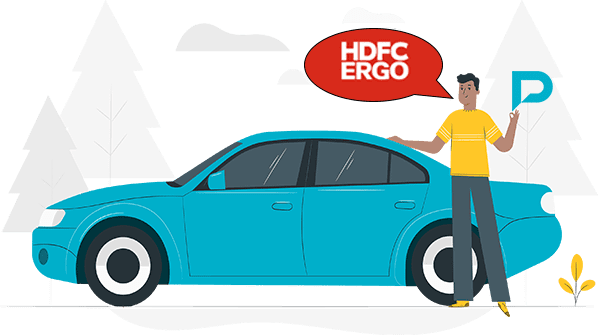 Compare

Car Insurance Plans
The joint venture between the primary insurance entity of Munich Re Group, ERGO International AG, and India's premier Housing Finance Institution HDFC Ltd., resulted in HDFC ERGO General Insurance Company Ltd. Soon, the organization spread far and wide across India with over 200+ branches in 170+ cities and more than 7000 employees. They have a complete range of offerings in both the corporate and retail space that range from liability insurance to marine insurance to property insurance to travel insurance to health insurance to motor insurance and more.
Over the years other than the iAAA rating by ICRA, they garnered a plethora of awards like Best General Insurance Company in India 2014 by International Alternative Investment Review (IAIR), ICAI Awards for excellence in financial reporting 2015-16, Best Customer Experience Award of the Year (Financial Sector) by KamiKaze, and more. With so many products, excellent customer service, and affordable prices, their popularity is only on the rise.
HDFC Ergo Car Insurance Plans - Features & Benefits
When you secure your prized possession with HDFC Ergo car insurance policy you can enjoy a plethora of features and benefits like: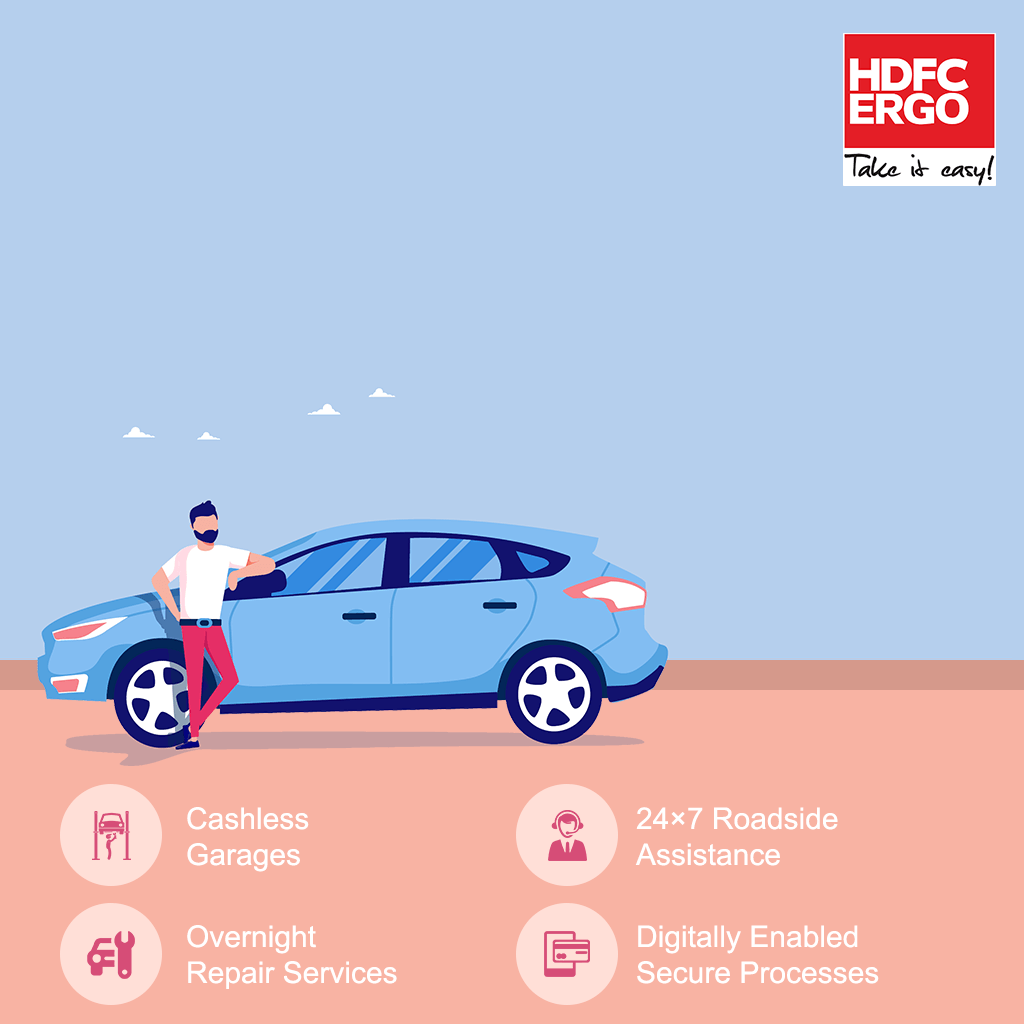 Wide network of 8000+ cashless garages all over the country
Efficient and quick overnight repair services
No matter where you are, the 24×7 Roadside assistance is a phone call away
Premiums are easy on the pocket and offer well-rounded coverage
Top-notch customer service by experts
An easy and quick settlement process
Instant paperless renewal
Numerous special add-on covers
Wide range of insurance policies to suit your needs
Digitally enabled secure processes`
Coverage Offered By HDFC Ergo Car Insurance Plans
Don't leave your precious four-wheeler vulnerable to risks. Get HDFC ERGO's car insurance cover today and protect yourself and your vehicle from:
| | |
| --- | --- |
| Accidents | Drive worry-free as your motor insurance policy covers Damages that arise from accidents. |
| Fire and explosion | Ample coverage from damages due to an explosion or fire. |
| Theft | Wholesome coverage for losses incurred when your car is stolen. |
| Natural calamities | Natural calamities are out of your hand and when any of them hit like floods, earthquakes, landslides, etc. you know you're covered. |
| Personal accident | Keeping your safety as a priority, HDFC Ergo offers compulsory personal accident cover that protects you from injuries because of an accident. |
| Third party liabilities | The third party insurance feature covers any damage or injuries to a third party property. |
Add-ons are the perfect companion to your basic HDFC ERGO car insurance plan. Select from a range of options like:
Documents Required To Apply For Car Insurance With HDFC ERGO
With a quick online process, you barely need any documents. Keep a few handy like:
Vehicle registration certificate
Vehicle details like model name, model number, registration number, etc.
Proof of identity and address (government-issued photo ID)
How To Apply For HDFC Ergo Car Insurance?
An effortless process and a few steps are all it takes to get your HDFC ERGO car insurance.
Apply On HDFC Ergo Official Website
How to Renew Car Insurance With HDFC Ergo?
You can renew your policy and ensure continued protection with a few hassle-free steps.
Renewal Via The Probus Website
Step 1
Keep a track of the renewal date. You will receive an SMS reminder
Step 3
This will take you to the respective website. There you have to enter a few basic details like the existing policy number and registration number.
Step 4
Check the No Claim Bonus you're eligible for
Step 5
Select the value of your vehicle and any add-ons, if you wish
Step 6
Review all the details and make changes if needed
Step 8
Within no time, you'll have your policy in your inbox
Renewal Via HDFC Ergo Official Website
Step 2
Enter your policy number, mobile number, or email address.
Step 3
Make the payment, and you're done!
It's time to enjoy stress-free claims with HDFC Ergo. Here's what you have to do:
Step 1 – Effortlessly, in a matter of minutes, register your claim online and easily share the needed documents
Step 2 – Inspection is of two kinds – self-inspection or digital inspection by a workshop partner or surveyor
Step 3 – Once you register your claim, you can keep track of it via the claim tracker
Step 4 – In no time will the claim be approved and settled with the network garage
In the event you don't visit a network garage, you have to make the payment and then submit all the needed documents for approval. After approval, the money will be reimbursed to you.
Documents You Need To File A Car Insurance Claim With HDFC ERGO
To file a claim, keep these documents handy:
Copy of registration certificate
Identity proof and address proof
Exclusions Under HDFC ERGO Car Insurance
While HDFC ERGO car insurance policies offer well-rounded coverage, there are a few exclusions like:
Illegal Driving – Driving under the influence of drugs or alcohol or without a driver's license is not covered.
Electrical and Mechanical Breakdown – Any mechanical or electrical issues are out of the bandwidth of coverage.
Depreciation – There is no coverage for depreciation like wear and tear with respect to your vehicle.
Steps To Calculate Car Insurance Premium Online
There are various factors that affect the cost of insurance premium rates, like:
An insurance premium calculator will help you determine the actual premium you need to pay. On the HDFC Ergo website, you will find various calculators and tools to compute your premium. All you have to do is follow the steps below and the tool will display various recommended plans with different premiums. You can choose what suits you.
Calculator On HDFC Ergo Official Website
Step 1 – Enter your registration number
Step 2 – Select your policy and enter some basic details about your car like make, model, variant, etc.
Step 3 – Enter details about your previous policy and No Claim Bonus
Step 4 – Once you enter your contact details, your quote is ready!
Frequently Asked Questions
One of the primary benefits of HDFC ERGO car insurance is the almost instant paperless process which you can do online with just a few clicks. If you keep your documents handy, you'll complete the process in no time. After you're done, you can enjoy top-notch customer service and a host of features to enhance your cover and journey.
You can save on premium by comparing and contrasting different quotes and picking one that's pocket-friendly. Alternatively, if you have an existing HDFC ERGO insurance policy, say for your home or medical, you can bundle your motor insurance with that. Sometimes, this method helps you save.
A Voluntary Deductible is an amount that the insured voluntarily pays out of their pocket. Say the total claim for your damaged vehicle is Rs. 15,000. You can agree to pay a certain amount, say Rs. 3,000 from your pocket and the insurer will pay the remainder Rs. 12,000. This is an excellent way to bring down the premium of your policy.