Renew in just 5 mins.
No Inspection.
No Paper Work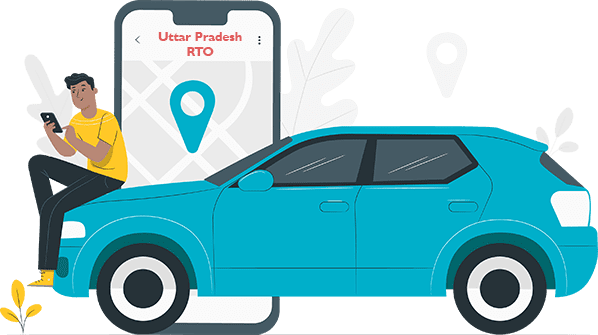 The state of Uttar Pradesh has over 20 regional offices spread out around the state. The Uttar Pradesh Regional Transport Offices were established in accordance with the Road Transport Act of 1950 with an aim of offering a host of services, including issuing and renewing a driving license, registering vehicles, renewing registration, etc. These functions seek to serve the public better and make the roads safer as well. All the rules and regulations followed in the RTO are mentioned under the Motor Vehicle Act, 1988.
Basic Functions Of Uttar Pradesh RTO
The Uttar Pradesh RTO performs a number of different functions. The primary duties of the RTO are mentioned below:
Driving license
Conducts the written and practical exams for obtaining the driving license.
Issues learner's licenses/permits
Issues new and renews driving licenses, both domestic and international
Issues new and renews motor driving school license
Issues and renews the license of Professional Driving Instructors
Issuance and renewal of Conductor Licenses
Registration of Motor Vehicle
Issues new Registration Certificate
Renews vehicle registration certificate
Procedure for transfer of ownership in the RC book
Issuance of temporary RC book for a motor vehicle
Issuance of NOC for transferring vehicle
Issues and renews vehicle fitness certificate
Issues and renews trade certificate
Permits
Issues national permits and local permits for motor vehicles
Issues permit for

Light Goods Vehicle
Heavy Goods Vehicle
Auto rickshaws
Local cabs/ taxis

All India taxis or other tourist vehicles
Renews the applicable permit for motor vehicles
Taxes
Collects road tax from individuals owning motor vehicles
Road tax can be paid online or offline
The Central Motor Vehicles Act states that if a car is used for over a year, it is mandatory to pay the entire road tax
Fees
Collects various fees for issuing or renewal. Fees can be paid online depending on the RTO office and the type of fee.

Driver's license
Driver's permit
Registration Certificate
Vehicle permits
Inspection of the vehicle at check posts
Regular checkpoints for vehicles entering and exiting Uttar Pradesh to ensure vehicles are complying with the necessary conditions
Environmental Due Diligence
Issuance of certificates for CNG/LPG motor vehicles
PUC issues from certified testing centers in order to ensure all vehicles are following safety norms
Upgrading Procedure For Convenience
RTO applications, forms, and a host of services have now been digitized to ensure minimum crowding at the offices and for the convenience of citizens.
How To Register A Vehicle In Uttar Pradesh RTO?
Registering a vehicle in Uttar Pradesh requires a list of documents in order to verify the ownership and issue the necessary documentation. The process can be accomplished by going to your nearest RTO. You will have to keep the documents mentioned below handy. It is necessary to take the vehicle you want to register along with you to the RTO.
Documents Required For Vehicle Registered in RTO Uttar Pradesh
Form Number 20 (filled)
Form 22 (will be given by your dealer)
Sale Certificate (found in Form 21)
A valid insurance certificate of your vehicle
Temporary registration, if applicable
Address proof of the owner
Form A (From Taxation Act, 1997)
Passport size photograph of the owner.
Fees (fund in Rule 81)
In the case of an imported vehicle, a custom clearance certificate along with the license and bond
The actual vehicle
Transfer Of Vehicle Ownership In Uttar Pradesh RTO
The RTO allows the old owner of a vehicle to transfer ownership to the new owner fairly easily. Please keep the documents mentioned below with you for an easy, efficient transfer process:
Forms 29 and 30
Insurance certificate of vehicle
Registration certificate
Certificate of tax clearance
Fees (please see Rule 81)
NOC for vehicle ONLY if it is registered outside Uttar Pradesh
Passport Size photos of new owner and old owner
| | |
| --- | --- |
| RTO Location | RTO Code |
| Saharanpur | UP-11 |
| Muzaffarnagar | UP-12 |
| Bulandshahr | UP-13 |
| Ghaziabad | UP-14 |
| Meerut | UP-15 |
| Noida | UP-16 |
| Bagpat | UP-17 |
| Greater Noida | UP-18 |
| Shamli | UP-19 |
| Bijnor | UP-20 |
| Moradabad | UP-21 |
| Rampur | UP-22 |
| Jyotiba Phule Nagar | UP-23 |
| Badaun | UP-24 |
| Bareilly | UP-25 |
| Pilibhit | UP-26 |
| Shahjahanpur | UP-27 |
| Ayodhya | UP-28 |
| Yusuf | UP-29 |
| Hardoi | UP-30 |
| Kheri | UP-31 |
| Lucknow | UP-32 |
| Raebareli | UP-33 |
| Sitapur | UP-34 |
| Unnao | UP-35 |
| Amethi district | UP-36 |
| Hapur | UP-37 |
| Sambhal | UP-38 |
| Bahraich | UP-40 |
| Barabanki | UP-41 |
| Faizabad | UP-42 |
| Gonda | UP-43 |
| Sultanpur | UP-44 |
| Ambedkar Nagar | UP-45 |
| Shrawasti | UP-46 |
| Balrampur | UP-47 |
| Azamgarh | UP-50 |
| Basti | UP-51 |
| Deoria | UP-52 |
| Gorakhpur | UP-53 |
| Mau | UP-54 |
| Siddharth Nagar | UP-55 |
| Maharajganj | UP-56 |
| Padrauna | UP-57 |
| Sant Kabir Nagar | UP-58 |
| Ballia | UP-60 |
| Ghazipur | UP-61 |
| Jaunpur | UP-62 |
| Mirzapur | UP-63 |
| Sonbhadra | UP-64 |
| Varanasi | UP-65 |
| Bhadohi | UP-66 |
| Chandauli | UP-67 |
| Allahabad | UP-70 |
| Fatehpur | UP-71 |
| Pratapgarh | UP-72 |
| Kaushambi | UP-73 |
| Kannauj | UP-74 |
| Etawah | UP-75 |
| Farrukhabad | UP-76 |
| Kanpur Dehat (rural) | UP-77 |
| Kanpur | UP-78 |
| Auraiya | UP-79 |
| Agra | UP-80 |
| Aligarh | UP-81 |
| Etah | UP-82 |
| Firozabad | UP-83 |
| Mainpuri | UP-84 |
| Mathura | UP-85 |
| Mahamaya Nagar | UP-86 |
| Kanshiram Nagar | UP-87 |
| Banda | UP-90 |
| Hamirpur | UP-91 |
| Jalaun | UP-92 |
| Jhansi | UP-93 |
Contact Details Of Uttar Pradesh RTO
Address: Hindnagar Colony, Transport Nagar, Lucknow, Uttar Pradesh 226012
Office Hours: 10 am – 5 pm
Phone: 0522- 2436445, 2433555
How To Get Motor Insurance In Uttar Pradesh?
It is illegal to drive a vehicle in India without valid insurance. You can opt for the most basic third-party insurance that offers protection if the damage is caused to a third person or property by your vehicle. Or you can also choose a comprehensive motor vehicle insurance policy, which offers added protection from damage caused due to theft, fire, natural disasters, etc.
You can buy an insurance policy online or offline. Buying insurance online is quick and easy, and you can compare multiple plans on a single screen. With the online purchase of your insurance policy, you cut out the middleman and extra fees. An insurance aggregator's website is the best place to start your search for the right insurance plan.
Most frequent questions and answers about driving licence in Uttar Pradesh RTO
1. Can I update my address in the RC and Driving License in the RTO?
Yes, it is possible to do so. Please have valid address proof, Form 33, original Vehicle RC, and PUC certificate ready before going to the RTO.
2. Who can apply for a learner's permit at the RTO?
Indian citizens between the age of 16-18 years can apply for the same. The requirements will depend on the type of learner's license you wish to apply for.
3. What is the fine for not using the seat belt in Uttar Pradesh?
As per the Motor Vehicle (Amendment) Act,2019 the fine for not using the seat belt while driving is INR 1000 in Uttar Pradesh.
4. How can I get insurance for my vehicle in Uttar Pradesh?
The vehicle insurance can be obtained by visiting a branch of any of the general insurance company or through online channel. To get insurance all documents of the vehicle need to be valid and in the correct name and address of the current owner of the vehicle. . It is advisable to get a comprehensive coveragewhich will take care of vehicle's own damage due to floods, earthquakes, fire, etc. It also covers vehicle theft and other damages due to man-made perils or natural disaster. It is illegal to drive vehicle without valid insurance coverage. If any vehicle is found without insurance then the fine for it is INR 2000 for first offence and INR 4000 for repeated offence.