Renew in just 5 mins.
No Inspection.
No Paper Work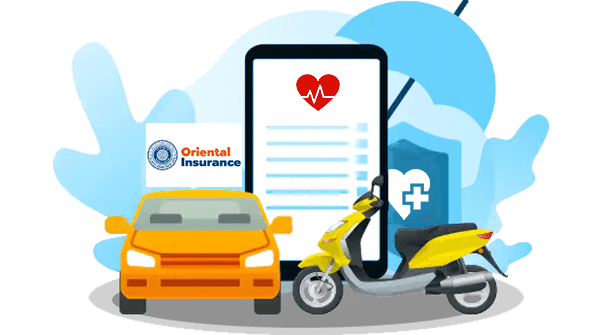 Compare

Car Insurance Plans
Oriental Insurance Company
On 12 September 1947, the Oriental Insurance Company Ltd, a wholly-owned subsidiary of the Oriental Government Security Life Assurance Co Ltd, was established in Bombay and offered general insurance products. A subsidiary of LIC of India from 1956 to 1973, Oriental Insurance has 29 regional offices and over 1800 operating offices and is headquartered in New Delhi.
Oriental Insurance – At A Glance
| | |
| --- | --- |
| Name | Oriental Insurance Company Ltd |
| Founded | 12 September 1947 |
| Nationalized | 1973 |
| Owner | Wholly owned by the Government of India |
| Tagline | Prithvi, Agni, Jal, Akash, Sab Ki Suraksha Hamare Paas |
| Company Type | General insurance company – public sector |
| Headquarters | New Delhi |
| Chairman/Managing Director | Mr Anjan Dey |
| No of offices | 29 regional offices; 1800+ operating offices; head office – New Delhi |
| of employees | 13500 |
| Operating Countries | India, Nepal, Kuwait, Dubai |
Why Choose Oriental Insurance For Your Insurance Needs?
The Oriental Insurance Company Ltd aims to be the most preferred insurer for non-life insurance products as well as the most trusted. Here are a few reasons you should pick Oriental insurance.
A financially sound company with valuable business ethics
A highly motivated, efficient, and dedicated workforce that displays high moral values
Implements best practices concerning human resource development
Provides top-notch customer service
Prudently underwrite as well as efficiently and properly manage claims for profitable business
Manages reinsurance options effectively
Manages company's investments efficiently for optimal yield
Puts in place an effective risk management system.
What Products Does Oriental Insurance Offer?
The Oriental Insurance Company product range fulfils the needs of customers in India. The organization provides custom-made, reasonably priced insurance products for all segments of the general public. Let's look at the range of products.
1. Oriental Insurance Motor Insurance
(i). Two Wheeler Insurance Policy
The scheme covers loss of or harm caused to the insured two-wheeler in case of an accident. It provides legal and financial liability If the insured vehicle causes death, injury or damage of property to a third party. It also provides a personal accident safeguard to the owner-driver and permits a range of add-ons, discounts and benefits and specific exclusions as well. It is an annual policy scheme but available for shorter terms as well.
(ii).Four Wheeler Insurance Policy
The Private Car Package Policy scheme comes in two categories.
Third-party liability-only policy is mandatory by law and protects you and your vehicle against death, injury or damage of property to a third party as well as offers personal accident safeguard to the owner or driver. No other add-ons are permissible under this scheme.
The comprehensive policy includes third-party liability but also provides a range of protection against other eventualities. It allows discounts and a choice of add-ons with an extra premium. Typically, such policies last for a year.
(iii). Commercial Vehicle Package Policy
A type of policy that provides coverage for losses or damages by or to a commercial vehicle and its driver-owner. This is typically applicable on vehicles like commercial vans, trucks, school busses, autorickshaws, tractors, pick-up vans, etc.
2. Oriental Health insurance Plans
i. Happy Family Floater Policy
Happy Family Floater Policy is a complete health insurance plan that safeguards the whole family (living in India) under one policy. The family members that can be incorporated under the plan are the policyholder, partner, offspring, parents and spouse's parents.
ii. Mediclaim Insurance Policy (individual)
A single person is covered under a single plan. All the benefits are just for the policyholder and not for others.
iii. PNB Oriental Royal Mediclaim
This scheme is meant solely for PNB account holders customers. 
iv. OBC – Oriental Mediclaim Policy
This is a mediclaim policy, including family, for Oriental Bank of Commerce account holders and employees. 
v. Mediclaim Insurance Policy (group)
Provides protection for medical expenses to a group of employees and staff of an organization.
vi. Oriental Happy Cash
Nischint Rahein! – This Policy offers two options of Daily Cash Benefit Period of 30 days and 60 days per hospitalization. 
vii. Oriental Super Health Top-Up
A top-up cover plan for the existing health insurance plans to support the rise in medical expenses. The maximum age of entry is 65 years.
viii. Pravasi Bharatiya Bima Yojana
Pravasi Bharatiya Bima Yojana is an insurance plan for safeguarding the interests of Indian migrant workers.
ix. Health of Privileged Elders
This policy offers coverage for specific ailments and is specially intended for seniors aged 60 years and above. 
x. Arogya Sanjeevani Policy-Oriental Insurance
This aim of this policy is to make medical insurance affordable for the poorer sections of the country. The premium qualifies for tax benefit under Sec 80D of the Income Tax Act.
xi. Overseas Mediclaim
Protection and medical expenses for those outside India. 
xii. Oriental Dengue Kavach
A plan that provides a lump sum benefit if diagnosed with Dengue fever, during the policy period.
xiii. Oriental Critical Illness Policy
This is a fixed benefit insurance scheme that offers a one-time amount on diagnosis of any of the covered critical illnesses.
xiv. Corona Kavach and Group Corona Kavach
A scheme to pay for medical expenses arising due to the Coronavirus infection. The Insurance Regulatory and Development Authority of India (IRDAI) has made it mandatory for all health insurance companies to offer this plan to its customers. 
xv. Oriental Insurance Bank Saathi Policy
The Insured Person is eligible to be covered under this policy from birth to 90 days (as an infant) and till the age of 70 years with lifetime renewal. 
xvi. Oriental Cancer Protect
If the insured person is diagnosed with cancer of specified severity by a qualified medical specialist the company will incur the expenses of the treatment.
3. Oriental Insurance Personal Accident Policy
This is a type of insurance plan that shields you against death or impairment resulting from an accident. In case of death, the policy compensates with a consolidated amount to the nominee of the insured. The policy pays damages in case of complete or partial disability as a result of an accident and offers 100% sum insured to the family of the insured in the event of his death caused due to an accident. The main objective of a personal accident policy is to help the family of the expired or disabled policyholder by compensating for the loss of earnings caused because of the accident.
Jan Arogya Bima
This policy is available to those between the age of 5 years and 70 and covers the policyholder for hospitalization and domiciliary hospitalization. Children who are aged between 3 and 5 years can get cover if one or both parents are covered. The premium for this policy starts from Rs. 70 for males and Rs. 50 for females. The benefits are up to Rs 5000/- per person annually.
4. Oriental Insurance Janata Personal Accident Policy
Any person regardless of gender, livelihood and job in the age group of 10 to 80 years can be protected under this scheme. The insured individual or the assignee to whom the policy is transferred will receive the stipulated insured amount in case of any bodily injury resulting from accident. In case of death, complete loss of vision or total disability the compensation is 100% of the sum insured. For partial disability or loss of vision in one eye the compensation is 50%. The sum insured can be from Rs. 25000 to Rs. 5 lakh. Death due to suicide, under influence of liquor, gaming and war hazards is excluded from the benefits.
5. Oriental Insurance Shopkeeper Policy
Shopkeeper insurance policy covers possible dangers and threats to owners of medium-sized shops. It provides safeguard for the goods and merchandise and also the safety of the insured owner. All electrical equipment like CCTV, laptops and similar gadgets fixed in the place of business of the insurance holder is also protected against the risk of fire, theft, and equipment breakdown. Discount benefits are available for long term policies up to 4 years. This scheme does not cover restaurants, cafes, jewellery shops and showroom display windows where the sale does not take place.
6. Oriental Householder Insurance Policy
This policy provides safeguard for house owners against impairments that affect their home and possessions covering both the edifice or built structure and its inside contents. A discount is given for a long term policy. There is no upper limit for the amount of insurance invested in the building or its content. This policy covers ten different contingencies including fire, burglary, damage to electrical equipment, theft of jewellery, etc. It is necessary to opt for a minimum of three contingencies one of which includes coverage of contents against fire and allied perils.
7. Oriental Insurance Nagarik Suraksha Policy
This scheme offers settlement of hospitalization expenditure in case of injury and also offers accident cover for disablement and death. There is provision for protection for an individual, family package or group for a policy term of 1 to 4 years. The entry age for a family pack is 5 years to 70 years and for individuals or groups, the entry age is 18 years to 70 years. The insured amount can range from Rs. 1 to 5 lakh. Other benefits of this scheme include cumulative bonus and education compensation for dependent children in case of death or disablement of the policy holder. The policy is available only to Indian citizens.
8. Oriental Insurance Pradhan Mantri Fasal Bima Yojana
Pradhan Mantri Fasal Bima Yojana was initiated in February 2016 by Prime Minister Narendra Modi for assistance to farmers. 
The scheme provides comprehensive insurance protection and monetary assistance to farmers in case of failure, damage or loss of crop yield due to sudden adverse natural disasters, or pest infestation. It aims at stabilizing the farmers earnings to encourage them to continue in the same profession and to implement novel, contemporary up to date agricultural practices. The scheme also ensures flow of credit or ease of borrowing money and protection from risks so that farmers can experiment with new cropping systems The scheme aims at reducing the premium load, guarantee easy resolution of claim and covers all food as well as oilseed crops.
9. Oriental Insurance Company Rural Insurance
Bhagyasree Child Welfare Policy – The plan provides protection for girl orphans in a family who have accidentally lost their father or mother.
Aquaculture (Shrimp And Prawn) Policy – This policy is for the culture of prawns and shrimps and covers the loss or death of the product resulting hazards during the period of insurance.
Cattle Insurance – This is a heifer rearing insurance scheme. The policy shall provide protection against death of sheep & goats due to accident, fire, famine or diseases.
Cycle Rickshaw Insurance Policy – The objective of the policy is to provide monetary aid to the third party victims as a result of accidents involving cycle, rickshaws.
Dog Insurance – Protection cover against disease or accidents for ordinary, cross bred or pedigreed dogs which are pets or watch dogs during the period of insurance.
Insurance Of Fish In Ponds – This policy safeguards fish in ponds, bunds and embankments and is applicable to fish in freshwater only. This is not applicable to marine fisheries or to brackish water fish.
Gramin Accident Insurance – The Insurance can be granted to any person between the age group of 10 to 70 years irrespective of his occupation, income, and covers death, loss of vision and irrecoverable disability.
Janata Personal Accident Policy – Everyone from 10 to 80 years old, regardless of gender, occupation or occupation, can apply for insurance through JAANATA PERSONAL UNFALL POLICY.
Khalihan Insurance Package Policy – This insurance provides cover for unrefined grain kept in khalihan awaiting processing and for the thresher operator.
Kissan Agricultural Pump Set Insurance – The policy applies to pump sets (electrical and diesel) used for agricultural purposes only.
Poultry Insurance – Duly completed proposal form is an essential prerequisite for acceptance of poultry business. The farm should have adequate veterinary facilities.
Rabbit Insurance – Applies to all breeds of rabbits in India. The policy covers the death of rabbits due to accidents or diseases contracted during the period of insurance.
Plantation And Horticulture Insurance – This policy can be issued to cover the plantation and horticulture crops.
Rajrajeshwari Mahila Kalyan Bima Yojna – This policy is for women in the age group 10 to 75 years. It provides cover if the insured female sustains injury directly from an accident.
Sericulture (Silkworm) Insurance – The scheme is applicable to different kinds of Mulberry Silkworm Crops reared by the sericulturists.
Tea Plantation Insurance – Protects tea plantations for total loss or destruction of tea plants.
Micro Swasthya Bima Policy (individual and group) – The policy term is one year and is available to any proposer between the age of 15 to 65 years. There are 2 sections under the policy. Section 1- hospitalization cover and section 2- Personal accident cover.
Universal Health Insurance Policy (individual and group) – Universal health insurance covers all medical expenses, including accident insurance for the main breadwinner. In this scheme, compensation is also provided if the earning member of the family passes away.
Micro Universal Health Policy (individual and group) – The universal health insurance policy was introduced for weaker sections of the society/BPL. The individual policy will be issued in the name of the earning head of family with details of insured family members.
Kisan Package Insurance Policy – The Kissan insurance package is a comprehensive insurance policy specially designed by Oriental Insurance Company to cover losses related to various risks and threats. It lets a farmer concentrate on their business, free of worries. The policy is divided into 15 sections offering protection to the farmer to their personal effects, household goods, livestock, poultry, personal insurance, and more.
10. Oriental Insurance Company Other products
Oriental Insurance has an immense product range of policies specifically planned to provide for the needs of its customers in India. The schemes can be reviewed and purchased online.
(I). Professionals Insurance
The target groups include architects, doctors, engineers, auditors and lawyers. 
Directors And Officers Liability Policy
Professional Indemnity Errors & Omissions Insurance For Chartered Accountants/Financial Accountants/Management Consultants/ Lawyers/ Advocates/ Solicitors/Counsels
Professional Indemnity Errors & Omissions Insurance Policy for Consulting Engineers/Architects & Interior Decorators
Professional Indemnity Policy For Doctors And Medical Practitioners
Professional Negligence Errors and Omissions Insurance Policy For Medical Establishments
Sports Insurance Policy
Stock Brokers Indemnity Insurance Policy
(ii). Business Office/Traders/Multi-Perils
Provides insurance products related to commercial offices and business plans.
Electronic Equipment Insurance Policy
Fidelity Guarantee Policy – Floating Group
Fidelity Guarantee Policy – Individual Named
Money Insurance Policy
Multi-Peril Policy For LP Gas Dealers
Neon Sign Policy
Office Umbrella Policy
Plate Glass Insurance Policy
Policy For Jewellers' Block Insurance
(iii). Engineering/Industry
All industrial and mechanical engineering risks are covered by various insurance policies.
 ​​Advance Loss Of Profit (Following Erection All Risks)
All Risks Insurance
Contractor's All Risk Insurance Policy
Employers Liability Insurance
Engineering Insurance
Industrial All Risk Insurance Policy
Liability Insurance Policy ( Under Public Liability Insurance Act 1991)
Machinery Breakdown Insurance Policy
Machinery Insurance Policy
Machinery Loss Of Profit Insurance Policy (Out-Put Basis)
Product Liability Policy
Standard Fire and Special Perils Policy (Material Damage)
(iv). Agriculture/Sericulture/Poultry
Insurance plans for agriculture, sericulture, poultry and other such divisions.
Animal Driven Cart / Tanga Insurance
Apple Insurance (Input) Policy
Beetlevine Insurance (Input Policy)
Coconut Palm Insurance Policy
Failed Well Insurance
Honey Bee Insurance Scheme
Hut Insurance
Inland Fresh Water Fish (Embankments) Insurance
Insurance of Biogas Plant (Gobargas)
Package Insurance for Tribals
Rose Plantation Insurance
(v). Animals/Birds
These insurance plans cover birds, dogs and even elephants, horses, etc.
Camel Insurance
Duck Insurance Scheme
Elephant Insurance
Foetus (Unborn Calf) Insurance Scheme
Horse/Yak/Mule/Pony/Donkey Insurance
Pig Insurance
Sheep And Goat Insurance Policy
(vi). Aviation
The plans provide coverage for cabin crew, loss of flight licenses, etc. 
Aircraft Hull and Spares All Risks Aviation Liability Insurance (Airlines)
Aircraft Hull/Liability Insurance Policy
Aviation Fuelling/Refuelling Liability Insurance Policy
Aviation Personnel Accident (Crew Members)
Loss of License Insurance
(vii). Marine
This policy provides a safeguard against loss arising out of war, strikes, etc. 
Hull War and Allied Peril Policy
Steps To Buy Oriental Insurance Policies
We let you buy an Oriental Insurance Company Ltd policy online easily. Simply follow these steps.
Visit the Oriental Insurance Company Ltd website
Hover over BUY ONLINE and choose the type of policy you would like to purchase like travel, two-wheeler, car, etc.
Provide your details – your name, contact number, email address – and simply follow the given steps in front of you.
Browse through and compare various insurance policies provided by different companies and choose the one that resonates with your requirements. Select add-ons if needed.
Make the premium payment and receive the policy document in your inbox in a jiffy.
How To Renew Oriental Insurance Policies?
If your policy is about to expire, you can easily renew it on Probus in 6 simple steps.
Visit the official Oriental Insurance website
Click on RENEW
Provide your personal details as well as the previous details of your policy.
Since you wish to renew your policy, mention the policy number and expiration date.
Browse through the policy offerings and select any add-ons that you might want.
Pay the premium amount and get the renewed policy document in your email inbox.
Filing A Claim With Oriental Insurance
Filing a motor insurance claim
If your vehicle is damaged in an accident or stolen, filing a claim becomes imperative. To file a claim for your Oriental insurance policy, simply follow these steps.
At the accident site – collect pictures and details of witnesses, if any, to document the damage.
File an FIR with the nearest police station that has jurisdiction over the accident or theft site. While not all claims require an FIR, it's best to have one on hand to smoothen the process.
Intimate the insurance company of an impending claim and whether a third party is involved.
Take your vehicle to a network garage if you wish to avail of the cashless disbursal facility. Otherwise, you can take the vehicle to a garage authorized by the insurance provider.
Fill the claim form and submit it along with all relevant documents.
Once a surveyor from the insurance company assesses the damage, a report will be submitted to the company.
If it is a network garage, the bill will be settled directly by the insurance company. Otherwise, you will need to settle the bill and then collect the reimbursement amount.
To file a claim for other types of insurance
Intimate the insurance provider of the impending claim
Download the claim form from the Oriental Insurance official website
Fill and sign the form
Submit the claims form along with other requisite documents
If you need any further help, you can always reach out to our claims assistance team who can help you with all your queries related to the process from start to finish.
Frequently Asked Questions