Renew in just 5 mins.
No Inspection.
No Paper Work
* Subject To Underwriting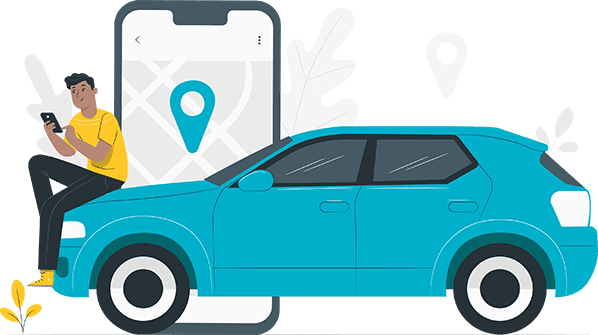 Compare

Car Insurance Plans
Regional Transport Office (RTO)
RTO stands for Regional Transport Office and it's a government body that is responsible for overseeing all the issues related to transportation in the country. As per the Motor Vehicle Act 1988, RTOs have been set up throughout India.
While primarily the task of the RTO involves preserving a database of Indian vehicles, they also undertake several other duties such as issuing driving licenses, collecting road tax, regulating transportation rules, granting pollution fitness certificates, etc. To ensure safety on the roads, every union territory and state has its own RTO, which enforces the rules according to motor vehicles law.
What Services Does The Regional Transport Office (RTO) Perform?
RTOs function according to the Motor Vehicles Act. Here's an overview of major functions that RTOs all over India carry out:
Driving License – There are a plethora of services that fall under the driving license umbrella. Firstly, it's the issue of licenses. The four main types of driving licenses issued are a learner's license, permanent license, commercial driving license, and an international driving permit. Other than this, the RTOs deal with renewal of licenses, duplicate licenses, issue of a conductor's license, issue of license for driving instructors, issue of license for motor driving school, conducting driving tests, etc.
Road Tax and Other Fees – Road tax is a one-time tax levied on vehicles by the government and the RTO collects it. You typically have to pay this when you register your vehicle for the first time. Besides road tax, the other fees are IMV fees and fees for Departmental Action cases.
Inspecting Vehicles – According to the Motor Vehicles Act, a vehicle that plys on the road should comply with certain rules. And the RTO conducts inspections from time to time to ensure the same is in order.
Environmental Concerns – RTOs conduct activities related to PUC (Pollution Under Control), liquid petroleum gas or Compressed Natural Gas (CNG) conversion, etc. at various testing centers.
Road Safety – To keep individuals safe, the RTO ensures the appropriate road safety measures are in place as said in the Motor Vehicles Act.
Vehicle Registration – A RTOs primary function is to maintain a database of vehicles. When new vehicles are registered, they not only issue a license but also enter all your details into a database. Other than issuing a number plate, some other tasks related to vehicle registration are issuing No Objection Certificates, vehicle transfer services, recording of changes in Registration Certificate, permits for tourist and transport vehicles, issuing fitness certificates to transport vehicles, entry/hypothecation in R.C. Books, etc.
Step By Step Process Of Different RTO Functions
1. Process of Obtaining a Driving License
Although the process to obtain a driver's license seems difficult, in reality, if you know the procedure and steps, you can complete the process in no time. Here's what you have to do:
Age and address proof (electricity bill, passport, voter's ID, Aadhar card, etc.)
Fill and submit the Form no.2/4
 Form no.1(A) which is a medical certificate
Apply for a learner's exam
Once you pass the learner's exam, apply for a permanent license
Fix a date for your practical test
After you pass the practical exam, your permanent license will reach you by post within seven working days.
2. The Vehicle Registration Process at RTO
The process doesn't end with purchasing a vehicle. There are a few steps that follow. After your purchase, you need to register your vehicle at the local RTO. The RTO will give you a permanent license plate that is unchangeable. The procedure for the same is as follows:
To register your vehicle, you have to submit a filled form to your District Transport Office within seven days from the date of purchase.
The documents you need for registration are:

ID proof and address proof (voter's ID, ration card, electricity bill, Aadhar card, etc.)
If the cost of the vehicle exceeds INR 4 lakh then you need a copy of your PAN card
Passport size photograph
Invoice from the dealer
Temporary registration, if available
A valid insurance
Sales certificate
Duly filled Form 20
An RTO officer will verify all these documents. After successful verification, the RTO will issue you a receipt and your vehicle registration number.
i. Plate Approval – Within a period of 30 days, your number plate must be approved by the registering authority.
ii. Validity – The vehicle registration for private vehicles is valid up to 15 years, and for transport vehicles, it's valid until the date of expiry of the fitness certificate.
iii. Renewal – When the expiry is approaching, ensure you apply for renewal within 30 days.
3. Transfer of RC From One State To Another
If you plan to move your vehicle to another state, you must transfer the RC. For this you the first you have to do is deregister your vehicle from the original state of registration. Here's what you have to do:
a. You need to submit Form 28 for a NOC to the RTO of the original state.
You need Form 29 if you plan to sell your vehicle in the new state
Submit the NOC to the new RTO
You have to pay the applicable road tax in the new state
Post which, the RTO will give you a new vehicle registration number
4. Transfer of Vehicle Ownership
After the sale of your vehicle, within 14 days or two weeks, you must intimate the RTO to apply for the RC transfer and vehicle ownership transfer. The documents you need are as follows:
Transfer fee
Residential proof
Vehicle Registration Certificate
A copy of the insurance
A valid Pollution Under Control certificate
No Objection Certificate in case you want to transfer the vehicle to a new RTO (Form 28)
A notice form (Form 29) to change ownership of the vehicle.
Report of transfer of ownership of a motor vehicle (Form 30).
The time taken for this process is between 7 to 30 days, depending on RTO to RTO.
Types of Vehicle Registration in West Bengal RTO
The RTO undertakes two types of vehicle registrations:
Temporary vehicle registration – When you buy a new vehicle, the dealers give you a temporary registration. This permit allows you to use the vehicle for 7 days, which you can extend up to one month. After this, you have to apply for a permanent vehicle registration permit.
Permanent vehicle registration – Every vehicle must have a valid registration. After you purchase your new vehicle, you can submit the needed documents and obtain permanent registration.
List Of State Wise Codes Of Indian RTOs
Every state in India has different codes on the vehicle's number plate which helps you easily identify vehicles. In this table you will find the various states and their respective codes.
| | |
| --- | --- |
| State | Code |
| Andhra Pradesh | AP |
| Assam | AS |
| Chhattisgarh | CG |
| Gujarat | GJ |
| Himachal Pradesh | HP |
| Jharkhand | JH |
| Kerala | KL |
| Maharashtra | MH |
| Meghalaya | ML |
| Haryana | HR |
| Jammu and Kashmir | JK |
| Karnataka | KA |
| Madhya Pradesh | MP |
| Manipur | MN |
| Mizoram | MZ |
| Odisha | OD |
| Punjab | PB |
| Sikkim | SK |
| Tripura | TR |
| Uttarakhand | UK |
| Telangana | TS |
| Arunachal Pradesh | AR |
| Bihar | BR |
| Goa | GA |
| Rajasthan | RJ |
| Tamil Nadu | TN |
| Uttar Pradesh | UP |
| West Bengal | WB |
| Nagaland | NL |
Union Territories And Their RTO Codes
Akin to states, union territories too have different codes. Here's a table with union territory and their respective codes.
| | |
| --- | --- |
| Union Territory | Code |
| Andaman and Nicobar Islands | AN |
| Lakshadweep | LD |
| Chandigarh | CH |
| Dadra and Nagar Haveli | DN |
| Puducherry | PY |
| Daman and Diu | DD |
| Ladakh | LA |
Quick Look At The Various RTO Forms
The RTO has different forms which serve different purposes. To simplify for you, here's a table with all the needed details of a few forms.
| | |
| --- | --- |
| Form | Purpose |
| Form 1 | Physical fitness declaration |
| Form 1A | Medical examination |
| Form 2 | Learner's license before you apply for a permanent one |
| Form 4 | Main application form for the main license |
| Form 8 | Add a vehicle to your existing license |
| Form 9 | Renewal |
| Form 20 | Application for registering a motor vehicle |
| Form 21 | Sale certificate |
| Form 23 | Certificate of registration |
| Form 24 | Registration of motor vehicle |
| Form 29 | Notice of transport of ownership of a motor vehicle |
| Form 38 A | Report of inspection |
| Form 50 | Bill of lading |
| Form 51 | Certificate of insurance |
| Form 54 | Accident information report |
| Form 57 | Certificate for foreign insurance |
4 Easy Steps To Download RTO Forms
With web-based services, RTOs have made it easy to get things done from the comfort of your home. To download the RTO forms, here's what you have to do:
Visit the Parivahan website – www.parivahan.gov.in.
Select the 'Information Services' option from the menu.
Choose 'Download Forms'.
Choose the type of form you need and download it.