Renew in just 5 mins.
No Inspection.
No Paper Work
* Subject To Underwriting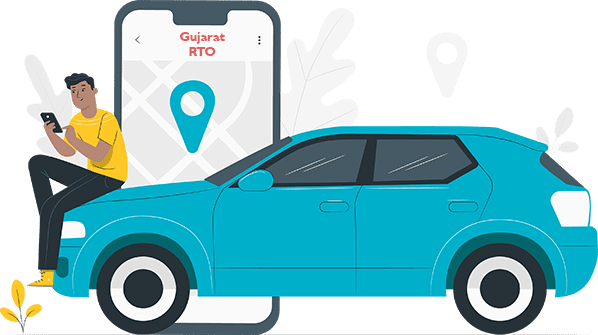 Compare

Car Insurance Plans
Regional Transport Office (RTO) Gujarat
The main purpose of the Gujarat RTO like other RTOs across India is to issue driving licenses and record the registration of vehicles. However, its responsibilities also include road tax collection, a judicious inspection of plying vehicles for pollution check and overseeing road safety measures. This is astutely managed by the district RTO offices established throughout the state by the Motor Vehicles Department of Gujarat under the jurisdiction of the Transport Commissioner. The Gujarat RTO strictly executes the conditions stipulated by The Motor Vehicles Act, 1988.
Role And Functions Of RTO
The RTO has the accountability of conducting driving tests for issuing learning/permanent/international driving licenses and their timely renewal. It also has the authority to issue licenses for motor driving schools, instructors, and conductors.
Registration of Motor Vehicle
This includes initial registration of the vehicle and subsequent renewals of the registration certificate, fitness and NOC of the vehicle, transfer of possession, record of bank hypothecation if required, permits for cabs, carriers, etc.
Revenue Collection For The Government
Definite taxes are imposed on vehicles such as the one-time road tax or motor vehicle tax (MV tax) for both personal and commercially used vehicles. It also deals with the collection of IMV Fees (levied on Instant Market Value) and penalties for departmental action cases.
Inspection of Vehicles at Check Posts
The RTO carries out appropriate scrutiny of vehicles on the road to ensure that they are meeting all the terms set by the Motor Vehicles Act, 1988.
Meeting PUC regulations is paramount under the Motor Vehicles Act,1988 including CNG/LPG Conversion
RTOs have websites and users can conveniently access all the services online.
How To Register A Vehicle With An RTO In Gujarat And The Documents You Need?
For registering the vehicle, one has to provide an appropriately filled form and submit it to the District Transport Office within a week after the purchase of the vehicle. The following documents are mandatory
Duly filled Form 20 with passport size photograph
Sale Certificate/original invoice/Temporary Registration from dealer
Genuine insurance documents
Presence of a vehicle
KYC documents (PAN/Aadhar)
After proper authentication, a vehicle registration number and a receipt are issued to the owner and within 30 days the number plate must be approved by the registering authority. The registration is valid for 15 years for private vehicles and until the expiry date of the fitness certificate for the transport vehicles.
Transfer Of Vehicle Ownership In Gujarat
If an individual sells their vehicle, they must apply for the RC transfer within 14 days of the sale.
The district RTO must be informed with an application for transfer of ownership.
The vehicle registration certificate will need to be submitted together with the necessary forms available at the RTO, a copy of the vehicle Insurance, ID proof and photographs of the seller and buyer, and the latest PUC certificate
 A NOC is needed if the vehicle has to be transferred to a new RTO.
| | |
| --- | --- |
| RTO Code | RTO Name |
| GJ-1 | AHMEDABAD RTO |
| GJ-2 | MEHSANA |
| GJ-3 | RAJKOT |
| GJ-4 | BHAVNAGAR |
| GJ-5 | SURAT |
| GJ-6 | VADODARA |
| GJ-7 | NADIAD |
| GJ-8 | PALANPUR |
| GJ-9 | HIMATNAGAR |
| GJ-10 | JAMNAGAR |
| GJ-11 | JUNAGADH |
| GJ-12 | KUTCH-BHUJ |
| GJ-13 | SURENDRANAGAR |
| GJ-14 | AMRELI |
| GJ-15 | VALSAD |
| GJ-16 | BHARUCH |
| GJ-17 | GODHRA |
| GJ-18 | GANDHINAGAR |
| GJ-19 | BARDOLI |
| GJ-20 | DAHOD |
| GJ-21 | NAVSARI |
| GJ-22 | RAJPIPLA |
| GJ-23 | ANAND |
| GJ-24 | PATAN |
| GJ-25 | PORBANDAR |
| GJ-26 | VYARA |
| GJ-27 | ABAD-EAST |
| GJ-30 | AAHWA |
| GJ-31 | ARVALLI |
| GJ-32 | VERAVAL |
| GJ-33 | BOTAD |
| GJ-34 | CHHOTA UDEPUR |
| GJ-35 | LUNAWADA |
| GJ-36 | MORBI |
| GJ-37 | KHAMBHALIYA |
| GJ-38 | BAVLA |
Contact Details Of Gujarat RTO
Commissioner of Transport Office
Block-6, Second floor,
Dr. Jivraj Mehta Bhavan,
Gandhinagar – 382010
Gujarat
Phone: 079 – 23251363
Fax No: 079 – 23251362
Email ID: cot-trans-pro@gujarat.gov.in
How To Get Motor Insurance In Gujarat?
You can purchase motor insurance online. The Motor Vehicles Act, 1988 makes it compulsory for every vehicle owner to have a third-party liability-only insurance policy to safeguard damage to third-party persons or property. However, the owner can also opt for a comprehensive insurance plan that covers third parties as well as their own damages.
1. What are the timings of the Gujarat RTO?
The timings are:
MON – FRI: 09AM – 05PM
SAT: 09AM – 01PM
SUN: closed
2. Is it possible to access information regarding Gujarat RTO online?
Yes. Gujarat RTO is now web-based, and users can conveniently access all the services online.
3. What if I do not clear the RTO exam?
After 7 days you can appear for the test again. You will need to pay the test fees again.