Renew in just 5 mins.
No Inspection.
No Paper Work
* Subject To Underwriting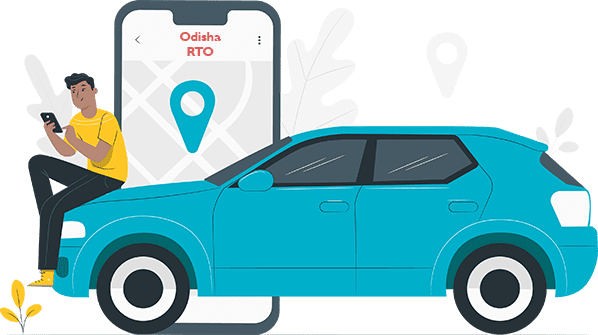 Compare

Car Insurance Plans
The Odisha RTO looks after the enforcement of the Motor Vehicle Act and Rules, 1988, in the state of Odisha. There are 35 RTOs and 3 ARTOs distributed across the state keeping in mind the public convenience and vehicle population. The RTO also collects motor vehicle revenue and regulates passenger and goods transport by road.
Basic Functions Of Odisha RTO
Some of the functions of the RTOs in Odisha include:
License – You can apply for different forms of licenses like learner's, permanent, duplicate, renewal, international, conductor's license, etc. at the RTO closest to you.
Registration – Activities related to registration such as temporary registration, permanent registration, renewing registration, transfer of ownership, change in address, permits for taxis and commercial vehicles, etc.
Permits – Permits for different classes of vehicles like pre-paid taxis, city cabs, maxi cabs, luxury cabs, motor cabs, autorickshaws, etc.
Taxes – The RTO oversees different taxes such as border tax, green tax, short-term tax, composite tax, etc.
Fees – Different fees related to vehicles like registration, pollution testing, licenses, etc.
How To Register A Vehicle In Odisha?
As per the Motor Vehicle Act and Rules, 1988, you are required to register your vehicle within 7 days from the date of delivery of the vehicle, excluding the period of the journey.
Apply for a permanent registration by submitting Form 20 to the RTO.
If the vehicle is temporarily registered, then you must apply before the temporary registration expires.
Confirm whether the registration involves hypothecation.
Confirm whether you want a fancy number, choice number, or a general number.
Confirm the usage requirement of a smart card.
Pay the appropriate fee as specified in Rule 81 of Central Motor Vehicle Rules 1989. This depends on the choice of registration number whether general, fancy, or one of your choice.
Pay tax as per Central Motor Vehicle Rules 1989. This also depends on the choice of registration number whether general, fancy, or one of your choice.
Documents To Submit To Get A Vehicle Registered With An RTO In Odisha
Form 20: Application Form to be duly filled and submitted
Form 21: Sales certificate to be submitted
Form 22: Roadworthiness certificate of the vehicle
A pollution under control (PUC) certificate
Valid insurance certificate
Any proof of address (ration card, electricity bill, etc.)
Design approval copy of STA in case trailer or semi-trailer
Original sales certificate from the concerned authorities in Form 21 in the case of an ex-army vehicle
Customs clearance certificate along with license, and bond in case the vehicle is imported.
Temporary registration, if any
Form 34 (in case of HP endorsement)
Copy of PAN card of Form 60 and Form 61 (as applicable)
Permit proceedings in case of transport vehicles
Municipal Corporation parking fee
Dealer and manufacturer invoice
Passport size photographs
Proof of date of birth
Chassis and engine pencil print
Form CMV Form 22A in case of a body-built vehicle (e.g., goods vehicle, bus, etc.).
Bonafide agriculture certificate issued by tehsildar in case of registration of tractor-trailer unit used for agriculture
Form-A under Taxation Act, 1997
RTO Code For Vehicles In The State Of Odisha
| | | | |
| --- | --- | --- | --- |
| RTO LOCATIONS | RTO CODE | RTO LOCATIONS | RTO CODE |
| Balasore | OD 01 | Rayagada | OD 18 |
| Bhubaneswar | OD 02 | Angul | OD 19 |
| Balangir | OD 03 | Gajapati | OD 20 |
| Chandikhole | OD 04 | Jagatsinghpur | OD 21 |
| Cuttack | OD 05 | Bhadrak | OD 22 |
| Dhenkanal | OD 06 | Jharsuguda | OD 23 |
| Ganjam | OD 07 | Nabarangpur | OD 24 |
| Kalahandi | OD 08 | Nayagarh | OD 25 |
| Keonjhar | OD 09 | Nuapada | OD 26 |
| Koraput | OD 10 | Boudh | OD 27 |
| Mayurbhanj | OD 11 | Debagarh | OD 28 |
| Phulbani | OD 12 | Kendrapara | OD 29 |
| Puri | OD 13 | Malkangiri | OD 30 |
| Rourkela | OD 14 | Sonepur | OD 31 |
| Sambalpur | OD 15 | Bhanjanagar | OD 32 |
| Sundergarh | OD 16 | Bhubaneswar-II | OD 33 |
| Baragarh | OD 17 | Jajpur | OD 34 |
Contact Details Of RTO Odisha
Cuttack
Address: Odisha Motor Vehicle Department
6th Floor, Rajaswa Bhawan,
Chandini Chowk, Cuttack- 753002
Contact Number: +91-671-2507042
+91-671-2507238
E-mail: ori-transportcomm@nic.in.
Bhubaneshwar
Address: Acharya Vihar, Near Maharaja Cinema Hall, 
Bhoi Nagar, Bhubaneswar, Odisha 75102
Frequently Asked Questions
Most frequent questions and answers about driving licence in Odisha State RTO
1. How can I obtain a learner's license/permanent license in Odisha?
Visit www.sarathi.parivahan. gov.in/sarathiservice and apply for a learner/permanent license online. Applicants should take a printout of the application form, and payment receipt if paid online, along with the reference number, and submit it at the chosen RTO office. If online transactions are not enabled, the applicants can submit the application to the jurisdictional licensing authority.
2. When should I apply for a renewal of my driver's license in Odisha?
According to the latest amendments in the CMV act, you must apply for a renewal one year before or the expiry of your license.
3. How can I get an international driving permit in Odisha?
You can apply online for an international driving permit, here's how:
Visit www.sarathi.parivahan. gov.in
Select Odisha as your state and click on 'apply online'
Click on Services on driving license
Select 'issue of an international driving permit' from the dropdown list.
Get the details of your driving license by entering the DL number and date of birth
Fill in the requisite details
Pay the fee and take a printout of the receipt
Visit the RTO where your driving license is registered, take your documents along to collect the permit