Renew in just 5 mins.
No Inspection.
No Paper Work
* Subject To Underwriting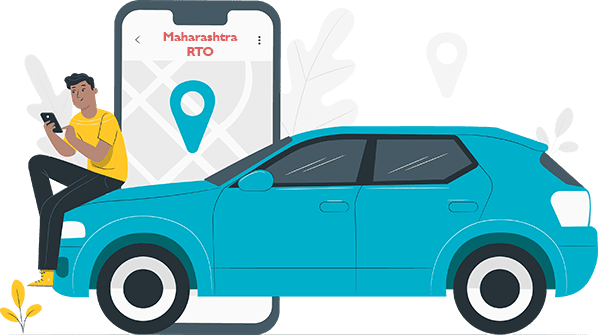 Compare

Car Insurance Plans
Jharkhand, which is a state abundant in natural resources, witnesses a lot of transportation activity involving the movement of huge commercial vehicles. Just like every other state, Jharkhand has a Regional Transport Office, which is a government agency managing the state's transportation operations.
The Jharkhand RTO's primary responsibility is to carry out the provisions of the Motor Vehicles Act of 1988. The office of the Transport Commissioner oversees a number of RTOs in the state. Continue reading to know more about Jharkhand RTO!
Services Offered By Jharkhand RTO
Jharkhand RTO is responsible for a number of tasks related to vehicle permits, licenses, registrations, etc. The following is a list of Jharkhand's vehicle-related services.
Issue Of Driving Licence: Residents of the state may obtain learner's permits, driving licenses, etc. from the Jharkhand RTO. The organization grants licenses in a number of different categories.
Motor Vehicle Registration: This involves granting and renewing registration certificates for vehicles, transferring ownership of the vehicle, updating registration information, removing hypothecation, and issuing a fitness certificate for the vehicle.
Vehicle Tax Collection: This involves handling any motor department action cases, collecting vehicle inspection fees, and collecting motor vehicle tax, also known as road tax, in accordance with the Motor Vehicles Act of 1988.
Issuance Of Permits: This includes granting a variety of travel and transportation permits, including the International Driving Permit, permits for passenger vehicles and school buses, interstate and federal commercial vehicle permits, and the All-India Tourist Vehicle Authorisation and Permit.
Vehicle Inspection: Vehicle inspection for certification of fitness, clearance for accident vehicles, validity checks for insurance, and the Pollution Under Control (PUC) certificate are all included in this function.
Some other responsibilities of Jharkhand RTO are as follows:
Implementing safety measures
Conducting driving tests
Implementing measures for pollution control
Collecting penalty charges
List Of Jharkhand RTO Offices & Their Codes
| | | | |
| --- | --- | --- | --- |
| RTO Location | RTO Code | RTO Location | RTO Code |
| Ranchi | JH 01 | Chatra | JH 13 |
| Hazaribagh | JH 02 | Garhwa | JH 14 |
| Daltonganj | JH 03 | Deoghar | JH 15 |
| Dumka | JH 04 | Pakur | JH 16 |
| Jamshedpur | JH 05 | Godda | JH 17 |
| Chaibasa | JH 06 | Sahibganj | JH 18 |
| Gumla | JH 07 | Latehar | JH 19 |
| Lohardaga | JH 08 | Simdega | JH 20 |
| Bokaro Steel City | JH 09 | Jamtara | JH 21 |
| Dhanbad | JH 10 | Saraikela-Kharsawan | JH 22 |
| Giridih | JH 11 | Khunti | JH 23 |
| Koderma | JH 12 | Ramgarh | JH 24 |
How To Register Vehicle At Jharkhand RTO?
If anyone is planning to buy a vehicle in Jharkhand, he/she must register it with the Jharkhand RTO. The registration must be done within 15 days from the date of purchasing the vehicle. 
When a car is purchased, a temporary Registration Certificate (RC) is issued by the dealer present in the state. This RC is only valid for one month. It is necessary to apply for a permanent registration card (RC) before the temporary registration card's validity expires. 
To avail permanent registration certificate, one requires to pay a registration fee and submit it along with the necessary documents to Jharkhand RTO. The concerned RTO officer will first inspect the vehicle and then only issue a registration number to the individual.
Documents Required For Registering Vehicle At Jharkhand RTO
The individuals need to be sure that they have all the necessary paperwork on hand when they register. Here is a list of all the paperwork needed to register a vehicle in Jharkhand.
Form 20 
Temporary vehicle registration certificate
Form 22 (pollution certificate issued by the dealer)
Form 21
Address Proof
Letter of authority
Authorization
Form 34 (in case of loan hypothecation)
Undertaking application (in case of delayed registration)
Insurance document copy
Birth date proof
PAN card copy
Engine and chassis pencil print
Invoice provided by the dealer
NCRB or MOB (in case of the vehicle registration process has begun after 3 months of temporary registration)
How To Get A Duplicate RC In Jharkhand?
If an individual's RC is missing or damaged, he/she can request a replacement by sending an application form to the RTO where the original was issued, together with the necessary costs. The following document is necessary for this process:
Attested copy of Pollution Under Control certificate
Attested copy of valid vehicle insurance document
Attested copy of proof of address
In case of theft of the RC, the original FIR copy
Contact Details Of Jharkhand RTO
There are several contact details of Jharkhand RTO available on the organization's official website. For reference, a few of them are listed below:
| | | | |
| --- | --- | --- | --- |
| Name | Designation | Phone Number | Email |
| Shri Champai Soren | Hon'ble Minister | NA | transport.jhr@gmail.com |
| Shri Anwar Hussain | Secretary, Regional Transport Authority, Palamu (Add. Charge) | 9431122888 | rtapalamu@gmail.com |
| Shri K. Srinivasan | Secretary | 0651-2401706 | transport.jhr@gmail.com |
| Shri Ravi Raj Sharma | Secretary, Regional Transport Authority, Hazaribagh | 06546-265123 | Rtahaz.02@gmail.com |
| Shri Dinesh Kumar Ranjan | District Transport Officer, Jamshedpur | 8986640269 | dto-es-jhr@nic.in |
Frequently Asked Questions
1. Should my vehicle in Jharkhand likewise be registered at the RTO if I'm transferring ownership?
Yes, you must submit the required application form to the RTO zonal office where the car was registered if you are changing ownership of your vehicle in Jharkhand.
2. Does the Jharkhand RTO need to approve changes made to a vehicle?
Yes, you would need to get approval from the registering authority before you made any modifications or alterations to your car.
3. What steps must I take to obtain car insurance in the Jharkhand RTO?
The Jharkhand RTO does not provide services for auto insurance. You can browse vehicle insurance packages from numerous lenders online. 
4. When must Jharkhand residents renew their permanent vehicle registration?
Jharkhand's perpetual vehicle registration expires after 15 years. 15 years after the date of issuance, your car registration must be renewed. Also, form 25 must be completed and submitted to renew your vehicle's registration.