Renew in just 5 mins.
No Inspection.
No Paper Work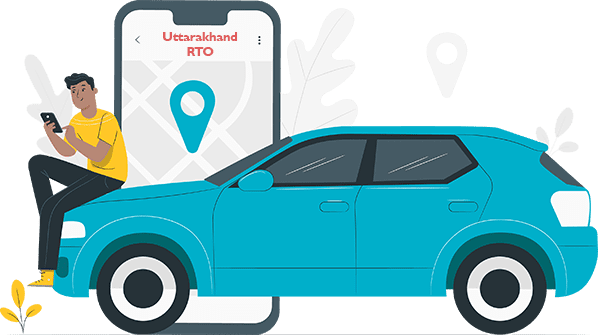 The Regional Transport Office of Uttarakhand is headed by the Transport Commission. This office was brought into existence in 1945 based on section 133 A of the Motor Provisions Act, 1939. The RTO has numerous functions, which include issuing driving licenses, permits for all types of vehicles, collecting road tax, collecting penalties related to traffic violations on the road, registering vehicles, transferring ownership of vehicles, etc. The Uttarakhand RTO was started in 2003, a few years after Uttarakhand was given statehood. There are 20 RTOs in the state that functions in different cities.
Primary Functions Of Uttarakhand RTO
The Uttarakhand RTO is charged with keeping order on the roads. The number of functions and duties they perform is quite long, but this allows vehicles and drivers to be safe.
Driving License
Issue new or renew existing driver's license
Issue new learner's permits
Conduct both theory and practical exams for obtaining a driver's license
Issues license to motor driving schools that teach driving
Issues license to professional driving instructors
Issues and renews international driving licenses
Issues and renews conductor licenses
Registration of Motor Vehicle
Registers private as well as commercial vehicles
Issues Registration Certificate and renews RC as well
Allows for transfer of ownership in the vehicle's RC book
Issues temporary RC book for vehicles
NOC when transferring vehicle ownership
Issuance of Vehicle Fitness Certificate
Allows new and renewal of Trade Certificate
Permits
National and local permits for motor vehicles are issued here
Permits are issued for light goods and heavy goods commercial vehicles
Permits are issued for special cabs/taxis and all Indian tourist vehicles
Permits are issues for auto-rickshaws and local cabs
Renewal of the above-mentioned permits for motor vehicles
Taxes
Allows payment of road tax for all private and commercial vehicles. Taxes can be paid online or offline at your nearest RTO
Fees
Payment of fees for all licenses and permits and certificates. Fees can be paid online or offline depending on the application
Penalties
Allows payment of penalties related to any offense on the road. Includes challan for illegal parking, driving in the wrong direction, breaking the signal, etc.
Inspection of the Vehicle at Check Posts
Maintains checkpoints in and out of state to ensure all vehicles comply with local and national rules and regulations
Environmental Due Diligence
PUC certificates and Certificates are issued for CNG/ LPG vehicles only via certified centers maintained by the RTO.
How To Register A Vehicle In Uttarakhand RTO?
A vehicle in Uttarakhand can be registered at your local RTO. Please bring your vehicle with you, along with the documentation mentioned in the next section. Documents will be verified, and information filled in relevant forms will be checked before the vehicle is given a Registration Certificate.
Documents Required For Vehicle Registered Under RTO Uttarakhand
The following documents must be presented to the officer at the RTO for vehicle registration:
Form 20 (for permanent RC)
Form 21 (Sales certificate available from the dealer)
Form 22 (available from the manufacturer
Vehicle insurance certificate
Owner's address proof
If applicable, temporary registration documents
Form A (Taxation Act, 1997)
Fees mentioned under Rule 81
Passport size photos of the owner
Custom clearance document along with license, only for imported vehicles.
Transfer Of Vehicle Ownership In Uttarakhand RTO
When a vehicle is sold or bought, it is imperative to transfer ownership at the earliest to avoid any confusion. This is easily done at your nearest Uttarakhand RTO. Here are the documents you need:
Forms 29 and Form 30
Vehicle Registration Certificate
Insurance certificate of vehicle
NOC if the vehicle is registered outside Uttarakhand
Fees mentioned under Rule 81
Photos (passport sized) of owner and seller
Road tax receipt (should be paid in full)
| | |
| --- | --- |
| RTO CODE | LOCATION |
| UK01 | Almora |
| UK02 | Bageshwar |
| UK03 | Champavat |
| UK04 | Nainital |
| UK05 | Pithoragarh |
| UK06 | Udham Singh Nagar |
| UK07 | Dehradun |
| UK08 | Haridwar |
| UK09 | Tehri |
| UK10 | Uttarkashi |
| UK11 | Chamoli |
| UK12 | Pauri |
| UK13 | Rudraprayag |
| UK14 | Rishikesh |
| UK15 | Kotdwar |
| UK16 | Vikas Nagar |
| UK17 | Roorkee |
| UK18 | Kashipur |
| UK19 | Ramnagar |
| UK20 | Ranikhet |
| UK21 | Tanakpur |
Address:
Office of Transport Commissioner,
Kulhan,
Sahastradhara Road,
Dehradun
Contact No: 0135 – 2608107 
Website: www.transport.uk.gov.in 
E-mail ID: transportdeptuk@gmail.com, tc-trans-uk@nic.in
How To Get Motor Insurance In Uttarakhand?
Motor insurance is a necessity in every state in India, including Uttarakhand. You need at least basic vehicle insurance, called third-party insurance, which covers damages caused by your vehicle to a third party or others property. A more detailed insurance policy, such as a comprehensive insurance plan, covers damages due to theft, fire, earthquakes, etc. You can also have add-ons in such a policy to protect your vehicle and yourself.
A good place to start is online. You can compare different plans, their offerings, and premiums to see which works for you. You can buy policies offline as well.
Uttarakhand State RTO FAQs
Most frequent questions and answers about driving licence in Uttarakhand State RTO
1. Do I need to register my vehicle in Uttarakhand?
Yes, it is necessary to register your vehicle in the Uttarakhand RTO if you are planning to drive in the state. This is stated in the Motor Vehicle Act, 1988.
2. What is the process to get duplicate registration copy of motor vehicle?
The vehicle owner needs to follow the below process and submit the required documents to get the duplicate registration copy of the motor vehicle.
Duly filled application on Form 26 (in duplicate and one copy duly attested along with the endorsement from the financier of Hypothecated).
Original copy of the police F.I.R
Attested copy of valid insurance certificate.
Attested copy of PUC certificate.
Attested copy of address proof (Recent electricity bill, ration card etc).
Applicable fee to be paid in full.
Challan clearance from traffic police & Enforcement wing in case of goods and commercial vehicles.
Tax clearance for goods and commercial vehicles.
Attested copy of Form 60 & 61(as applicable) and PAN card
3. What is the requirement of Vehicle Registration in the state of Uttarakhand?
Every vehicle owner in Uttarakhand has a legal obligation to get their vehicle registered at the AP RTO as per the Motor Vehicle Act,1988. To register a vehicle in Uttarakhand the vehicle owner will be required to go to the RTO which falls in the area of their residence. The vehicle owner will need to fill and submit the following forms and documents to register the vehicle at Uttarakhand RTO in their name.
Correctly filled Form 20 which is the application form for registration of a vehicle
Form 21 is the sales certificate issued by the vehicle selling company
Form 22, Form 22- A which is a fitness certificate for road given by the manufacturer of the vehicle
Pan Card copy or Form 60 and Form 61 (as applicable)
Passport size photographs of the vehicle buyer
Invoice from dealer/vehicle selling company
A verified valid copy of vehicle insurance
Verified copy of address proof
Fully paid Registration Fees invoice
Form 34 signed by the financer owner and financer
4. Where do I need a NOC from if my vehicle is registered outside of Uttarakhand?
If you are transferring registration from another state to Uttarakhand, you need a NOC from the previous state's RTO.