Renew in just 5 mins.
No Inspection.
No Paper Work
* Subject To Underwriting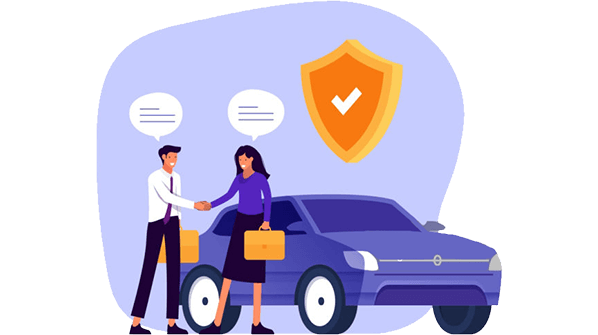 Compare

Car Insurance Plans
Comprehensive Car Insurance
An accident can happen without warning. Do you want to be stuck with a damaged car or pay an exorbitant amount to get your beloved car repaired? If the answer is no to both questions, then a comprehensive car insurance policy might be the answer to your prayers. 
A comprehensive car insurance policy is a form of protection for your car. A car insurance policy is a necessity to drive on the Indian roads. And if you are protecting your car and yourself, it is better to go all in and find an insurance policy that offers 360-degree protection. And a comprehensive car insurance policy does just that. It can be customized to include special add-ons apart from its regular offerings.
This doesn't mean that a comprehensive car insurance policy is always expensive. You can find insurance providers that offer affordable premiums and payment plans. Read on to find how a comprehensive car insurance policy is the perfect way to keep your car on the road for a long time and protect your investment.
Why Do You Need Comprehensive Car Insurance?
Comprehensive car insurance is a long-term investment, just like your car. You are protecting your car from damages that can happen due to a number of reasons. Not just that, you are protecting yourself, the owner and driver, in case of an accident. A comprehensive car insurance policy also ensures that your family is taken care of in case of death or debilitating injuries. 
It is simply a wise move to protect yourself and your car with a solid Comprehensive Car Insurance policy.
What Are The Key Features And Benefits Of A Comprehensive Car Insurance Policy?
Buying a comprehensive car insurance policy is a no-brainer because it makes sense to protect one of the biggest investments in your life. Other than protection, here are five key benefits to convince you to check out a comprehensive car insurance policy: 
Save Heavy Penalties: You are following the law by purchasing a comprehensive car insurance policy, according to the Motor Vehicle Act 2019. You can be fined up to Rs. 2000 for driving without an insurance policy. 
Protects the driver: Other insurance policies cover damage caused by your vehicle to a third party, but a comprehensive car insurance policy protects you, the driver, by offering compensation in the event of disability or death due to an accident. 
Access to garages in the network: When you purchase a comprehensive car insurance policy, you get access to garages in the company's network. This makes it easy to fix your car and file a claim in case of any damage. 
Protect your car against everything: With such a car insurance policy, your car is covered in case of damages due to an accident or natural disaster, and even during an incident of theft. Plus, by including some add-ons in your policy, you know you will get all-round protection.
Things To Consider While Choosing Comprehensive Car Insurance
Purchasing a comprehensive car insurance policy is quite easy but choosing the right one is not. Do your research to see which provider has a policy that suits you and your car the best. Here are a few points to consider while comparing different comprehensive car insurance plans:
The Type of Policy: There are two policy options here: comprehensive and third party. Read extensively about both to understand their advantages and disadvantages. This will help you choose wisely.
The Fine Print: What exactly does the policy protect you from and in which aspect are you responsible? This question can be answered in the fine print of the policy, which will list details about payment, premiums, coverage, add-ons, etc.
Add-ons Offered: Check the add-ons offered by the insurance provider. Is there something you need but isn't offered by that provider? Then you might need to consider another policy. Choose your add-ons wisely for enhanced protection for your car.
Garage Network: Most insurance companies offer access to their network of garages. What you should check is if any garage near you is in that network. In case you need to get repairs done, where would you be able to go?
Payable Premium: Different companies will have different quotes. Compare these quotes to see the price point that works well for you since you will be paying a premium from your pocket.
Claim Procedure: Take a look at the claim settlement ratio of the company, online client reviews, and their claims procedure. This will give you an idea of what to expect in case of any damage to your car.
Coverage Offered With Comprehensive Car Insurance
It's an excellent idea to make a note of the inclusions of a comprehensive car insurance policy.
Theft: You will be paid the total value of the car in the current market in case your car is stolen or has been damaged beyond repair.
Natural Disasters: Damages caused to your car during a natural disaster are covered under this policy and the insurance plan offers financial assistance for the same.
Accidents: The insurance policy you purchase will pay for the damages, whether big or small, that happen to your car due to an accident.
Damage in Transit: The policy also offers financial compensation in case of any damage caused to your car while moving it from one location to another.
Personal Accident Cover: In case of an accident that causes injury to the driver, the insurance policy offers financial assistance.
Third-party Liability: Damages, death, or property damages caused to a third party are also covered in a comprehensive car insurance policy.
Things Not Covered With Comprehensive Car Insurance
Just like inclusions, there are few exclusions that a comprehensive car insurance policy doesn't cover. It's good to pay heed to these points.
Any damage caused due to drinking and driving or driving under the influence of other substances
Damage due to everyday wear and tear and regular use of your car
Damage caused by war, war-like situations, or any nuclear threat
Servicing charges for your car that incur on a regular basis on timely servicing of your car
Damages caused when driving without any paperwork/ expired paperwork such as a lapsed insurance policy, an expired driver's license, or expired car registration.
Add-Ons Offered With A Comprehensive Car Insurance Policy
For all-round protection of your beloved car, you can pick and choose a few add-ons to add to your policy. Some of your options are:
No claim bonus: This add-on is beneficial because it rewards the car owner for filing either no claims on their current policy or a small number of claims. You get major discounts while renewing your policy.
Zero Depreciation: With this add-on, you are guaranteed full price in case of car damage, without deducting the depreciation of the car's parts.
24 x 7 assistance on the road: This add-on assures you that help is on the way, no matter where you are. Roadside assistance is offered by your insurer in case of mechanical failure in the car.
Loss of personal belongings: With this add-on, you can get financial compensation in case of losing personal belongings in a car accident.
 Engine protection: Protect your engine with this add-on as it helps you repair or replace your car's engine at no or minimal cost.
Comprehensive Car Insurance Vs Third Party Car Insurance
When choosing a car insurance policy, one of the first hurdles you will face is picking between third-party insurance and comprehensive insurance. The table below will help you compare and see which is better a comprehensive car insurance policy or a third-party car insurance policy.
| | | |
| --- | --- | --- |
| Coverage | Comprehensive Car Insurance Policy | Third-Party Car Insurance Policy |
| Legally required | No | Yes |
| Third-party liability | Yes | Yes |
| Protection from theft | Yes | No |
| Protection from natural disasters | Yes | No |
| Protection from fire | Yes | No |
| Add-ons available | Yes | No |
| Personal accident cover for driver | Yes | No |
Choose Probus For Your Comprehensive Car Insurance Policy Because
Probus makes the insurance purchasing process easy and quick, so here's why you should choose Probus:
Probus makes every possible car policy available in one place for you to compare and browse.
The certified experts help you choose the right car insurance policy and select add-ons.
The claims assistance team makes it easy to file claims, from start to finish the team will be by your side to help.
The offerings include policies by all insurers so that you can compare different plans side by side in one place.
It's easy to purchase an insurance policy online by making the process quick.
The secure payment gateway is highly protected to make sure customer information stays safe at all times.
Simple Steps To Purchase Comprehensive Car Insurance On Probus
Probus makes it really easy to buy a comprehensive car insurance policy online. The website allows you to take a look at multiple insurance policies together, making your job easy. Here is how you can go about purchasing a car insurance policy on Probus:
Log onto the Probus website
Choose car insurance from the screen (Make sure to have details about your car handy).
Enter the details being asked about your car.
Choose the required type of policy.
Enter a few more details for a precise quote.
Compare different comprehensive car insurance plans.
Choose a plan and choose your add-ons.
Go through the online payment portal.
Your insurance policy will be emailed to you within a few minutes.
How Is Comprehensive Car Insurance Calculated?
Things that impact your comprehensive car insurance premium:
The make and model of your car
Your location
Age of your car
Diesel/petrol/ CNG car
The driving efficiency of the car
The car's Insurance Declared Value
Driver's age
Type of coverage
Claim deductibles
The own damage premium is calculated quite easily, but first, here is how to calculate the insurance declared value of your car:
IDV= showroom car price + accessories for car – depreciation value (based on IRDAI guidelines)
Now, calculate your own damage premium:
Premium = IDV x (premium rate) + (policy add-ons) – (policy discounts (eg, no claim bonus))
Here is a sample of comprehensive car insurance premiums.
| | | | | |
| --- | --- | --- | --- | --- |
| Car Make and Model | A. Basic net premium | B. Third party liablity | C. GST | total premium = A+B+C |
| Hyundai Elantra GT | 2801 | 7890 | 1924 | 12615 |
| Fiat UNO 1.2 EL | 969 | 3221 | 754 | 4944 |
| Kia Seltos 1.5 HTE | 4076 | 3221 | 1313 | 8610 |
| Renault Duster RxL Diesel | 6985 | 3221 | 1837 | 12043 |
| Ford Figo 1.2 Titanium Sports Petrol | 2175 | 3221 | 971 | 6367 |
*Disclaimer: The insurer used for this calculation is HDFC Ergo Insurance. The year of registration is January 2014 and the place of registration is New Delhi (DL-15). Based on your specifics, the rates may vary.
Frequently Asked Questions
Yes, a comprehensive car insurance policy can be more expensive than a third-party insurance policy. However, the increased protection can be seen as a long-term investment.
Yes, a comprehensive car insurance policy covers damages due to natural disasters, theft, fire, etc., while offering protection against third party damages. However, for things such as zero depreciation, added engine and tire protection, roadside assistance, etc, you must have add-ons to your policy.
A comprehensive car insurance plan is for all car owners. It offers added protection not just for your car, but also to you, the driver. You can then choose add-ons based on your requirements.