Renew in just 5 mins.
No Inspection.
No Paper Work
* Subject To Underwriting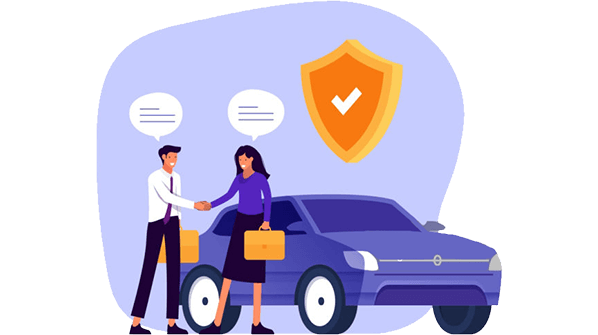 Compare

Car Insurance Plans
No Claim Bonus for Car Insurance
Also known as No Claim Bonus (NCB), NCB is more of a discount that you can avail your insurance premium when you renew your policy. If you, however, due to some reason unable to make any claim for 5 consecutive years, you will likely accumulate up to 50% discount on premiums. 
In India, the number of four-wheelers is in huge demand and continues to increase significantly. However, before you buy a car in India, you should be aware that vehicle insurance in India cannot be avoided.
Let's consider an example to understand the scenario! 
Suppose you do not make any insurance claim for a full insurance period of your car! 
When you renew your automobile insurance before it expires, your insurer will give you a discount on the own damage portion of your rate. This discount starts at 20% for the first claim-free year and gradually increases with each subsequent claim-free year until you reach 5 claim-free years, at which point your NCB is capped at 50%. Since the personal damage component accounts for the majority of your insurance cost, this leads to major long-term savings.
Features & Benefits of NCB
Listed below are the features and benefits of NCB that you should know:
Get Definite Rewards: An insurance policy is a form of protection. An NCB is a financial incentive provided by your insurer to encourage you to drive responsibly, as fewer damages equal rarer claims and a higher NCB.
Connected to you and not your car: NCB is associated with you as a person, not with your vehicle. This implies that no matter what automobile you have, as long as you have been renewing your car insurance policies before they expire, you can continue to receive a NO Claim Bonus.
Substantial Savings on Premiums: A no claim bonus can save you anywhere from 20% to 50% on your insurance premiums, depending on how many years you go without filing a claim.
Transferable: As previously stated, NCB is linked to the car owner, not the vehicle. As a result, you can carry forward the NCB if you sell your old (insured) car and buy a new one. NCB will accompany you if you choose to move your coverage from one insurer to another.
How To Calculate No Claim Bonus?
Starting in the second year, NCB is computed based on the amount of your car insurance premium. It normally starts with a 20% discount on the premium and gradually increases with each year without a claim. It should be emphasized, however, that the NCB is based solely on the premium's own damage component, not the third-party component.
| | |
| --- | --- |
| Claim-free Year | NCB Discount |
| After 1st claim free year | 20% |
| After 2 consecutive claim-free years | 25% |
| After 3 consecutive claim-free years | 35% |
| After 4 consecutive claim-free years | 45% |
| After 5 consecutive claim-free years | 50% |
When Is No Claim Bonus Applicable?
At the time of policy renewal, only the 'Own Damage Cover' component of your car insurance policy is eligible for a No Claim Bonus. The term "own damage" refers to the damage done to the insured vehicle. An additional element of car insurance is third-party liability insurance, which is required by Indian law. It is advantageous when the insured car causes a major accident in which third-party property is damaged or a person is seriously hurt.
A comprehensive car insurance policy protects the insured vehicle financially in the event of damage. As a result, NCB is only applicable to Comprehensive policies, not the policies related to Third-Party Liability policies.
How To Protect Your No Claim Bonus?
Below are the following ways to look after your NCB. Let's check them out.
Opt for NCB Protection Cover: If the policyholder has opted for NCB protector as an add-on, their NCB will be at the forefront despite making claims up to the predefined limit. This would ultimately help the user to retain their bonus in spite of raising a claim at the time of the policy period.
Drive Safely: If you drive carefully for a year and do not file a vehicle insurance claim during the policy's term, you will receive a discount. As a result, when you renew your coverage, the insurer pays you a discount. In the domain of car insurance, this benefit is known as a No Claim Bonus. Choosing the No Claim Bonus coverage ensures reduced premiums for more than a year, depending on the amount of NCB accumulated. From the second year onwards, you are entitled to reduced rates. The policyholder will save money on insurance premiums in this manner.
Avoid Claim for Smaller Damages: While it may be enticing to file a claim every time your car sustains minor damage, it is prudent to do so after conducting a cost-benefit analysis. For example, if you have a claim-free record for a Scorpio car purchased in 2011, you can save roughly Rs 6,000 (a 45 percent discount) in 2015. If your claim amount from the previous year is less than this amount, filing a claim will result in a loss. If the policyholder does not file a claim for minor damages over the policy's term, it will serve as an incentive or a significant reward for driving safely and not filing claims for minor concerns.
How To transfer NCB to New Car Insurance?
A No Claim Bonus is a reward offered to policyholders who do not register a claim. This bonus is granted in accordance with the guidelines of the Insurance Regulatory and Development Authority of India (IRDAI). Even if you decide to get vehicle insurance from a different company or buy a new automobile, you can still collect the NCB that has accumulated in your name (after selling the existing one).
To keep the benefit, you'll need a No Claim Bonus Transfer certificate from the insurance company. Just keep in mind that the time between your insurance policy's expiration date and its renewal should not exceed 90 days. According to NCB transfer rules, the benefit cannot be transferred to a new owner of the vehicle in the event of a sale, as the NCB is linked to the car owner, not the vehicle.
Documents Required to Transfer NCB
The following is a list of documents required for the NCB transfer. It's worth noting that different insurance companies may require a different set of paperwork. Listed below are the common documents required: 
Application for NCB transfer.
Copy of the car's insurance policy.
Sales agreement.
Booking receipt in the case of purchasing a new car.
NCB certificate from the insurer.
Frequently Asked Questions
Here's the list of the frequently asked questions related to NCB car insurance: