Renew in just 5 mins.
No Inspection.
No Paper Work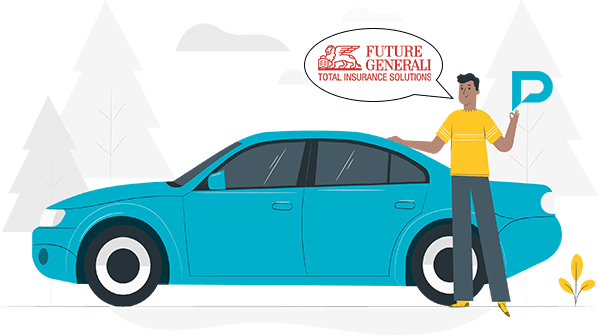 Compare

Car Insurance Plans
Future Generali Car Insurance Renewal
Road accidents, cases of road rage, and uneven roads with potholes are quite common in India. And therefore, just buying your dream car is not enough. If you wish to experience tension-free driving on Indian roads, you must get your car insured. As per the legalities in India, having at least third-party damage insurance is mandatory. Apart from that, if you wish to stay protected during unfortunate incidents like car accidents, you will require a comprehensive car insurance plan with suitable add-ons to enhance your overall coverage. 
And in order to stay protected and continue enjoying the coverage, you must act and behave like a responsible policyholder and renew your car insurance plan on time. Renowned car insurance company Future Generali understands that life can get hectic at times. And hence, without further complicating the issue, Future Generali has come up with an easy and quick car insurance renewal system. This blog covers the easy, step-by-step car insurance policy renewal system offered by Future Generali. Before that, you should know what you will get into in case you fail to renew your car insurance plan on time!
Risks You Would Run Into In Case You Do Not Renew Your Car Insurance On Time
Renewing your car insurance on time can pose multiple roadblocks/risks for you and your vehicle. Let's check them out. 
Disrupted coverage: The moment you fail to renew your car insurance plan after the grace period, the policy lapses and you run out of any kind of coverage.
Lack of financial stability: You will be responsible to pay for any damage that has occurred because of your four-wheeler. Given the sky-rocketed medical and legal expenses, you may have to face a severe financial crisis.
Legal actions: As per the law of our country, it is compulsory to have at least a valid third-party damage car insurance plan. And when you forget to renew the policy, the validity goes null and void. And you may have to pay a heavy penalty.
Losing out on NCB: If you have accumulated NCBs over the year, it will simply slip out of your hand in case you are unable to renew your car insurance plan.
Increased payable premium: Once you proceed to renew you car insurance plan all over again, the premium rates will go significantly higher.
How You Can Renew Your Future Generali Car insurance In a Few Easy Steps?
Want to renew your Future Generali car insurance plan on time? Follow the below-given steps and you will be sorted!
On the top, click on the third option "Renew."
Further, it will give you two more options – Health insurance and Motor insurance.
Click on the latter option and then choose "car insurance."
You will be redirected to the renewal page for your car insurance plan.
Enter details like your policy number, and the expiry date of the policy, and then click on the "Renew policy" option.