Renew in just 5 mins.
No Inspection.
No Paper Work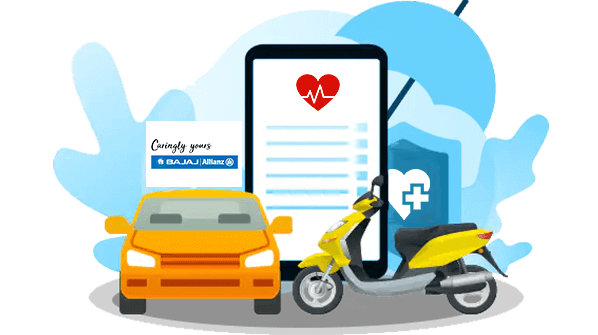 Compare

Car Insurance Plans
Download Bajaj Allianz Insurance Policy?
Operations started on May 2nd 2021, Bajaj Allianz general insurance company is one of the leading insurance providers in India that seamlessly caters to individuals across demographics of the country. The corporation, over the period, has gained a robust foothold with a whopping customer base of 11 crores and a distribution network of 80,000 agents and more than 240 banks in the association.
The company provides a wide range of general insurance products, including Motor Insurance, Health Insurance, Life Insurance, Travel Insurance, Home Insurance, Commercial Insurance, and other Insurance products like Individual Cyber Insurance, Extended Warranty Insurance, and more. With hassle-free navigation and user-friendly policy products, Bajaj Allianz allows customers to check out their policy details like status, calculate the premium, maturity date, just to name a few.
When you buy an insurance plan, you either receive a hard copy of the policy or simply download the policy from the internet. For customers who prefer policy buying and renewal, the online method is something to count upon. Checking the status of your insurance on Bajaj Allianz's official website is a hassle-free process that only takes a few clicks.
Steps to Follow to Download Your Bajaj Allianz Policy
A person can download or get access to his/her Bajaj Allianz policy in two ways- online and offline. Let's take a brief look at both ways.
Online Process
Login to Bajaj Allianz's official website.
Click on the 'Support" button at the top of the home page. When you hover down the page, you will see the "E-Policy Copy" section under the "Our Services" Section.
Simply go to the "E-Policy" section, you will see blank fields wherein you need to enter details like Policy Number, Registered Number, OTP, Email Id, and do a basic math calculation (2+2, for example).
After filling in your policy number and registered contact no, you will need to click on "Generate OTP".
Simply enter your OPT that just arrived on your mobile number, fill in the details.
Finally, your policy will be sent to your registered email Id.
Alternatively, if you continue facing any kind of issues related to viewing or downloading the policy, you can contact Probus Insurance for assistance.
Offline Process
If any policyholder wants to get their policy through the offline method, then they can simply adhere to the following mentioned below:
The user can simply visit any branch of the Bajaj Allianz Life Insurance Company and can easily ask about their policy and send it to their registered residence address.
By calling on their toll-free number, 1800-209-5858, users can enquire about their policy or check the status without any difficulty.
Additionally, the company also features an SMS facility. The policyholder can easily enquire or get the policy details by sending an SMS <WORRY> to 575758.
Can I Make Changes in My Bajaj Allianz Bike Insurance Policy Document?
If you want to make any modifications to your Bajaj Allianz insurance policy document that are incorrectly listed (no matter what could be the reason is), you should contact Bajaj Allianz's customer service team without any difficulty. Policyholders can simply get rectifications in their insurance policy by providing their policy details with the support team.
Is a Hard Copy of Bajaj Allianz Policy Document Necessary?
Since the Insurance Regulatory & Development Authority of India (IRDAI) allowed the policyholders to carry the soft copy of their insurance policies, it is not mandatory to always carry the hard copy of their policy. But for future purposes, you should keep a hard copy of your car insurance plan along with the soft copy.
How To Get a Hard Copy of Bajaj Allianz Policy Document?
Bajaj Allianz insurance plan is promptly issued through the online method, and the physical copy of the policy document is sent to the policyholder's registered address via courier within 7 working days. The policyholder can readily download their policy online by following the steps outlined above.
Meanwhile, you can get an online insurance policy copy from Bajaj Allianz General Insurance's official website in PDF format and print it out for evaluation.
How To contact Bajaj Allianz General Insurance Company?
If you want to contact Bajaj Allianz company for any of your query, then you can simply make it happen at bagichelp@bajajallianz.co.in or you can also call their toll-free numbers 1800-209-0144 or 1800-209-5858. For senior citizen customers, you can mail your queries to seniorcitizen@bajajallianz.co.in.