Renew in just 5 mins.
No Inspection.
No Paper Work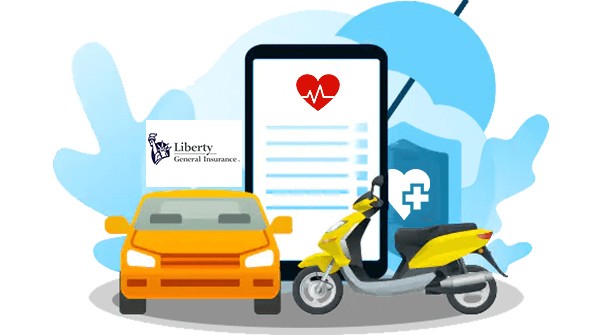 Liberty General Insurance
Liberty General Insurance Company Ltd. started its operation in India in the year 2013 and came into existence as a joint venture between Liberty Citystate holdings PTE Ltd (a group company of US Headquartered Liberty Mutual Insurance Group), Enam Securities, (a privately owned and managed firm that makes long-term investments in listed companies) and DP Jindal Group (an industrial conglomerate). This company deals in a rich variety of insurance products including health and personal accident insurance, car and two-wheeler insurance, employee compensation insurance, commercial insurance, fire and engineering insurance, marine insurance and other miscellaneous insurance plans.
At present, Liberty General Insurance company has established a strong presence in India and has an employee strength of more than 1200 employees working at around 110 offices located in 95 cities across 29 states. The company's partner network consists of around 5000 hospitals and more than 4000 auto service centres.
Key Facts About The Company
Incurred claim ratio (2019-20)
72.42
Network Hospitals
5000+
Solvency ratio (2019-20)
2.21
Premium Underwritten (2019-20)
Rs. 1,531.37 crore
Equity Share Capital
Rs. 1,085.23 crores (as on 31st March 2019)
Corporate Address
10th floor, Tower A, Peninsula Business Park, Ganpat Rao Kadam Marg, Lower Parel, Mumbai – 400013
Recent Awards & Recognitions

National Award for Marketing Excellence October 2020
Asia's best Emerging Insurance Company Award 2021
Business Leader of the World 2021 By The World Leadership Congress & Awards
Most Influential Retail Leaders Award by Asia Retail Congress in 2017.
Model Insurer Asia- Digital & Omni Channel Award 2017
Types Of Insurance Plans Offered By Liberty General Insurance
Liberty General Insurance offers a wide range of insurance plans, which are stated below. Let's take a look at them-
1. Liberty Car Insurance Plans
Liberty General offers a car insurance policy that provides policyholders with the financial cover which they might need at the time of an accident. This policy is available within a variety of options including Liability only policy, Stand-alone own damage (SOD) policy, comprehensive policy (a combination of Liability Only Policy and Stand-alone own damage cover). The plan also has some add-on covers with which customers can customise their policy and avail benefits according to specific coverage.
2. Liberty Two Wheeler Insurance Plans
Liberty General two-wheeler insurance or bike insurance is an insurance policy that is designed to provide financial cover against any damages or losses happening to the insured vehicle due to accidents, theft, and natural disasters. This policy protects the insured vehicle and its owner from any third-party liabilities and also covers third-party costs such as loss to property and medical expenses. There are two types of two wheeler insurance policies offered by Liberty General Insurance company-
Annual Policy: This two wheeler insurance policy is valid for a year, and customers need to pay the premium annually. The policy covers vehicle damage, injury to policyholder, or a third-party.
Multi Year Policy: This is a unique two-wheeler insurance policy that allows customers to avail an exclusive offer of paying the premium once and enjoy long-term coverage of up to three years.
3. Liberty Health Insurance Plans
Liberty General Insurance offers a wide range of health insurance schemes and policies. And all of these plans come with unique benefits that make them distinct from each other. At present, there are 5 types of health insurance plans available. Given below is a list of all these plans.
1. Liberty Health Connect
The Liberty Health Connect policy is a type of health insurance policy that is further available in 4 categories- E-Connect, Basic, Elite and Supreme. These plans differ from each other on the basis of sum insured options and a few other benefits. The E-Connect policy offers a sum insured option ranging from Rs. 3 to 7.5 lakhs, the basic option offers a sum insured option ranging from Rs. 2 to10 lakhs, the Elite option offers a sum insured option between 3 to15 lakhs and the supreme variant offers a sum insured option ranging from Rs. 2 to 15 lakhs.
2. Health Connect Supra
Liberty Health Connect Supra is suitable for people who have an existing Liberty General health insurance policy. This plan is taken as an extension to the existing health insurance policy and it offers financial cover over and above the basic sum assured of the existing policy. A unique feature of this plan is that it is available in two variants- Top Up and Super Top Up plans. The maximum sum insured range of a Top-up Plan is 20 lakhs whereas for a Super Top-up plan is 1 crore.
3. Individual Personal Accident Policy
Liberty General Insurance Individual Personal Accident policy is designed to secure policyholders and their family members against the financial impact of an unexpected accident. Customers can cover themselves, their spouse and two dependent children aged between 3 months and 25 years. The plan covers expenses arising due to minor accidents related to day to day activities, and also extends to major accidents or physical loss arising due to disablement or death in the event of an accidental bodily injury. .
4. Janta Personal Accident Policy
Janta Personal Accident Policy is designed to provide a personal accident cover to customers living in rural regions. This plan provides coverage to policyholders against accidental deaths, along with other accidental benefits.
5. Secure Health Connect Policy
Secure Health Connect Policy is designed to provide customers with maximum coverage at an affordable and minimum premium. The plan comes with a variety of features such as paying premium in installments, enhanced cumulative bonus and free pre-policy check-up for up to 55 years of age.
4. Liberty Commercial Insurance Plans
Liberty General Insurance offers a variety of commercial insurance products that are designed to protect and cover the business, its employees and ownership. Given below is a list of plans available within the commercial insurance category.
1. Employee Benefit Insurance
Liberty General Employee benefit insurance is designed to protect employees and businesses against the losses arising out of any mishappening to the employees of a business. This plan is available within two variants-employees insurance plan and employees compensation policy. The employee insurance plan protects employees against work-related injuries and unfortunate cases of death at the workplace. The employee compensation policy offers the same coverage but it comes with some add-on benefits such as hospitalization and medical expenses, transportation costs, etc. that can be availed upon payment of extra premium.
2. Engineering Insurance
Liberty General Engineering Insurance is designed to provide coverage against the damages happening to the insured property while performing engineering activities. This plan is available under 8 different variants. Given below is a list of the same.
Erection All Risk Insurance Policy
Advance loss of Profit Insurance Policy
Machinery Breakdown Insurance Policy
Boiler Pressure Plant Insurance Policy
Contractor Plant and Machinery Insurance Policy
Machinery Loss of Profit Insurance Policy
Electronic Equipment Insurance Policy
Contractor's All Risk
3. Marine Insurance Policy
Liberty General offers a Marine Cargo Insurance Policy that provides comprehensive coverage against the physical loss of or damage happening to the cargo that is under movement via air, road, sea, rail, or a combination of these modes, between any two points. This plan is suitable for customers who are exporters, importers, manufacturers, traders, merchant exporters, and contractors of projects.
4. Group Health Insurance
Liberty General Insurance offers a special Group medical insurance plan that aims at providing a flexible health insurance plan to the employees/members of a business/group. The plan covers expenses arising due to pre and post hospitalization, emergency ambulance charges, and daycare activities. There are two types of policies available under this category- Group personal accident policy and Group Health insurance policy for the employee.
5. Liabilities Insurance
The Liabilities Insurance plan by Liberty General Insurance is designed to protect the businesses and their owners against unexpected expenses and legal issues occurring due to liability. There are 5 variants of this plan. Let's take a look at them-
Directors and Officers Liability
Public Liability Industrial Insurance Policy
Public Liability Act
Commercial General Liability Policy
Public Liability Non-Industrial Insurance Policy
6. Commercial Vehicle Package Policy
Liberty General Insurance offers a Commercial Vehicle Package Policy that provides a complete insurance cover to protect the corporate fleet of vehicles. The policy provides cover against the losses or damage arising due to unfortunate incidents such as accidents and offers protection for various types of vehicles, of different ranges and sizes.
7. Miscellaneous Insurance Policies
A miscellaneous Insurance policy by Liberty General Insurance is a comprehensive insurance plan that covers the insurance of interests, liability, and property which are not generally covered under general insurance categories. The company offers a wide variety of 7 unique plans in this category. Given below is a list of the same.
All Risks Insurance Policy
Signage Insurance Policy
Baggage Insurance Policy
Fidelity Guarantee Insurance Policy
Burglary Insurance Policy
Money Insurance Policy
Plate Glass Insurance Policy
8. Property Insurance
Liberty General offers a Property insurance plan that is designed to provide protection against a variety of risks happening to a property, such as fire, theft and/or weather damage. There are three types of plans available under the property insurance category. Here is a list of them-
Standard Fire Special Perils Cover
Fire Loss of Profit Insurance Policy
Industrial Risk Insurance Policy
4 Important Reasons to Buy Insurance Plans From Liberty General Insurance
There are several insurance companies available in the market at present. The factors which make Liberty General Insurance Company different from all those companies are listed below. Let's take a look at them.
1. Impressive Solvency Ratio
The solvency ratio plays an important role in determining the financial soundness of an insurance company. It highlights the company's efficiency to meet its long term debt and other obligations. As per the norms set by IRDAI, all insurers in India are required to maintain a solvency ratio of 1.50. Thankfully, Liberty General Insurance has always been able to perform well in this regard by maintaining a healthy solvency ratio above 1.50. At present, the solvency ratio of this company is 2.21.
2. 24*7 Customer Support Assistance
Another valuable benefit of buying insurance policies is that this company offers a quick, and hassle free customer support service. The company has a dedicated customer support team that works round the clock to solve various queries and ensures putting customers at ease. Customers can contact the company on its toll free number (1800-266-5844) or send an email at care@libertyinsurance.in.
3. Ideal Incurred Claim Ratio
Incurred Claim Ratio is another important parameter that should be considered while buying insurance plans from any Insurer. It is a ratio that reflects the number of net claims settled by the insurer to the net premiums collected by the company in any given year. In the case of Liberty General Insurance, the company has an excellent Incurred claim ratio of 72.42, which indicates the profit of the company.
4. Claim Settlement Ratio
Liberty General Insurance adopts a claim settlement process that is both quick and transparent. The company adopts a strong team of agents that helps customers with what they need to do to put in a claim, making sure that the entire process is hassle-free. Liberty General Insurance recorded a very impressive claim settlement ratio of 94% during the financial year 2019-20.
What is The Claim Process Of Liberty General Insurance Company?
Liberty General Insurance provides a quick and hassle free claim assistance service to its customers. The company makes it a top most priority to stick with customers during their turbulent times and settle their claims as soon as possible. Given below is a detailed step by step explanation of the claim processes of each type of Liberty General's insurance plan. Let's take a look at it.
1. Liberty Motor Insurance Claim Process
Register your claim immediately via either of the below mentioned options:
Call the customer support team at 1800 266 5844, or
Register on the company's official website
The company's representative will contact you for further details as required.
Next, the company will organise a survey inside city limits within 24 hours and outside city limits within 48 hour to study and process your request.
After moving the vehicle to a garage, customers will be required to submit the required documents at the garage for verification.
Documents required while submitting motor insurance claim are listed here-
Motor Insurance Policy number
Insured's name and contact details
Complete address of place where loss/damage took place
Complete address of place where damaged vehicle is available for inspection Registration number of the vehicle
Name of the person who was driving the vehicle at the time of damage OR in case of loss, name of the person in whose custody the vehicle was
Name, contact number and relationship of the caller with the insured customer
Brief description of the nature of loss/physical injuries, if any
Estimated amount of total loss
2. Liberty Health Insurance Claim Process
Register the claim request before at least 48 hours in case of planned admission. However, in case of emergency hospitalization, customers should intimate the company within 24 hours of admission.
The claim request can be registered by following any of these steps-
Calling at: 18002665844 (08:00 AM to 08:00 PM all days a week)
Writing mail at: Health360@LibertyInsurance.In
Send a written letter to the company's in house health claims unit- Liberty Health 360.
After receiving your claim request, a customer service representative from the company will contact you and guide you about the further process for claim adjudication.
Here's a list of documents required at the time of submitting a health insurance claim-
Duly filled and signed Claim Form.
Photocopy of ID card
Photocopy of current year policy
Original Detailed Discharge Summary / Daycare summary from the hospital.
Original consolidated hospital bill with bill no.
Original payment receipt of the hospital bill (with receipt number)
First Consultation letter and subsequent Prescriptions.
Original payment receipts
Surgeons certificate stating nature of Operation performed and Surgeons Bills and Receipts
Attending doctors or consultants bills and receipts and certificates regarding the same.
Original medicine bills and receipts with corresponding Prescriptions.
Hospital Registration Number and PAN details from the Hospital
Doctors registration Number and Qualification from the doctor
3. Liberty Commercial Insurance Claim Process
Lodge a claim with the company by following either of these methods-
Call at company's toll free number- 1800 266 5844 (between 8:00am to 8:00pm, 7 days of the week)
Visit company's nearest branch office
Write an email at- care@libertyinsurance.in
Send a written intimation letter to the company's registered office or the applicable branch office.
Preserve unchanged any damaged or defective property or parts for inspection by the surveyor appointed by the company unless:

Immediate action is required for safety or the continuation of work,
The insurer dispenses with inspection​

Collect photo proofs of the damage/loss, prior to repair.
Notify the local police authority in case of theft and fire
While sending the claim notification, customers must include the following details:
Policy number
Date and time of loss
Location of loss
Contact person on site (name, e-mail, phone no.)
Occurrence of damage
Details of damaged items
Probable cause
Any damage to third party property
Details/reports of the loss to any other authorities, if any (police/fire brigade, etc)
Estimated loss amount
Frequently Asked Questions
1. Does Liberty General offer a covid-19 insurance plan?
Ans: Yes, Liberty General Insurance company offers the Corona Kavach Policy that is designed to protect customers against the treatment expenses arising due to Covid-19 infection.
2. How can I renew my policy?
Ans:
To renew your Liberty General insurance policy, follow the below stated steps-
Visit the official website of the company.
Select your desired insurance category.
Click on the 'Renew LGI Policy' tab.
Fill in the required details and click on 'submit'.
You can update or modify the plan as per your needs.
After verifying all the details, make the online payment.
3. I've sold my two wheeler vehicle to someone else. Is it possible to transfer motor insurance to the new buyer of the vehicle?
Ans: Yes. Liberty General Insurance allows the customers to transfer their motor insurance to new buyer of the vehicle. To know more about the transfer process and its related terms/conditions, customers should contact the company's toll free number- 1800-266-5844.
4. I'm not satisfied with the service of the Liberty General Insurance team. How should I contact them?
Ans: In case the customers wish to report any type of complaints about Liberty General Insurance services, products, or processes, they can contact the company by calling at-18002665844 or sending an email at- gro@libertyinsurance.in.
5. Are there any exclusions of the car insurance policy offered by Liberty General?
Ans: Yes, Liberty General Insurance excludes a few conditions in its four-wheeler insurance plan. Given below is a list of those conditions-
Wear and tear from daily commute, mechanical or electrical breakdown, failure or breakage
Damage caused by a person driving with an invalid driving license or under the influence of alcohol/drugs.
Loss as a consequence of depreciation in the policyholder's car value.
Loss or damage to the insured car due to war, civil war, mutiny, nuclear perils, etc.
Damage to tyres and tubes unless it is during an accident.
Driving under conditions other than under 'limitations of use'. (E.g. Using a private car as a cab.)
Loss or damage of the insured vehicle outside India.