Renew in just 5 mins.
No Inspection.
No Paper Work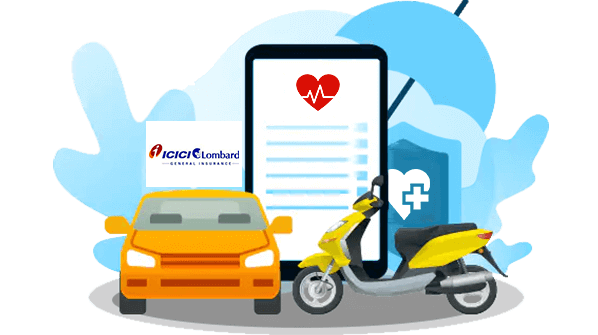 Compare

Car Insurance Plans
ICICI Lombard General Insurance
ICICI Lombard General Insurance Company is one of India's most well-known private general insurance companies. The company is a joint venture between ICICI Bank Limited and Fairfax Financial Holdings Limited, based in Canada.
ICICI Lombard General Insurance Company has constantly received awards for its customer-centric approach and innovative products over the years. With its comprehensive array of insurance products, the company adds value to the market by providing general insurance solutions in sectors such as health, two-wheeler, car, travel, business, rural, home, and marine.
| | |
| --- | --- |
| Premium Underwritten | Rs. 13,312.84 Crores (2019-20) |
| Equity Share Capital | 454.47 (As Of March 31, 2020) |
| Incurred Claim Ratio | 72.86 (2019-2020) |
| Solvency Ratio | 2.17 (March 2020) |
| Number Of Policies Sold | 1,174,578 (2019-2020) |
| Network Garages | 9700+ |
| Network Hospitals | 6300+ |
ICICI Lombard Recent Awards & Recognition
CLO Global LearningElite Award
ICAI Award
Business Today Money Today Financial Awards
2020 Best Insurers Recognition
Triple Accolades at FICCI Awards
10th Edition of IPRCCA
Dun & Bradstreet BFSI Summit & Awards 2020
India Insurance Summit & Awards 2020
Economic Times Summit & Awards
LACP Awards
The risk of death, disability, or destruction surrounds an individual's life and property. These dangers could lead to financial losses. Insurance is a smart approach to transfer these risks to an insurance company. ICICI Lombard provides a wide range of general insurance plans to its customers. They are as follows:
1. ICICI Lombard Motor Insurance Plans
ICICI Lombard offers two types of motor insurance policies:
ICICI Lombard Car Insurance Plan
When it comes to car insurance, ICICI Lombard offers a variety of options, including third-party, standalone own-damage, and private car coverage. These policies are designed to compensate you if your car is damaged in an accident, fire, theft, natural or man-made disaster, or even if you end up injuring third parties or their property in an accident.
ICICI Lombard Two-Wheeler Insurance Policy
ICICI Lombard offers three types of two-wheeler insurance policies: Two-Wheeler Vehicle Package Policy, Two-Wheeler Vehicle Liability Policy, and Stand-Alone Damage Two-Wheeler Insurance. The plan also provides add-on benefits, including roadside assistance cover and depreciation cover.
ICICI Lombard General Insurance has a variety of health insurance options to choose from. They are as follows:
ICICI Lombard Complete Health Insurance
The ICICI Lombard Complete Health Insurance policy protects you from unexpected medical costs. It's comprehensive coverage for you and your family that covers the majority of your medical needs. It has a family floater option that allows you to cover your entire family under one policy.
The ICICI Lombard Health Booster Policy is a great top-up policy that provides your family with individual and floater coverage. The policy is available for 1 year, 2 years, and 3 years policy terms, with sum insured options ranging from Rs. 5 lakhs to Rs. 50 lakhs, providing comprehensive coverage.
In the unfortunate event of your death due to an accident, the ICICI Lombard Personal Protect policy would pay a death benefit to your selected beneficiary. In addition, the policy protects you against PTD (Permanent Total Disablement) as a result of an accident.
ICICI Lombard's Arogya Sanjeevani Policy is a typical health insurance policy that protects you and your family from medical expenses incurred as a result of being hospitalized for more than 24 hours. This policy can be purchased on an individual or floater basis by anybody between the ages of 18 and 65 to cover their basic health needs.
The Corona Kavach Policy from ICICI Lombard is a standard COVID-19 policy that insures your health against Coronavirus. Depending on your needs, you can choose a policy term of 3.5 months (105 days), 6.5 months (195 days), or 9.5 months (285 days).
Saral Suraksha Bima from ICICI Lombard provides coverage to accidental death and disablement arising out of accidental injuries. The minimum age to purchase this policy is 18 years old, with a maximum age of 70 years old.
3. ICICI Lombard Travel Insurance Plans
ICICI Lombard's travel insurance plans have been designed to meet the mushrooming needs of different kinds of travelers. The following are the travel insurance plans offered by ICICI Lombard:
This travel insurance policy covers an overseas traveler for a single trip against any unforeseen events. Trip cancellation, personal liability, and passport loss are just a few of the benefits covered by the policy.
This one-year plan, which is part of the International Travel Insurance product, is created specifically for frequent flyers. The plan offers three maximum travel duration options: 30 days, 45 days, and 60 days.
The Student Travel Plan from ICICI Lombard provides medical and trip-related coverage to the students so that they can avail worry-free studies abroad. This policy is also known as Globetrotter – Overseas Individual Student Travel Insurance and the policy can be taken for a maximum of 730 days.
4. ICICI Lombard Marine Insurance Plans
ICICI Lombard offers two types of marine insurance to its customers:
Marine Transit Insurance (Inland)
This policy applies to a single shipment from one location/port to another. It is appropriate for businesses that rarely require maritime cargo policies in the course of their operations.
The Marine Open Declaration Policy from ICICI Lombard allows you to insure all of your products in transit or shipment throughout the year under a single policy. This coverage is extremely beneficial to logistic organizations since it allows them to cover various transits throughout the year with a single insurance policy.
5. ICICI Lombard Property Insurance Plans
Under ICICI Lombard's Property Insurance plans, the following products are available:
ICICI Bharat Sookshma Udyam Suraksha Policy
This insurance protects the covered property associated with the business against insured perils at a single location, with a total value at risk of up to Rs. 5 crores. Buildings, plant & fixtures, machinery, RM stocks, and finished goods & stock in the process are all included under the plan.
ICICI Bharat Griha Raksha Policy (Housing Society)
The ICICI Bharat Griha Raksha Policy protects your home (housing societies) from fire and natural disasters such as storms, floods, and earthquakes. It comes with the assurance of financial security and support at a time when you and your business most need it.
ICICI Bharat Laghu Udyam Suraksha Policy
The policy protects the insured property associated with the business against insured perils at a single location with a total value at risk of more than 5 crores and up to 50 crores. Buildings, plant & fixtures, machinery, RM stocks, and finished goods & stock in the process are all included under the policy.
6. ICICI Lombard Rural Insurance Plans
When it comes to the rural insurance of ICICI Lombard, the following insurance plans are provided by the company while keeping in mind the rural needs:
This plan is a comprehensive health insurance plan that aims to provide protection to the health of the rural population. In case of any medical emergency, this plan comes as a life savior for the rural people.
With this plan, the rural population can safeguard their most precious assets involved in agriculture, that is tractors. It is a comprehensive policy that covers not only own damage but also third-party damage.
Weather Insurance from ICICI Lombard protects you against financial damages caused by climatic changes. Farmers, banks, microfinance lenders, and agro-based enterprises all benefit from the adequate protection provided by this plan.
J&K Govt. Employees GHI Policy
Under the J&K Govt. Employees GHI Policy of ICICI Lombard, the policyholder can avail cashless hospitalization in any of the network hospitals subject to the terms and conditions of the policy. This policy is purely a cashless policy and the reimbursement of claims is done only in case of pre- and post-hospitalization expenses.
ICICI Lombard's Cattle Insurance Policy covers the death of cattle caused by fire, traffic accidents, electricity, drowning, snake bite, strangulation, poisoning, and other accidental external means. Various extensions are also available with the plan, such as death due to the Act of God, death due to diseases, calving, or surgical operations, etc.
The Livestock Insurance Policy covers the death of the listed animal due to accidental cause, traffic accidents, electrocution, drowning, snake bite, strangling, poisoning, and an accident caused by external sources. Sheep, goats, horses, donkeys, ponies, mules, yaks, elephants, pigs, camels, and any livestock, whether indigenous or exotic or cross-bred, are covered under the plan.
Agriculture Pumpset Insurance
Agriculture Pumpset Insurance from ICICI protects the insured against loss or damage to the pumpset caused by fire and/or lightning, breakdown in the mechanical and electrical systems, riot, strike, and malicious damage. The policy covers both electrical and diesel-powered centrifugal pump sets, as well as submersible pump sets with a capacity of up to 25 HP.
Crop Insurance from ICICI Lombard provides coverage for crops that have lost yield due to an insurable cause of loss in the quality or quantity of the insured crop. The insurance covers you if a crop fails to grow or if too much moisture stops you from seeding a crop.
7. ICICI Lombard Employee Benefit Plans
ICICI Lombard provides two important insurance plans for the benefit of the employee. They are discussed below:
Workmen's Compensation Insurance
The ICICI Lombard's Workmen's Compensation Policy allows the employer to compensate employees or their families in the event of death or bodily injury (permanent partial disablement/permanent total disablement/temporary disablement) arising out of and in the course of employment (including certain occupational diseases). Medical expenses, occupational illness, compressed air disease, and terrorism are all covered under this policy.
The Group Health Insurance Policy from ICICI Lombard is designed to provide health coverage to employees of all types of businesses, from small and medium businesses to major corporations. Employees can choose from a variety of plans with sums insured ranging from 1 to 10 lacs.
8. ICICI Lombard Liability Insurance Plans
Liability insurance policies from ICICI Lombard protect the insured against claims for bodily injury and property damage caused by unknown parties. The company offers the following liability insurance plans to its customers:
Professional Indemnity Chartered Accountants
This insurance covers claims for losses and/or damages resulting from a breach of professional responsibility as a result of a negligent act, error, or omission committed or alleged while performing your services as a chartered accountant during the insurance period. This policy is designed specifically for chartered accounting businesses and individuals who provide professional services such as chartered accountants, financial accountants, and so on.
Corporate Cyber Insurance
ICICI Lombard's Corporate Cyber Insurance covers your damages and business liability in the event of a cyber security breach. The policy provides comprehensive coverage for your company against cyber or digital risks that might result in financial loss to the insured as well as reputational damage to a third party as a result of a breach in the insured's systems.
Directors & Officers Insurance
D&O Insurance from ICICI Lombard is a type of liability insurance that covers or protects a company's directors, officers, and employees from claims arising from decisions and actions performed while performing their duties. It covers the costs of legal defense and other expenses paid by the corporation in defending such individuals in lawsuits.
Comprehensive General Liability Insurance
This plan provides comprehensive protection by covering the insured's legal liability to third parties (customers) for accidents resulting in bodily injury, personal injury, advertising injury, and loss of tangible property of visitors caused by business operations or finished products that occur on the insured's premises or on other premises where their business operations are conducted.
9. ICICI Lombard Engineering Insurance Plans
Engineering Insurance from ICICI Lombard provides financial protection against the risks posed by active construction projects, installation projects, and project-operated equipment. The company offers the following types of Engineering Insurance plans:
Contractors All Risks (CAR) Insurance from ICICI Lombard is designed to safeguard the interests of contractors and principals against financial losses caused by unanticipated accidents to contract works, construction works, and so on. In addition, the plan provides coverage for third-party claims as well.
Contractor's Plant & Machinery Insurance
Contractors' Plant and Machinery (CPM) Insurance from ICICI Lombard is meant to cover a contractor on an annual basis who may use his plant and machinery on a variety of projects throughout the year. The types of plants and machineries covered under the plan are cranes, compressors, vibrators, road-rollers, etc.
This ICICI plan protects Principals and Contractors, as well as Manufacturers and Suppliers erecting machinery and plant, from financial loss due to any fortuitous or unanticipated events that result in property loss or damage. The plan covers location risks, testing and commissioning risks, Act of God, handling risks, risk of the human element, and testing perils.
10. ICICI Lombard Cyber Insurance
The company's Cyber Insurance is a comprehensive, indemnity-based cybersecurity plan that protects against risks including financial losses and data breaches. You, your spouse, and your children are all covered under the plan.
Why Insurance Plans From ICICI Lombard Deserve Your Attention?
When it comes to purchasing an insurance policy, ICICI Lombard General Insurance is a popular choice among customers because of the following factors:
Strong Network Of Hospital: ICICI Lombard General Insurance provides a network of over 6300 hospitals through which you may receive cashless and reimbursed treatment.
Wide Network Garages: Policyholders of the company can simply locate a garage to get their vehicle repaired in the event of an emergency. To facilitate access, the firm operates a network of nearly 9700 garages.
Significant Number Of Claims Settled: ICICI Lombard General Insurance is one of the most popular alternatives among clients, with over 1.6 million claims resolved.
Ideal Incurred Claim Ratio: The Incurred Claim Ratio, or ICR, is the ratio of an insurer's total value of claims resolved to the total value of premiums received over a certain time. Any policyholder who has less than a 50% incurred claims ratio is losing money. When it comes to ICICI Lombard General Insurance, the company has a fantastic Incurred Claim Ratio of 72.86, which suggests that the company is profitable.
Healthy Solvency Ratio: A solvency ratio is a metric used to assess a company's ability to meet its financial obligations. According to the IRDAI, every insurer must maintain a health solvency ratio of 1.5. When it comes to ICICI Lombard, the company has a healthy solvency ratio of 2.17, which meets the IRDAI criterion.
Company Is Trustworthy: Whether it was amid major disasters such as the Odisha cyclone or minor mishaps such as a broken tail-light, the company has always stood by its consumers in times of need, according to its fundamental slogan of "Nibhaye Vaade."
Easily Accessible Claim Support: The company provides you with more than simply claim help in your time of need, whether it's a big surgery or a broken car. The company's team consists of highly qualified professionals and functional specialists who will assist you in determining the best course of action in an emergency.
Transparent Processes: ICICI Lombard makes every effort to clarify the scope of coverage to you in a straightforward manner. As a result, you can trust the company to keep things simple, from policy issuance to claims. From pre-sales to claims support, the company has always attempted to be transparent.
What's The Claim Process For ICICI Lombard General Insurance Plans?
The claim processes for ICICI Lombard General Insurance Plans are as follows:
1. Motor Insurance Claim Process
One can file a claim against ICICI Lombard's Motor Insurance policies through two methods: Cashless Method and Reimbursement Method. They are discussed as below:
Cashless Method: After an accident or disaster on the road, notify ICICI Lombard as quickly as possible. In the event of a serious injury or death to any individual (third party or policyholder), seek medical help right once. After that, you should file an FIR with the nearest police station. Within 24 hours, a Customer Service Manager (CSM) will call you to confirm the start of the claim process. You'll be directed to the nearest cashless workshop as well. The insurer will also arrange for towing service after the vehicle has been inspected. The CSM will obtain an estimate for your vehicle's repairs and, following an examination, will provide clearance. Once the paperwork has been submitted and reviewed, the company will notify you of the amount you must pay (your liability), with the remainder being paid straight to the workshop by the company.
Reimbursement Method: Notify the ICICI Lombard as soon as possible following a mishap or accident. In the event of a serious injury or death to any individual (third party or policyholder), seek medical immediately. After that, you should file an FIR with the nearest police station. If your vehicle has been seriously damaged in an accident, leave it at the accident scene. The company will appoint a surveyor to inspect the vehicle and provide a report to the company. Alternatively, you can hire a pickup/towing service to transport your damaged vehicle to the repair facility. The cost of repairs will be assessed by a surveyor, who will then submit a report to the insurance company. You must also provide the surveyor/representative with documents such as a policy note, tax receipt, copies of registration books, driver's license, and a copy of the FIR. After the procedures are completed, you must pay the garage for the whole cost of the repairs. The company will promptly reimburse the agreed-upon claim amount.
2. Travel Insurance Claim Process
If you have a medical or non-medical emergency while traveling, you may count on the company's full support. All you have to do is contact the firm by one of the methods listed below, and the rest of the procedure will be handled by the company:
In USA and Canada: +1 844 871 1200 (Toll-Free)
For The Rest Of The World: +91 124 4498778
In India: 1800 102 5721 (Toll-Free)
Fax: +91 124 4006674
Email: icicilombard@falck.com
3. Health Insurance Claim Process
In a few simple steps, you can make a cashless or reimbursement claim under an ICICI Lombard Health Insurance Policy. Take a look at them below:
Cashless Claim: Reach out to an ICICI Lombard General Insurance network hospital and request admission for your treatment. Call the ICICI Lombard General Insurance Company's toll-free number to inform them. At the network hospital's reception, present your health card together with a valid photo ID. Your credentials will then be verified by the hospital. Fill out the pre-authorization form available on the ICICI Lombard General Insurance website and fax it to the insurer. The company will thoroughly examine your claim form and evidence before making an appropriate decision. If your claim is approved, the insurer will pay all of your medical fees and costs according to the policy's terms and conditions.
Reimbursement Claim: Get hospitalized in a non-network hospital of your choice to receive payment under ICICI Lombard Health Insurance Plans. When you are admitted, notify ICICI Lombard General Insurance. You must keep all bills and documentation connected to the treatment/hospitalization with you to file for the claim once your hospitalization/treatment is completed and you have paid the costs. Send the necessary bills and papers to the insurer so that the claim can be processed. According to the policy terms and conditions, ICICI Lombard will process your claim and reimburse the amount of medical expenditures spent for the treatment.
4. Marine Insurance Claim Process
You must promptly notify the insurance provider if the cargo or the ship is lost or damaged. A surveyor will evaluate the damage or loss that has been mentioned. All documentation and witnesses must be supplied, along with a properly completed claim form. The insured must file a monetary claim with the insurance provider and receive an acknowledgment for a missing package. If the provider believes the case is appropriate, it will authorize the claim; otherwise, it will reject it.
5. Property Insurance Claim Process
Call the company's toll-free insurance helpline, 1800 2666, 24 hours a day, seven days a week, and leave the rest to them. Provide pertinent information, such as your insurance policy and other details about your claim. Your claim request will then be verified and forwarded to the company's claims department. Within 48 hours of the claims department validating and registering your request, the company will designate a surveyor. After that, you must provide the essential documents to the surveyor, who will then submit the Final Survey Report (FSR) along with the paperwork. The claim will then be processed by the company's claims department within seven days.
6. Other Insurance
For all other insurance plans, you can either call the company's toll-free number or you can file a claim through the online method. Visit the official website of the company and click on the "Claims" tab. Choose the type of claim you want to file against the company. Enter all your necessary details, such as policy number, policy start date, etc. This process will initiate the claim. You can also track the status of your claim with the help of the company's website.
Frequently Asked Questions