Renew in just 5 mins.
No Inspection.
No Paper Work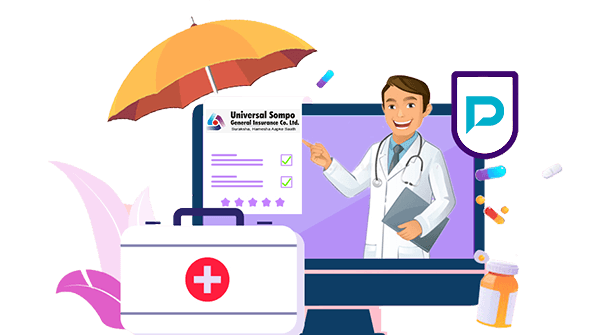 Compare

Car Insurance Plans
Universal Sompo General Insurance
Universal Sompo General Insurance Company is a joint venture of Indian Bank, Karnataka Bank, Dabur Investments, Indian Overseas Bank, and Sompo Japan Insurance Inc. In 2007, the Insurance Regulatory and Development Authority of India (IRDAI) granted it a licence and a certificate of registration. The business has 117 offices around the nation, with its headquarters in Mumbai.
They offer a variety of insurance plans, including ones for motor, crop, shopkeepers, health & critical illness, personal injury, and homes for individuals. For SMEs, they also offer additional non-life packages, as well as engineering, fire, employee benefits, marine, liability, project insurance, and other specialised insurance options.
The company uses a customer-centric strategy and perfect post-claim services to give its customers the highest level of pleasure. Additionally, they are always putting forth the effort to guarantee consistent profits and steady firm expansion. The business also recognises that its people are its most important resource, thus it works hard to create a dynamic workplace to raise employee job satisfaction. As a result, this improves the customers' satisfaction and experience.
Here are the key highlights of Universal Sompo General Insurance Company.
Parameters
Details
No. of Branches
96+
Incurred Claim Ratio
90.44 (As per IRDAI Report 2020-2021)
Solvency Ratio
1.90 (FY 2020-21)
Corporate Address
Universal Sompo General Insurance Co Ltd. Office No 103, First Floor, Ackruti Star, MIDC Central Road, Andheri (East), Mumbai-400093, Maharashtra.
Awards

2015-2016

Quality Brands India- Excellence in General Insurance

2015-2016

FM Stars- Excellence in General Insurance Under BFSI Category

2016-2017

Fintelekt- Leadership in Claim Service

2016-2017

ABP News Channel-Presented BFSI Ceremony

2017-2018

Insurance Summit- Best Customer Service Provider of the Year

2020- 2021

The best technology for good Project

2020- 2021

Customer Service- Insurance Alerts India

2021-2022

Best BGSI Brands of 2021 by Economic Times

2023-2024

Best BFSI Brands of 2023 by Economic Times
Universal Sompo General Insurance Plans
Here is the list of the Universal Sompo General Insurance Plans.
1. Health Insurance Plans
Universal Sompo Health Insurance plans to aid in defending your family from monetary losses caused by unanticipated medical expense if you become ill or are hurt accidentally during the policy period, it covers both your hospitalization costs and domiciliary hospitalization benefits.
Complete Healthcare Insurance
Complete Healthcare Insurance offers thorough coverage that covers hospital-related medical expenses. Under this policy, you can take advantage of many coverage benefits, including coverage for inpatient hospitalization costs, pre- and post-hospitalization costs, organ donation costs, dental care, etc.
Super Healthcare Insurance
The Universal Sompo Super Healthcare Insurance Policy is a health insurance plan that supplements your current health insurance and protects you from medical bills anywhere in the world. A higher Sum Insured with a deductible that applies to claims with higher ranges is offered by Universal Sompo's Super Healthcare Insurance. Sum Insured is more reasonably priced than a standard medical insurance coverage with a greater Sum Insured
Arogya Sanjeevani Insurance
The Universal Sompo Arogya Sanjeevani Policy protects you and your family from the cost of routine medical care in the event of an accident, illness, disease, or other unforeseen events. If you are between the ages of 91 days and 65 years old, you are eligible for coverage under this insurance for amount insured options with ranges between Rs. 1 lakh and Rs. 5 lakh.
Loan Secure Insurance Policy
The Loan Secure Insurance Policy from Universal Sompo is a special policy that enables you to transfer the responsibility of your loan in the event of an unanticipated occurrence. It provides financial support to the insured in the event of a critical illness diagnosis, job loss, untimely death, or total or partial permanent disability as a result of an accident.
Individual Accident Policy
If the insured suffers from an unforeseen accident, the Universal Sompo Individual Accident plan is intended to offer financial support. The plan is offered for sums insured ranging from Rs. 1 lakh to Rs. 10 lakh.
Critical Illness Insurance Policy
The goal of the Universal Sompo Critical Illness Insurance Policy is to offer critical illness coverage for 11 illnesses, such as Kidney failure, Multiple Sclerosis, Heart Attack, Coma, Paralysis, and Motor Neurone Disease. A lump sum payment is made to you if you are diagnosed with a serious disease during the policy period under this fixed-benefit health plan.
In light of the Covid-19 crisis, the "Corona Rakshak Policy" is an individual benefit policy that aims to solve the financial health issues of specific consumers while adhering to regulations established by the regulator.
To make it simple for patients to receive Covid-19 treatment, Universal Sompo General Insurance offers the Corona Kavach Health Insurance Policy. You may be confident that this cover will help you combat the unpredictable characteristics and severity of Coronavirus. This plan's sum insured ranges in value from Rs. 50,000 to 5 lakh rupees, in multiples of 50,000.
For consumers looking for comprehensive insurance to protect their automobiles from unanticipated damages, like those caused by a traffic collision, Universal Sompo motor insurance plans are available. The Universal Sompo General Insurance Company offers comprehensive coverage car insurance policies that also include many extra perks.
The Motor Private automobile Insurance offers comprehensive plans that cover both the cost of passengers' healthcare bills and damage to the automobile resulting from an accident. The Motor Vehicle Act also offers protection from legal liability for third-party property damage and human harm resulting from an accident involving the vehicle.
The Two-Wheeler Insurance offers comprehensive plans that cover damages to the vehicle caused by accidents as well as the hospital bills paid by passengers. It safeguards you from monetary loss brought on by theft or damage to your bike or scooter.
Two-Wheeler long-term package policy
The Term Wheeler Long Term Package Policy (also known as "TWLTPP") from USGI protects you from financial damages brought on by vehicle damage or theft as well as third-party liability. It offers the individual owner or driver of the vehicle Personal Accident Coverage Coverage of Rs 1 Lakh while driving or travelling, mounting or dismounting from the two-wheeler.
Passenger Carrying Vehicle
The Passenger Carrying Vehicle Insurance Policy covers all types of passenger-carrying vehicles, except those used for racing, pacemaking, reliability testing, speed testing, and any other motor trade-related activities.
The Universal Sompo Goods Carrying Vehicle Insurance Policy covers vehicles used for the transportation of goods, as well as those used for that purpose by the insured, the insured's employees, or for hire or reward, except those used for racing, pacemaking, reliability trials, speed testing, and other motor trade-related activities.
This kind of Vehicle Insurance Policy covers Vehicles used for Special Purposes of the Insured or by the Insured's People for Such Purposes and in certain cases for Hire or Reward, but Excludes Racing, Pacing, Reliability Trial, Speed Testing, and Use for Any Purpose in Connection with the Motor Trade.
3. Travel Insurance Plans
The policy offers coverage for emergency medical costs incurred in connection with physical harm, illness, disease, or death occurring outside of the Republic of India as well as for the insured person's return home during the insurance period. Additionally, it covers losses due to personal injuries and other travel-related mishaps, like lost passports and checked bags.
For regular flyers, the Universal Sompo Annual Multi-trip is a complete travel schedule. The insurance is reasonably priced and relieves you of the headache of getting coverage before each trip you take. Based on the area of your travel or the maximum length of a single trip, you can select from 4 Plans.
A comprehensive travel insurance package, Universal Sompo Travel Worldwide protects you from unanticipated medical and financial problems when travelling abroad. Depending on the location or countries of your destination and the length of your trip, you can select from a wide choice of 8 Plan alternatives.
Students are protected by the Universal Sompo Student Travel policy from any unforeseen events that can cause their education to be disrupted. The coverage offers a variety of plan alternatives and protects against study disruption, sponsor injury, compassionate visitation, etc.
A comprehensive travel insurance package, Universal Sompo Travel Worldwide protects you from unanticipated medical and financial problems when travelling abroad. Depending on the location or countries of your destination and the length of your trip, you can select from a wide choice of 8 Plan alternatives.
4. Commercial Insurance Plans
The commercial insurance products offered by the Universal Sompo General Insurance Company are unique and cover you financially in times of shop damage or loss.
A farmer's insurance needs are covered by the Farmer's Package Policy. It covers both the farmer's assets, such as his home and its contents against fire and theft, as well as the assets that enable him to support himself.
Shopkeeper's Insurance Policy
The Shopkeeper's Package Policy is created to address the many exposures that your business as a shopkeeper may face generally. This proposal is for insurance against fire and other damages for a business whose total insurable assets at a location are worth more than Rs 5 crore but less than Rs 50 crore.
Jewellers Block Insurance Policy
The "Jeweller's Block Insurance policy" from Universal Sompo is a package policy created to suit the insurance requirements of jewellers and other businesses that deal in diamonds. The insurance covers his jewellery, bullions, cash, and other valuables from fire and other disasters as well as damages from theft and robbery. The policy also offers coverage while the valuables are being transported or while they are in the care of the insured, their directors, workers, cutters, or sorters.
Burglary Insurance Policy
Stocks and contents held in trust or commission at the insured premises, as well as those that you own, are liable for or hold, are all covered by the burglary policy. In certain circumstances, it also covers money, jewels, and securities kept in a closed safe or cash box inside a secured steel cabinet.
Employee's Compensation Insurance Policy
The Employee's Compensation Insurance Policy enables the employer to compensate employees who sustain personal injuries as a result of incidents that happen to them while they are working.
Fidelity guarantee Insurance Policy
The Fidelity Guarantee Policy from Universal Sompo covers monetary loss incurred by the Insured due to forgery, embezzlement, larceny, fraud/dishonesty, or fraudulent conversion of money or goods by the Insured's workers. Up to the employee's stated limit, the loss is payable.
This policy covers industrial and commercial establishments against the loss of money while it is being moved by employees or authorized individuals, but it excludes cash left on the counter or in a locked safe during regular business hours.
This is a package policy made to cover all aspects of an office's insurance needs. A variety of situations, which are typically covered under separate policies, are integrated under a single policy.
All Risk Insurance Policy
The All Risk Policy is a product created to protect your expensive portable items, such as laptops, handheld cameras, mobile phones, jewellery, and the like, which are not restricted to your home and are at risk from both natural disasters and man-made dangers like robbery and snatching.
Standard Fire and Special Perils Policy
Fire insurance Policy cover all kinds of properties located in a particular premise such as buildings, plant and machinery, furniture, fixtures, fittings and other contents, stocks and stock in the process along with goods held in trust or on commission.
Bharat Griha Raksha policy provides insurance cover for Your Home Building, and/or Home Contents. If you want to protect your precious property, look no further than Universal Sompo's Bharat Griha Raksha policy.
Bharat Sookshma Udyam Suraksha
For physical loss, damage, or destruction of Insured Property about Your business, the Bharat Sookshma Udyam Suraksha Policy offers insurance coverage. This policy is designed for businesses whose total value at risk across all classes of insurable assets at one location does not, as of the policy's commencement date, exceed 5 Crore (Rupees Five Crore).
Bharat Laghu Udyam Suraksha
The Bharat Laghu Udyam Suraksha Policy offers protection against physical loss, damage, or destruction of insured property connected to your company. This policy is intended for businesses whose total value at risk across all classes of insurable assets at a single location is greater than Rs. 5 crores (Rupees five crore) but not greater than Rs. 50 crore (Rupees fifty crore) at the policy start date.
Marine Cargo Open Transit (Inland & Import/Export) Policy
Machinery, raw materials, finished commodities, and other items are covered by the Marine Cargo Policy while they are being transported by a contract of carriage. A marine cargo insurance coverage is made to cover loss or damage to cargo while it is being transported by air, train, road, sea, and other associated modes of transportation.
Machinery Breakdown Policy
Mechanical and electrical machinery and/or equipment that you own, are in charge of, have on trust for you, or are used as part of your job duties at the insured premises are covered by the Machinery Breakdown Policy. The coverage provided by the policy includes any abrupt, unexpected physical damage that results in the need for replacement or repair of mechanical or electrical machinery and/or equipment.
Electronic Equipment Insurance
The Electronic Equipment Insurance Policy covers any electronic equipment that you own or are accountable for. The insurance covers physical loss or damage that occurs suddenly, unexpectedly, or accidentally to any electronic equipment (including system software).
Contractors All Risk Insurance
The Contractors All Risk Insurance Policy protects against property damage resulting from any unexpected, unplanned, and sudden causes other than those that are expressly excluded, subject to the terms and conditions of the Policy.
Erection All Risk Insurance
Erection All Risks (EAR) insurance offers protection against financial loss due to any sudden, unanticipated events resulting in loss or damage to the property insured at the project site while being stored, erected, tested, and commissioned. It is available to principals and contractors as well as manufacturers and suppliers erecting machinery and plant, etc.
Boiler and Pressure Plant Insurance
Boiler Pressure Plant Insurance protects your facilities' boilers and pressure vessels from explosion, implosion, and collapse. Third-party responsibility and other specific hazards may be added to it. Even damage to nearby property that results from an explosion or pressure plant collapse during regular business hours is covered, up to certain restrictions.
Industrial All Risk Insurance
For operational risks, this policy truly is an "All Risks Policy". Compared to the current named perils operational policies, which have a constrained range of coverage, it is more competitive. Except for a few specific restrictions, an "All Risks" insurance insures all unavoidable accidents.
Public Liability (Act) Insurance Policy
This insurance policy comprehensively covers the Owner's statutory liability for death, personal injury, and property damage occurring from an accident while handling any hazardous product under the no-fault concept.
Public Liability (Industrial & Storage Risks)
The insured will be protected by the policy against having to pay compensation, including court costs, fees, and expenditures, wherever they may be incurred in India in line with Indian law.
Comprehensive Operational Large Risk Policy
The insurance is all-risk with specific exclusions. This plan was created specifically to meet the requirements of any sizable corporation with a global presence. The product is all-risk in nature and can be utilized by sectors like the production of automobiles, steel, and chemicals to cover the majority of risks related to their operations.
This policy applies to any livestock you own and utilises for business, pleasure, or both, including Milch cows, Buffaloes, Studs, Bullocks, Sheep, and Goats.
Householders' Insurance Policy
The Householder's Insurance from Universal Sompo offers a public liability that pays the client in the event of a claim stemming from a third party's physical damage or death that takes place on the insured premises. The same is true for any property damage sustained on the grounds.
With crop insurance, farmers can be shielded from any financial losses brought on by crop failures and losses. Universal Sompo offers crop insurance that perfectly caters to the needs of the farmers.
Pradhan Mantri Fasal Bima Yojana
All of India's current yield insurance programs have been replaced by the PMFBY, which was introduced in 2016. The plan aims to employ technology for yield estimation and has expanded coverage for localized hazards, post-harvest losses, etc. The program seeks to enhance crop insurance penetration in India through increased farmer awareness and low farmer premium rates.
Indian Bank Health Care Plus
The Indian Bank Health Care Plus Policy is a comprehensive health insurance plan that covers you, your spouse, two dependent children, and dependent parents. Unlike regular policies, which require families to purchase individual policies for each member, this special family floater allows you to choose one policy that provides coverage for your entire family under a single sum insured. In the event of the following occurrences, the Policy covers hospitalization costs, up to the maximum Sum Insured: A sudden illness, an accident, or any surgery necessary due to disease are just a few examples.
Karnataka Bank Health Care Plus
The Karnataka Bank Health Care Plus insurance is specially designed for Karnataka Bank's clients and gives account holders and depositors value for money. The policy protects the depositors in the terrible event that they or a loved one must be admitted as an inpatient in a hospital owing to an illness, disease, or accidental injury.
IOB Health Care Plus Policy
The IOB Health Care Plus Policy is a comprehensive health insurance plan that provides coverage for you, your spouse, two dependent children, and dependent parents. Thanks to this special family floater, you have the option to choose a single policy that provides coverage for your entire family for a single sum insured.
Why Consider Universal Sompo General Insurance?
Here are the reasons to consider Universal Sompo General Insurance.
Online Purchase of Policies: On the website, customers can acquire Universal Sompo insurance plans. Eliminating the intermediaries streamlines the procedure.
Calculate Premiums Online: To plan your finances effectively, it is essential to know how much you will have to spend as a premium. Simply enter a few pertinent facts on the insurer's website to determine your premium.
24×7 Customer Care: The insurer offers several ways for policyholders to get in touch with them, including a toll-free number that is available around the clock, an email address specifically for general questions, and another for questions about claims. During business hours, clients can also walk into any of the insurer's branches.
Digital Policy Renewal: A few Universal Sompo insurance policies can be renewed quickly and easily online on the insurer's website.
Tax Benefits: Section 80D of the Income Tax Act of 1961 allows policyholders to claim tax benefits for the premiums they pay. As a result, your policy serves as both insurance coverage and a tax-saving investment.
Cashless Hospitalisation: Customers also have the option of receiving cashless hospitalization at any of the 4,000+ hospitals in the insurer's nationwide network. If you choose cashless hospitalization, the insurer or TPA will cover your medical bills, and you won't be required to make any payments at the time of discharge.
How To File a Claim for Universal Sompo General Insurance?
Here are the steps to file a claim for your different Universal Sompo General Insurance policies. Let's discuss them in detail!
1. Health Insurance Claim Process:

Cashless Hospitalization Process
Step I: In the event of an emergency admission, use their Health Helpline 1800 200 4030 and notify them of your claim within 24 hours; in the event of a planned admission, do so 48 hours in advance.
Step II: After that, you will need to visit Network Hospital, present your Health Serve Card from the firm along with a valid photo ID, and obtain a "Cashless Request Form" from the hospital's insurance helpdesk.
Step III: Fill out the "Cashless Request Form" with your information and send it to the Hospital Insurance assistance desk.
Step IV: The medical facility confirms the patient's information and mails a properly completed Cashless Request Form to the Universal Sompo Health team at healthserve@universalsompo.com.
Step V: The hospital and you will be informed of Universal Sompo-Health's review and determination of the Cashless Request's admissibility under the Policy Terms & Conditions. For expenses that are not covered by the policy's terms and conditions, you will be responsible for paying them.
Reimbursement Claim Process
Step I: To report your Claim, contact their Health Helpline at 1800 200 4030 or send an email to healthserve@universalsompo.com within 24 hours in the event of an emergency admission and 48 hours before the hospitalisation in the event of a planned admission.
Step II: Visit a hospital and receive treatment there. After hospital discharge, pay your hospital bill and gather all original paperwork.
Step III: For reimbursement, complete the Reimbursement Claim Form and deliver all original paperwork to the address listed below.
Universal Sompo General Insurance Company Limited
Health Claims Management Office,
1st Floor, Plot No. C 56 A/13,
Block C, Sector- 62, Noida,
Uttar Pradesh- 201309
Step IV: Your claim will be processed under the policy's Terms & Conditions and will be informed to you upon receipt of the necessary documentation.
2. Travel Insurance Plans:

No matter if you are travelling for work or pleasure, you are now safer thanks to overseas travel insurance, which guards you against unpleasant occurrences like lost or delayed checked baggage, lost passports, medical emergencies, and accidents.
You should get in touch with the Overseas Assistance Provider's Helpline as soon as possible and provide the relevant information to file a claim. The Alarm Center's specifics are as previously indicated.
Even if assistance is not needed, you must call the Alarm Centre as soon as you can while you are overseas and let them know if you plan to file a claim. We are not obligated to pay any claims upon your return to India that the Alarm Centre has not been notified of while you were away.
The Alarm Centre will require the caller's name and passport number to confirm his identification.
 You must notify the Alarm Centre as soon as you can in the case of an accident or sudden sickness where it is not possible to do so before visiting a medical professional or going to the hospital. You must, upon request from the concerned Medical Practitioner or staff, present this Policy in either scenario when you are admitted as a patient.
In the event of a financial emergency, you must contact the alarm centre right once and provide the information listed on your insurance policy, as well as the police report with your passport number and a written statement outlining the causes, circumstances, and location of the loss. Failure to do so could harm Your claim because their culpability won't become a factor unless a claim is supported by the aforementioned records.
In the instance of a hijacking, the appropriate police authorities should certify that the occurrence took place. Details like the insured's passport number, the time frame of the hijack, etc. should be included in the police report. In exceptional circumstances, the corporation might take into account other supporting materials including a report from the airlines, news articles, TV reports, and other media coverage of the specific hijacking incident.
The Overseas Assistance Provider, as applicable, will guarantee to the service provider the costs of hospitalization, transportation for emergency services, transportation home for You and any covered accompanying person, and Financial Emergency Assistance, subject to compliance with the procedure outlined above. The Overseas Assistance Provider will pay all costs immediately on the company's behalf, and that will be considered a proper discharge of the contract's responsibilities.
The company cannot be held liable if the service provider refuses to accept the Overseas Assistance provider's payment guarantee. You will subsequently be responsible for paying the appropriate expenses. Upon receipt of the necessary documentation, they or the Overseas Assistance Provider will subsequently consider reimbursing these fees.
On the insured's return to the Republic of India, the Overseas Assistance Provider will reimburse all claims (aside from those for Financial Emergency Assistance) in Indian Rupees at the exchange rate determined by the Reserve Bank of India, as applicable on the date the amount is billed.
While you are abroad, the overseas assistance provider will pay or make arrangements for any claims under the Financial Emergency Assistance program.
The overseas assistance provider in India must be notified of any burglary loss at the insured's house while they are travelling abroad.
3. Motor Insurance Claim:

Cashless Claims:
You can make a cashless motor insurance claim with Universal Sompo in the following manner:
Step 1: Intimation of Claim
First and foremost, call or email Universal Sompo as soon as possible at their toll-free number or to report the accident. You must drive your automobile to the shop to get an estimate of the damage, and then you must submit a properly completed claim form and the required paperwork to the insurance provider. Both at the insurers' offices and on their websites, the forms are available.
Step 2: Acceptance Of Claim Request
You will receive a self-inspection link on your registered mobile number after receiving the claim notification.
Step 3: Assessment And Documentation
A surveyor from Universal Sompo will be dispatched to the accident location to evaluate the damage and provide you with a claim estimate.
Step 4: Repair And Final Claim Settlement
The Universal Sompo will provide the network garage with the full value of the claim. After making the payment and covering the applicable deductibles, you can retrieve the vehicle.
Reimbursement Claim:
You can make a reimbursement motor insurance claim with Universal Sompo by following the below-mentioned steps:
Step 1: Claim Intimation
Notify Universal Sompo about the accident. Simply call Universal Sompo at their toll-free number 1800-22-4030 / 1800-200-4030 to report the event and provide them with your policy number.
Step 2: Assessment of the Damage
A surveyor from Universal Sompo will visit your area to assess the damage and give you an estimate of the cost to restore it.
Step 3: Get Your Vehicle Repaired
Bring your vehicle to a shop of your choosing, and get the necessary repairs made.
Step 4: Reimbursement of Repairs
When Universal Sompo has received all of your receipts and invoices, it will reimburse you for the claim amount you are entitled to. After covering the requisite deductibles, you can then take the automobile back.
4. Fire Insurance Claim:

To ensure a prompt settlement of your insurance claim in the event of a fire incident on your insured property, follow these steps:
As soon as feasible, notify Universal Sompo of the fire event on the insured property: You can do this by calling their toll-free number or writing to them to let them know about the incident.
To handle the situation and reduce loss or damage, call the fire department and the police.
 Share the necessary details with the surveyor or claim agent that the insurer has appointed: When the Universal Sompo surveyor comes to the scene of the occurrence, you must give them information about the cause, the damage, etc.
The surveyor then evaluates the degree and cost of the property damage or loss. The survey report that the surveyor supplied to the Universal Sompo will serve as the basis for the final claim calculation.
Submit the properly completed claim form along with any other proofs and photos needed for the procedure.
To estimate the coverage amount to be granted for a settlement, the claim process may take one to three weeks.
Documents Required
Claim Form duly filled in & signed.
Claim bills: Detailed claim bills with necessary bills/vouchers.
Fire Brigade Report (internal or external or both as the case may be).
Forensic Departments report, if applicable.
Laboratory test report together with the mandate given, if applicable.
Record of Labour involved in activities related to the claim.
Original Repair/ Replacement Bills with receipt.
Departmental Note on the incident.
Meteorological report: In case of natural calamities like floods, cyclones, earthquakes, etc) or Newspaper cutting.
5. Miscellaneous Insurance Claim:

Please notify the company's nearest office, the call center, or the toll-free number 1-800-22-4030 (from MTNL & BSNL Lines) as soon as a loss is observed. Their claim representatives will get in touch with you shortly and be delighted to assist you with the claim process. Miscellaneous and rural claim processes follow a similar procedure. The USGICL Office finder contains information about the offices.
The following information needs to be furnished by you while intimating a claim:
Date & Time of the accident,
Brief description of how the accident took place,
Place & contact details of the Insured Person (in case the person intimating the claim is other than the insured person.
How To Buy Universal Sompo General Insurance Policies?
Universal Sompo General offers insurance plans that can be purchased both online and offline. Let's examine each of the two procedures:
Online Process:
Visit the Official website of Universal Sompo General Insurance.
On the top, you will find the "Buy Now" option in red color. Click on it.
After that, you will be directed to the page wherein you will find different plans under tabs, namely Health, Motor, and Bancassurance.
If you want to buy complete healthcare insurance, for example, click on "Buy Now" in the red colour box.
After clicking it, you will need to enter your full name, gender, mobile number, email Id, date of birth, and members to be insured.
Once you are done entering all the details, you will need to click on "Get a Quote". Then, you will get the premium amount according to the information entered by you.
Finally, you need to buy the plan by making the payment using your Credit/Debit card.
No matter what plan you want to buy from Universal Sompo General Insurance, follow these steps, find your plan and buy it.
Offline Process:
You have two options: visit the branch location or contact the insurance company. The company's customer service expert will pay attention to your questions, address them, and assist you in selecting an appropriate insurance policy. You can select your plan, provide all the required paperwork, and pay for the plan in that order.
You can get in touch with Probus Insurance if you are not happy with the services or plans provided by the insurance provider firm.
Renewal Process of Universal Sompo General Insurance
Maintaining the coverage on your purchased policy requires renewing any insurance policy. Similarly to this, you must ensure that any policy you purchase from Universal Sompo General Insurance Company Limited is renewed at the appropriate period. You will forfeit all the advantages and coverage under your Universal Sompo insurance policy if you don't renew it.
Visit the official site of Universal Sompo General Insurance Company.
On the top of the home page, you will find the "Renew" option. Click on it. Then, you will see two tabs, namely Health & Motor. No matter whatever policy you have, simply go to either of the tabs, find your policy, and click on "Renew Now".
After that, you will need to enter your Policy Number, Mobile Number, Email Id, Date of Birth, ID, and more.
Once you are done entering all the details, click on "Continue". Then, opt for a payment method from the available choices such as Internet banking, Debit/Credit Card.
A confirmation letter from the insurance company confirming that the insurance policy has been successfully renewed will be sent to your registered mail address once the premium has been paid.
Frequently Asked Questions