Renew in just 5 mins.
No Inspection.
No Paper Work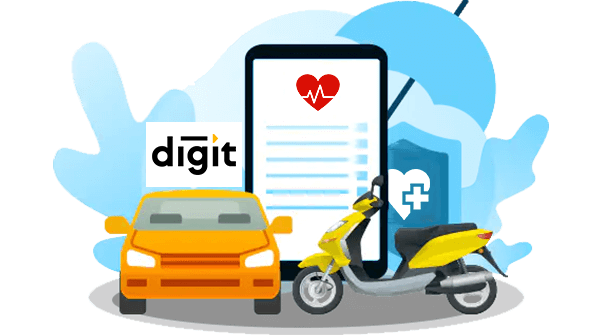 Compare

Car Insurance Plans
Digit Insurance Customer Care
Digit insurance provides excellent protection and a top-notch customer care system. Customers who acquire a two- or four-wheeler insurance policy from Go Digit Insurance will receive policy documentation containing various details about the binding agreement between the two parties. From acquiring the policy to filing claims, the entire procedure can be completed digitally.
But if a policyholder wants to get in touch with Digit Insurance, they can easily contact them offline or online either. Read on to know the different ways of contacting Digit Insurance & customer care details.
How To Contact Digit Insurance Customer Care?
There are multiple ways of contacting Digit Insurance where you can send your queries and get them solved in no time.
If you are looking to contact Digit Insurance via call, then you can simply dial their toll-free number, i.e., 1800-258-4242, and get in touch with their customer representative. Also, whether any policyholder wants to modify their policy, renew it or pay the premium, their queries can easily get solved on just one call.
If you want to connect them via email, then there is a dedicated email ID, i.e., hello@godigit.com, where you can send your emails and get all your questions and queries solved.
If you are one of those who doesn't feel comfortable on calls or something similar, simply text "Hi" on a dedicated phone number, and then you will get the options. Simply choose as per your convenience and get your queries solved within no time.
Though there are multiple branches of Go Digit all across India, we have listed a few for reference.
State Name
Branch Name
Andaman & Nicobar Islands

Port Blair

1st Floor, Sakthi Group Building, Quarry Hill, Besides Tamizhar Sangam, MA Road, Port Blair, Andaman & Nicobar – 744101

Assam

Guwahati

Ground Floor, Bora Service by lane, Behind Bora Service Station Petrol Pump, GS road Ulbari, Guwahati, Assam – 781007

Goa

Panji (Goa)

No. 719, House No. 1/311/111, 7th floor, Gera Imperium Grand, Patto Plaza, Panaji, Goa – 403001

Kerala

Kochi

7 Providence, 44/1738 A, M K V Road, Palarivattom, Kochi, Kerala – 682025

Trivandrum (Thiruvananthapuram)

First Floor, Office Suites, Dotspace Business Park, Laham Commercial Complex, Kazhakuttam, Trivandrum, Kerala – 695585

New Delhi

Delhi (South)

5th Floor, IFCI Tower 96, Nehru Pl Market Rd, Nehru Place, New Delhi – 110019

Delhi (West)

B1/638 A, 2nd Floor, Janakpuri, New Delhi, Delhi – 110058

Rajasthan

Jaipur

Office No. 701, Manglam Ambition Mall, Near Agrasen Circle, C-Scheme, Jaipur, Rajasthan – 302001

Jodhpur

Office No – 504, 5th Floor, Harnath Tower, Plot Number-117, PWD Colony, Jodhpur, Rajasthan – 342001

Gujarat

Ahmedabad

A wing, 10th Floor, 1001-1002, Ratnakar Nine Square, Near Kesav Bagh Party Plot, Vastrapur, Ahmedabad, Gujarat – 380015

Uttar Pradesh

Lucknow

1st floor, Halwasiyas Commerce House, 11 Mahatma Gandhi Marg, Hazratganj, Lucknow, Uttar Pradesh – 226001
Why Should Contact Insurance Company Customer Care?
Many issues may arise when a claim is submitted after the deadline. First off, due to the passage of time, the insurance might not be able to reach any witnesses or other parties involved, making it difficult for them to accurately estimate the damage. Second, the insurers won't be able to estimate their liabilities and make adequate reserves for them if the deadline is not met.
Let's use an illustration to show the issue that can result from filing a claim late. If your car was in an accident many years ago, the insurer might not be able to pinpoint the specific source of damage that resulted from that occurrence.
The reason for this is that it cannot check the validity of your claim since it cannot locate the third party. You may be directly impacted by this in the form of a lower payout or a complete denial of your claim.
From the information provided above, it is clear that timely claim processing benefits both the insurer and the insured. Unnecessary and unjustified delays can be problematic for both parties, leading to arguments that keep getting more heated.
Frequently Asked Questions
Here is the list of the frequently asked questions related to Digit Insurance.
You must notify Digit right once by contacting 1800-258-4242 or sending an email to healthclaims@godigit.com if you receive a COVID-19 test result from one of the authorized centers of the ICMR National Institute of Virology, Pune, and are hospitalized for treatment. If you are a senior citizen, email: seniors@godigit.com.
Call Digit Toll-free number (1800-258-4242) for cashless intimation.
If the test is positive and hospitalization is required, the company will then confirm eligibility and enable the cashless process.
Insured's name
Policy number
Patient's name
Relationship with the Proposer
Hospital name/ address
Admission & discharge dates
Diagnosis and treatment details
Estimated/ Actual expense
Employee ID number (If applicable)