Renew in just 5 mins.
No Inspection.
No Paper Work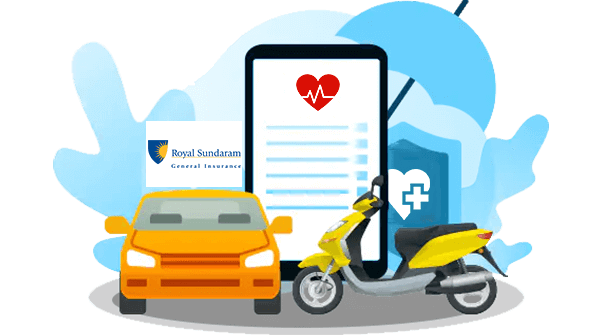 Compare

Car Insurance Plans
Royal Sundaram General Insurance Customer Care
The customer service staff at Royal Sundaram is specially trained to provide enough help to its customers both before and after they buy any insurance policy. With over 150 branches spread across India, the company effectively manages its working mechanism to provide customers with best-in-class services. 
The customer care of the company can be approached in case of any issue, such as knowing about a policy or registering a claim. Read along to know more about the company's list of branch offices as well as the services offered.
Customer Care Details For Royal Sundaram General Insurance
Below is a list of customer care details for the company that you can find helpful in needy times:
REGISTERED OFFICE ADDRESS
Royal Sundaram General Insurance Co. Limited, No. 21, Patullos Road, Chennai – 600 002
Royal Sundaram General Insurance Co. Limited, Vishranthi Melaram Towers, No.2/319, Rajiv Gandhi Salai (OMR), Karapakkam, Chennai – 600097
Tel: 91-44-7117 7117
Fax: 91-44-7113 7114
For Motor Claim Intimation
Phone: 1860 258 0000, 1860 425 0000, 1800 568 9999
Email: customer.services@royalsundaram.in
List Of Royal Sundaram Offices – Address & Other Details
The company has a vast network of fully equipped branches covering all major cities and business centers of India. For reference, the details of a few of the branch locations are given in the below table.
Location
Address
Phone Number
Karnataka

Raja Ram Mohan Roy Road, Opp. To Kantreeva Stadium,

Off Richmond Road,, Bangalore, Karnataka – 560027

9845557837

080 – 42227373

No.56/1, 2nd Floor, 9th Main Road,

5th Block, Jayanagar, Bangalore, Karnataka – 560041

080 – 26640119

9845531646

Door No.620 A-1, 12th Main, 35th Cross

2nd Block, Opp To Hanuman Temple, Rajaji Nagar, Bangalore, Karnataka – 560010

080 – 23320097

9740444300

Welcome's Boulevard Building, Second Floor, No.1993, HIG, BBMP No.1002/1993, 'B' sector,

Third Phase, Ward No.4, Yelahanka Extension, Bangalore – 560 064., Bangalore, Karnataka – 560064

080 – 41225793

9686555600

Delhi-UT
Unit No.801 A, 8th Floor, Devika Tower, Nehru Place, New Delhi, Delhi – UT – 110019

011 – 40574815

9911899911

108 / 109 & 111, 1st Floor, Ambadeep 14, K.G.Marg, New Delhi, Delhi – UT – 110001

Tel: 011 – 23321904

NA
Rajasthan

Office No. 402, 4th Floor, Axis Mall

Bhagwan Das Road, C-Scheme, Jaipur, Rajasthan – 302001

0141 – 2943241

9829676034

Chandigarh

SCO 82, I & II Floor

Sector 40-C, Chandigarh, Chandigarh – UT – 160040

0172 – 4613845
Gujarat

4th Floor, Chandan House,

Opp: Pantaloons, Mithakali Six Roads, Ahmedabad, Gujarat – 380006

079 – 66312435

9727773977

Madhya Pradesh

3rd & 4th Floor, Alankar Complex,

Plot # 11, Zone-II, MP Nagar, Bhopal, Madhya Pradesh – 462011

0755 – 4270161
Telangana
Unit No 1112 & 1113, 10th Floor, Vasavi MPM Grand, Yella Reddy Guda Road, Ameerpet, Hyderabad, Telangana – 500073

040-42227373

9849364708

No: 16-11-762/1-15, Rinda Plaza, Moosarambagh

Dilsukh Nagar – 2, Hyderabad, Telangana – 500036

040 – 48521360

8008325050

Commercial Unit No: 405, Fourth Floor,

Ashoka Scintilla, Himayat Nagar Main Road, Hyderabad, Telangana – 500029

040 – 48997999

9959552141

Door No 7 -1 – 621 / 28, 16/3 RT, 1st Floor,

Sanjeeva Reddy Nagar, Hyderabad, Telangana – 500038

040 – 42227474

8008228147
What Are The Services Offered By Royal Sundaram General Insurance?
The insurance company offers the following services to its customers:
Service Request: Under this option, the customer can select the service he/she needs and fill in the details. The company assures customers to give a response in 2 working days.
Grievance Redressal: In case the customer is dissatisfied with the company's service and needs a better resolution to his/her problem, the company allows the customer to raise a complaint. The company assures customers to respond to the complaint within 2 business days.
IT Certificate Request: In case the customer needs to have an income tax certificate, he/she can request the company and provide the necessary details for generating an Income Tax certificate.
Claim Services: From notifying a claim online to accessing TPAs and downloading claim forms, the company's official website offers a wide range of claim services.
Insta Renewal: When the customer opens the homepage of the website of the company, he/she can find the option of "Insta Renewal", using which the policyholder can easily renew his/her policy.