Renew in just 5 mins.
No Inspection.
No Paper Work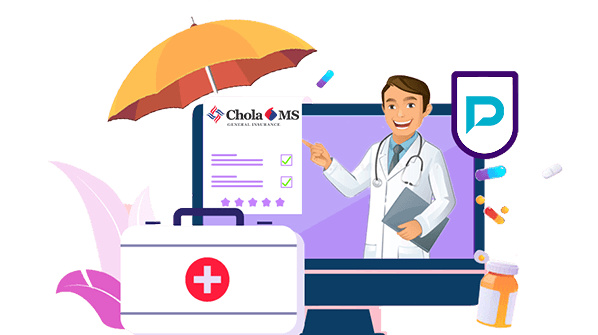 Compare

Car Insurance Plans
Cholamandalam Policy Download
Cholamandalam Investment and Finance Company Limited (Chola) was founded in 1978 as the Murugappa Group's financial services wing. Chola began as an equipment financing firm and has since evolved into a full-service financial services company that provides auto financing, house loans, home equity loans, SME loans, investment advisory services, stockbroking, and many other financial products to clients.
MS Cholamandalam General Insurance Company is well-known for offering a variety of insurance packages to meet clients' diverse insurance needs. It should go without saying that purchasing an insurance policy is critical for everybody. Even after you've chosen an insurance policy, you'll need to know how to download it, either online or offline. This is when the significance of the policy document becomes apparent!
How To Download Cholamandalam Car/Travel/Health Policy?
Gone are the days when we all used to wait in long queues to get our policy documents. Time has changed, and so is the way we work. With the advent of the tech-driven landscape, you can simply download your Cholamandalam policy through different methods.
Let's discuss each of them one by one:
The methods to download a copy of your insurance policy are outlined here.
Step 1: Go to Cholamandalam MS General Insurance's website. After that, you will need to click on the 'Customer Service' tab and then you need to scroll down to the "Email Policy Copy".
Step 2: Without any slashes or strange characters, enter your 17-digit policy numbers.
Step 3: After you've signed in, you'll see a download option for your insurance. You can download a copy of the policy and then print it off for a hard copy.
Whenever you purchased the policy, you may have got an email stating all your policy details. All you need to do is simply open that respective email, view, print, or download your insurance policy.
With Cholamandalam's hassle-free and convenient solutions, you can simply download your policy via contacting their customer care team at 1800-102-4565 (9:00 AM TO 7:00 PM). Also, you can write to them at customercare@chola.murugappa.com
What To Do To Get a Hard Copy Of Your Cholamandalam Policy?
Cholamandalam MS will give you a copy of your insurance policy to your registered address within a few days of purchase when you acquire two-wheeler insurance from them. If you purchased the policy online, the insurance company will email you a copy of the document to your registered email address. If you lose your insurance policy document after purchasing it online, you can download it using the steps outlined above. If the insurance was acquired offline, the method is a little more involved, and you'll need to clear it with customer care because it may differ depending on your circumstances.
Details You Need To Look Out for in Your Cholamandalam Policy Document
Here are the details that you will see mentioned in your Cholamandalam policy document.
Policy Number
Plan Name
Plan Type
Policy Classification
Name
Date of birth
Age
Sex:
Identity proof
Address
Contact Number(s):
Email Id:
Relationship with the Insured:
Sum Assured
Plan Option
Regular Monthly Income
Premium Payment Type
Regular Premium
Service Tax Amount
Total payable (Base Plan)
Premium Frequency
Annualized Premium
Policy Commencement Date