Renew in just 5 mins.
No Inspection.
No Paper Work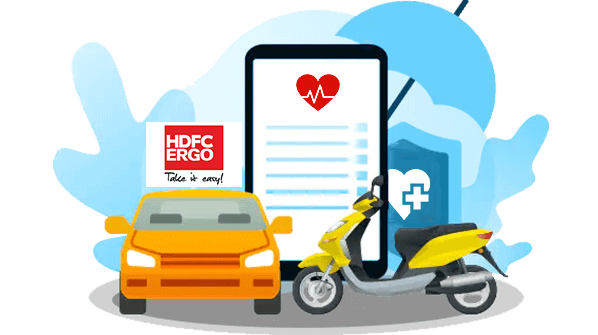 Compare

Car Insurance Plans
Download HDFC ERGO Insurance Policy
HDFC ERGO is a leading insurance company with a diverse product portfolio that includes tailored insurance plans for individuals, families, parents, and senior citizens. The company provides a variety of insurance products to meet the needs and requirements of policyholders and their families. Though selecting the best policy for your needs is critical, you must not overlook the importance of possessing your policy document.
The policy document is a necessary document that contains all of the details about an insurance policy that the policyholder has acquired. This contains insurance characteristics such as inclusions, exclusions, and perks. Simply, an insurance policy document is a contract between the insured and the insurance company that spells out all of the terms and conditions of the policy the insured has acquired. A policy document can also serve as a receipt for premium payment for a specific insurance policy.
Let's discuss the series of steps that would help you download the HDFC ERGO policy.
Steps To Follow To Download Your HDFC ERGO Insurance Policy
If you want to download your HDFC ERGO insurance policy via the online method, make sure you follow these below-mentioned steps:
Online Method:
Firstly, you need to visit the HDFC ERGO General Insurance website and click on the 'Help' tab located in the top right corner of the page and choose the 'Email Policy Copy' option.
After that, you will need to Enter your Policy Number, Mobile Number or Email ID to proceed. On entering the Mobile Number or Email ID, One Time Password (OTP) will be sent for verification on the registered mobile number or Email ID.
Once the verification has been done via OTP, the car insurance policy document will be directly sent to the registered Email address of the policyholder.
Offline Method:
If any policyholder wants to get their policy through the offline method, then they can simply adhere to the following steps mentioned below:
The user can simply visit any branch of the HDFC ERGO Insurance Company and can easily ask about their policy and send it to their registered residence address. 
By calling on their toll-free number, 0120-62346234, users can enquire about their policy or check the status without any difficulty.
Additionally, the user can easily get in touch on WhatsApp "8169 500 500" and get his or her policy details or even delivered to their doorstep. Simply text "Hi" on this WhatsApp number.
Types Of Details Mentioned in Policy Document
As a wise policy buyer, you should read it carefully and look for the following details in your insurance plan:
Policy term
Policy type
Policy number
Sum insured
Details of cumulative bonus
The plan's inclusions and exclusions
Renewing a health insurance policy's term
The insured's name, age, and other personal information
The claim settlement's terms and circumstances
Cancellation terms and conditions for health insurance policies
Situations with health insurance portability
Information on the free-look period
Process for resolving grievances
How To Make Changes in HDFC ERGO Insurance policy?
If you need to make any changes to your HDFC ERGO insurance policy document that are improperly listed (for any reason), you should contact the HDFC Ergo customer service team immediately. Also, talking about the online method, you can visit the website and click on "Help" in the top right corner. After that, you will see options wherein you can update your contact details, cancel your policy, make payments on time, etc.
Policyholders can easily correct errors in their insurance policies by supplying the support team with their policy information.
Is Hard Copy Of HDFC ERGO Insurance Policy Necessary?
It is no longer necessary for policyholders to carry a hard copy of their insurance policies because the Insurance Regulatory and Development Authority of India (IRDAI) has permitted them to do so. However, you should preserve both a physical copy and a soft copy of your auto insurance policy for future reference.
How To Get Hard Copy of HDFC ERGO Insurance Policy Document?
Regardless of the type of insurance policy you have, the HDFC ERGO insurance policy is quickly issued online, and a physical copy of the policy document is provided to the policyholder's registered address through courier. By following the processes indicated above, the policyholder can easily download their policy online.
Meanwhile, you can get a PDF copy of the insurance policy from the official website and print it for review.
HDFC ERGO Contact Details
If you want to contact HDFC Ergo insurance company for any of your queries, then you can simply call their toll-free number 0120-6234 6234. On the other hand, if you want to buy the policy, then you can simply call us at 022-6242 6242.