Renew in just 5 mins.
No Inspection.
No Paper Work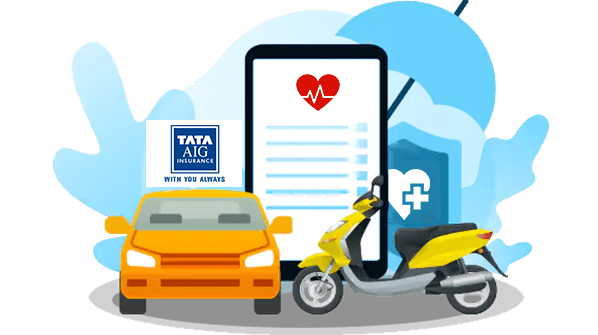 Compare

Car Insurance Plans
TATA AIG General Insurance Company Limited has become a household name providing insurance solutions to individuals, families, and businesses for financial cover and protection in times of need.
With the advanced tools and technology implemented on their portal, Tata AIG offers insurance plans which you can directly purchase online by selecting the type of insurance you require and paying the premium amount online. Once you've applied for TATA AIG insurance, you can easily view all details directly on the portal from anywhere. You can also download the policy document directly onto your laptop, PC, mobile, or tablet, and save it for access from anywhere on the go.
How To Check Your Tata AIG Policy Status Online?
Tata AIG has launched a 'Self Service' portal that allows policyholders to access all details about their TATA AIG insurance policy directly through the portal. To view, download, or edit any details regarding your TATA AIG Insurance policy, you can follow these simple steps:
Visit the TATA AIG official website.
From the top right corner of the main page, you can click on 'Self Service'.

You are automatically redirected to a new page that displays different options for you. You can select from different services like:

Download Policy
Edit Policy
Track Claims
Renew
Branch Locator & many more.

When you select any of these actions buttons, you will see a pop-up box asking for your registered mobile number.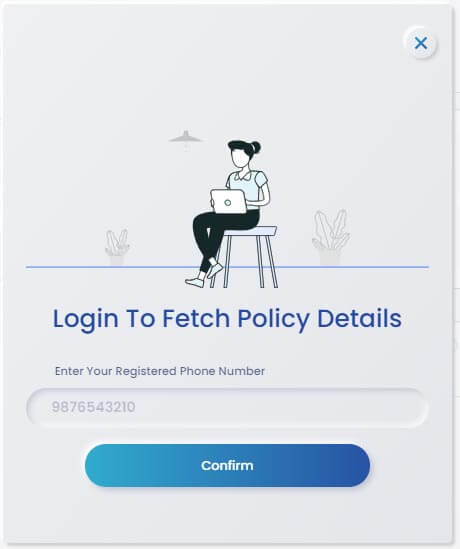 On entering the registered mobile number, you will receive an OTP or one-time password via SMS on the same registered number.
Enter the OTP in the text box and click on 'submit.'
You will see all the details regarding your TATA AIG policy displayed on the page.
How To Check Your Tata AIG Policy Status Offline?
If you are facing issues with accessing your TATA AIG policy details online, you can also try the alternative offline route.
Get in touch with the TATA AIG customer support team by:
Visiting the nearest TATA AIG branch office
Calling on their 24/7 toll-free number 1800-266-7780
Email their team at customersupport@tataaig.com
Chat with them on their WhatsApp number +91-9136160375
In all the above cases, by submitting your policy details and personal details, you can get information regarding the status of your TATA AIG policy.
Initiate A Claim On Your Tata AIG Insurance Policy
Using the TATA AIG Self Service portal is super convenient and easy for any services regarding your TATA AIG insurance policy. To initiate a claim on your policy, you can:
Visit the TATA AIG Self Service portal.
Click on the 'Initiate Claim' button.
Log in by entering your registered mobile number and the OTP you receive on it.
You will be asked to fill in the necessary information regarding your policy.
In the case of motor insurance, an inspection is done after you have submitted your claim request to check for the extent of damages.
Next, the claim assistance team may ask for additional documentation for verification and other official purposes.
After submitting all the documents, you can track the status of your claims.
Your claim is finally settled if the claim request and the submitted documentation meet the company's guidelines.
Frequently Asked Questions
To download the claim application form for any type of TATA AIG insurance, you can visit its website and click on the download section. You will see a list of options with different insurance products. Search for the policy you have, and follow the link. A document opens up in another window, which you can save in PDF form on your local storage.
TATA AIG Insurance has an impressive incurred claim settlement ratio.
| | | | | | |
| --- | --- | --- | --- | --- | --- |
| Incurred Claim Ratio (Fire) (2019-2020) | Incurred Claim Ratio (Marine) (2019-2020) | Incurred Claim Ratio (Motor) (2019-2020) | Incurred Claim Ratio (Health) (2019-2020) | Incurred Claim Ratio (Others) (2019-2020) | Incurred Claim Ratio (Total) (2019-2020) |
| 61.52 | 73.92 | 80.29 | 66.61 | 85.80 | 77.44 |
Like other insurance companies, TATA AIG gives you a 15-day free-look period that starts from the date of receipt of the policy. Within this time, you can carefully review the terms and conditions of the policy documents and make your decision of whether to keep or withdraw your policy application. If you wish to cancel your policy, you can submit a request by either registered post or visiting the nearest branch office and submit a reason for cancellation alongside.
Customers who submit a cancellation request within the free-look period are eligible for a refund of the premium amount, subject to certain terms and conditions by the insurer.