Renew in just 5 mins.
No Inspection.
No Paper Work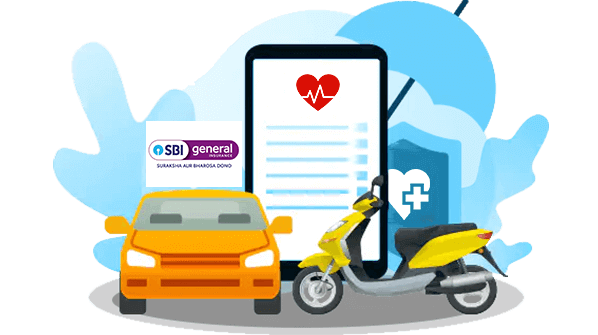 Compare

Car Insurance Plans
SBI General Insurance Login & Registration
SBI General Insurance strives to provide world-class service to its customers through a system and administration that is both efficient and capable. People nowadays are preoccupied with their professions, and they don't have a lot of time to come and pay the premium amount and learn about other details. 
To save you time, SBI General has established the login and registration process. Customers will also be able to check their policy status, renew their policies, and access other associated services through the SBI General Insurance login portal & registration process.
How To Register With SBI Customer Portal?
You can register with the SBI customer portal either with the help of the company's website or through the SBI General Insurance app. Below are the steps you need to follow in order to register with SBI General Insurance:
Through Website:
Visit the customer portal of SBI General. 
Press the "Login" button at the top right corner of the page.
Click on the "Register" option which is shown below.
After selecting the 'Register' option, you will be taken to a new page where you must complete all of the required fields. The customer must fill in all required information, such as name, date of birth, phone number, email address, and password, without leaving any blanks.
After filling out all of the required information, the customer must select the submit option. After that, you will receive a notice confirming that your registration was successful.
Through SBI General Insurance App:
Download the "SBI General Insurance" app from the play store.
Once you will open the app, the "Welcome Page" will be displayed on the screen asking you whether you are an existing policyholder of SBI General Insurance or not. Click on "Yes" or "No".
The registration and sign-in page will be displayed. Click on "Register".
Enter your mobile number and verify OTP for mobile number verification. 
Enter your first name and last name, and then press "Next".
Your registration process will be successful.
Benefits For Registering With SBI General Insurance
There are a multitude of benefits of registering with SBI general insurance. Some of them are discussed below:
Saves Time: As an SBI policyholder, you do not need to visit the branch office and stand in long queues for renewing your policy. Within a few clicks on your smart device, you can renew your policy online without any hassles. Therefore, registering with SBI general insurance will save a lot of time.
Access To Various Other Services: Once you register with SBI general insurance, you will be able to access various other e-services provided by the SBI portal. You can check your policy status, download your policy, retrieve quotes, change policy details, track your claim status, and do many other things.
No Need To Memorize: When you register with SBI general insurance, you need not memorize the registered plan as well as other important things, such as the renewal date. All the information will be available in your account.
Cost-Free: There are no hidden charges levied on registering with SBI general insurance. The registration process is absolutely free for the policyholders of SBI.
How To Login With SBI Customer Portal?
In case you want to login with the SBI customer portal, you can follow the below-mentioned steps:
For Registered Users
Visit the secure version of the company's website.
The login page will be displayed on the screen. Enter your email or user ID and password, and then click "Submit".
Now, you will be successfully signed in to your account.
For New Users
In case you are a new user of SBI general insurance, you first need to register with the company's customer portal. Then you can use the ID and password to login into your account.
What To Do If You Forgot Your Password?
If a customer forgets his or her online password for the SBI General Insurance official website, there is no need to panic because the password may be reset by following the steps below:
Click the "Forgot Password" button after entering your email address or user ID in the blank box.
When you get to a new page, you'll be asked to fill in some information, such as your email address, date of birth, and phone number, before clicking the confirmation icon.
An email is sent to the registered email address, and new password information can be found in the link description.
Then, using the reset password option, log in to the SBI general insurance login page.