Renew in just 5 mins.
No Inspection.
No Paper Work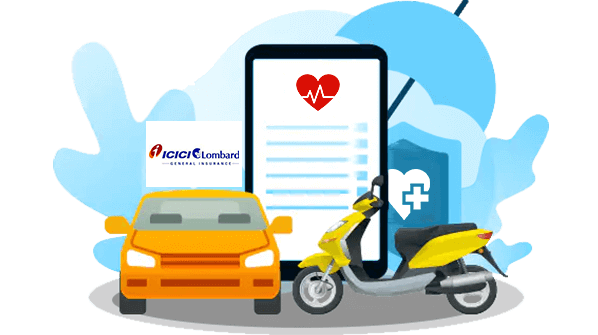 Compare

Car Insurance Plans
ICICI Lombard General Insurance Customer Care
ICICI Lombard is one of the leading brands in the Indian insurance market. The business is well renowned for more than just its multiple insurance options; it's also regarded as having one of the best customer support teams. Customers can get assistance from ICICI Lombard at every step of the insurance purchase process, thanks to its highly developed customer service infrastructure. They can get in touch with the customer service department in a number of ways, such as through phone, email, in-person assistance, or even by handling some requests themselves.
How To Contact ICICI General Insurance Company?
You can contact ICICI Lombard General Insurance through its following communication channels with any demands or questions you may have regarding insurance.
Parameters
Details
WhatsApp
Say 'Hi' on WhatsApp at 7738282666
Email
customersupport@icicilombard.com
Branch

Registered Address

ICICI Lombard House

414, P.Balu Marg,

Off Veer Sawarkar Marg,

near Siddhivinayak Temple, Prabhadevi

Mumbai-400025.

Customer Support

ICICI Lombard General Insurance Co. Ltd.

Ground floor- Interface 11,

Sixth floor- Interface 16 , Office no 601 & 602,

New linking Road, Toll-Freest),

Mumbai – 400064.

Call

Toll Free: 1800 2666

Alternate Contact No. 86 55 222 666 (Chargeable)

For Crop insurance,

Toll free No. 1800 266 9725

Social Media Handles

For Facebook:

https://www.facebook.com/ICICILombard

For LinkedIn:

https://www.linkedin.com/company/icici-lombard?trk=tyah

For Twitter:

For Instagram:

https://www.instagram.com/icicilombardofficial/
ICICI Lombard Branches & Their Office Contact Details
Although there is no disputing the existence of numerous ICICI Lombard branches throughout India, we have included a few of the most significant ones so that you may get an idea and save time. If you want to locate the nearest branch https://www.icicilombard.com/support/contact-us today!
| | |
| --- | --- |
| Branch Name | Branch Address |
| New Delhi | Space No. 315, 3rd Floor Aggarwal City Mall, Plot No. 04, Road No. 44 Pitampura – 110 034 New Delhi |
| New Delhi | 2nd & 3rd Floor, Aggarwal Plaza Block B-1, Plot No. 4 Local Shopping Centre, Mini Market, Janak Puri New Delhi – 110 058 |
| Chandigarh | The fourth floor," The Statement" Plot no.149, Industrial area, phase 1, next to Hometel Hotel, Chandigarh (UT) -160002. |
| Goa | 101, 1st floor, Kamat Tower, Plot No.9, Patto Plaza, Opp. KTC Bus Stand, Panaji, Goa 403 001 |
| Haryana | 12th floor, Tower D, Global Business Park, Mehrauli Gurgaon Road, Gurgaon 122 002, Haryana |
| Himachal Pradesh | Second floor, Kalra's Complex, Near IDBI Bank, Dharamshala road, Birta, Kangra-176001, Himachal Pradesh |
| Maharashtra | Second floor, Office no.203, Mehar House, No.15, Cawasji Patel street, Opp. Akbar Ali furniture, Fort, Mumbai-400001. Maharashtra |
| Maharashtra | Unit No. 1101, 11th Floor, Godrej Coliseum, Off Eastern Express Highway, Behind Everard Nagar, Sion, Mumbai 400 022.Maharashtra |
| Punjab | TF 1 – 5, 3rd Floor, Kunal Towers, 88 The Mall, Ludhiana – 141 001 Punjab |
| Uttar Pradesh | First floor, LDA center, 2 Sardar Patel Marg, Civil Lines, Allahabad-211001, Uttar Pradesh |
| Mizoram | Third floor, C Raltawana Fanai & Hrangluaii, Dawpuri Vengthar, Opp. Aizawl west college, Aizawl, District Aizawl, Pin code -796001, Mizoram |
| Uttarakhand | Second Floor,167/1, Mohalla Arya Nagar, Gurukul Kanya School, Road, Rajpur Road II, Dehradun – 248001, Uttarakhand |
| Sikkim | Second floor, Mundra Building, M G road, Gangtok, District East Sikkim, Pin code -737101, Sikkim. |
What are the Services Offered by ICICI Lombard General Insurance Customer Care?
The customer service department of ICICI Lombard provides a variety of services, including the following:
Settle claims and queries
Transfer ownership of a policy
Change in address of the policyholder
Change of telephone number
Tracking a claim
Requesting a hard copy of the policy