Renew in just 5 mins.
No Inspection.
No Paper Work
* Subject To Underwriting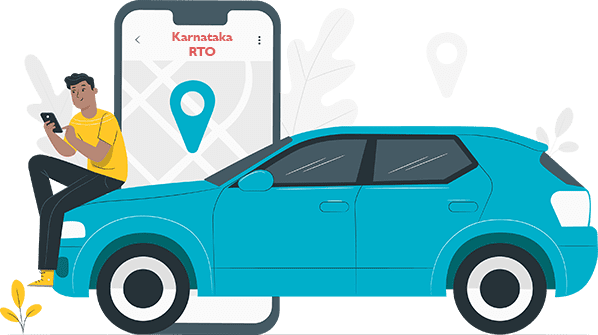 Compare

Car Insurance Plans
The Karnataka Transport Department manages Bengaluru(Bangalore) RTO. The Bengaluru RTO office is in charge of enforcing traffic rules, collecting road taxes, issuing driving licences, registering vehicles, and providing other associated services like vehicle ownership transfers, HP addition/termination, vehicle NOC, and so forth.
Every time a person needs a service relating to their car, such as registration, payment of road tax, issue of permits, or applying for/renewing their driving licence, they go to the RTO Office in Bengaluru, either in person or online. Five urban and four rural subdivisions make up the Bengaluru RTO Office, which serves a sizable population in and around the city. The state government offers the convenience of using the "mParivahan" and "Digilocker" apps to lessen the necessity for carrying physical papers and the risk of losing them because it is the nation's IT capital.
Functions of Bengaluru RTO
Here are the functions of the Bengaluru RTO.
Registration of the Vehicle
The Bengaluru RTO is in charge of renewing certificates, altering registration information, and maintaining permanent and provisional motor vehicle registration certificates.
Driving Licence
The Bengaluru RTO issues driver's licences, including duplicates, commercial, learning licences, and other types.
Vehicle Inspections
To keep pollution levels under control and protect the environment, the Bengaluru RTO inspects cars for mechanical fitness as well as contaminants.
Tax Collection
According to the Motor Vehicles Act of 1988, the Bengaluru RTO is in charge of obtaining Motor Vehicle Tax, also known as Road Tax, as well as handling any issues relating to motor department actions and collecting vehicle inspection costs.
Issuance of Permits
The Bengaluru RTO manages interstate and national commercial vehicle permits, including the International Driving Permit, as well as tourist and transit licences (IDP).
Other Services
In addition to performing the aforementioned duties, Bengaluru RTO is also in charge of offering additional services including driving licence renewal, price payment, appointment scheduling, a lesson for learning licences, and so forth.
Bengaluru RTO Codes with Office Locations
| | |
| --- | --- |
| RTO Office | RTO Codes |
| Koramangala RTO | KA-01 |
| Rajajinagar RTO | KA-02 |
| Indiranagar RTO | KA-03 |
| Yeshwanthpur RTO | KA-04 |
| Jayanagar RTO | KA-05 |
| Rajarajeshwari Nagar RTO | KA-41 |
| Ramanagara RTO | KA-42 |
| Devanahalli RTO | KA-43 |
| Yelahanka RTO | KA-50 |
| Electronic City RTO | KA-51 |
| Nelamangala RTO | KA-52 |
| K.R. Puram RTO | KA-53 |
| Shanthinagar RTO | KA-57 |
| Chandapura RTO | KA-59 |
Types Of Vehicle Registration In Bengaluru
There are two types of registrations the vehicle available in Bangalore:
Temporary Registration: The vehicle dealer frequently offers this registration type at the time of purchase. The duration of any interim registration for a car, however, is usually one month. Therefore, during this window of time, one must complete the permanent registration.
Permanent Registration: In India, a vehicle must have a permanent registration certificate to operate on public roads. The Regional Transport Office in Bangalore is in charge of issuing registration numbers.
How To Register A Vehicle At Bengaluru RTO?
Visit the "Transport Department" of Karnataka's website to complete the registration application form to register the vehicle at Bengaluru RTO. Receive the Vahan Over Web Identity (VOWID) number by submitting the filled form. After that, take these actions:
Step 1: Visit the Karnataka RTO's official website to download the RTO Form 20.
Step 2: Complete the application and deliver it to the nearby RTO together with your VOWID number and acknowledgement slip.
Step 3: Submit the required paperwork, such as a Form 22 sale certificate, Form 21 roadworthiness certificate, address verification, temporary registration certificate, etc.
Step 4: The car is moved to the RTO office for examination in step four.
Step 5: When everything is finished, the RTO office will issue a special registration number for your car. You must also present a custom clearance certificate along with a bond and licence if your car was imported.
Documents Required To Register a Vehicle In Bengaluru
It is important to provide these documents in Bengaluru to register a vehicle:
Duly filled RTO Form 20
Pollution control certificate
RTO Form 21 – sale certificate as obtained from the dealer
RTO Form 22 – for roadworthiness from the manufacturer
ID proof and recent passport-size photographs
LIC policy/High School Certificate/Electricity Bill/Tax payment receipt, etc.
Vehicle insurance documents
Address proof
Customs bills in case imported vehicle
RTO Form 22(Part 2), if the vehicle is not body build
Contact Details of Bengaluru RTO
The state government has also published a few contact numbers of the officials in the transport department, which you can use to contact them in addition to the above-mentioned office information.
Contact Number:
1902
080-22214900
080-22271100 (Urban)
080-22866670 (Rural)
Email Id:
transcom@nic.in
jctbng-tran-ka@nic.in
dctbngr-tran-ka@nic.in
Frequently Asked Questions
1. Can I get road tax refund for my car as I have driven car in Bengaluru only for 3 years and moving to Mumbai?
As per motor vehicle act , you can get road tax refund from RTO Bengaluru . But You should have obtained NOC from Bengaluru RTO. Than firstly you have to register your car at Mumbai and then claim for road tax refund from Bengaluru RTO.
2. Can a citizen use any other online services for vehicles if they have already filed for a NOC?
NO, during that processing period, he or she cannot apply for any other car service. You can apply for their services once your NOC application has been authorised and obtained.
3. I already have a learner's permit that is valid for one class of vehicle. Do I need to apply for a learner's permit for another class of vehicle?
No, you can use the same Learning License to endorse the class of vehicle.
4. If my automobile is registered in another state, may I drive it in Bangalore?
After entering the city, you get a year to drive the car around Bengaluru. You must re-register the car with Bangalore RTO if you wish to continue driving it after that time.
5. Can I get a duplicate RC online?
Yes, you can apply online at your neighbourhood state/city RTO office to receive a duplicate registration certificate for the car.