Renew in just 5 mins.
No Inspection.
No Paper Work
* Subject To Underwriting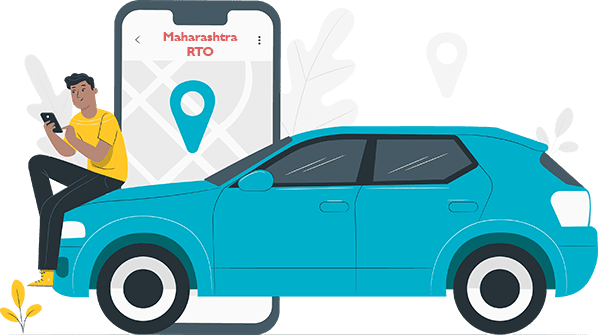 Compare

Car Insurance Plans
According to section 213 of the Motor Vehicles Act of 1988, the RTO of Mumbai was constituted. It is also one of the busiest RTO offices operating in the country because it is one of the most inhabited cities in India and records thousands of car registrations each month. Under the direction of the Maharashtra Ministry of Transport Commissioner, RTO Mumbai complies with this legislation.
One of the popular RTOs in the state of Maharashtra, RTO Mumbai is a functioning RTO that falls under the purview of the Maharashtra Ministry of Transport. According to The Motor Vehicle Act of 1988, any vehicle registered at Mumbai West RTO must have auto insurance. Finding the RTO that is closest to you and completing your vehicle-related operations, such as obtaining a driving license or registering a vehicle, will be simpler and faster if you are aware of the addresses of the RTO offices.
Mumbai RTO makes sure that the Motor Vehicle Act of 1988's norms and regulations are adhered to. The Mumbai RTO's functions include;
Vehicle Registration
vehicle temporary and permanent registration, registration renewal, and upkeep of a database of all registered cars.
Issuance of License
Issuing duplicate licenses, renewing existing ones, and issuing permanent or temporary driving licenses.
Collection Of Road Tax
Collection of the road tax by the law.
Environment Testing
To ensure that cars are adhering to Pollution Under Control (PUC) standards, the agency conducts pollution checks at various locations.
Road Safety
One of the main causes of death worldwide is traffic accidents. The RTO makes sure that the Motor Vehicles Act's requirements for road safety are followed.
Mumbai RTO Office Locations & Office Codes
Listed below are the Mumbai RTO office locations and their codes.
Tardeo RTO
Address : Regional Transport Office Old Bodyguard lane, Tulsiwadi, Tardeo.
RTO Code : MH01.
Location : South Mumbai.
Contact Numbers : 022-23534600/ 022-23534601 / 022-23534602 /022-23532337.
Fax : 022-23534603.
Versova RTO Office
Address : Regional Transport Office, D/111, Ambivali Village, New Manish Nagar, Versova Road, Mumbai 400053.
RTO Code : MH02.
Location : Western Suburb, Mumbai North.
Contact Numbers : 022-26362252/ 022-26319821/ 022-26323315/ 022-26366957.
Fax : 022-23534603.
Wadala RTO Office
Address : Regional Transport Office, B/2, 3rd floor, Wadala Truck Terminal, Wadala, Mumbai (East).
RTO Code : MH03.
Location : Harbour, Mumbai East.
Contact Numbers : 022-24036221, 022-24036479.
Fax : 022-24036261.
Thane RTO Office
Address : Regional Transport Office, Near Central Jail, Thane 400601.
RTO Code : MH04.
Location : Central, Mumbai.
Contact Numbers : 022-25343580, 022-25363838, 022-25442555.
Kalyan RTO Office
Address : Deputy Regional Transport Office, Sahyadri Nagar, Chikanghar, Near Birla School, Kalyan (West) District Thane, Pincode 421301.
RTO Code : MH05.
Location : Central Mumbai.
Contact Numbers : 0251-2230505
Virar RTO Office
Address : Deputy Regional Transport Office, Post Chandansar, Virar (East), Taluka Vasai, District Thane (Now Palghar) 401303.
RTO Code : MH48.
Contact Numbers : 0250-2523888
Types Of Vehicle Registration in Maharashtra
According to state legislation, vehicle owners must register their vehicles with relevant RTOs. There isn't a Maharashtra exemption. Every vehicle that travels on state roads must be registered with the Maharashtra RTO. The procedures for registering a car fall into two categories:
Temporary Registration: It is available for a brief period while purchasing a vehicle. If a vehicle is acquired from a dealer's showroom, this registration is necessary. The duration of this registration is only seven days. The owner, though, may make it longer. The owner of the car may apply for temporary registration with the relevant RTO and utilize the RC.
Permanent Registration: A two-wheeler or four-wheeler must be registered within seven days of delivery by the guidelines of the Indian Vehicle Act. Driving an unregistered vehicle is prohibited. As per the law, a dealer cannot deliver an unregistered vehicle; instead, it gives the owner a temporary RC valid for 7 days. It indicates that the owner submits an application for permanent registration to the relevant RTO in his or her area. The owner must complete an application form and attach any necessary paperwork.
How To Register A Vehicle At Mumbai RTO?
Customers can register their vehicle online at the Mumbai RTO's official website or in person at their neighborhood RTO. Both times, they'll need to include the application form, the required paperwork, and the registration cost.
Except for the days of temporary registration, customers must register the car for permanent registration within seven days after the purchase.
Here is how customers can register a vehicle at Mumbai RTO:
From Mumbai RTO's official website, download and complete RTO Form 20.
Submit all required paperwork, such as the Sale Certificate Form 21, Form 22 – Central Motor Vehicle Rules, the Roadworthiness Certificate Form 22, an address verification form, and a temporary registration certificate, among others.
Following the submission of these documents, the RTO inspector will inspect the car, and the RTO office in Mumbai will issue the vehicle with a special registration number.
Documents Required To Register A Vehicle In Mumbai
To register a vehicle in Mumbai, here are the documents to submit:
RTO Form 20 for vehicle registration
Address proof
Form 21 sale certificate by the dealer specifying the purchase
Form 22-A in case the body of the vehicle is fabricated
Form 22 roadworthiness certificate from the manufacturer
Invoice of the vehicle
Temporary Registration
Motor insurance documents
Customs bills in case of an imported vehicle registration
Manufacturer's certificate for commercial vehicles or carriage
STA approval for trailer or semi-trailer vehicles
Road tax receipt if the vehicle is purchased from another state.
Contact Details of Mumbai RTO
Address: Regional Transport Officer, B‐2,3rd floor, Wadala Truck Terminal, Wadala, Mumbai (East)
Phone Number: 022‐24036479/ 24036221
Email ID: rto.02‐mh@gov.in 
Website: https://transport.maharashtra.gov.in 
Maharashtra State RTO FAQs
1. Can a Maharashtra learning license test be taken online at home?
A new system that uses Aadhaar-based verification would enable people to take a learner's permit test from home, according to the state chief minister.
2. How can I pay my Mumbai RTO fine online?
Visit the official website of parivahan.gov.in for more information. Press "Get Details" after entering the challan number or vehicle number and the captcha code. Check the challan and the specifics of the traffic infraction before proceeding to pay the fine using the preferred payment method.
3. What is the cost of registering a car after the deadline?
The RTO assesses a penalty of 500 rupees per month from the expiration date for late private vehicle registration and 300 rupees per month for two-wheelers.
4. Can I transport people while holding a learner's permit?
You are allowed to carry passengers, but your car must have learner (L) license plates visible from the front and back.