Renew in just 5 mins.
No Inspection.
No Paper Work
* Subject To Underwriting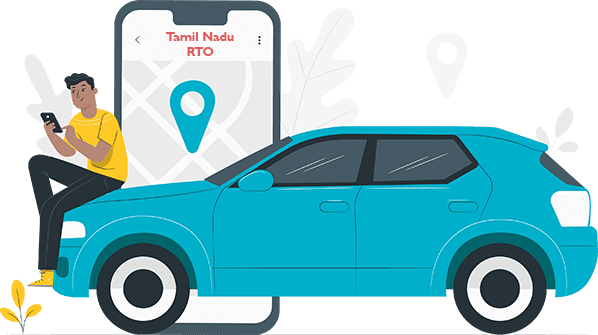 Compare

Car Insurance Plans
Chennai's Transport Department was created according to the 1939 Motor Vehicles Act in January 1972. It is responsible for maintaining the state's law governing vehicles. Along with the cooperation of Regional Transport Offices, Chennai RTO keeps a vigilant check on federal or state regulations regarding road or automobile safety.
Chennai RTO is obliged to enforce certain laws as enlisted by the Motor Vehicles Act of 1988. Some of the most significant responsibilities of Chennai RTO are the collection of taxes, transportation regulation, keeping a tab on pollution levels and so on. Chennai RTO makes sure that all the vehicles in the state are registered and are following the norms laid down by Motor Vehicles Act 1988.
What Does Chennai RTO Do?
Following are the different roles performed by Chennai RTO:
Vehicle registration: It is mandatory that vehicles get registered before hitting the road in India. RTOs allocate permanent registration certificates as well as registration numbers to vehicle owners. It is necessary that vehicle owners receive temporary registration numbers before getting final registration. 
License issuance: It is mandatory to obtain a license from RTO in order to drive a car. RTO initially issues permits for learners. Next, they assign permanent and international driving permits when the driver passes the driving tests. 
Online fitness: If you are willing to drive commercial vehicles on Indian roads, it is necessary to ensure that the vehicle is absolutely fit for driving on the roads. Chennai RTO offers fitness certificates for commercial vehicles. 
Issuance of permits: If you wish to travel anywhere for commercial purposes for your business by your car, then as per Motor Vehicles Act 1988, you require certain permits. Chennai RTO offers state, regional as well as federal permits that are temporary in nature.
Online auctions for unique number plates:: Clients who want premium number plates must participate in online auctions conducted by Chennai RTO.
NOC: Chennai RTO also provides NOC to vehicle owners in different instances, such as transfer of ownership. 
Paying taxes: Chennai RTO also collects road taxes from vehicle owners for both personal vehicles as well as commercial vehicles. For personal vehicles, the payment of taxes is to be done once. For commercial vehicles, tax payment has to be done once every year. 
Change of address: In case you wish to change the address on your driver's license, you can apply for the same through RTO.
Transfer of ownership: People often buy second-hand vehicles in order to get apt automobile insurance. It is necessary to transfer ownership of the vehicle. This can be done by connecting with RTO and requesting a transfer of ownership of the vehicle. The previous owner signed a NOC. The details are uploaded and registered by RTO. 
HP termination: When you buy your vehicle through bank financing, the vehicle gets hypothecated by the bank. Your RC will display the name of the bank before you clear your loan. But once you have repaid the loan, you will get a NOC from the bank and inform RTO about the same. This is called HP termination or hypothecation removal. 
Duplicate registration certificate: Have you lost your RC and want a duplicate copy of the same? Chennai RTO will help you by issuing a duplicate registration certificate.
List of RTO Offices in Chennai
Below-given is the complete list of RTO offices and their respective codes in Chennai:
| | |
| --- | --- |
| RTO Offices | RTO Code |
| Regional Transport Office, Chennai (North-East), No.147, Balakrishna Street, Thiruvetriyur High Road, Tondiarpet, Chennai – 600081 | TN- 03 |
| Regional Transport Office, Chennai (East), Power Mills Road, Pulianthoppu, Chennai – 600012 | TN-04 |
| Regional Transport Office, Chennai (North), No.9, Inner Ring Road, Sastri Nagar, Kolathur, Chennai – 600099 | TN-05 |
| Regional Transport Office, Chennai (South- East), No.4 VC Garden II Street, Mandaveli, Chennai – 600028 | TN-06 |
| Regional Transport Office, Chennai (South), No.38 East Coast Road, Thiruvalluvar Nagar, Thiruvanmiyur, Chennai – 600041 | TN-07 |
| Regional Transport Office, Chennai (West), No.1 Bharathidasan colony, K.K.Nagar, Chennai – 600078 | TN- 09 |
| Regional Transport Office, Chennai (South-West), No.47& 49 Kaliamman Koil Street, Sai Nagar, Virugambakkam, Chennai – 600092 | TN-10 |
| Tambaram, Chennai – 600045 | TN-11 |
| Bye Pass Road, Poonamallee, Chennai-600056 | TN-12 |
| No 10A, West Park Street, Venkatapuram, Ambattur, Chennai – 600053 | TN-13 |
| No.275, Old Mahabalipuram Road, (Survey No.494/2A 2), Sholinganallur, Chennai – 600119 | TN-14 |
| Chamundi Complex, GNT Road, Redhills, Chennai – 600052 | TN-18 |
| Anna Nagar, Chengalpattu, Chennai – 603001 | TN-19 |
| JN Road, Collectorate Complex Annex, Thiruvallur, Chennai – 602 001 | TN-20 |
| Karapettai, Kanchipuram, Chennai – 631552 | TN-21 |
| Alandur, Meenambakkam, Chennai – 600016 | TN-22 |
| Anna Salai, Thiruvannamalai, Chennai – 606601 | TN-25 |
| Kunnathur, Kanchipuram, Chennai – 600069 | TN-85 |
Type of Vehicle Registration in Chennai
Chennai RTO offers two types of vehicle registration services to vehicle owners. These are as follows:
Temporary vehicle registration: In order to transport a vehicle to another state, it is necessary that you obtain a temporary vehicle registration certificate from RTO. It will be valid for upto 30 days only. RTO issues this registration certificate after examining the vehicle.
Permanent vehicle registration: The Indian Motor Vehicle Act, 1988 requires every vehicle owner to get their vehicle permanently registered. The maximum time within which one can easily get their vehicle registered at RTO is 7 days.
Documents Required for Registration at Chennai RTO
In order to get your vehicle registered at Chennai RTO, it is necessary that you submit the required documents at RTO. Below listed are all the necessary documents that you may require at Chennai RTO for getting your vehicle registered:
Bank statement record of the last 6 months
Valid address proof. For this, you can use your aadhar card, election card, water bill, passport or electricity bill.
Photo ID proof. For this, you can use a driving license, PAN card or passport.
How To Get Vehicle Registration in Chennai?
Below-given are the various steps that you need to follow in order to get your vehicle registered at Chennai RTO:
When you purchase a new vehicle, the dealer will get it registered for a brief period of time. Basically, the paperwork involves filling out Form 20 as per the Motor Vehicles Act. You will have to provide sale certificate, insurance certificate and road-worthiness certificate to the RTO in order to apply for permanent registration.
It is mandatory to get your vehicle registered at Chennai RTO before you hit the road. You must apply for permanent registration of your vehicle before the temporary registration of your car expires. Otherwise, it is advisable to get your vehicle registered within 7 days of purchasing it.
In case you misplace the registration certificate, you have to submit an application as well as an FIR from the nearest police station at Chennai RTO. The Regional Transport Officer or Motor Vehicle Inspector at RTO will be handling your case.
If you are buying a second-hand vehicle, make it a point to fill out Form 30. This is done to replace the old owner's name with the new owner's. In case you have financed your vehicle, you will be required to submit a NOC when you have repaid the loan. 
Below-mentioned documents are required to renew your registration:
PUC of your vehicle
Form 25
Valid car insurance policy
RC and fitness certificate of your vehicle
Road tax payment receipt
Form 60 and 61 
PAN card
How to Get Vehicle Insurance in Chennai?
Getting your vehicle insured in Chennai is quite easy. One can try either the online or the offline method. But if you wish to cut down on the hassle and save your precious time, then you should go for the online option. Online vehicle insurance allows you to compare different insurance plans and their premiums. It thus gets easier to make a smart choice and buy the best automobile insurance as per your choice and budget. 
Also, buying insurance requires minimal documentation. To begin with, one needs to purchase third-party liability insurance. It is mandatory to have this insurance policy if you wish to drive on Indian roads. This type of vehicle insurance policy protects the policyholder from liabilities that might take place because of damage, injury or demise of the third party. You can even buy a comprehensive policy that includes third-party liability as well as coverage for your own vehicle's damage. 
If you wish to buy a vehicle insurance plan online, simply visit the official website of the insurance company. There you can have a look at all the available insurance policies. Next, you can compare the policies with an aggregator's website. And thus, you will get the best rates and coverage and can make a well-informed choice while buying an insurance plan for your automobile.
What are the Contact Details of the Chennai RTO?
Address: 4, Anderson Road, Ayanavaram, Near MTC Depot, Chennai, 600023
Phone: 044-2675959
Email: rtotn01@nic.in
Have a look at the below-given FAQs that can clear your doubts easily!
1. Is it allowed to pay motor vehicle tax online?
Yes, of course! Motor vehicle tax can be paid online.
2. How can I renew my learner's license online?
Learner's license stays valid for up to 6 months. If it gets expired, you will have to apply for a new learner's license. It is not possible to renew the expired learner's license.
3. How can I upload multiple document pages in a file?
You must upload a single page in PDF format or jpeg format. There are many apps and free software available online, using which you can compress the pages.