Renew in just 5 mins.
No Inspection.
No Paper Work
* Subject To Underwriting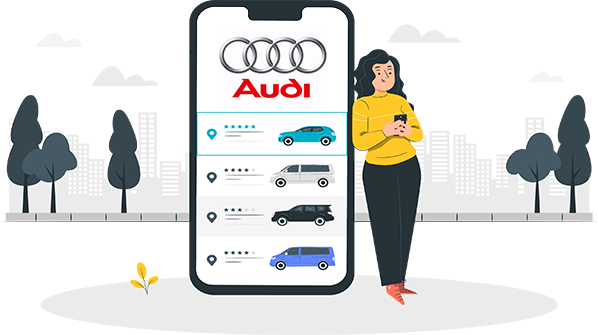 Compare

Car Insurance Plans
The luxury car brand Audi needs no introduction. The German car company is a subsidiary of the Volkswagen Group and manufactures luxury vehicles. Founded in Zwickau in 1909, Audi re-established its headquarters in Ingolstadt in 1949.
Audi came to India in 2007 and established its headquarters in Mumbai. The luxury cars come fitted with high-end parts that are assembled in Aurangabad and a host of features. It aims to be the leading brand in India for luxury cars.
| | |
| --- | --- |
| Brand Name | Audi India Pvt Ltd |
| Owned By | Audi AG and Volkswagen Group India |
| Founded | 2007 |
| Head Office | Mumbai |
| Manufacturing Facility | Shendra, Aurangabad |
| Area Served | India |
| Product | Luxury Vehicles |
| Dealerships | 8 |
Top 5 Best Audi Car Models
1. Audi Q2
The Audi Q2 comes equipped with a 1984 cc engine and automatic dual-clutch 7-speed Stronic transmission. Its best features include power steering, anti-lock braking system, power windows, driver and passenger airbags, automatic climate control, cruise control, navigation system, keyless entry, engine start/stop button, voice control, and a moonroof.
2. Audi A4
The Audi A4 has two variants, both with automatic transmissions. The car features a 2.0L TFSI petrol engine with a 7-speed Stronic gearbox and is a mild hybrid. The sedan also offers features like power windows, an anti-lock braking system, driver and passenger airbags, power steering, multi-function steering wheels, power boot, an adjustable steering, air quality control, heater, remote trunk opener, active noise cancellation, navigation system, real-time vehicle tracking, and smart access card entry among plenty more.
3. Audi A6
With its two petrol variants, the Audi A6 comes with a 1984 cc engine, a 7-speed gearbox with dual-clutch, and an automatic transmission. The car has features like a multi-function steering wheel, anti-lock braking system, power windows, power steering, driver and passenger airbags, 4-zone automatic climate control, remote trunk, and fuel lid opener, adjustable steering, rear reading lamp, rear AC vents, seat lumbar support, front and rear parking sensors, engine start/stop button, voice control, and a moonroof, among others.
4. Audi Q8 Celebration Edition
One of the two variants of the Audi Q8, the Celebration Edition is a popular model. It comes with a 2995 cc engine, automatic transmission, and an 8-speed gearbox. Some of its features include a touch screen infotainment unit, multi-function steering wheel, power-adjustable exterior rear-view mirrors, engine start/stop button, power windows, power steering, automatic climate control, power boot, rear AC vents, cruise control, rear parking sensor, keyless entry, voice control, and a moonroof.
5. Audi RS Q8
This petrol automobile comes with an automatic torque converter dual-clutch transmission, a 3998 cc engine, and an 8-speed Tiptronic gearbox. The features for this high-end model include automatic climate control, anti-lock braking system, power windows, and power steering, heater, adjustable steering, remote trunk opener, front and rear cup holders, rear AC vents, front and rear parking sensors, keyless, entry, engine start/stop button, voice control, ventilated seats, rain-sensing wiper, sunroof, and moonroof, and heated wing mirror.
Insurance – Why It's Important For Your Audi Car?
Car insurance protects the policyholder from expenses on their insured vehicle. With prices skyrocketing, insurance has become important now more than ever. Buying car insurance has several benefits.
Comply with the law – India's Motor Vehicle Act was enacted in 1988. The law makes it mandatory for every vehicle on Indian roads to be insured with at least a third-party liability policy. You can also go for a comprehensive policy, which includes third-party liability as well as own-damage expenses.
Covers unforeseen expenses – If your car meets with an accident, the expenses to fix it can be very high. If it is stolen, that's a lot of hard-earned money down the drain. But with insurance, the company meets the expenses of repairs in case of an accident. And, in case of theft or loss of the vehicle, the company reimburses the insured declared value of the vehicle.
Options – A large number of insurance companies offer competitive and attractive premium amounts for car insurance policies. You can check and compare different policies before buying the one that suits you best.
Add-ons – All car insurance providers offer add-ons that can enhance the coverage of your Audi's car insurance policy. You can choose from the return to invoice, nil depreciation, roadside assistance, no-claim bonus protection, engine protection, and key replacement cover among others.
Go digital – With the availability of purchasing and renewing policies online, you can easily choose, compare and buy your Audi car insurance policy.
Quick claims – The claims process has been streamlined, making it a smooth experience for policyholders filing claims.
Network garages – Every car insurance provider has network garages, where you can avail of their cashless disbursement facility, making filing a claim easier than ever.
Customer support – You can easily reach out to your insurance provider's customer support helpline for any doubts and queries.
Wide-Ranging Protection With Car Insurance Cover For Your Audi Car
All insurance providers offer a standard set of inclusions for their car insurance policies.
Third-party liability – All policies are covered by third-party liability as mandated by Indian law.
Theft, burglary, and housebreaking
Strikes and riots
Fire, lightning, and self-ignition
Natural disasters – floods, cyclones, landslides, storms, hailstorms, earthquakes, etc.
Malicious act or vandalism
Damage during transit – via road, air, inland waterway, and elevator
Personal accident cover for owner-driver up to INR 15 lakh.
A Few Exclusions That Your Audi Car Insurance Policy Doesn't Cover
Insurance providers will not cover the following situations for your Audi car.
Normal wear and tear due to use
Driving without a valid license
Driving while intoxicated – alcohol and or drugs
Mechanical and electrical damage and or failure
Breach of contract
Reckless driving
Compulsory deductible
Add-Ons For Audi Car Insurance
Make The Most Of Your Policy With Value Add-Ons For Your Audi
While add-ons can vary from company to company, some of the standard ones are as follows:
Roadside assistance – If your car shuts down in the middle of the road, this add-on provides you with assistance and towing for your vehicle.
No-Claim Bonus (NCB) – A no-claim bonus protection add-on can be useful if you have accumulated a no-claim bonus discount. These discounts are offered at the time of renewal if you haven't filed a claim during the previous tenure. With each term where no claims are filed, the discount increases. Companies offer between 20% and 50% discounts on premiums. However, if you were to file a claim, you would lose this bonus. But with the no-claim bonus protection add-on, your discount remains safe.
Engine protection – The engine protection add-on extends coverage to your car's engine, its most expensive component. This add-on is useful if you live in flood-prone areas or if your car is brand new.
Nil depreciation – When replacing spare parts, a regular policy deducts the depreciated amount for these parts. But with a nil depreciation cover, you can claim the full amount.
Key replacement – If your car is broken into or retrieved after a theft, you will need to change the locks. This cost is covered under the key replacement add-on.
Return to invoice – The return to invoice add-on covers the difference between the invoice value of your Audi car and its insured declared value.
Personal accident cover for passengers – This add-on provides a personal accident cover of up to INR 2 lakh for passengers who have sustained an injury or have died while traveling in your car at the time of the accident.
Choice Of Coverage For Your Audi Car
When considering insurance for your Audi car, you can pick from the following options.
1. Third-Party Liability
The third-party liability cover protects the policyholder from legal liability when a third person, vehicle, or property is involved in a claim. As per the Indian Motor Vehicle Act, 1988, it is mandatory for every vehicle plying on an Indian road to be covered by a third-party liability policy.
2. Comprehensive Coverage
Along with the third-party liability cover, a comprehensive cover also offers own-damage protection. It covers the expenses incurred to repair the policyholder's car in the event of an accident or loss. The comprehensive cover also offers a personal accident cover to the owner-driver of up to INR 15 lakh in case of injury or death during an accident involving the insured car.
Probus – Your First Choice While Purchasing Audi Car Insurance
Probus makes it easy to buy your Audi car insurance and keep it protected from unforeseen circumstances. You can browse through the different companies and policies that are on offer and compare them to each other before making your choice. You can easily pick add-ons for your policy and quickly purchase them online.
One of the main features of Probus is expert assistance with claims. With the help of our experts, you can easily file a claim. In case you have queries, the experts will guide you with them and be with you every step of the way.
Purchase Insurance For Your Audi With Probus In 5 Steps
To purchase your Audi car insurance policy online, simply follow these steps.
Open Probus's portal in your browser
On the homepage, enter your car number, and click on compare plans. If it's a new car then click on the 'new car' option.
Go through the different companies and the car insurance policies they offer. You can pick a few to compare them.
Select add-ons to enhance your protection.
Make the premium payment and receive your policy document in your email inbox.
Renew Insurance For Your Audi With Probus In 5 Steps
You can easily renew your Audi car insurance with the help of Probus.
Visit Probus's portal and click on 'renew' and choose motor insurance.
Select the insurer
This will take you to the respective website. There you have to enter a few basic details like the existing policy number and registration number.
Check the eligible No Claim Bonus
Select the value of your vehicle and any add-ons, if you wish
Review all the details and make changes if needed.
Make the online payment
Within no time, you'll have your policy in your inbox.
Claim Process For Your Audi Car Insurance
When the time comes to file a claim with your Audi car insurance, just follow these steps for an easy disbursal.
Call your insurance provider and intimate them of an impending claim. If a third party is involved, let them know.
Take pictures of the car at the accident site to document the damage and collect witness information. A company representative may be assigned to survey the damage, after which you can take your car to the nearest garage.
File an FIR with the nearest police station if needed. If your car is stolen and cannot be recovered, the police will issue a no-trace certificate.
Submit a duly filled claims form with your insurance provider along with the relevant documents.
Once processed, the insurance company will disburse the amount. If your car is at a network garage, the company will directly settle with the garage. If not, you will need to pay the expenses and the insurance provider will reimburse the amount.
Understanding Premium For Your Audi Car
Premiums are the amount charged by companies for the purchase of their policies. Each person and car pay different amounts for these car insurance policies. The price takes into account different factors that vary from person to person and car to car.
| | | | |
| --- | --- | --- | --- |
| Car Type | Variant | IDV | Estimated Premium |
| Audi A4 | TDI Premium Sport + Sunroof | INR 1553562 | INR 86900 |
| Audi A6 | TFSI Matrix | INR 3689710 | INR 103645 |
| Audi Q5 | TDI Premium Edition | INR 4312096 | INR 96720 |
| Audi A3 | TFSI Premium | INR 2567714 | INR 69195 |
| Audi A3 | Turbo | INR 2933743 | INR 74971 |
| Audi Q5 | 2.0 TDI | INR 4154066 | INR 94227 |
*Note: The insurer used for this calculation is United India Insurance Company Ltd. The place of registration used to calculate these premiums is Chandigarh and the year of purchase used is 2021, and it's a new vehicle with comprehensive insurance. Based on your specifics, the rates may vary.
Understanding Premium For Your Audi Car