Renew in just 5 mins.
No Inspection.
No Paper Work
* Subject To Underwriting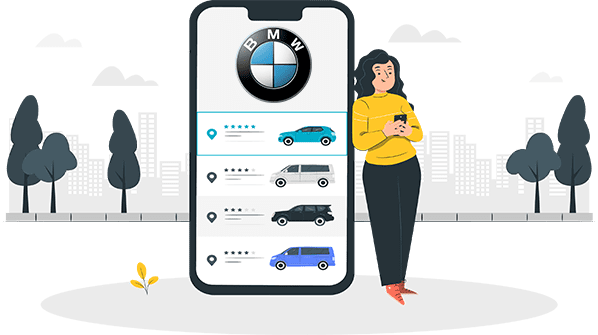 Compare

Car Insurance Plans
Bayerische Motoren Werke AG, better known as BMW, is one of the most renowned car manufacturers in the world. The German multinational company was founded in 1916 and is headquartered in Munich.
It started operations in India in January 2007 and is known as one of the leading luxury vehicle and commercial vehicle producers in the country today. The company's manufacturing unit is located in Chennai, and it boasts over 650 employees at present. The brand operations in India are led by President and CEO – Vikram Pawah.
| | |
| --- | --- |
| Brand Name | BMW India Pvt Ltd |
| Parent Company | BMW |
| Founded | 2006 |
| Headquarters | Chennai |
| Manufacturing Facility | Chennai |
| Number of Employees | 650 |
| Product | Luxury Vehicles, Commercial Vehicles, Motorcycles |
| Production Output | 11,105 units + |
A German Delight - 5 Most Popular BMW Car Models
1. BMW X1
The most affordable SUV in the carmaker's lineup, the BMW X1 is a popular choice. It is available in a front-wheel-drive layout and is available in both petrol and diesel variants. It boasts powerful engine options and robust dynamics. Its features include keyless entry, panoramic roof, ambient lighting, and more.
2. BMW 5-Series
An ideal option for those seeking high comfort, the BMW 5-Series is a top-ranking model in India. It is available in three variants – the 530i M Sport, 520d Luxury Line, and the 530d M Sport. The car comes equipped with a 12.3-inch touchscreen infotainment system, a fully digital instrument console, gesture control, four drive modes, BMW display key, remote control parking, and a host of other features.
3. BMW X3
Ideal for off-roading, the BMW X3 is next on the list. The 5-seater SUV is available in petrol auto and diesel auto versions, with all-wheel drive as a standard inclusion. It features LED headlights, a panoramic sunroof, paddle shifters, the Apple CarPlay, and an infotainment system with a 10.25-inch screen, amongst other amenities.
4. BMW X7
A flagship model in the car maker's X-range of vehicles, the BMW X7 is loved for several reasons. It is visibly huge and boasts a modern design with a high street presence. The 6-seater is a preferred option for bigger families and comes with abundant legroom and space. It comes with automatic air-conditioning with five-zone control and optional six-seat configuration for a quality rear-seat experience, alongside a host of other features.
5. BMW Z4
A two-seater that packs in great style and comfort, the BMW Z4 is yet another popular choice. It comes with a powerful set of engines and is available in two variants. The convertible comes matted with an eight-speed Steptronic sport transmission, driver seat memory function, ABB with brake assist, dynamic stability control, and distinctively aligned LED headlights. All this and more make it a preferred BMW model.
Insurance: Don't Overlook Its Importance For Your BMW
A small repair or dent in your luxury car can cost you significantly higher than a regular car. The higher the contingency or accident, the bigger the cost is. That's why insurance is all the more important for luxury segment vehicles such as BMW cars.
Here's why you need a reliable car insurance policy for your BMW Car:
Legal Compliance: Having car insurance is mandatory as per the applicable laws in India. Failing to buy a policy for your vehicle could land you in deep trouble and even attract penal provisions in certain cases. To ensure compliance with laws, it is advisable to buy car insurance at the earliest.
Coverage for Damages: Luxury cars are not only more expensive to buy, but they also call for high maintenance costs. That is why in case of repairs or breakdowns, a luxury vehicle could cause strain on the pocket. Buying insurance can enable you to cover as much as Rs. 50,000 in damages and help you protect your car from unforeseen contingencies.
Lucrative Add-ons: Many insurance companies provide several add-ons on car insurance such as from return to invoice, nil depreciation, roadside assistance, no-claim bonus protection, engine protection, and key replacement cover. These could come in handy and help you save costs.
Benefit for survivors: If you or a loved one ends up losing their lives in a car crash, a car insurance policy can provide various monetary benefits to the survivors involved. This can help elevate the financial struggles faced by the dependants of the deceased.
No upfront cash payment: In the case of comprehensive car insurance policies, you aren't required to pay any cash for repairs or damages. The bills are auto cleared, thereby causing lesser hassles to you in case of accidents or other such unforeseen events.
Your BMW Car Insurance Policy Has Some Basic Coverage, Here's What
Inclusions in car insurance are dependent on the type of policy purchased. However, typically, a car insurance policy covers the following:
Bodily injury liability covering medical bills for those injured by you in case of accidents, etc.
Property Damage Liability covering costs for damage to physical property in case of accidents, etc.
Personal injury liability including medical bills for injuries caused to self or other passengers.
Losses to your car in case of collision, including non-collision physical damage.
Damages in case of strikes and riots, fire, lightning, and self-ignition, and natural disasters including floods, cyclones, landslides, storms, hailstorms, earthquakes, etc.
Damage caused during transit – via road, air, inland waterway, and elevator.
Exclusions: This Is What You Don't Get With Your BMW Car Insurance Policy
A car insurance policy for your BMW vehicle will not include the following:
Mechanical or electrical breakdowns.
Consequential losses due to depreciation.
Normal wear and tear of the car.
Damages caused while driving under the influence of alcohol/drugs.
Damages caused while driving without a valid driver's licence.
Wear and Tear of consumables such as tyres and tubes.
Damages caused while using the vehicle outside the scope of the policy document.
Engine damage caused due to oil leakage.
Damages caused after expiration of the policy document.
Unique Value Add-Ons In A Car Insurance Policy For Your BMW Car
It is advisable to get certain add-ons in a car insurance policy in the case of luxury vehicles. Some of the standard ones are as mentioned below:
Zero Depreciation Cover – It ensures that depreciation is not accounted for while paying the claim amount at the time of claim settlement.
No-Claim Bonus Protection – No-Claim Bonus or NCB allows the car owner to save up to 20% to a maximum of 50% in a span of five years. It provides incentives for not claiming any damages for a particular year at the time of policy renewal and thereby enables lower premiums.
Engine Protection Cover – It covers loss or damage caused to the engine of the car due to water ingression, oil spill, mechanical or electrical breakdowns, etc., which are otherwise not covered under the policy.
Roadside Assistance Cover – It provides roadside assistance in case the insured vehicle breaks down in the middle of the road. The cover includes tyre change, minor on-site repair, car towing, fuel delivery, battery jump-start, etc.
Return to Invoice Cover – It enables the car owner to receive the invoice value of the car in a claim settlement in case of theft, loss, etc.
Daily Allowance Cover – The cover provides the car owner with a daily reimbursement for the duration when the car is in the garage or is undergoing repairs. It is a type of travel allowance.
Key Replacement Cover – Electronic keys are hard to replace and can be expensive. This cover enables the car owner to cover expenses that arise while replacing the keys of an insured car. It also includes costs for repairing the lockset of the vehicle.
Plans Designed For Your BMW Car Insurance
While buying insurance for your car, you can pick from any one of the following options:
Third-Party Liability Coverage – As per the Indian Motor Vehicle Act, Third Party Car Insurance is mandatory for every car owner. It provides protection against legal liabilities arising due to loss or damage caused to a third party or property. It covers expenses incurred due to death or bodily injury to a third person, damages to a third-party vehicle or other property.
Comprehensive Coverage – A comprehensive car insurance policy offers own-damage protection in addition to third-party coverage. It offers protection against all kinds of contingencies such as loss or damage caused by weather, flood, fire, theft, and more. Typically, a comprehensive car insurance policy is the most superior kind of protection for your car.
Make Probus Your Go-To Choice, Here's Why
Buying car insurance is an important decision and one that must be taken with utmost diligence. Probus helps you zero in on the right policy for your vehicle by allowing you to compare various plans and options. It also entails zero hassles and extends maximum convenience to the buyer when it comes to buying as well as renewing policies online.
In addition to the above, Probus provides the following benefits to car owners:
Expert advice: The platform provides expert advice and consultation when it comes to selecting insurance plans.
Easy claim filing: It aids buyers with the claim filing and allows them to save time and hassles at the time of accidents.
Easy registration: The platform includes an easy registration process and allows users to handle all transactions online within a matter of a few clicks.
Compare multiple options: It allows buyers to compare multiple plans and options before picking the right car insurance policy.
Quick Steps To Buy BMW Car Insurance Online Via Probus
Buying car insurance is now made simple with Probus. Purchase the policy of your choice by following the below-mentioned steps: 
Log on to Probus and create an account
Enter a few basic details like your city, car make, model, variant, year of registration, previous insurer, and policy expiry.
Browse through the various types of car insurance plans available.
Compare them and select the one that is most suitable for your vehicle.
Select 'add-ons' as required.
Make the payment via the secured payment gateway.
Receive the policy document in your email within minutes.
How To Renew BMW Car Insurance With Probus?
As with buying a fresh policy, you can now renew your car insurance with ease. Renew your car insurance online by following the below-mentioned steps:
Log on to Probus with the help of your username and password.
If you don't have an account, create one by providing details such as your name and mobile number.
Fill in details of your vehicle such as car type, model name, date of registration, previous policy details, etc.
Browse through the various renewal options available.
Pick the add-ons and select NCB, as applicable and required.
Make the payment via the secured payment gateway.
Receive the renewed policy documents via email within minutes.
Claim Process For Your BMW Car
The claim process in case of accidents or other contingencies can be a real hassle. However, with the help of the below steps you can enjoy smooth claim settlements within quicker timelines: 
Intimate the Insurance company about the accident or damage at the earliest.
Also, File an FIR at the nearest police station. If your car is stolen and cannot be found, the police will issue a no-trace certificate.
Thereafter, fill a claim form online, in the required format along with the relevant documents.
A company representative may be assigned to survey the damage, after which your car can be taken to the nearest garage.
After the work is completed, submit the invoice and payment receipt to the Insurance Company.
On verification of the documents submitted, the insurance company will disburse the amount or make a reimbursement.
How To Calculate Premium Online For Your BMW Car?
Car insurance premiums vary on the basis of the car type and plan selected. Before buying a policy, it is prudent to calculate the premium under it. Here's how you can calculate premium online in the case of car insurance:
Visit the website of the Insurance Provider.
Select the option 'Calculate Premium.'
Fill in the required details such as car type, model name, date of registration
Input details such as your name, mobile number, and email ID if prompted.
On the basis of the details provided, you will be shown the amount of premium under different plans.
Typically, the premium amount for BMW car models is as follows:
| | | | |
| --- | --- | --- | --- |
| Type | Variant | IDV | Estimated Premium |
| BMW X1 | S Drive 20D (1995 cc) | INR 1604933 | INR 47718 |
| BMW 5-Series | 520I Luxury Line (1997 cc) | INR 3550082 | INR 63254 |
| BMW X3 | 2.5 SI (2497 cc) | INR 2870933 | INR 51198 |
| BMW X7 | XDRIVE30D DPE SIGNATURE 6 STR (2993CC) | INR 6300000 | INR 112068 |
| BMW Z4 | ROADSTER (2979CC) | INR 4551426 | INR 81029 |
*Disclaimer: The insurer used for this calculation is ICICI Lombard Car Insurance. The place of registration used to calculate these premiums is Guwahati, Assam and the year of purchase used is 2016. Based on your specifics, the rates may vary.
Frequently Asked Questions
Most frequent questions and answers about on BMW Car insurance
Yes. If you are selling your car, you can transfer the car insurance in the name of the new owner. The new car owner should inform the insurance company about such a transfer with 15 days.
Yes. Under the Indian Motor Vehicles Act, 1988, it is compulsory for car owners to purchase a third-party liability cover. Comprehensive coverage is optional but is highly recommended.
Yes. Probus enables car owners to avail help for faster claim settlements. The platform has several IRDA-certified experts on board who can assist you in filing claims.