Renew in just 5 mins.
No Inspection.
No Paper Work
* Subject To Underwriting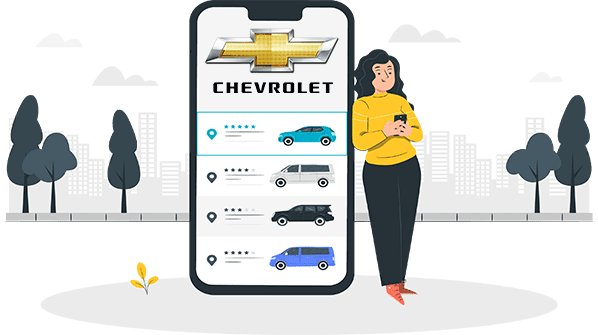 Compare

Car Insurance Plans
Chevrolet, or Chevy, is a well-known automobile manufacturing company based out of the USA. The brand is well-known globally for manufacturing top-notch cars that are efficient and stylish. Since Chevrolet's entry into the Indian market in 2003, it has received tremendous success on the various car models.
It is essential to get Chevrolet Car Insurance due to the nature of the use of the automobile. Anything from a natural disaster to a simple human error can cause damage to the car, and hence, the need for protection. An insurance plan can seem daunting at first, but if you consult the right company, they can direct you towards the best plan.
A Quick Look At Chevrolet
| | |
| --- | --- |
| Name | Chevrolet |
| Founded In | 1911 |
| Headquarters | Detroit, Michigan, USA |
| No. Of Employees | 20,000 |
| No. of models in the market in India | 13 |
| Entry in Indian Market | 2003 |
| Year of closing in India | 2018 |
What Do You Get With Chevrolet Car Insurance?
The right insurance coverage can mean a long life for your car. And if you are a car enthusiast, it is a must to do thorough research and pick the best insurance plan suitable to your finances and that offers sufficient benefits for your Chevrolet car. And hence, we recommend that you look for Chevrolet car insurance right away. 
The right insurance can protect your car in the long-term, while also offering benefits such as roadside assistance, an easy claim filing process, protection in terms of a fire, theft, etc, and even coverage caused by an accident.
Wide-Range Of Inclusions With Chevrolet Car Insurance
With a comprehensive policy, you get a holistic plan with a solid cover. 
So, what's included in my Chevrolet car insurance? 
Collisions: This is when your Chevrolet suffers damage due to a collision or an accident on or off the road.
Theft: Your car is covered even if it is stolen.
Natural disasters: Damages caused due to natural disasters such as flood, landslide, etc, are also covered.
Personal accidents: Personal accidents are also covered when you get Chevrolet Car Insurance.
Third-party damages: The policy also pays for damages to property caused by your car.
What's Not Included In My Chevrolet Car Insurance?
When you purchase a car insurance policy, there are a few standard exclusions. Here are a few of them: 
Driving under the influence of alcohol or other substances.
Driving without documentation such as a valid driver's license.
Driving when the Chevrolet Car Insurance policy is not active.
Servicing expenses that happen on a regular basis.
Wear and tear caused by the driver's negligence.
Add-ons That Make Chevrolet Car Insurance Better
Every insurance policy comes with a unique set of add-ons that enhance your coverage. You can cherry-pick what you like to add on. Here are some options:
Roadside Assistance – Despite your best efforts, there might be a time that your Chevrolet car will suffer some sort of mechanical damage and breakdown. In this case, if you have the roadside assistance add-on with your Chevrolet Car Insurance, you can be assured that you will always get assistance for your car.
Zero depreciation – Automobiles depreciate with use. The Zero Depreciation add-on makes sure that your Chevrolet Car Insurance gives back full compensation, without deducting the value of depreciation, when you make a claim.
Engine Protection – Without the engine, what is the purpose of a car? Protect your Chevrolet car's engine with this particular add-on. This add-on is useful in case you live in a region where natural disasters or road conditions could severely affect your car's engine.
No claim – When you purchase this add-on to your car insurance policy, you give yourself a great advantage. When you don't file a claim against your current Chevrolet Car Insurance policy, you will be entitled to a discount the next time you renew your Chevrolet Car Insurance.
Thinking Of Chevrolet Car Insurance? Pick The Online Route
The easiest answer to 'why you should buy Chevrolet Car Insurance online is convenience. You can browse plans from the comfort of your home or office, select what works for you right away, and get started instantly. Still not convinced?
Here is a list of benefits of buying insurance online:
Convenient: Browse insurance plans whenever and wherever you want to
Quick: There is no hassle of long conversations because all the information is available at your fingertips
Efficient: Whether you are purchasing a policy or renewing it, everything is quick, just like today's fast-paced world
Environmentally friendly: No paper, because everything is online and you can feel good about being environmentally friendly and not wasting paper.
Plans That Work For Your Chevrolet Car
We offer two types of Chevrolet Car Insurance plans to ensure that the customer gets the best possible benefits:
Third-party insurance – Third-party insurance is basic and affordable. You can't drive on the road without some sort of basic insurance and third-party insurance does just that. But with this type of Chevrolet Car Insurance plan, you are covered in case of an accident including damages and injury done by a third party. The drawback is that these benefits are the only ones offered and do not really protect your Chevrolet Car.
Comprehensive insurance – Comprehensive insurance is expensive, sure, we won't deny that. But it is totally worth it because these types of plans offer immense coverage. Your car is protected on and off the road. You are covered in case of a natural disaster, theft or any man-made incidents. You also get the options of insurance add-ons that eventually help protect you and your family, along with your Chevrolet, in the long term.
Why Should Probus Be Your Go-To For Buying Chevrolet Car Insurance?
Probus is your one-stop shop for comprehensive insurance coverage. The biggest benefit with Probus is that it allows you to compare plans online and makes the entire process easy and hassle-free. With Probus, you can:
Easily compare plans – At Probus, you can compare multiple insurance plans on the website. This makes it easy for you to see what kind of deal you are getting with your Chevrolet Car Insurance plan. Not just that, multiple policies allow you to see what kind of coverage you need and the premium you will be paying and then make an informed choice. 
Get expert advice – Our certified experts have experience in the insurance and automobile industry. Hence, they are the right people to help you understand what you need in your Chevrolet Car Insurance in terms of coverage, documentation, payment plans, and much more. 
Enjoy a simple claim process – Our claim processing team makes it easy and efficient to file a claim. Everything is done online and they will help you every step of the way. Whether you need to submit pictures or driver details, the claims team is here to help. 
Direct registration – When you register with Probus for your Chevrolet Car Insurance policy, you work directly with us. What you see is what you get and we do not pass your insurance policies to other parties.
Quick processing of your claim – While we understand accidents happen, we also know they need to be resolved quickly. When you file a claim, our team works round the clock to ensure everything is in order for the quick processing of your insurance claim. 
Secure information – Buying an insurance policy means submitting some highly sensitive information. We recognize how essential this information is. Therefore, our data is highly secure and protected to ensure the safety and privacy of all our insurance policyholders. 
Premium calculator – When buying an insurance policy, finances play an essential role. Therefore, the free premium calculator allows you to see what you'll be paying on your plan, and compare it with other plans.
How To Buy Chevrolet Car Insurance On Probus Online?
Step 1: Enter all your basic details including your name, address, phone number, car details, registration number, and other pertinent information. 
Step 2: Compare plans to see what suits your Chevrolet car the best
Step 3: Choose your plan when you have sufficient information on making an informed decision
Step 4: Make the payment through our secure online portal. Don't worry, your details are absolutely safe with us. 
Step 5: You are now insured! Check your email for your Chevrolet Car Insurance policy.
Time For Renewal? Let's Renew Your Chevrolet Car Insurance
It is important to make sure your Chevrolet Car Insurance policy is up to date. Driving while your policy has lapsed can be a threat to your safety and security. Probus also offers the renewal of existing policies online via our website. 
Simply log on to the website, and choose your previous insurance provider.


Next, enter your vehicle registration number and policy number.


You can then begin the process of renewing your Chevrolet Car Insurance policy with Probus.
Making A Claim For Your Chevrolet Car Insurance Policy
With your policy well and live, you might need to file a claim against your Chevrolet Car insurance policy. 
Here are the steps to file your claim: 
Step 1: Inform the company you have purchased the insurance from about the accident or incident.
Step 2: File an FIR if the incident warrants the need for one, especially if you might require it to file the claim. 
Step 3: File your claim with the necessary documentation as advised by your insurer. Make sure to send all documentation on time to adhere to the necessary timelines. 
Step 4: It is now time to get the damage evaluated. The evaluation will be done by a representative of the insurance company. Then, you can go ahead and get the repairs done, preferably by a garage in the insurance company's network. 
Step 5: Once your claim is approved, you will be compensated based on the conditions laid out in your Chevrolet Car Insurance policy.
What You Need To Know About Premium & Its Calculation?
Now that you know all about Chevrolet Car Insurance, what to look for, how to go about buying it, what to add on to your policy, and how to file a claim, here is an important section about the money you will be paying.
| | | | | | |
| --- | --- | --- | --- | --- | --- |
| Chevrolet Model | Ex showroom price | Basic Cover | Zero Depreciation Cover | Premium Plan  | IDV |
| Chevrolet Beat LS 1199 CC | Rs. 410,752.00 | Rs. 5,665.00 | Rs. 8,786.00 | Rs. 10,048.00 | Rs. 287,526.00 |
| Chevrolet Spark 1.0 LS Sport s 995CC | Rs. 358,212.00 | Rs. 4,746.00 | Rs. 7,468.00 | Rs. 8,795.00 | Rs. 250,748.00 |
| Chevrolet Cruze 2.0 LT 1998CC | Rs. 1,274,283.00 | Rs. 20,602.00 | Rs. 30,285.00 | Rs. 30,476.00 | Rs. 891,998.00 |
| Chevrolet Trailblazer LTZ 4X2 AT 2776CC | Rs. 2,205,191.00 | Rs. 28,432.00 | Rs. 43,367.00 | Rs. 41,754.00 | Rs. 1,543,634.00 |
| Chevrolet Sail 1.3 PS 1248CC | Rs. 432,991.00 | Rs. 5,959.00 | Rs. 9,250.00 | Rs. 10,483.00 | Rs. 303,094.00 |
*Disclaimer: The insurer used for this calculation is ICICI Lombard. The place of registration used to calculate these premiums is Hyderabad, Andhra Pradesh and the year of purchase used is 2019. Based on your specifics, the rates may vary.
Frequently Asked Questions
Most frequent questions and answers about Chevrolet Car
In the long term, getting a comprehensive Chevrolet Car Insurance plan will be a good investment for your car, as it offers many more benefits as compared to a third-party insurance policy.
Add-ons such as roadside assistance, engine protection, no claims discount, etc. are great for car owners in the long term. These might increase the amount you are paying, but the benefits with the add-ons make the investment worth it.
Probus offers the benefit of getting your policy online, without in-person visits, and you can get Chevrolet Car insurance policies from all major insurance companies.