Renew in just 5 mins.
No Inspection.
No Paper Work
* Subject To Underwriting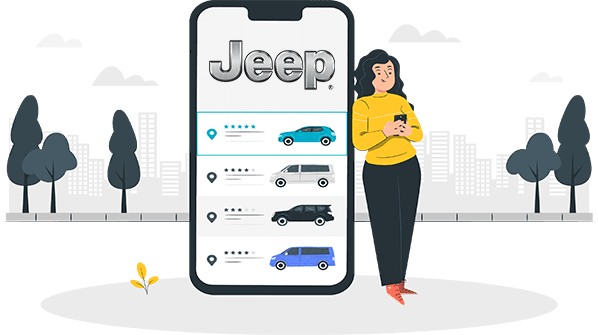 Compare

Car Insurance Plans
Jeep, founded in 1945, is an American automobile brand and a division of Stellantis with headquarters in Toledo, Ohio, U.S.A. In 1987, Chrysler acquired the brand Jeep from its previous owner American Motors Corporation (AMC) and since then, Jeep has been a part of Chrysler.
Before 1940, the term 'jeep' was used in the U.S. Army as a way of calling new recruits, later the following year, the World War II "jeep" went into production. Soon, the jeep became the primary light 4-wheel-drive vehicle of the United States Armed Forces and the Allies during World War II, as well as the postwar period. After gaining traction, the production of the first civilian vehicle started in 1945.
Today, Jeep deals with the production and sale of premium SUVs (semi-luxury sport utility vehicles, medium-sized sport utility vehicles, or compact sport utility vehicles). During the first half of 2017, Jeep was Fiat-Chrysler's best-selling brand in the U.S. During that year they sold nearly 1.4 million SUVs worldwide of which two-thirds were in North America.
Jeep was introduced in India by Fiat on August 30, 2016, and the SUVs are built by Mahindra under license.
| | |
| --- | --- |
| Industry | Automotive |
| Founded | 1943 |
| Parent | Stellantis North America |
| Headquarters | Toledo, Ohio, U.S. |
| Areas served | Worldwide (except Sudan, North Korea, Iran, Syria, and Cuba) |
| Key people | Worldwide president – Christian Meunier |
| Products | Luxury vehicles and sports utility vehicles |
Jeep Compass
The Compass feels like a proper Jeep – capable, tough, and built to last. Initially, it was launched in 2017, but it was given a facelift in early 2021.
In the updated version of the Compass, the equipment, appointments, and quality have gone up a notch and nearly reached the luxury mark. The top variant comes with sunroofs and a larger touchscreen, which elevate the look and feel. The 1.4L petrol engine is punchy and apt for highways or off-roading. In the city, the mileage is slightly on the lower spectrum.
The 2.0L diesel engine is stronger and with 173BHP, it has more power. Overall, it's an SUV that's truly admired with rugged yet attractive looks and blessed with a super 4X4 system.
Jeep Wrangler
If you're looking for an undiluted Jeep experience, the Wrangler is your best bet. It's one of the first luxury off-roading vehicles and a hardcore four-wheel drive. From the outside, the shape looks akin to the original Willys, and as a part of the kit, you get detachable doors and a removable roof.
You only get the petrol variant in India, and the 2.0-liter petrol engine is smooth and punchy. While fuel efficiency is again on the lower end, the advantage of the Wrangler is you can go deep into the woods and back without breaking a sweat.
Jeep Grand Cherokee
A visually appealing, broad-shouldered, and smart-looking vehicle, the Jeep Grand Cherokee ticks all boxes from the outside. On the inside, it comes with a neat and solidly put-together cabin, with lots of room at the back.
The V6 petrol version is silent and strong, and the V6 diesel is impressively refined and punchy. In the cabin, your experience is enhanced by noise insulation and the suspension which effortlessly absorbs any impact. And, akin to its DNA, this vehicle too is a formidable off-roader. All in all, it's a very likeable vehicle.
Why A Motor Insurance Policy Is Significant For Your Jeep
Gone are the days when owning a vehicle was a luxury. Nowadays it's more of a necessity. It offers mobility and freedom and reduces your reliance on public transport. But the bad conditions and lack of discipline on the Indian roads can increase the risk of accidents or mishaps.
Such circumstances can cause bodily injuries or damage your vehicle. To keep yourself protected from such incidents, both finally and physically, it's imperative to invest in a motor insurance policy. A few benefits of an insurance policy are:
Pay now and save later – By investing a small amount now for your protection, you can steer clear from steep expenditure in the future. If you opt for the right cover, like bodily injury liability, property liability, collision, personal accident, etc., you can effortlessly cover the costs with the help of claims during an accident.
Protection yourself and others – At the time of a mishap/accident, you can ensure you, your passengers, and others on the road are safe and protected by car insurance. The insurance policy ensures you have ample coverage to manage any damage to property or bodily injury that takes place.
Peace of mind – The right policy will ensure you're confident and always protected.
A financial cushion – When your vehicle undergoes damages, be it due to natural calamities like floods, lightning, etc., or man-made instances like theft, etc. motor insurance offers you a financial cushion.
Takes care of third-party liability – A motor insurance policy takes care of any third-party liability that crops up. Meaning, your insurer takes care of any payments for the damages to a third party, so you're free from legal complications.
Mandatory by law – Lastly, motor insurance in India for vehicles that ply on Indian roads is compulsory. The minimum is third-party liability cover. If you're driving without insurance, you have to bear a severe penalty.
Types of Insurance Available for Jeep Car
As a vehicle owner, you can pick and choose different insurances for your Jeep. The primary objective is to ensure your beloved Jeep is protected.
You have two different policies available online, differentiated by coverage. They are:
Comprehensive insurance – Sort of an all-inclusive car insurance policy where you get coverage from both your own damages as well as third-party damages and losses. The significant benefit of comprehensive insurance is the customizable add-ons covers, like breakdown assistance, engine protection, zero-depreciation, etc. which extend added benefits, eliminating the need for multiple policies.
Third-party liability insurance – In this, you get coverage against any liability damage or loss caused to any third-party property, person, or vehicle. This form of insurance is mandatory in India for all vehicles.
Important Components A Best Car Insurance Policy Covers For Your Jeep
A comprehensive car insurance policy protects you and your Jeep against a variety of dangers on the road. It's not necessary to purchase insurance from the car dealer, there are several independent insurance providers who you can contact directly. But before you do, it's essential you know what your car insurance policy for your Jeep should cover.
Damage or loss due to natural calamities – Natural disasters like landslides, cyclones, storms, hurricanes, typhoons, floods, earthquakes, lightning, etc. are out of your control and a comprehensive policy covers such acts of God.
Damage or loss due to man-made calamities – You get coverage for disasters made by man such as damage during transit via water, rail, or road, terrorist activity, strike, riot, theft, burglary, etc.
Third-party liability – Mandatory by law, with this you get protection against any legal complications which arise due to any accidental damage which causes death or permanent damage to a third party. Some policies even cover the surrounding areas.
Personal accident cover – In the event of the policyholder's unfortunate death or permanent disablement, their family's future is secure with this cover. Typically, policies offer up to INR 2 lakh coverage for the driver. Some insurers even provide optional accidental covers for co-passengers.
Components A Car Insurance Policy Doesn't Cover For Your Jeep
Insurance plans are indispensable, and they come loaded with ample coverage, but nearly all insurance policies have a few standard exclusions. Here are some exclusions of coverage for your Jeep car:
Loss due to wear and tear – You cannot make a claim for any loss that occurs because of the normal wear and tear of your Jeep. Similarly, you cannot consider the following for a claim: either breakage due to rust or other weather conditions, failure of body parts or chassis, and any electrical or mechanical breakdown.
Damage caused when driving under the influence – If your vehicle meets with an accident when you're driving under the influence of alcohol, drugs, or other intoxicants, you cannot make a claim for those damages/losses.
Damage to electronics, electrical equipment, or tires – Parts as mentioned, will not be considered in a claim as tires are in constant use and bound to undergo wear and tear. Likewise, the infestation of rodents, short-circuit, or severe weather conditions can damage electrical equipment, and this is not covered.
Any intentional damage or injury to property – If the insured intentionally causes damage to property or person, no form of reimbursement will be given. Such instances don't cover the insured's property as well.
Damage because of racing – If your vehicle participates in organized racing, the damages and or losses do not fall under the scope of the insurer.
Damages during war – Losses or damage during a fire caused by a nuclear explosion, a biochemical attack or war, are not covered by the insurer.
Add-Ons For Your Jeep Car Insurance Policy
As mandated by law, the minimal level of protection is third-party insurance. But with numerous, affordable car insurance policies with a wide range of coverage options, you don't have to settle for the minimal level of insurance for your Jeep. Go all out and ensure double the protection for your Jeep with these add-ons:
Zero Depreciation Cover – Best-suited for a new vehicle, this cover entitles you to the full cost of repair of parts of the car during a claim. This means the cost of depreciation does not get deducted from your claim amount.
Engine Protection Cover – Your standard insurance does not protect your engine and so, to amplify coverage, you need this add-on. This cover is particularly useful for those high-end vehicles as the cost of repairing the engine can be on the higher end. If you live in an area prone to waterlogging, you should consider this cover.
Roadside Assistance Cover – Great for frequent travellers especially during an emergency, this add-on ensures round-the-clock roadside assistance for facilities like arranging a mechanic, tire change, refuelling, towing, etc.
Consumables Cover – When your Jeep undergoes repairs, many different consumables are replaced like coolant, engine oil, bolts, nuts, brake fluid, etc. Such costs are not covered in the insurance policy and can cost you dearly. But this add-on ensures the insurer reimburses the cost of consumables to you.
No Claim Bonus (NCB) Cover – With time, when a policyholder doesn't make a claim, an insurance policy collects NCB. You can use this NCB that you've collected to get a discount when you renew your policy in the coming year.
Return To Invoice Cover – If your Jeep undergoes an unimaginable mishap or accident where it's damaged beyond repair, in such an extreme case, with this add-on cover you can claim the entire amount/value of the invoice.
Tire Protection – Tires undergo immense wear and tear during their lifetime, and a tire protect add-on ensures you are protected from any damage to your tires.
Passenger Cover – This cover ensures you keep your family and loved one's safe. In the unfortunate event of meeting with an accident or mishap, if your passengers are injured, this cover ensures everyone in the car is covered and receives the needed financial support.
Why Probus For Jeep Car Insurance Policy?
If you're on the lookout for the best car insurance policy for your Jeep, look no further than Probus. From start to finish, your Probus journey will be simple and fulfilling. Here's why:
With multiple options present on a single platform, you can browse different choices, compare the policies to see what each offers, and cherry-pick what's best suited for you.
With a highly trained, qualified, proficient team of experts, you can expect any and every information you receive to be verified and up to date. The in-house team can handle tasks seamlessly whether it's a new purchase, claim or a question. The Probus claims support team is IRDA certified and ensures a smooth and straightforward method of filing claims. So, you don't have to worry about running around or following up umpteen times. Once the team has the task at hand, it will get done at the earliest.
Want To Buy Car Insurance For Your Jeep On Probus? Here's How
On the simple and straightforward website, with just a few clicks, you get to start browsing different policies and get your hands on the one you want in no time.
Step 1 – Go to the top of this page, enter your car number, and click on compare plans. If it's a new car then click on the 'new car' option.
Step 2 – Enter a few basic details like your city, car make, model, variant, year of registration, previous insurer, and policy expiry.
Step 3 – You will need to fill in a few more details for a precise quote like manufacture month & year, purchase date, customer type, license validity, the type of policy you require, etc.
Step 4 – Compare and contrast a few plans and choose one that's best suited for you.
Step 5 – Make an online payment from several convenient methods.
Step 6 – Within no time, you'll have your policy in your inbox.
Time For Renewal Of Your Jeep's Policy? Let's Do It Quickly On Probus
Renewing your policy on time is extremely important so it doesn't lapse. It also ensures that you have ongoing protection in case of unforeseen circumstances.
Step 1 – Login to the Probus website and click on 'renew' and choose motor insurance
Step 2 – Select the insurer
Step 3 – This will take you to the respective website. There you have to enter a few basic details like the existing policy number and registration number.
Step 4 – Check the No Claim Bonus you're eligible for
Step 5 – Select the value of your vehicle and any add-ons, if you wish
Step 6 – Review all the details and make changes if needed
Step 7 – Make the online payment
Step 8 – Within no time, you'll have your policy in your inbox.
A Hassle-Free And Easy Claims Process
The moment your insurance is live and valid, you can make a claim. With Probus's team on top of their game, your claims process will be a breeze.
You can pick and choose from the two different claims processes:
1. Cashless claim for your Jeep
Cashless claims are when you take your Jeep to the network garage. Here, the insurer will appoint an agent who will come and inspect the vehicle. After approval, your vehicle can undergo repairs and once it's done, the insurer will directly make payment to the garage. You will have to. spend a nominal amount only. Here's how you can file for this claim:
Visit the website of the insurer or call them to register your claim
After successful registration, you will receive a claims registration number
To initiate repairs, visit an authorized network garage
After inspection and submitting documents, the insurance company will initiate the payment instantly to the garage
2. Reimbursement claim for your Jeep
Reimbursement claims are when you have to spend money for repairs of your vehicle and once it's complete, collate all the documents and submit them to the insurer. Once they verify and approve the same, the expenses will be reimbursed to you. Here's how you can file for this claim:
Visit the website of the insurer or call them to register your claim.
After successful registration, you will receive a claims registration number.
To initiate repairs, visit a garage of your choice .
After repairs are complete, collect and submit documents pertaining to the repairs to the insurance company.
They will verify the details, after which they will initiate the reimbursement to your account.
Documents You Need To File A Car Insurance Claim
To file a claim, keep these documents handy:
Date of the accident
What time the accident occurred
Chassis and the engine number
Kilometer reading
Location of accident
Description of how the accident occurred
Vehicle inspection address
Copy of FIR if there's a police report, or it's a theft.
Calculate & Compare Jeep Car Insurance Price
Premium is the amount you pay for your car insurance policy. Now, typically, factors like the year of purchase, the place of registration, model and make of the car, etc. affect the rate of premium. So, if you're thinking of purchasing a car insurance policy for your Jeep, here's what the premium amount will look like:
| | | |
| --- | --- | --- |
| Model | Variant | Premium (excluding taxes) |
| Jeep Compass | SPORT 2.0 DIESEL 1956 CC | Rs. 9,730 |
| Jeep Wrangler | UNLIMITED SPORTS 4*4 (3778 CC) | Rs. 31,735 |
| Jeep Grand Cherokee | SUMMIT 3.0 (2987 CC) | Rs. 87,568 |
*Disclaimer: The insurer used for this calculation is HDFC Ergo Car Insurance. The place of registration used to calculate these premiums is Pune, Maharashtra and the year of purchase used is 2020, and it's a new vehicle with comprehensive insurance. Based on your specifics, the rates may vary.
Frequently Asked Questions
Most frequent questions and answers about on Jeep car insurance
As per law, to drive your Jeep on Indian roads, you need third-party insurance. However, your third-party insurance does not cover any damage to your vehicle arising from terrorism, earthquake, theft, fire, etc. Such acts can result in costly financial loss. Hence, since your Jeep is your prized possession, it's best you buy a comprehensive cover for added protection.
You can transfer the existing policy to the name of the buyer with the help of an endorsement. You will need a few supporting documents such as NCB recovery, NOC of the seller, form 29 and 30, sale deed, etc.
OR
You can choose to cancel the existing policy. To cancel the policy, you will need a few documents as mentioned above.