Renew in just 5 mins.
No Inspection.
No Paper Work
* Subject To Underwriting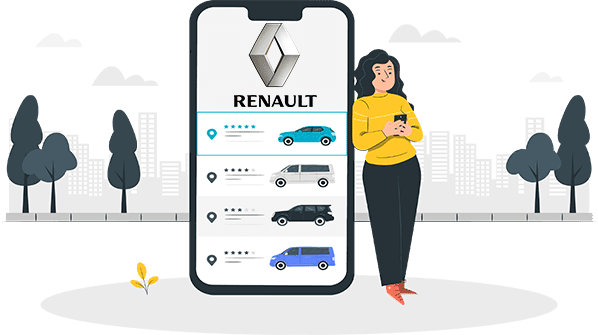 Compare

Car Insurance Plans
Established in 1899, Renault is a French car manufacturer with a presence in multiple countries. It wholly owns the subsidiary Renault India Pvt Ltd and was registered in the country in the year 2005 and released its first automobile in India in 2007. The Renault Kwid, launched in 2014, has been a big hit with the Indian market and propelled Renault's sales.
From 14 dealerships in 2012, Renault today has over 200 dealerships all across India. Its cars have won numerous awards, with the Duster gathering 29 of them since its launch. The company has bagged more awards than its competitors in a year.
| | |
| --- | --- |
| Brand Name | Renault India Pvt Ltd |
| Owned By | Renault Group, France |
| Head Office (India) | Chennai |
| Corporate Offices | Gurugram, Mumbai, Chennai |
| Manufacturing Facility | Oragadam, Chennai |
| Dealerships | 200+ |
| Automobile Types | Compact SUV, CUV, Compact MUV, Compact Sedan |
| Award-winning Cars | Triber – 7 awards; Kwid – 23 awards; Duster – 29 awards |
| Speciality | Passenger cars, automobile manufacturing automobile engineering and design |
Renault's Top 5 Car Models
1. Renault Duster
Winner of 29 awards over the years, Renault Duster is a clear favorite. It is equipped with a powerful 1.3L turbo petrol engine and offers features such as reverse parking sensors, driver and front passenger airbags, an electronic stability program, hill start assist, and remote pre-cooling.
2. Renault Kwid
The Kwid is popular for its compact yet sleek design that accentuates its exterior SUV look. It boasts of Smart Control Efficiency or SCe engine technology and comes laden with features like a touchscreen with mediaNAV evolution, a floor console-mounted AMT dial, and an LED digital instrument cluster.
3. Renault Triber
This 7-seater comes with a Dual VVT Energy engine and features such as projector headlamps with LED DRLs, 6-way adjustable driver seat, steering mounted audio and phone controls, driver and front passenger front and side airbags, push start-stop button, smart access card, and cooled storage in center console.
4. Renault Kiger
The Renault Kiger has a 1.0L turbo petrol engine and comes with a host of features and accessories. It has front and side airbags for the driver and front passenger, a front parking sensor, a rear parking camera, an air purifier, a display link floating touchscreen with wireless smartphone replication, a smart access card, a wireless charger, rear air conditioning vents, and rear armrest cup holders.
5. Renault Pulse
The Renault Pulse drives with an engine capacity of 1198 cc to 1461 cc. It comes with features and accessories like front power windows, airbags, power steering, automatic climate control, rain-sensing wiper, rear window washer and wiper, child safety locks, front and side-impact beams, and adjustable headlights.
Why Is Insurance For Your Renault Vehicle Important?
A lot of sweat and hard work goes into buying a car. To safeguard yourself from further unforeseen expenses and protect your Renault car from unfortunate situations, buying insurance is the most prudent thing to do. By insuring your car, you can protect yourself and the vehicle from third-party liability and own-damage expenses.
Compliance with the law – India's Motor Vehicles Act mandates that every vehicle plying on Indian roads be insured with, at the very least, a third-party liability cover. Without insurance, driving your Renault car would attract legal action.
Add-ons – Different companies offer a range of different add-ons to enhance coverage for your Renault car. Some of the standard ones are nil depreciation, no-claim bonus cover, return to invoice, and engine cover. You can make your choice and opt for added protection.
Protects against unforeseen expenses – Accidents and thefts can burn a hole in your pocket, but only if you let it. With a solid insurance policy, whether third-party liability only or a comprehensive cover, you can protect yourself against these costs.
Competitive pricing – With so many insurance companies providing policies, you can find policies with great coverage for competitive prices.
Network garages – Each insurance provider's network garages provide cashless settlement facilities. So, you can just take your vehicle to the network garage and have it fixed without the hassle of reimbursements.
Online purchase and renewal – With the world going digital, buying, and renewing car insurance policies have become quick and hassle-free.
Easy claims process – Insurance companies offer a streamlined claims process to make filing a claim on your policy easy and smooth.
What Are Some of The Standard Inclusions of A Car Insurance Policy?
Almost all the car insurance policies available in the market offer a standard set of inclusions.
Damage in the event of an accident
Natural disasters – cyclones/hurricanes/typhoons, thunderstorms, landslides, earthquakes, floods, etc.
Fire, lightning, self-ignition
Riot and strike
Theft, burglary, housebreaking
What Are Some Of The Typical Exclusions For Car Insurance Policies?
Some of the standard exclusions for car insurance policies offered by companies are –
Wear and tear due to use
Consequential loss.
Compulsory deductible as outlined in your policy.
Electrical and mechanical breakdown.
Driving without a valid license
Driving while under the influence of alcohol and/or drugs.
Intentional damage.
Driving for purposes other than that outlined in the policy.
Add Value With Your Choice Of Add-Ons
Add-ons add coverage value to your Renault car's insurance policy for an additional premium. Some of the usual add-ons that companies offer are:
Nil depreciation – Covers the difference between depreciated cost and invoice value of spare parts replaced.
NCB protection – NCB or no-claim bonus protection cover protects your accumulated no-claim bonus discount in case a claim is filed in the policy term.
Personal accident cover – This cover provides insurance to the owner-driver, and passengers, if opted for, in the case of injury or death during an accident involving the insured car.
Engine protection cover – This add-on covers the cost of repairs brought on due to damage to the car's engine.
Cover for CNG / LPG Bi-fuel kit – Protects the CNG or LPG kit in bi-fuel cars in case of damage during an accident.
Key-replacement cover – Covers the cost of replacing the key in case of theft or loss.
Return to invoice – Bridges the gap between the insured declared value and the invoice value of the Renault car in case of theft or total loss.
Renault Car Insurance – Types and Choices
Insurance providers offer two major types of coverage for Renault cars.
With a comprehensive cover, any expense from damage to or loss of your Renault car during an accident or theft is covered. Along with this, you receive third-party liability cover, which protects you against legal liability in case a third party – person, property, or vehicle – is involved.
Third-party liability cover is mandatory as per the Indian Motor Vehicles Act introduced in 1988. Third-party liability covers legal liabilities that may arise when another person, property, or vehicle is involved in the accident. The insurer covers the cost in such cases.
Renault Car Insurance – Why Buy on Probus?
Probus is India's leading portal where you can check and compare insurance policies offered by different insurance companies, all in one place. You can go through the features and benefits offered by different companies and then compare them with each other to determine which policy best suits your needs.
Probus also offers valuable advice from experts to help make your insurance decisions. By registering with Probus, you can avail of a host of benefits that we offer. With us, you easily file your claim with your policy provider. Our certified experts will help you through the process and answer any questions you may have along the way. Probus is licensed and regulated by IRDA.
Purchase Renault Car Insurance Easily on Probus
Buying a car insurance policy for your Renault car is easier than ever with Probus.
Login using your username and password. If this is your first time, you can create an account.
Provide your basic details like your name, contact number, and email address. Also add details of your vehicle like its registration number, place, and year, its make and model, and variant.
You will also need to mention if your vehicle was previously insured. If yes, then provide the details of the previous policy.
Go through the various policies offered by the insurance companies. Compare the coverage and choose the one that best fits your requirements.
Pick add-ons if you want to enhance your Renault car's coverage.
Make the premium payment on the payments page and receive the policy document in your email inbox.
Renew Your Policy Swiftly Online
In addition to purchasing a new policy, Probus also offers policy renewal for your Renault car insurance.
Login on Probus with your credentials.
Select your insurance provider and click on RENEW.
Choose the type of policy you want to renew, provide your vehicle's registration number and policy number, and click proceed.
Choose any add-ons that you may want.
Pay the premium and get the renewed Renault car insurance policy document in your mailbox.
Filing a claim for your Renault car's insurance is super easy. Just follow these steps. If you have any queries at all, you can always contact Probus and receive guidance from experts.
Intimate your insurance provider of an impending claim – own damage as well as third-party involvement.
Take pictures of the accident and gather details of the witnesses and the third party, if involved.
File an FIR with the nearest police station that has jurisdiction over the area where the accident or theft took place. If your car was stolen, the police will issue a no-trace certificate if it cannot be found.
Fill the claims form and submit it along with the relevant documents. The insurance provider will send a representative to evaluate the damage.
Send your car for repairs once the evaluation is done. If you send it to a network garage, you can avail of the cashless claim benefit. Otherwise, you will need to pay the bill at the garage and the insurance company will reimburse the amount.
Premium – What Is It and How Can I Calculate?
When you wish to insure your Renault car, the insurance provider charges an amount based on various factors that take into consideration the risks involved. This amount is known as a premium and seals the deal between the policyholder and the insurance provider.
| | | |
| --- | --- | --- |
| Model | Variant | Estimated Premium |
| Renault Kwid | 1.0 RXL | INR 6380 |
| Renault Duster | 1.5 RXZ (85 PS) | INR 10919 |
| Renault Triber | RXT Easy R AMT (999 CC) | INR 9546 |
| Renault Kiger | RXZ Turbo CVT (999 CC) | INR 13107 |
| Renault Scala | RxZ Diesel (1461 CC) | INR 14390 |
| Renault Pulse | RXE Petrol (1198 CC) | INR 9326 |
*Disclaimer: The insurer used for this calculation is HDFC Bank car insurance. The place of registration used to calculate these premiums is Chennai and the year of purchase used is 2018. Based on your specifics, the rates may vary.
Frequently Asked Questions
Most frequent questions and answers about on Renault Car Insurance