Renew in just 5 mins.
No Inspection.
No Paper Work
* Subject To Underwriting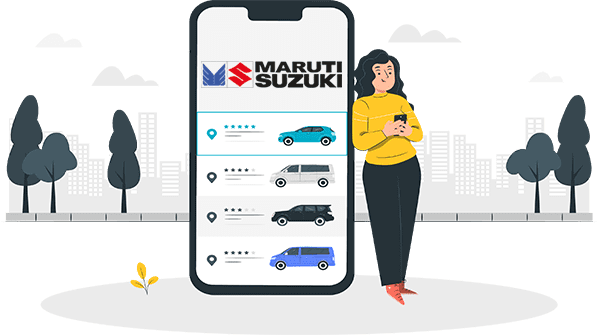 Compare

Car Insurance Plans
Maruti Suzuki Car Insurance
About Maruti Suzuki
Founded in 1981 and formerly known as Maruti Udyog, in 1983, Maruti Suzuki became a subsidiary of Suzuki Motor Corporation, a Japanese automobile manufacturer. Maruti has its headquarters in Delhi. It has been at the head of the automobile production for almost four decades now. The company manufactures cars that are affordable, dependable, give excellent mileage, and are in general economical to maintain. All these features make cars manufactured by Maruti good value cars for everyday commuting.
Reasons To Buy Maruti Suzuki Car Insurance
Enjoy the numerous features and benefits that come with Maruti Suzuki Car Insurance, such as:
Repair of damages due to mishaps – Damage and their repairs can be attended to in any of the Maruti Suzuki 7500+ service stations in the country. Except for the necessary extra charges, the outstanding amount is settled directly between the garage and the insurance provider.
Stress-free, simple, and clear settling of claims – Maruti Insurance guarantees you an unproblematic and rational claim settlement.
Superior repair work at approved dealer garages – The vehicles are repaired at Maruti authorized workshops replete with the best amenities, genuine spare parts, and trained technicians.
Free roadside assistance and towing facility – Towing assistance is assured for moving the damaged car to the dealer garage, this benefit is free of cost up to INR. 1500. and can be augmented as an add-on at the time of buying the policy
No Claim Bonus – If you have not filed for a claim in the first year, you are entitled to a No Claim Bonus (NCB) discount on the policy premium when you renew your policy.
Quick processing of policy – The policyholder can download the policy document directly from the official website by entering policy details.
Zero Depreciation – If your car is damaged after a mishap, no depreciation is subtracted for the wear and tear of any part of the vehicle.
Categories Of Car Insurance Policy And Coverage For Maruti Suzuki Car Insurance
Maruti Suzuki Car Insurance offers two categories of car insurance policies:
The Third-party car insurance policy covers damages and losses caused to a third-party person, vehicle, or property.
A Comprehensive car insurance policy covers third-party liability as well as damages to the owner's car.
Category

Coverage 

The third-party liability-only

An accident resulting in injury or death to a third-party
Car accident resulting in damage to someone else's property
Legal expenditure and fee following a car accident
This policy does not cover any damage caused to the owner's car

A comprehensive policy

Financial liability due to the death/injury/damages of the property concerning third-party
Any sort of robbery, or thievery
Fire, explosion, and self-ignition
Man-made calamities such as terrorism, strike, riots, or malicious acts
Damages suffered by natural disasters such as floods, earthquakes, storms, rockslides, landslides, etc.
Damage caused due to transit by rail, road, inland waterway, lift, etc.

A personal accident cover is also available for both categories. It covers disablement and accidental death of the driver/owner of the vehicle. INR 15 lakh is the sum insured and it covers bills like hospitalization no matter whose fault the accident was.
What You Don't Get - Exclusions For Maruti Suzuki Car Insurance
Maruti Suzuki car insurance does not cover the following situations:
Malfunction of the car because of electrical faults such as fuse check and wiring issues or mechanical damage.
Damages are a consequence of events not covered in the policy such as water ingression due to driving in a flood.
Normal depreciation and downgrading because of constant usage or aging of the car.
Normal attrition or wearing away of the car parts with age
War and related consequences
Any intentional accidents
Misuse of the car, for example, for transporting illegal merchandise
Driving without a license, or crossing geographical limits outside the borders of India, or under the influence of intoxicants
Driver not in possession of a valid license, under the influence of intoxicants, or crossing beyond geographical boundaries of India.
More The Merrier With Maruti Suzuki Car Insurance Add-Ons
With a comprehensive car insurance policy, you get certain additional add-ons. The add-ons are available at an extra premium, and you can pick and choose the ones that you may need.
Roadside Assistance: The company pledges 24 x 7 support if your car breaks down and you can take it to the nearest service center. Help includes the change of flat tire, replenishing fuel, boosting a discharged car battery, hauling or replacement of car keys in case of loss.
NCB: If you don't make any claim during a policy term of one year an NCB is allowed as a deduction on the premium for renewing the policy. The amount accumulates after each consecutive year free from a claim. However, in the case of a claim, you lose out on the NCB you've collected thus far. But this add-on prevents this from happening and protects the accumulated NCB regardless of a claim.
Return to Invoice: If the car undergoes theft or gets completely wrecked, the original billed or purchase value of the car is paid as a claim.
Consumables Cover:  The cost of consumables like oil, coolants, lubricants, etc. are covered.
Engine Protect: Any instances or damages like water ingression that the engine undergoes are covered under this claim.
Zero Depreciation: Typically, at the time of a claim, the company will subtract the cost of downgrading or decline of the car parts due to normal wear. And this is not covered in the policy. With this add-on, the total cost of these parts is included in the claim amount without depreciation.
Loss of Personal Belongings: Any damage or theft to personal belongings in the vehicle is protected by this add-on.
Personal Accident Cover for Passengers: extends personal accident cover for the passengers of the car.
Looking For A Maruti Suzuki Car Insurance? Check Online!
Individuals who wish to apply for a new car insurance policy from Maruti Suzuki Car Insurance can log into a selected insurer's website directly or approach a website such as Probus.
Probus Is Here To Help With Your Car Insurance
Many insurance companies offer a plethora of add-ons for standard/comprehensive as well as third-party policies. This makes it difficult to pick the apt policy with maximum benefits. Here's where Probus can help you to understand and sift through a surfeit of information briskly and thoroughly so that you are aware of the offers and equipped to make a studied choice.
Acquiring a car insurance policy on Probus is speedy and reliable and can be completed in record time. Probus can help to compare policies offered by different insurance providers and pick the one that offers the maximum and top coverages you desire, and which benefits you the most. Customers also have the option of consulting experts on Probus's website. This will instill confidence in you to make the correct selection for your insurance needs.
Easy Breezy Steps To Buy Maruti Suzuki Car Insurance on Probus
Scroll up and check the 'Compare Quotes' option for car insurance.
Fill in necessary information such as city, car model, variant, registration year and date, fuel type. Provide personal details like mobile number, email address
Decide on the insurance provider of your choice after comparing plans from different insurance companies and pick the one of your choice that provides maximum benefits
Choose the type of policy you desire. If you have opted for a comprehensive insurance pick add-on, if required
Probus will calculate the required premium for the policy
Confirm and revise the data entered by you before making the payment
Make the online payment using any secure online payment service
Your policy document will reach your inbox right away
Alternatively you can buy car insurance for your Maruti Suzuki car from Maruti Insurance Broking or the Maruti Suzuki website. Purchasing the Maruti car insurance policy from either of these sources is a simple and uncomplicated process. The policy is issued right away or can be directly downloaded from the website.
Why You Should Renew Your Maruti Suzuki Car Insurance Policy In Time?
If you fail to renew your car insurance policy regularly it can cause a great deal of trouble and inconvenience. A car insurance policy is an annual contract to be renewed regularly to provide financial aid in times of emergencies. It's therefore wise to renew the policy before its expiry date to benefit from continued protection. Failure to renew the policy causes it to become void and you will need to buy a fresh policy. This means a repetition of the entire process and protocols of buying a new policy.
Effortlessly Renew Maruti Suzuki Car Insurance Online
The online policy renewal facility is uncomplicated and convenient. You can renew the insurance policy of your Maruti car at the official website of Maruti Suzuki Insurance through a secure process, as the company follows strict safety methods when dealing with personal information.
Information needed for online policy renewal
Your name
Mobile number
Email ID
Car's registration number
Details about previous insurance policy
Date of expiry
Claim made if any in the last year and no claim bonus earned
Once you submit the online form, a service operator will guide you through the successive steps and processes.
You will be guided to a page containing the new premiums.
 If you have chosen a comprehensive plan, you can customize it further by selecting add-ons and setting the IDV.
The final premium will be seen on the next page.
Confirm and revise the data entered by you before making the payment
Make the online payment using any secure online payment service.
Your policy document will reach your inbox instantly.
It is advisable to save the document for further references
In case you need to speak to the customer support center, you can dial their toll-free number.
Claim Process For Maruti Suzuki Car Insurance
Looking to file a claim? Here's what you've got to do:
Third-Party Claim

Instantly inform the insurer about the events that took place
File an FIR, if needed
The motor accidents board or the court will determine the financial liability
The insurer will pay the decided amount

Own Vehicle Damage Claim

Instantly inform the insurer about the events that took place
You will be directed by someone from the insurer's office to the closest network garage for repairs under the cashless claim way
The insurer will send an inspector to assess the damages and to make a claim statement
After approval, the repairs will commence, and all expenses will be settled by the insurer directly with the workshop
 The costs you have to bear are anything excluded under your policy

Car Theft

Promptly inform the insurer about what took place
File an FIR, if needed
If the police fail to locate the car, they will issue a 'non-traceable certificate' which the owner hand to the insurer along with a few other necessary documents
The insurer will then disburse the claim amount
The Documents You Require For Filing A Car Insurance Claim
Claim form that's properly filled
Registration Card (RC) of the car
Driving license and of the driver
Copy of the policy document
Police FIR (in case of a third-party or theft claims).
A non-traceable report issued by the police for theft claims.
Some Conditions Where Your Maruti Suzuki Car Insurance Claim May Not Be Accepted
Damage caused by driving under the effect of alcohol and other intoxicants.
Driving without a valid license
Driving alone with a learner's license unaccompanied by a valid license holder.
Valid proof of accident not presented/ hoax claim.
The claim should be filed within a week of the accident.
Damage due to attrition and abrasion damage of the vehicle and because of negligence.
Maruti Suzuki Car Insurance Price
In a car insurance policy, the premium depends on the age of the car. The premium for a new car may be higher than an old car. 
With the help of a car insurance premium calculator, you can calculate premiums in a definite and easy method.
Select the car's make, model, variant, and fuel type
Select the car's location and year of purchase and registration
State whether you've claimed in the previous policy period
A click on the 'Calculate' button will show the right IDV and your car insurance premium.
Premium of a Maruti Suzuki Car Insurance policy depends on the following factors
The insured declared value of the car
Cubic capacity
Geographical zone
Age of the car
You can also opt for add-on covers to amplify the coverage of your auto insurance. Add-ons can be bought by paying an extra nominal premium to the insurer.
How Does The Insurance Company Determine The Sum Insured?
The sum insured is determined at the commencement of the policy. This is also referred to as the Insured Declared Value (IDV) of the car. The IDV is the car manufacturer's programmed selling price of the car minus depreciation based on the car's age. Accessories in the car can also be considered to determine its final IDV.
Maruti Cars Insurance Premium Price for Comprehensive Insurance
| | | | | | |
| --- | --- | --- | --- | --- | --- |
| Model | Variant | Registration Year  | City of registration | IDV (Rs.) | Premium (Rs.) (Without taxes) |
| Maruti SWIFT | 1.2 VXi BS IV (1197 CC) | 2018 | Bangalore | 293,827 | 7,349 |
| Maruti BALENO | 1.6 GLX (1590 CC) | 2018 | Bangalore | 426,000 | 18,084 |
| Maruti ALTO | K10 VXI AMT(998 CC) | 2018 | Bangalore | 243,000 | 5,323 |
| Maruti VITARA BREZZA | VDI(1248 CC) | 2018 | Bangalore | 486,114 | 10,051 |
*Disclaimer: Quotes in the table are for HDFC Ergo policies, for the vehicle registered in Bangalore, and the registration year is 2018. The price of insurance may vary based on factors like fuel capacity, engine capacity, registration year, RTO, etc.
Frequently Asked Questions
Most frequent questions and answers about on Maruti Suzuki Car insurance