Renew in just 5 mins.
No Inspection.
No Paper Work
* Subject To Underwriting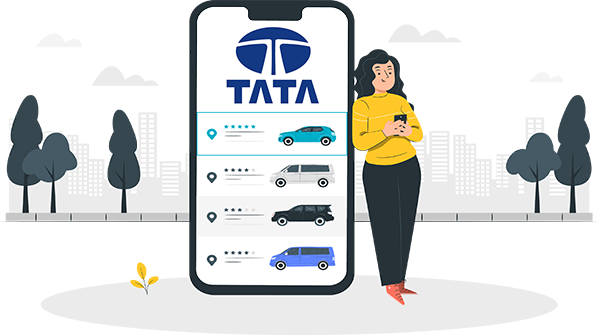 Compare

Car Insurance Plans
The Tata Company is well-known in India and globally for owning a piece of the pie in sectors such as automobiles, hospitality, chemicals, FMCG, real estate, and especially in steel. Started by the esteemed J R D Tata, the Tata company is an intricate part of India's economic fabric. 
Tata Motors, a part of the Tata Group, was started about 76 years ago. It was initially known as the Tata Engineering and Locomotive Company. The company owns and operates manufacturing plants in Jamshedpur, Dharwad, Lucknow, Pune, Sanand, and Pantnagar. It also has multiple joint ventures, allowing it to expand its reach as well as its product offering. 
When you own a Tata Car, you can be proud of owning something that has been made entirely in India.
A Quick Look At Tata Cars
| | |
| --- | --- |
| Started in | 1945 |
| The first commercial vehicle launched in | 1954 |
| First passenger vehicle launched in | 1988 |
| Founder | J R D Tata |
| Current Chairman | Natarajan Chandrasekaran |
| No of manufacturing plants in India | 6 |
| No of international manufacturing plants | 4 |
Top 5 Made In India Tata Cars In The Current Market
1. Tata Nexon
This super stylish and sophisticated SUV is just perfect for the Indian highways. Tata Nexon is speed, strength, and style, all combined into a neat little package that is affordable as well.
2. Tata Tiago
The family-friendly Tata Tiago is one of the most affordable cars in the Indian automobile market. It offers stiff competition to similar models in the market. The option of petrol and diesel engines makes the car quite an attractive choice.
3. Tata Tigor
Tata Tigor is a top-notch sedan model. The car is equipped with countless safety features, comfortable interiors and stylish exteriors that make the Tata Tigor a sought-after model.
4. Tata Altroz
Located on the high-end spectrum of hatchbacks in India, the Tata Altroz is one car that is tailor-made for the modern Indian family. The super-charged engine is great for both long and short trips. The car comes with sufficient boot space.
5. Tata Safari
Tata Safari is an affordable and durable SUV from Tata. The model has been around for a long time and has gone through numerous changes to become the stylish model it is today. With a combination of power and performance in one car, it's a good bet for Indian roads.
Do You Really Need Insurance For Your Tata Car?
Who needs Tata car insurance? Well, everybody! Driving without insurance in India is a crime so that is the first and foremost reason you need insurance for your Tata vehicle. The second reason, and one that is just as important, is safety and security. Without insurance, what are you to do if you get into an accident? 
Having a good car insurance policy protects you in case of death, damage, disability, or other unforeseen disasters. A good car insurance policy should make you feel safe on the road. 
Today, with all technological advancements, it's easy to buy a car insurance policy online for your TATA Car. This allows you to compare and see all different policies in the same place and make an informed decision.
What Your Coverage For Your Tata Car Looks Like?
A Tata car insurance policy will protect you in case of certain events. The terms and conditions of each car insurance policy may vary, but overall, the general coverage offered by car insurance policies are listed below:
Natural Disasters: Damage caused to your car in case of an earthquake, flood, landslide, or any other natural disaster that humans are not in control of. This is especially important if you live in an area prone to such events.
Fire: Damages caused to your car due to an accidental fire are covered in your Tata car insurance policy.
Theft: In case of your car being stolen, you are protected if you have a Tata car insurance policy that is up to date.
Third-party Damages: Your Tata car insurance policy will help pay for damages caused by your car to a third party or damages caused to property.
Personal Accidents: Coverage for personal accidents means that in case you suffer any disability or a fatal accident, your family is protected and offered compensation. The amount depends on the terms of your policy.
What Is Not Covered Under A Tata Car Insurance Policy?
Every insurance policy has certain customary exclusions. This is what is not included in your vehicle insurance for your Tata car.
Servicing Charge: Charges incurred due to regular servicing of your car are inevitable. However, these charges are not covered under your Tata car insurance policy.
Intentional Negligence: Neglecting to fix obvious problems with your car, such as an oil leak, or a damaged window, is not covered in your Tata car insurance policy.
Alcohol/substance Abuse: Driving after drinking alcohol or consuming any illegal substance is illegal. However, in terms of insurance, any damage occurring due to driving under the influence will not be paid for by your insurer.
Lack of Documentation: Driving without a valid license or an insurance policy means your insurance will not cover any resulting damages to your Tata car.
Man-made Events: Man-made events such as war, riots, protests are not covered in your Tata car insurance policy.
Add-Ons To Make Your Policy For Your Tata Car Even Better
When you already have a good Tata Car Insurance Policy in place, why do you need add-ons? Well, add-ons provide extra protection to the driver and the car while out and about on the read. Some popular car policy add-ons are:
Key Replacement: Losing your key might not seem a big deal, but it can become a huge expense if you need to change all the car locks. The key replacement add-on covers you in case your key is lost, stolen, or damaged.
Engine Protection: Your engine keeps your car going, so it makes sense to offer this part of your Tata car added protection. If you own a luxury car or live in an area prone to natural disasters, this is a good add-on to have for your Tata car insurance policy.
Zero Depreciation: Each year that you own and operate your car causes a decrease in its value. With the zero-depreciation add-on in place, you are likely to get full value for your car in case of a claim. Depreciation is not deducted from the total amount.
No Claim Bonus: This is perfect for long-term car owners. The no-claim bonus add-on offers you an extra discount when you renew your policy IF you have not made any claims against your past policy.
Choosing Between Two Different Types Of Insurance Plans For Your Tata Car
When you're buying your Tata car insurance policy, the most basic choice you will have to make is what kind of policy to buy. Should you go with the policy that offers the entire package or should you opt for the bare minimum?
| | |
| --- | --- |
| Comprehensive Car Insurance Policy | Third-party Car Insurance Policy |
| Allows add-ons for your car | Offers basic protection, no add-ons allowed |
| Protection from damages caused to third party vehicle or property | Damages to third party vehicles and property are covered |
| Damages due to natural calamities are covered | Damages due to natural events, man-made events, fire, accidents, etc. not covered |
| Personal accident cover, along with theft of the car, offered with this type of policy | Only personal accident cover is offered |
Choose Probus To Buy Your Tata Car Insurance Policy
Probus is your number one choice to purchase a car insurance policy for your Tata car. Not just that, the online portal also allows you to quickly renew your car insurance policy. Here are important reasons to choose Probus for your car insurance needs:
Team of Experts: The team of IRDA-certified experts is here to help you with any query about your Tata car insurance policy. They make it easy to get in touch with them, so all your questions are answered in a jiffy.
Compare Options Easily: It's super simple for you because you can compare multiple insurance policies for your Tata car online. No need to go from agent to agent because all policies are available at the click of a finger.
Quick Claim Assistance Process: Claim experts make claim filing absolutely stress-free for you.
7 Easy Steps To Get Your Tata Car Insurance On Probus
Step 1: Log onto the Probus website on your phone/desktop/laptop
Step 2: On the homepage, enter your car number, and click on compare plans. If it's a new car then click on the 'new car' option.
Step 3: If you don't have the registration number, choose that option, and enter all your car details 
Step 4: Compare and check the prices for all available Tata Car Insurance policies
Step 5: Choose your desired plan (double-check to make sure it's the right one!)
Step 6: Make the payment
Step 7: You are insured, and your policy will be in your inbox shortly
Renewing Your Tata Car Insurance? Here's How
Does it seem like a hassle when it is time to renew your Tata car insurance policy? Well, it doesn't have to be one with Probus. While we offer new cars and old cars to purchase insurance, we also offer insurance policy renewals. Here is how: 
Step 1: Go to the Probus website
Step 2: Choose car insurance and then "renew"
Step 3: Enter your vehicle registration number, insurance policy information and select your insurance company
Step 4: The next screen will allow you to choose add-ons, claim any bonuses you might be eligible for, and finalize your car insurance policy
Step 5: Say yes and make the payment
Step 6: Find your insurance policy in your inbox
Sample Premiums For Your Tata Car
If you're wondering what the premiums will look like, refer to this table below to help you get an idea.
| | | | | |
| --- | --- | --- | --- | --- |
| Tata Model | Manufacturer's Selling Price | IDV | Package | Liability only |
| Tata Nexon Kraz MT Diesel | Rs. 8,62,155 | Rs. 387969 | Rs. 14161 | Rs. 3221 |
| Tata Tiago NEW REVOTORQ XB | Rs. 4,33,370 | Rs. 195017 | Rs. 9182 | Rs. 3221 |
| Tata Tigor buzz diesel | Rs. 6,84,658 | Rs. 308096 | Rs. 12100 | Rs. 3221 |
| Tata Altroz XE Diesel | Rs. 6,99,500 | Rs. 314775 | Rs. 12272 | Rs. 3221 |
| Tata Safari Storme 2.2 VX 4X2 | Rs. 13,41,125 | Rs. 603506 | Rs. 24079 | Rs. 7890 |
*Disclaimer: The insurer used for this calculation is National Insurance Company Limited. The place of registration used to calculate these premiums is Ahmedabad and the year of purchase used is 2016. Based on your specifics, the rates may vary.
Frequently Asked Questions
Most frequent questions and answers about on Tata car insurance
According to section 64VB, the insurer cannot offer car insurance until and unless they receive full payment of premium prior to the date the policy begins. So no, you cannot pay your car insurance premium in instalments.
When you need to file a claim, you need to submit a few basic documents like:
Copy of FIR if there's a police report, or it's a theft
Vehicle inspection address
Description of how the accident occurred
Location of accident
Kilometer reading
Chassis and the engine number
What time the accident occurred
Date of the accident