Renew in just 5 mins.
No Inspection.
No Paper Work
* Subject To Underwriting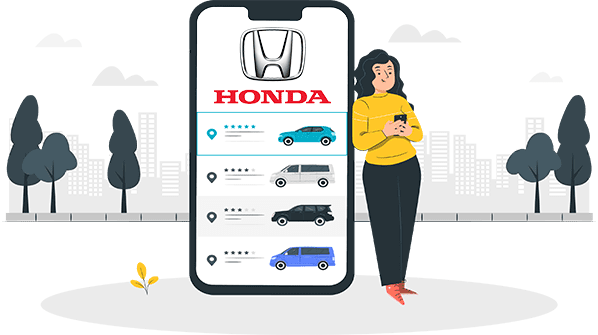 Compare

Car Insurance Plans
Honda is a well-known name in India. Known for its brilliant automobiles, the Honda brand has been around in the Indian market since 1995. This Japanese automobile giant is headquartered in the capital city of Japan, Tokyo. However, automobiles are not their only area of expertise. The company is well-known for producing top-notch motorcycles and internal combustion engines. Honda has also ventured into the aerospace engineering domain quite successfully.
The first location for Honda's Indian endeavor was in Greater Noida in Uttar Pradesh. The manufacturing plant is spread over a massive area of 150 acres. The second manufacturing plant was set up in 2014 in Rajasthan. Both the plants have benefitted immensely from the experience of other global Honda manufacturing plants in terms of expertise and best practices used throughout the manufacturing process.
Learn About Honda With A Few Quick Facts
| | |
| --- | --- |
| Started in | 1937 |
| Motorcycle manufacture began in | 1959 |
| Entered Indian market in | 1995 |
| Global headquarters | Tokyo, Japan |
| Indian headquarters | Greater Noida, UP |
| No. Of models currently in the Indian market | 5 |
| Turnover in 2020 | 137,365 million USD |
| Motorcycle models sold in India | 18 |
Here Are 5 Popular Honda Car Models
Honda Amaze – The Amaze has a strong engine, combined with a bold exterior design. This sedan has a luxurious feel on the inside that makes this investment absolutely worth it.
Honda WR-V – This powerful SUV from Honda is perfect for off-road adventures. Made perfectly for the uneven Indian roads, the functional WR-V is also a treat to look at.
Honda City- 5th Gen – The 5th Gen Honda City is the newest City model with greater length and wide space in the interior. There are 5 colors available for this stylish sedan model.
Honda Jazz – The Honda Jazz is the company's hatchback model and has been making waves in the market since its introduction. The newest model is the perfect family-friendly car for a short weekend getaway.
Honda City- 4th Gen – A slightly older model, the 4th gen Honda City is still a popular model in the Indian automobile market. The massive boot space, combined with the amazing engine, and the stylish outside is why this model is still a popular choice in the market.
Honda Car Insurance: Why You Need It, What's Covered, And What's Not
Whether you like to have insurance for your Honda car is not a choice you can make. The most important reason for this is that you are not legally allowed to drive in India, or anywhere in the world for that matter, without a valid automobile insurance policy. Furthermore, it is important for the safety of your family, your car, yourself, and others to have insurance.
A good car insurance policy will protect you in different ways, but it should also be affordable. This might seem like an oxymoron, but good and value for money Honda car insurance policies do exist in the market.
First, let's tell you what a Honda Car Insurance policy usually covers:
Third-party damages: Damage caused by your car to other's personal property or injury caused to another person because of your car are both covered in the insurance policy.
Personal accidents: You are safe and covered in case of disability caused due to an accident in your automobile. The specific amount for this coverage depends on your insurance policy.
Theft: If your car is stolen, your car insurance policy can be helpful in recovering it or buying a new car.
Fire: In case of an accidental fire, your Honda car insurance will keep you safe.
Natural disasters: Any natural disaster, such as an earthquake, flood, landslide, etc., will cause damage to cars. Your Honda car insurance policy covers these damages.
While these aspects are covered in a policy, it is important to know what is not covered. The following factors or reasons are not covered in your Honda Car Insurance policy. This means that your insurer will not be responsible for damage caused to these factors
War/protests: The insurer is not responsible for any damage caused due to an ongoing war or any kind of protests.
Negligence: If you knowingly neglect your car, such as ignoring the check engine light, the insurer is not liable for any damage.
Servicing charges: Regular servicing of the car is not a part of your Honda car insurance policy.
Driving without correct documentation: Driving on the Indian roads without a valid license or insurance policy means your insurance policy will not cover any resulting damages. And you might be fined as well.
Driving under influence: If you drive your car after consuming any alcohol or illegal substance, the insurer will not pay for any damages.
Add-Ons That Make Honda Car Insurance Worth It
So, you already have a solid Honda car insurance policy in place. But then, why do you need these extra frills, which might just end up making you pay more? Well, these extra features or add-ons for your Honda car insurance policy act as an added layer of insulation protecting you and your car. A few basic ones are:
No Claim Bonus: For those owners who do not claim anything on their insurance policy, the insurer rewards them by offering a discount when renewing the same policy.
Roadside Help: This add-on ensures that you get help anywhere and everywhere in case of a mechanical issue with your car.
Zero Depreciation: Most automobiles depreciate in value after prolonged use. This add-on safeguards you, allowing you to get full value for your car without the depreciation being subtracted from the amount.
Engine Protection: Your engine is the heart of your car. Protect it with this add-on that covers engine damage.
Make The Right Choice: Choosing The Right Insurance Policy For Your Honda
While choosing your Honda car insurance policy, you have two options:
Third-party Policies: Third-party policies offer the most basic protection plan for your car. This is a must if you don't want to spend too much and yet, need to make sure your car is protected. The premiums will be low, and you will get limited coverage and protection. Add-ons are not permitted in such policies.
Comprehensive Policies: A comprehensive policy has a lot of added protection for your car. It covers much more than a third-party insurance policy. However, the premium for such a policy is slightly on the higher side. This is because comprehensive policies allow the add-ons mentioned above.
Your Go-To Choice For Your Honda Car Insurance: Probus Website
Now that you are convinced that you need car insurance, head to Probus and get started. But why choose Probus?
Experts: The team of IRDA and claim filing experts give you the right advice on every aspect of your policy. Be it choosing the all-important add-ons or filing claims, the team is here to help.
Policy options: You're allowed to compare all different Honda car insurance policies under one roof or one browser. With this feature, you are confident about the policy you pick.
Claim filing team: The quick and easy claim filing process is online and requires only documentation from your end. The entire process is managed by the expert in-house team.
Direct registration process: When you register with Probus, there are no third parties or agents. You register directly with the organization.
The online portal: The easy-to-navigate online portal makes it possible to get insurance for your car in record-breaking time without visiting an office.
How To Go About Purchasing Honda Car Insurance On Probus Website?
The easy insurance buying process is listed below. All you have to do is follow the steps and you will be insured.
 Step 1: Head to the Probus website and click on car insurance
Step 2: You will be asked to enter your vehicle number
Step 3: If you don't have the number handy, you will be asked to enter details about your car. 
Step 4: Then, the website will show the different policies available based on this information. 
Step 5: Choose your policy
Step 6: Pay the amount on the screen
Step 7: Your car is officially insured
Note: If you feel a little confused, just pop open the chat bubble to talk to one of our experts
Renewing Honda Car Insurance? Here's How On The Probus Portal
Make sure you always renew your Honda car insurance policy at least 30 days before the expiration date. You can renew your policy efficiently and quickly on the Probus website. 
Step 1: Head to the Probus website
Step 2: Choose car insurance and then renew your policy
Step 3: Choose your insurer, enter details about your car and policy 
Step 4: You can now check any bonuses that apply and make sure your policy is correct
Step 5: Make your online payment
Step 6: Your policy is renewed and in your email inbox
Probus's Quick And Easy Claim Filing Process
Filing a claim is tedious, but with Probus, the process is painless and quick. Here's how you can file a claim:
 Step 1: Submit all relevant documentation to file your claim
Step 2: Wait for an independent evaluation of the damage to your car
Step 3: Get your car fixed with a garage that can help you the best
Step 4: If your claim is accepted, the reimbursement will be made based on your car insurance policy conditions. In the case of a cashless garage, the claim will be settled directly.
A Glimpse Into Honda Car Insurance Premiums
To get help with your premiums, you can use an online premium calculator. However, here's a quick look at an example of what the premium will look at.
| | | | |
| --- | --- | --- | --- |
| Honda Model | Third Party (3 year) | Comprehensive (Own Damage + Liability, 1+3 years) | Comprehensive + 0 Dep |
| Honda WR-V S-MT Edge+ Edition 5-seater | Rs. 9534 | Rs. 23007 | N/A |
| Honda Amaze 1.2 E 5-seater | Rs. 9534 | Rs. 20756 | Rs. 24273 |
| Honda Jazz V AT Petrol 5-seater | Rs. 9534 | Rs. 23956 | Rs. 28887 |
| Honda City V BSVI- 5-seater | Rs. 9534 | Rs. 24690 | Rs. 30389 |
| Honda City VX CVT BSVI- 5-seater | Rs. 9534 | Rs. 29421 | Rs. 36899 |
Disclaimer: The insurer used for this calculation is Royal Sundaram Insurance. The place of registration used to calculate these premiums is Thiruvananthapuram, Kerala, the year of purchase used is 2017, it's a new vehicle, and GST is not included in the premium amount mentioned in the table. Based on your specifics, the rates may vary.
Frequently Asked Questions
Most frequent questions and answers about on Honda insurance
You can go for a reliable third-party policy to get basic coverage for your car. Add-ons are not permitted in such policies.
Probus' online claim filing process makes it easy to do the process via their website. Just keep all the relevant documents handy.
Honda cars are fantastic, but wear and tear on the engine is unavoidable with regular use. Hence, protect the engine to protect the car with this add-on.