Renew in just 5 mins.
No Inspection.
No Paper Work
* Subject To Underwriting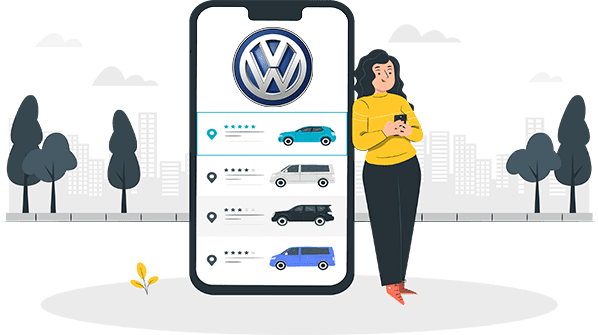 Compare

Car Insurance Plans
Volkswagen is a well-known German automobile brand with a global presence. Most people know of the iconic "Beetle" car manufactured in bright, attractive colors. Other than that, every automobile manufactured by Volkswagen is known for its efficiency and functionality. Volkswagen's foray into the Indian market began in 2001 with the introduction of the Skoda brand. In 2007, the company introduced Volkswagen and Audi into the Indian market and in 2012, Porsche and Lamborghini made their way into the country. 
The Indian headquarters with a manufacturing facility is located in Pune, with another manufacturing facility in Aurangabad. Since 2020, the company has made significant strides towards being sustainable and reducing emissions in India. The brand continues to impress Indian citizens not only with their state-of-the-art automobiles but also with their various environmental and community initiatives.
Quick Peek Into Facts About The Volkswagen Brand
| | |
| --- | --- |
| Country of Origin | Germany |
| Year of Inception | 1937 |
| Year of entry into India | 2007 |
| First Volkswagen Brand in India | Skoda |
| Indian Headquarters | Pune, Maharashtra |
| No. Of employees in India | 4800 |
| Best-selling car in India (2020) | Volkswagen Polo |
The Top 5 Volkswagen Best Selling Cars
It wouldn't be amiss to say that Volkswagen has made a dent in the Indian automobile sector. The German giant has made sure that its superior technology keeps consumers happy with their cars. Here are the top 5 Volkswagen cars in the Indian market:
1. Volkswagen Polo
The Polo is a hatchback, making it the perfect size for an Indian family. Its compactness, along with the reliable engine, has made this the top favourite in the Indian market.
2. Volkswagen Vento
The sedan is spacious and strong, and that is one of the reasons Volkswagen Vento has done so well in this sector. The Vento is perfect for short or long journeys.
3. Volkswagen Ameo
The Ameo is the perfect cross between a sedan and a hatchback. Compact but with sufficient boot space, the Ameo is popular due to its value for money.
4. Volkswagen Passat
The Passat is style redefined with its stylish interiors and classy exterior. The large sedan is competition for similar models in the market.
5. Volkswagen Tiguan
A rugged and powerful car, paired with the perfect engine, the Tiguan is all you need from an SUV and more. This car is perfect for on-road or off-road adventures.
Is Insurance A Necessity For Your Volkswagen Car?
The simplest and most concise answer to this question is, yes, it is absolutely necessary to have your Volkswagen insured. First, it's illegal to drive a car in India without the proper insurance policy. Even the most basic car insurance policy serves its purpose. However, the more important point is this: don't you want to protect your investment? 
Buying an automobile is not a small feat. It takes a good amount of financial planning for the average Indian to purchase a car. After spending a large amount, insurance is just the reassurance that you and your car are safe and protected. Whether it is an accident or a natural disaster, having a good insurance policy is simply like getting extra toppings on your ice cream sundae: it just makes things better.
Volkswagen Car Insurance: What Is Covered And What Is Not Covered?
A good Volkswagen car insurance policy will cover certain events and conditions, while some will not be covered. Different policies also differ in terms of how much protection they offer for any sort of damages. Always read your Volkswagen car insurance policy to make sure you know what is covered and what isn't. 
Coverage is offered for: 
Natural disasters: A good Volkswagen car insurance policy will cover your car in case of damages caused due to natural disasters such as a flood, forest fire, earthquake, etc. 
Man-made disasters: Man-made disasters or events, such as riots or protests, are also covered in a good car insurance policy.
Personal damage: Your Volkswagen car will be insured in case of external accidents apart from man-made calamities and natural disasters. 
Third-party damage: Depending on the terms of your Volkswagen Car Insurance policy, you might be protected in case of damage caused to a third party because of your automobile.
Coverage is not offered for:
Driving without a license: Driving without valid documentation is absolutely against the law and in case of any incident where you don't have your driver's license, your car insurance will not protect you
Driving with an expired policy: If your policy has lapsed or expired, it is recommended that you do not drive your car, as your insurance will not cover subsequently occurring damages
Driving while under the influence: If you are driving under the influence of any illegal substance, your Volkswagen Car Insurance policy will not protect you
Negligence caused on purpose: After knowing that your car needs servicing, or knowingly ignoring things such as an oil leak if you still choose to ignore it and drive your car, your insurer is not responsible
Illegal purchase: Purchasing the car without going through the right channels means that your car insurance policy cannot protect you.
Add-Ons That Make Your Volkswagen Car Insurance Policy Worth It
You already have a Volkswagen car insurance policy, why do you still need this? Add-ons are additional protections that will keep your Volkswagen car running for a longer time on the road. Some add-ons include:
Zero Depreciation: Automobiles depreciate in value after continued use. However, the zero-depreciation add-on to your Volkswagen's insurance policy ensures that you get the full value of your car in case of filing a claim.
No Claim Bonus: This add-on is exactly like it sounds because it is an added bonus. For those drivers who have not filed a claim during the initial policy, the no claim bonus gives them a special discount while renewing your Volkswagen car insurance policy.
24 x 7 roadside assistance: The roadside assistance add-on is a must-have. This ensures that in case of any sort of mechanical trouble with your car, you will always get some sort of help while on the road.
Co-passenger coverage: This particular add-on protects those riding in the car with you, so it is extremely important. In case of death or partial/permanent disability of a co-passenger, this add-on offers a lump sum depending on your policy.
What Are Your Insurance Plan Options?
Comprehensive plans: Comprehensive plans can be extremely beneficial if you choose the right one with the correct add-ons. Such a policy allows you to have add-ons, and covers your car and your family, ensuring the safety and protection of both. The automobile is covered in case of theft, personal accidents, third-party damage, etc.
Third party plans: Third-party insurance plans do the bare minimum of protecting your car, but if it works for you, go for it. Add-ons are not permitted in such car insurance plans and these policies do not cover certain damages as well.
Why Is Probus Website Right For Online Car Insurance?
With more reasons than one, the Probus portal is your go-to choice.
Compare plans: Probus puts all your car insurance plan options in one place. This makes it easy to compare the features and check which policy works best for your family and your car.
Get expert advice: Professionals with years of experience in the insurance industry will help you choose a car insurance plan that is worth the money you are spending. 
Easy claim process: IRDA-certified experts are ready to help you file your claim quickly and efficiently. Allow the Probus team to lead you towards the right path. 
Easy and direct registration: With Probus, you register directly with the organization. Simply log on, submit the necessary document and you are good to go. 
Steps To Buying Car Insurance on Probus
All it takes are a few simple steps to get you going. What you have to do is:
 Step 1: Log onto the Probus website
Step 2: Follow the steps mentioned, which includes creating an account for yourself with the relevant details
Step 3: Enter information about your car. In the case of a brand-new car, Probus will ask for relevant details. 
Step 4: Check out the various Volkswagen car insurance plans available to choose from. 
Step 5: Pick a plan and pay
Step 6: Check your email for your Volkswagen's car insurance policy.
Easy Breezy Renewal When It's Time, Here's How
If you already have car insurance, and the policy is about to lapse, time to renew it! It is recommended that you renew your Volkswagen Car Insurance policy at least 30 days before the current policy expires. Here is a simple step-by-step guide to renewing your car insurance policy with Probus:
Step 1: Log onto the Probus website.
Step 2: Click on the link to renew your car insurance policy.
Step 3: Enter details about your car, insurance policy, etc. 
Step 4: Check to see if you need to select the No Claim bonus or other add-ons.
Step 5: Enter the relevant payment details.
Step 6: Your policy will be renewed and sent to your inbox.
File Your Insurance Claim Quickly On Probus
Filing a claim on your car might be tedious but a necessity. This needs to be done on time as insurance companies follow a strict timeline. 
Step 1: File a First Incident Report if required by your insurer.
Step 2: File a claim request for the next step.
Step 3: An independent representative will come and assess the damage to your car and make the necessary report.
Step 4: Meanwhile, get your car repaired at a garage in the insurance company's network.
Step 5: Once your claim is approved, payment will be made based on the conditions listed in your policy.
Premiums For Your Volkswagen Cars
| | | | | |
| --- | --- | --- | --- | --- |
| Volkswagen Model | Third Party | Comprehensive | Third party + own damage + additional protection | IDV |
| Volkswagen Polo Allstar Petrol | 4,060.38 | 13,748.86 | 16,996.42 | 5,84,782.00 |
| Volkswagen Ameo Highline Plus Petrol | 2,704.56 | 11,718.38 | 15,458.13 | 6,28,400.00 |
| Volkswagen Passat 2.0 CRDI Highline AT Diesel | 9,569.80 | 47,304.87 | 67,026.45 | 26,57,200.00 |
| Volkswagen Beetle 1.9 TDI Diesel | 9,569.80 | 2,11,540.49 | 2,23,777.09 | 16,00,000.00 |
*Disclaimer: The insurer used for this calculation is Edelweiss Car Insurance. The place of registration used to calculate these premiums is Kolkata and the year of purchase used is 2020. Based on your specifics, the rates may vary.
Frequently Asked Questions
Most frequent questions and answers about on Volkswagen Car insurance
It's recommended that you understand the value of each add-on to your Volkswagen car insurance policy. Talk to your insurance agent and make an informed decision about the same.
Yes, most car insurance policies cover natural disasters. However, check with your insurance provider to be sure.
You might not need an FIR each time you file a claim, however, it is helpful to do so as the FIR will make it easy to file a claim.